Información deportiva | Monagas SC iguala a uno contra Zamora FC y la Sub-17 de Venezuela cae por segunda vez en la Fase Final - [ESP-ENG]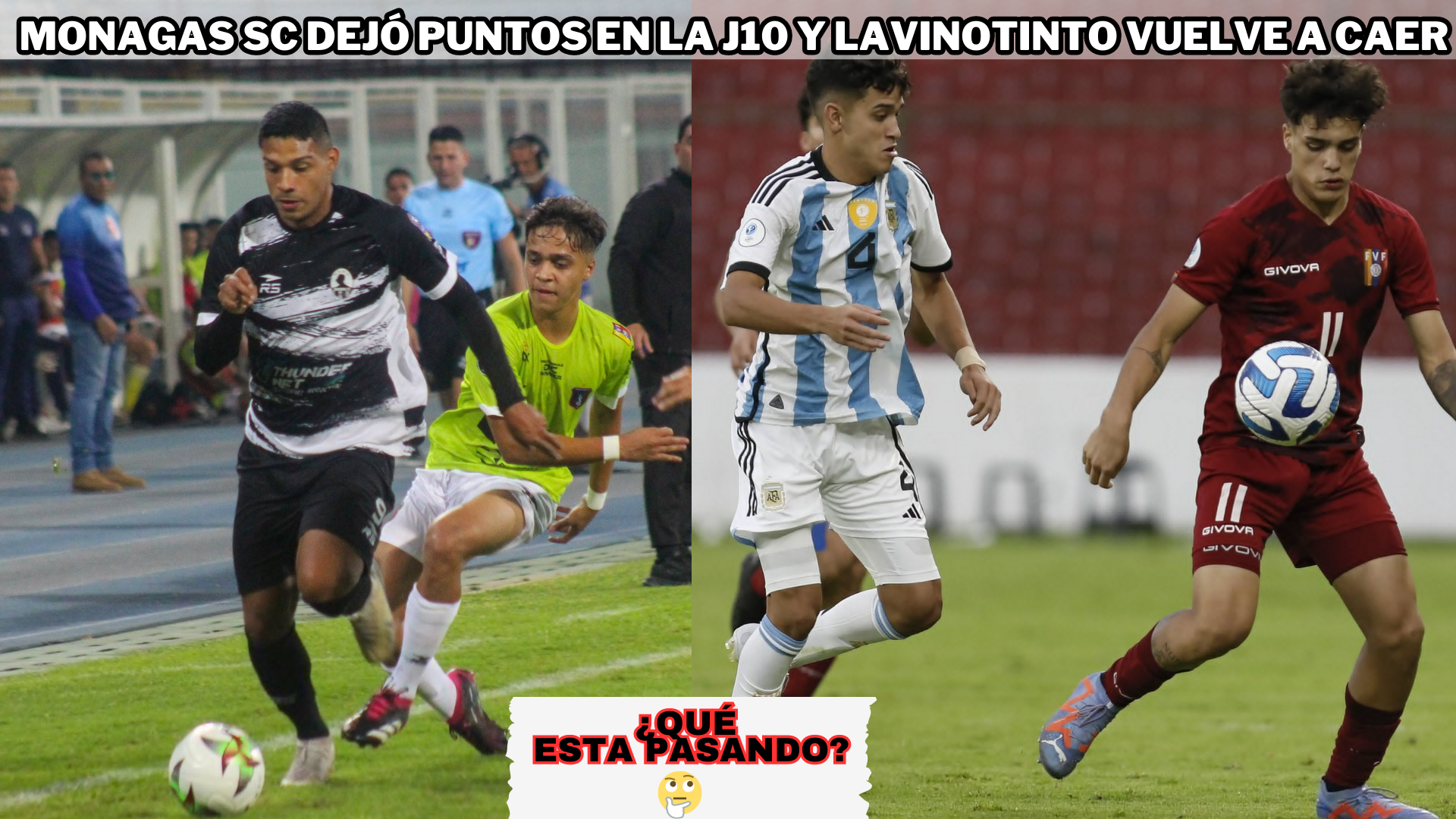 Fuente: Zamora FC y Conmebol. Edición desde canva

---
Este Viernes 14 de Abril, fue un día completamente lleno de una jornada futbolística, ya que se disputó la jornada diez de la primera división del Fútbol Profesional Venezolano y la segunda fecha del Sudamericano Sub-17, Ecuador 2023, en sus instancias del Hexagonal Final.
Y es que, en el ámbito nacional, Monagas Sport Club se enfrentó a Zamora Fútbol Club, en el Estadio Agustín Tovar, de Barinas, a partir de las 6:00 PM. Un encuentro que sería importante para los visitantes, debido a que venían de perder por la minima diferencia contra Portuguesa Fútbol Club en el Monumental de Maturín. Mientras que, el cuadro blanquinegro, llegaba a este crucial compromiso tras empatar a un gol con el Deportivo Táchira Fútbol Club, en condición de visitante.
Zamora FC vs Monagas SC | ¿Cuál fue el resultado?
Comenzó este emocionante juego en Barinas, donde los locales trataron de imponer condiciones y hacerse de la posesión del balón, aunque, el elenco oriental pudo adelantar sus líneas y generar ocasiones de peligro. Precisamente, al minuto 24', se ejecuta un tiro de esquina, en el cual interviene Andrés Romero, quien de cabeza impacta el balón, desviándose en Albert González para el gol en contra.
De igual manera, el choque siguió con la ventaja parcial para la visita, dominando y haciéndole daño a los de Francesco Stifano, quienes no conseguían la formula de cómo tratar de llegar al arco rival.
¿Penal?
En la fracción 44', aparece un penal generado por Edgar Carrión, ejecutándolo el atacante Panameño Abdiel Arroyo, para que finalmente Alexis Angulo detenga el disparo y enviándolo hacia un costado.
Después de unos minutos, apareció un ex Monagas Sport Club, Yanowsky Reyes, anotando el empate y levantando a la fanaticada del cuadro local.
¿Qué paso en el segundo tiempo?
Con las respectivas indicaciones de los entrenadores en cada uno de los vestuarios, salieron los equipos para disputar un segundo tiempo de total desgaste y emoción. Zamora Fútbol Club, por ser local tenían que cambiar su manera de jugar e ir por más en su casa, ante su público y en busca de un resultado satisfactorio.
Asimismo, los dirigidos por Jhonny Ferreira, trataron de encontrar la segunda diana, pero lamentablemente no se pudo y perdieron muchas ocasiones claras, como por ejemplo un disparo de Carrión que pego en el travesaño.
De esta forma, terminó el cotejo con igualdad a un gol, observando a los dos clubes con poca eficacia, y que por supuesto, deberán mejorar mucho para sus próximos duelos.
¿Y qué puedo analizar?
Desde mi análisis constructivo y deportivo, creo que el elenco de Maturín deberá buscar un socio en el mediocampo.
Edson Castillo, ha sido suplente en estos últimos compromisos (no sé porque). Lo ideal, es que se encuentre un jugador de sus mismas capacidades.
Por otro lado, La Furia Llanera, dejó muchos espacios para que los delanteros azulgranas recibieran sólo. Un detalle a corregir lo antes posible si quieren seguir subiendo peldaños en la tabla de clasificación de la Liga FUTVE.
This Friday, April 14, was a day completely full of a soccer day, as the tenth day of the first division of Venezuelan Professional Football and the second date of the South American U-17, Ecuador 2023, in its Hexagonal Final stages were played.
At the national level, Monagas Sport Club faced Zamora Fútbol Club, at the Agustín Tovar Stadium, in Barinas, at 6:00 PM. A match that would be important for the visitors, since they had just lost by the minimum difference against Portuguesa Fútbol Club at the Monumental de Maturín. Meanwhile, the blanquinegro team arrived at this crucial match after a one-goal draw with Deportivo Táchira Fútbol Club, as visitors.
Zamora FC vs Monagas SC : What was the result?
This exciting game began in Barinas, where the locals tried to impose conditions and gain possession of the ball, although the eastern team was able to advance their lines and generate dangerous chances. Precisely, at minute 24, a corner kick was taken, in which Andrés Romero intervened, who headed the ball, deflecting it to Albert González for the goal against.
The match continued with the partial advantage for the visitors, dominating and hurting Francesco Stifano's team, who could not find a way to reach the opponent's goal.
Penalty?
In the 44th minute, a penalty kick by Edgar Carrión, executed by the Panamanian attacker Abdiel Arroyo, was saved by Alexis Angulo, who sent the shot to the side.
After a few minutes, a former Monagas Sport Club player, Yanowsky Reyes, scored the equalizer and lifted the home team's fans.
What happened in the second half?
With the respective instructions from the coaches in each of the dressing rooms, the teams came out to play a second half of total wear and tear and excitement. Zamora Fútbol Club, being the local team, had to change the way they played and go for more at home, in front of their fans and in search of a satisfactory result.
Likewise, the team coached by Jhonny Ferreira tried to find the second goal, but unfortunately they were unable to do so and missed many clear chances, such as a shot by Carrión that hit the crossbar.
Thus, the match ended with a one-goal draw, with both clubs showing little efficiency and, of course, they will have to improve a lot for their next matches.
And what can I analyze?
From my constructive and sporting analysis, I think that the team from Maturín should look for a partner in the midfield.
Edson Castillo has been a substitute in the last few games (I don't know why). Ideally, he should find a player with the same capabilities.
On the other hand, La Furia Llanera, left many spaces for the azulgranas forwards to receive only. A detail to be corrected as soon as possible if they want to continue their
---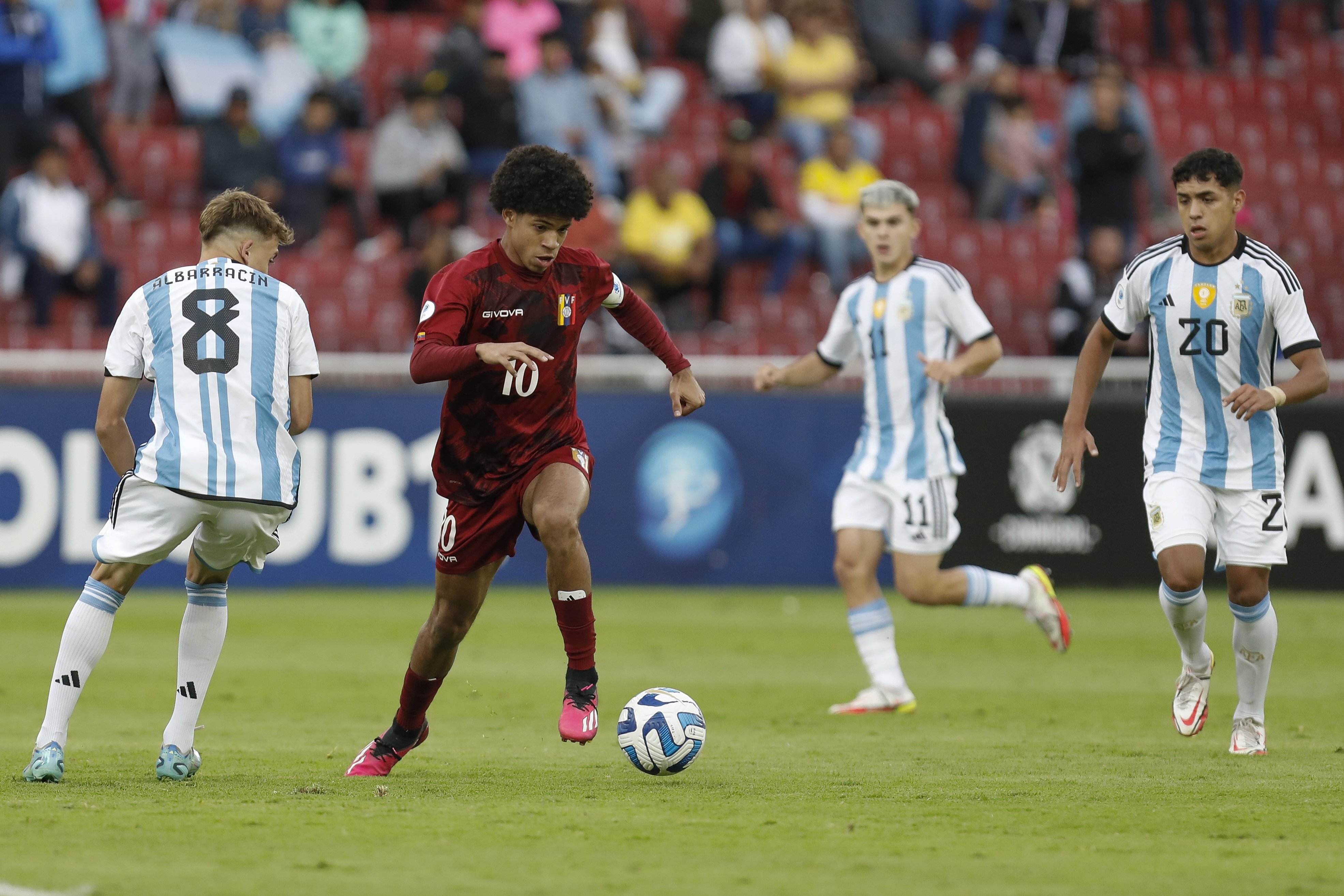 Fuente: Conmebol

---
En otra información deportiva en cuanto al Sudamericano Sub-17, que se lleva a cabo en Ecuador, tenemos que la Vinotinto perdió 2-1 contra Argentina, en un enfrentamiento de infarto donde los albiceleste se sintieron más cómodos con el balón y generaron muchas ocasiones de alto peligro, que de una u otra manera pudieron aumentar el marcador.
Santiago Lopez, se encargó de anotar los dos goles de Argentina. Uno al 15' y el otro al 45+5'.

Por otro lado, el empate de Venezuela llegó en las piernas del delantero Lucciano Reinoso al minuto 24', gracias a un tiro libre del capitán David Martínez.
La defensa | Opinión
Los criollos, deben de mejorar en la defensa. Dan muchas oportunidades para que los jugadores puedan girar y llegar solos al arco.
Ha pasado en muchas instancias del compromiso que el encuentro está parejo, pero la defensa no rinde al 100 por ciento.
De cara a su próximo choque, que será ante Chile este Lunes 17 a las 5:30 de la tarde (hora venezolana), tienen que minimizar esos errores defensivos. Además, mencionar que estos guerreros Vinotintos están en una etapa de formación y de adaptación. También, con pocos días de preparación para este torneo que da cuatro cupos para el Mundial de la categoría.
In other sports information regarding the South American U-17, which is taking place in Ecuador, we have that the Vinotinto lost 2-1 against Argentina, in a heart-stopping confrontation where the albiceleste felt more comfortable with the ball and generated many occasions of high danger, which in one way or another could have increased the score.
Santiago Lopez, was in charge of scoring Argentina's two goals. One at 15' and the other at 45+5'.

On the other hand, Venezuela's equalizer came in the legs of striker Lucciano Reinoso at minute 24', thanks to a free kick by captain David Martinez.
The defense : Opinion
The Creoles must improve their defense. They give many opportunities for the players to turn and reach the goal on their own.
It has happened in many instances of the match that the match is even, but the defense does not perform at 100 percent.
Facing their next match, which will be against Chile this Monday 17 at 5:30 pm (Venezuelan time), they have to minimize those defensive mistakes. Also, mention that these Vinotinto warriors are in a stage of training and adaptation. Also, with few days of preparation for this tournament that gives four quotas for the World Cup of the category.


---
---