La Sub-15 de Atlético La Cruz logró un empate sobre el final en la Liga FUTVE Junior - [ESP-ENG]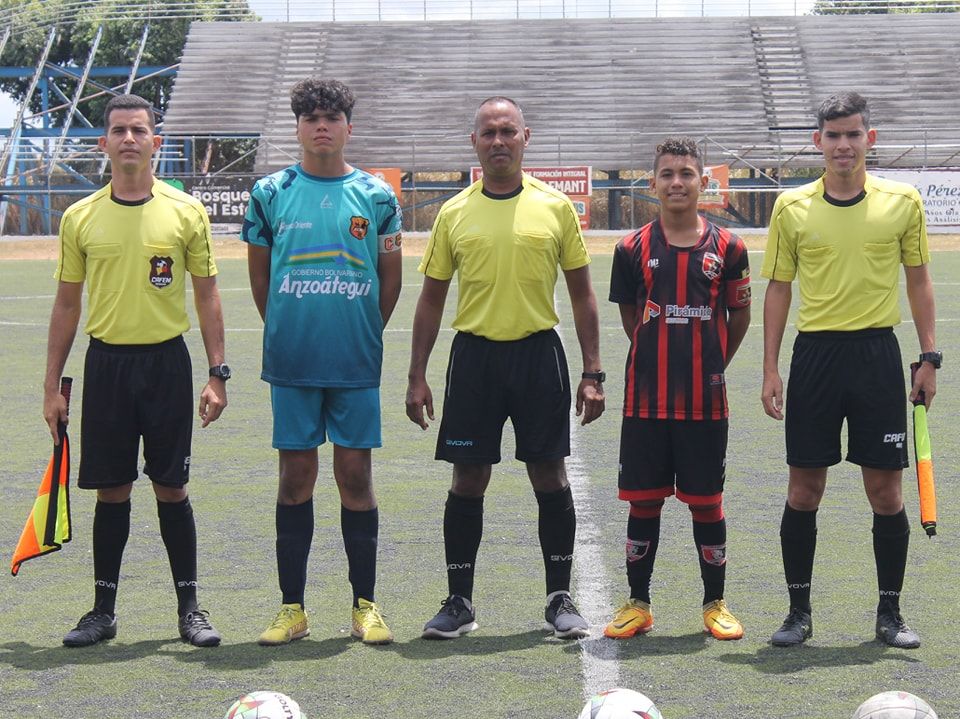 Fuente: Facebook

---
Este Sábado 25 de Marzo del año 2023, me dirigi al Estadio Alexander Comanche Bottini, de Maturín, para presenciar la segunda jornada de la Liga FUTVE Junior, en la categoría Sub-15, con el partido Atlético La Cruz y Academia Anzoátegui. Dicho encuentro, empezó a las 11:00 de la mañana.
De igual modo, mencionar que los dirigidos por Gustavo Ágreda venían de perder 4-1 contra Monagas Sport Club en la Cancha Alterna del Monumental de Maturín, en un compromiso parejo y que se abrió en la segunda etapa, con los goles orientales.
Ahora sí, en lo que compete el juego entre estos dos combinados por la fecha dos, decirles que fue de ida y vuelta en las dos areas, con un equipo visitante dominando la zona medular en el primer tiempo y llegando con claridad al arco del guardameta Fabián Gomez, ex portero de Academia Atlético Maturín y que fue seleccionado en la Captación que hice el cuadro rojinegro.
Asimismo, el mediocampo local no encontraba las formas de cómo poder neutralizar a los visitantes, debido a que tenían la posesión del balón y llegaban con mucha profundidad por los costados.
Ya al minuto 15' de la primera etapa, Sebastián Picciuto, colocaría la ventaja para el elenco anzoatiguense, en un balón parado en donde le quedó el rebote y el jugador antes mencionado termino rematando de primera intención.
Concluyó la primera etapa con ventaja parcial para la visita, entendiendo que los de Ágreda debían de mejorar si querían rescatar un resultado importante con su gente.
Análisis
En cuanto a mi analisis se refiere, vi a un equipo visitante más comodo en el mediocampo y con líneas más solidas por los costados. Además, de atacar con determinación al combinado local, que llegó en varios pasajes del encuentro, pero le falto finalizar mejor las jugadas, sobre todo por las bandas.
This Saturday, March 25, 2023, I went to the Alexander Comanche Bottini Stadium, in Maturín, to watch the second day of the FUTVE Junior League, in the U-15 category, with the match between Atlético La Cruz and Academia Anzoátegui. Said match started at 11:00 in the morning.
Likewise, it is worth mentioning that the team coached by Gustavo Ágreda had just lost 4-1 against Monagas Sport Club at the Cancha Alterna del Monumental de Maturín, in an even match that opened up in the second half, with the Eastern goals.
Now, as far as the game between these two teams for date two is concerned, it was a back and forth game in both areas, with the visiting team dominating the midfield in the first half and clearly reaching the goal of goalkeeper Fabián Gomez, former goalkeeper of Academia Atlético Maturín and who was selected in the training that the rojinegro team did.
Likewise, the local midfield could not find a way to neutralize the visitors, since they had possession of the ball and were reaching with a lot of depth on the flanks.
Already at minute 15' of the first stage, Sebastián Picciuto, would place the advantage for the anzoatiguense team, in a stationary ball where he got the rebound and the player mentioned above ended up shooting with first intention.
The first stage ended with a partial advantage for the visitors, understanding that Agreda's team had to improve if they wanted to rescue an important result with their people.
Analysis
As far as my analysis is concerned, I saw a visiting team more comfortable in midfield and with more solid lines on the flanks. In addition, they attacked with determination against the home team, which arrived in several passages of the game, but lacked better finishing, especially on the flanks.
---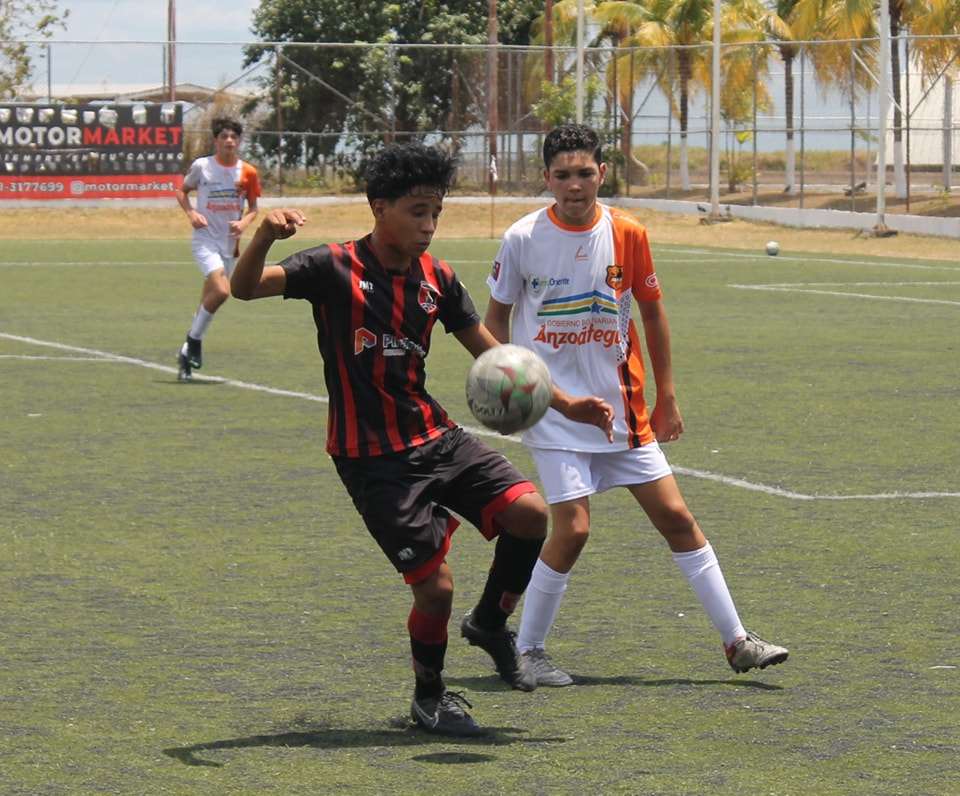 ---
¿Llegó el empate?
Con algunas variantes en la zona delantera, Atlético La Cruz, fue en busca de empatar las acciones a cómo de lugar y con el anheló de mostrar un buen Fútbol en comparación al primer periodo, que no sería tan productivo, debido a que el rival supo como jugarle al local.
Luego de algunos minutos, por fin llegaría la igualdad en el marcador, gracias a un centro magnífico desde un tiro libre de Nelyerbert Torres, quien asistió a Anthony Planché, este último finalizó la jugada con un cabezazo, adelantándose al guardameta contrario, dejándolo sin reacción al momento de salir a la disputa del balón.
Cansancio en algunos futbolistas
En los minutos finales, los entrenadores decidieron hacer sus últimas modificaciones y refrescar en varias zonas del campo.
De igual manera, en Atlético La Cruz, ingresó Lorenzo Pérez, un jugador que fue formado por Sporting Club Paramaconi y que le puede decir a sus padres que ha disputado dos partidos en la Liga FUTVE Junior, siendo esta su primera experiencia en un torneo de mucha exigencia, que tendrá ida y vuelta.
Sólo es momento de esperar que se adapte a esta Liga y a la filosofia de su entrenador, que por cierto, tiene mucha experiencia.
Finalmente, el duelo quedó con empate a un gol. Aunque, los locales, sabían que podían llevarse la victoria en la recta final de este electrizante cotejo que dejó a los arqueros como figuras.
Opinión
Y en relación a mi opinión, me parece que las sustituciones ayudaron mucho en el segundo tiempo a Atlético La Cruz. Se vio con más jugadas colectivas y constantes llegadas por el costado derecho, lugar por donde gravitaron en varias oportunidades.
Lo que si veo que tienen que corregir, es al momento de marcar en la zona medular. No se le puede dejar libertad de movimientos a los rivales en la zona medular, ya que es mortal con un pase en diagonal, y puede existi el mano a mano con el defensor y delantero.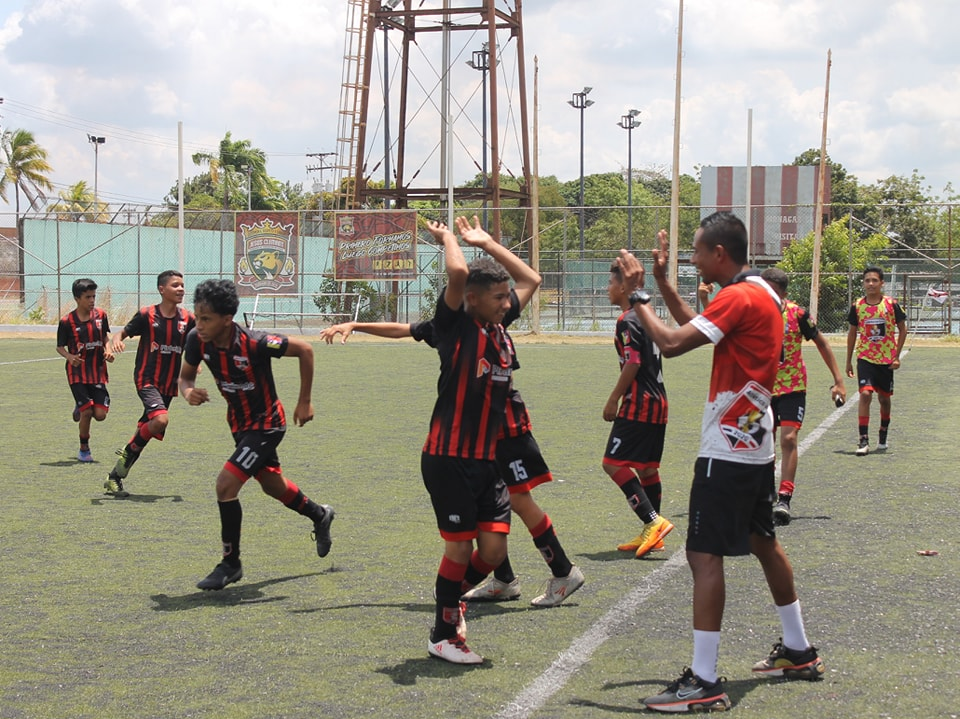 ---
Did the tie come?
With some variations in the forward zone, Atletico La Cruz, went in search of tying the actions at any cost and with the desire to show a good soccer in comparison to the first period, which would not be so productive, because the rival knew how to play the local.
After a few minutes, finally the score was equalized, thanks to a magnificent cross from a free kick by Nelyerbert Torres, who assisted Anthony Planché, the latter finished the play with a header, overtaking the opposing goalkeeper, leaving him without reaction at the time of going out to dispute the ball.
Tiredness in some players
In the final minutes, the coaches decided to make their last modifications and refresh in several areas of the field.
Similarly, in Atletico La Cruz, Lorenzo Perez entered, a player who was formed by Sporting Club Paramaconi and who can tell his parents that he has played two games in the FUTVE Junior League, this being his first experience in a very demanding tournament, which will have back and forth.
It is only time to wait for him to adapt to this league and the philosophy of his coach, who by the way, has a lot of experience.
In the end, the match ended in a one-goal draw. Although, the locals knew that they could take the victory in the final stretch of this electrifying match that left the goalkeepers as stars.
Opinion
And in relation to my opinion, it seems to me that the substitutions helped Atletico La Cruz a lot in the second half. It was seen with more collective plays and constant arrivals on the right flank, a place where they gravitated in several opportunities.
What I do see that they have to correct is when marking in the midfield. You can't leave freedom of movement to the rivals in the midfield, as it is deadly with a diagonal pass, and can be one-on-one with the defender and striker.


---
---