Stop Fight and Stop War!!!
Greeting to you all and happy Easter in advance. Wish you to have a wonderful day with the wonderful image I shared in this community.
This morning I woke up from the bed and I quickly dressed to get myself what to prepare like bread and tea. When I opened the gate of where I am currently living. Behold it was two domestic birds trying to fight. I tried to separate them but I remembered that I live. A time to fight must occur and a time for peace. I left the Chicken and the turkey to fight.
From the beginning of the fight, it was Turkey that saw the Chicken and started rushing for a fight but the Chicken have to defend its own territory and prestige just like the Ukrainians are doing with Russia. Fight and war are never a good thing because life and properties will be destroyed. Please Russia and Ukraine's war needs to be stopped and let peace and love lead between the two giant countries.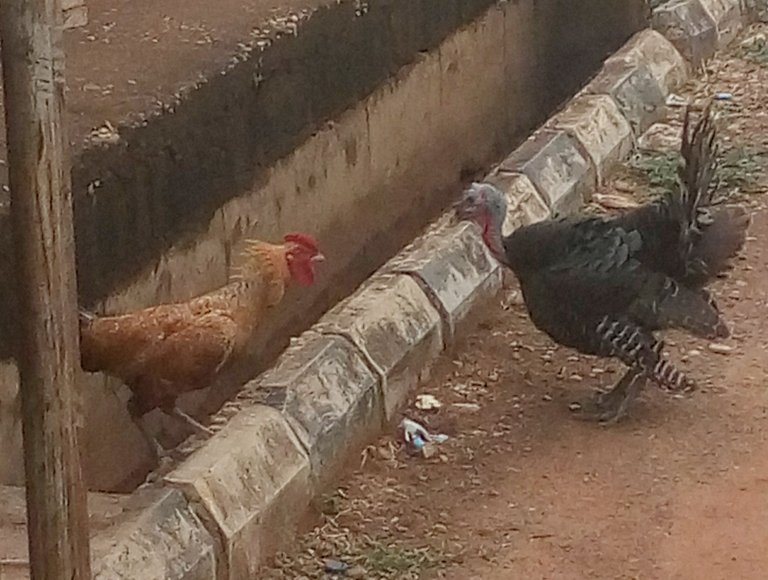 The fight between the two domestic birds also reminds me of the football fight between Manchester United and Everton. Well, Man-U taught that they will beat Everton to step forward in the premier league but it didn't work out for them rather Everton beat them 1-0. Sorry to all Man-United Fans all over the world.
Let me not forget, do you know that after the two fights these domestic birds both later settled the moment they Turkey fowl noticed that the Chicken bird was also ready to fight back. Well, this was interesting and I believe that Russia and Ukraine will also settle not minding the lives and properties both countries have lost.
---
---