Sa Pobla Plaza Compilation 2008-2020 [Arrovf Media 2022]

(Unsupported https://www.skatehype.com/ifplay.php?v=13597)
Video that compiles footage of several years of Sa Pobla Plaza, a spot in Mallorca that has appeared in many international videos.
It is a large space with several banks that allow different combinations of tricks, but you also have lines of stone benches, and you can also put one (with the help of several people because the benches are difficult to move) on the grass as a bridge-gap.
Skaters: Xesc Alomar, Ian Waelder, Duncan Hodgkinson, Guillermo J. Puya, Simon Stucki, Andrés Moral, Pitu Panés, Javier Cadavieco, Pepe Bartolí, Chaz MerryWeather (@chazmerryweather), Aitor López (@aitorlopez), Billy Palou, Job Willemsen, Miki Jaume (@mikijaume), Miguel Urbina (@miguelurbina), Lolo Cosmelli (@lolosfx)
Filmed by: Alejandro Arroyo, Ian Waelder, David Bernstein
---
Vídeo que recopila grabaciones de varios años de la plaza de Sa Pobla, un spot de Mallorca que ha aparecido en multitud de videos internacionales.
Es un espacio amplio con varios planos inclinados que permiten diferentes combinaciones de trucos, pero también tienes lineas de bancos de piedra, y además puedes poner uno (entre varias personas porque son difíciles de mover) en la parte del cesped a modo puente-gap.
Aparecen: Xesc Alomar, Ian Waelder, Duncan Hodgkinson, Guillermo J. Puya, Simon Stucki, Andrés Moral, Pitu Panés, Javier Cadavieco, Pepe Bartolí, Chaz MerryWeather (@chazmerryweather), Aitor López (@aitorlopez), Billy Palou, Job Willemsen, Miki Jaume (@mikijaume), Miguel Urbina (@miguelurbina), Lolo Cosmelli (@lolosfx)
Grabado por: Alejandro Arroyo, Ian Waelder, David Bernstein
Published by Alejandro Arroyo via Skatehype.com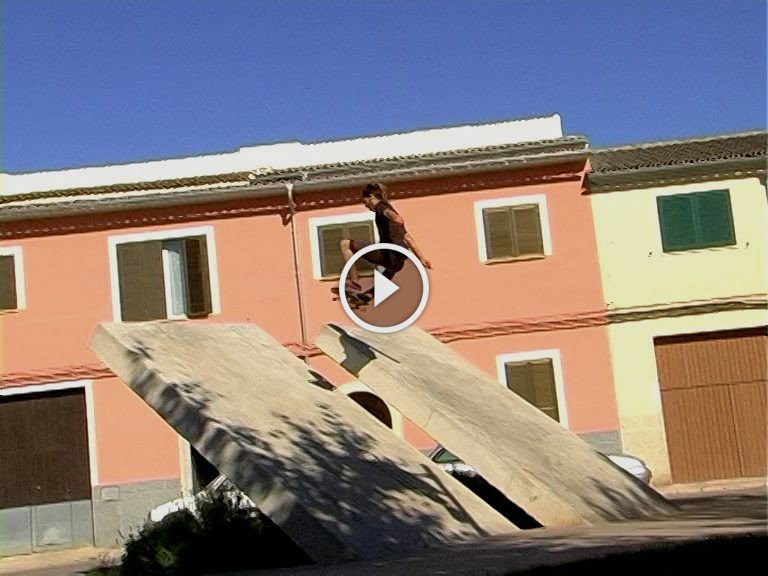 ---
---