Are we going to sign anybody?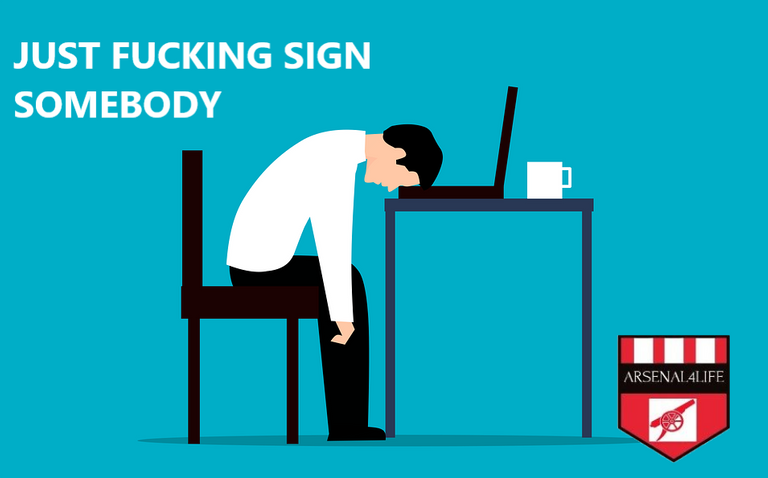 I'm not one to whine about signing players if there's no need for them. Right now, we can't continue to pretend like we don't need reinforcements in this field, particularly as we're trying to fight our way into the top 4.
As it stands now, we're in a straight battle for 3rd and 4th position with Spurs, Chelsea, United and West Ham.
It is a really tight situation and small margins matter. In fact, we're now at the second half of the season and at this point, there's really no room for complacency.
If we're going to push for the top 4, we have to solidify some aspects of our game and upgrade what we have. I understand our errors of the past that got us a bloated squad might still be lingering in the minds of the Arsenal hierarchy but we need reinforcements.
Need a new striker
At this moment, we're down to two misfiring strikers in Lacazette and Eddie Nketiah. We can excuse Nketiah for his age if we like but the fact remains that he's not been doing enough to get us over the line.
We spent the entire month of January being linked to Vlahovic, only for Juventus to pull the trigger and get him from right under our nose.
I can understand why he would move to Juve over Arsenal. At this point in time, both clubs are in the same position in the league but at least the move from Florence to Turin won't be as tedious as relocating to England.
The January transfer window is usually a difficult period to get quality players, talk less of getting one of the top strikers in the world from another country.
We have also been linked to both Isak and Calvert-Lewin but I frankly can't see how either of them is an upgrade to Lacazette.
The Auba situation is also something that needs to be looked into because he's still a decent striker.
In the past season, he's not been prolific and then the recent scandal has also seen him revert to his old ways that we were warned about when we signed him from Dortmund. Now, he's been left out of the squad and Arteta doesn't seem to be interested in working with him.
In Midfield
At the base of midfield, we also have a personnel crisis. Granit Xhaka is simply not good enough, despite his qualities.
Granit is a solid player on his day but his days are few and far. He's always one bad decision away from ruining our games and I'm tired of him.
Sambi looks lively when he plays and looks like a man trying to prove himself. I reckon a combination with Partey could be good for the team but I also don't see the Belgian as the short term solution.
Sambi is still quite young, so he will improve. Speaking of young, we have Guendouzi, who is also another talented midfielder that could contribute to our cause.
Unfortunately, Arteta also fell out with Guendo and he's been playing in France ever since. Elneny is a very dedicated player but he's also VERY limited and can be frustrating to watch if it's a match that we're not leading.
There are currently just 5 days until the end of the transfer window and the players are on an international break. Will we be bringing in reinforcement in parts of the pitch, or will we be cautious?
Until we meet again, up the Arsenal.

---
---