How do you feel about the first game week of the season?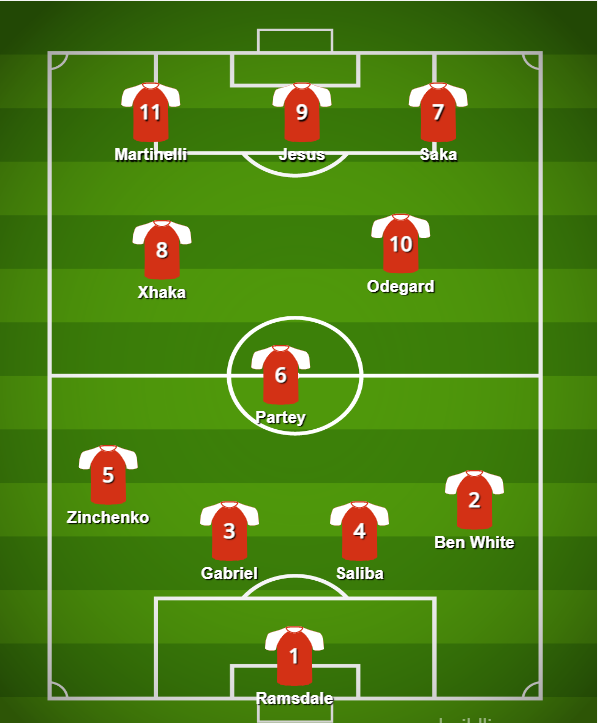 We kick off the Premier League season in a couple of days with the squad above, expected to be our starting lineup. This is the squad that recently put 6 past Sevilla in our most recent preseason friendly and I have to say that I am excited.
The impressive thing about this team is how it is a subtly massive team. It is a lineup filled with underrated players that all have a point to prove.
Everyone has a justifiable claim to start in this squad and frankly speaking, on a good day, virtually all these players feature in pretty much any team in the league, bar Liverpool and City.
Our first match will be an away fixture against Crystal Palace and all we can hope for is a fast start to the season. Memories of our terrible start last season will certainly be lingering in the minds of the players as we get this season going.
Fortunately for us, we have an almost fully fit squad and some additions that add further gloss to our young squad.
New faces
It is fascinating how tiny changes in a squad could transform how the team plays. We spent most of last season with misfiring strikers that looked completely out of sorts with Arteta's system.
Our misfiring strikers cost us a lot of points but at least we discovered Nketiah that genuinely feels like a new signing for the squad. Many see him as a backup striker but I think he will get many starts and play a lot of games.
Discovering Nketiah was nice and all but the addition of Gabriel Jesus looks like a move that will take our attacking play to the next level. The Brazillian brings a certain level of dynamism to the team that Lacazete struggled to produce.
Last season, we also suffered a lot due to the absence of our main fullbacks and while we are without them again for the start of the new season, we have formidable deputies to fill in.
In Zinchenko, we have a proven full-back that has played at the highest level for City. His presence means that we will not have to watch Tavares put in more jerkyl and hyde performances that cost us quite a lot last season.
The return of William Saliba is also another bit of business that has gone under the radar. The young french defender was voted the young player of the year in French Ligue 1 during his loan spell last season. He has also been capped by the french national team.
Saliba's return means we can field Ben White in the right back position. He seems more capable than Cedric because he implements the tactics. We also don't lose much pace or dynamism from fielding Ben over Cedric since both players have pretty much the same pace, although Cedric has better crossing ability.
The only worry
There's only one part of the pitch that gives me great concern and it is the fact that we will be largely playing a single pivot at the base of midfield. Thomas Partey is capable of handling it alone but last season he missed 14 games and his absence was felt.
Just like Tavares, I know there's a player in Lokonga but it will take some time. If anything were to happen to Partey, we will most likely have to shift to a double pivot with Xhaka falling deeper, leaving Odegard as the lone creator behind the front three.
When Xhaka drops deep, I reckon Martinelli will have to drop further into midfield, as Odegard often prefers to operate on the right flank beside Saka. Also, when Xhaka drops deeper, it gives Zinchenko freedom to roam, with Xhaka temporarily filling in at left back. I have to say that it is the one thing I absolutely hate to see, as Xhaka is still somewhat of a liability in defensive situations.
It is still left to be known how Vieira and Smithe Rowe will be used this season but many believe the latter will feature more centrally. In games where Partey plays, I can see Smith or Viera replace Xhaka in central midfield, as both players have good close control, with Vieria edging Smithe Rowe in the passing department.
Very Exciting
I think we have a settled front three that has the ability to torment virtually any defence. We have a fast, young and hungry attack that will be looking to put their blistering pace to action by pressing up high and pouncing on any errors the opponent makes.
There's a lot of fanfare about Nunez and Haaland because they are the new boys in the league. Spurs have largely strengthened their bench and with Conte, they could be really solid next season.
Chelsea is still going through a transitional period and the addition of Raheem Sterling is a weird piece of business but one that I reckon they need. Sorry to say it but the British winger doesn't look like he outrightly upgrades that Chelsea squad.
At Arsenal, we are seeing the team take shape and while preseason games are just meant for fitness, we got a glimpse of how we intend to play next season and I have to say, we look really good. We put four past Chelsea, and six past Sevilla in back to back friendlies; that highlights the kind of high intensity game we're going for in the coming season.
The Arsenal project is coming along nicely, and a strong start to the season will see the pundits start putting us into the title change. Personally, I think it is a stretch, we need to just focus on winning matches as they come and see where that gets us at the end of the season. Until we meet again, up the Arsenal.

---
---