I'm starting to believe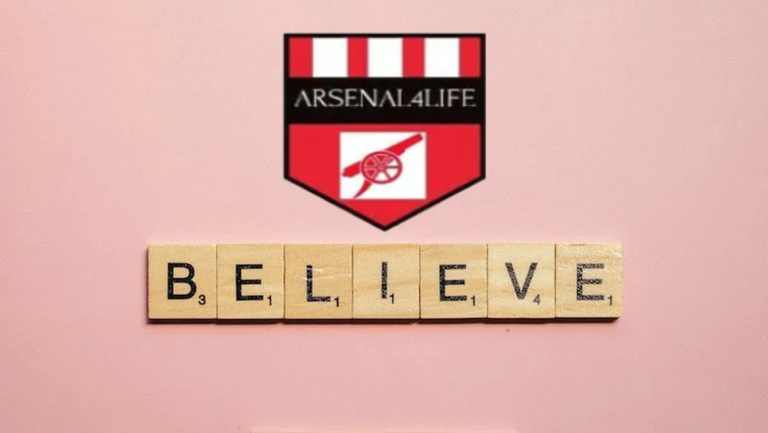 That's 19 games gone and we're 5 points ahead of second position with a game in hand. We're cruising at the top of the league, paying like we're possessed and not taking anything for granted.
All the talks about our rise being a fluke have gone out the window and people are now taking us seriously. The haters are still making baseless predictions and trying their best to use our name for clout but Arteta's boys block out the noise and look focused.
Winning 16 out of your first 19 games of the season is impressive enough but what stands out about our season is the manner in which we've been getting results. We come into the pitch and dominate the opponent with intricate play and when that doesn't work out, we just use brute force to get what we want.
Today, we went up against an inform Manchester United team and the only team that gave us our only taste of defeat in the league. It was a hard pill to swallow on the balance of play but we paid for our naivety and obviously learnt our lesson.
In this return leg at the Emirates, things seemed pretty much the same way it was at OT and I must admit that I was starting to be worried it would be a repeat when Rashford scored the opener. However, we showed our resilience, once again, to grab the equaliser a few minutes later.
The Balance of Play
On the day, I'd say it was a pretty even contest in terms of clear-cut openings made by both teams. Since we largely dominated possession and are far better drilled than Manchester United, we had far more touches in their box and fashioned more shooting opportunities.
For Manchester United, the plan was crystal clear and it worked out for them. They try to soak up the pressure and then hit on the counter but we're wiser now, so that proved to be ineffective.
The two goals scored were from a snap shot by Rashford and a scrappy header from Martinez after a rare Ramsdale howler but sometimes, that's all you need. Manchester United had a few other half chances but they were annulled due to a combination of Ramsdale's advanced sweeper keeper position and Arsenal's high line that also ensured we dominated midfield with our neat and intricate passing.
For Arsenal, it was service as usual, as we played our normal game and didn't have to make any special considerations for the match. However, as pointed out earlier, Ramsdale's position and the high line prevented Manchester United from capitalising on many of the long ball attempts they tried.
Gabriel Maghalese enjoyed his battle with Wout Weghorst, who was rendered ineffective. I assume his presence in the team is to fight for knockdowns and create space for the in-form Rashford but he couldn't because of the Brazilian defender.
There were interesting tactical battles all over the pitch and all of them made for an interesting spectacle. Rashford was a little bit to hot for Ben White who got hooked at half time.
Until Anthony was replaced by Fred, Zinchenko's movement was restricted to somewhere around the halfway line. Replacing Antony with Fred gave the Ukrainian left back freedom to roam and boy did he use it.
Wan Bissaka didn't give Martinelli a moment's peace as he largely rendered the Brazillian useless. However, Martinelli still managed to pull him out of position a number of times, including a darting run to midfield that created space for Xhaka and Zinchenko to connect for the assist to Nketiah's header and our equaliser.
On Arsenal's right flank, Bukayo Saka was his typical self, constantly causing problems and Luke Shaw would be feeling the strain. The British winger was relentless in his quest down the right and got our second goal from a snap shot after Luke gave him a bit too much space.
Martinelli was taken off for new signing Trossard who, I must say, looks like the real deal. He offered the team something completely different on the day and his input contributed to the winning goal in the dying minutes.
Believe
Listen, I'm trying not to get ahead of myself to claim that we will win the league but we're in with a shout, that's for sure. It's not even about the number of points and the table but more about how we're playing.
Our football was mesmeric, at times and the quality of passing and movement in the squad is almost instinctive. It is basically like a hive mind controlling these players and I tell you what, we keep this up and we'll be hard to stop as we head into the second half of the season.
I don't know what awaits us at the end of the season but I can say for sure that we will be in the mix of title contenders this season. Until we meet again, up the Arsenal.

---
---