[PL / ENG] Przedświąteczne Katowice / Pre-Easter Katowice My Actifit Report Card: April 12 2022
Spacer z Bomblem po Katowickim śródmieściu to zawsze dobry pomysł, a już szczególnie, kiedy wreszcie słońce zaczęło jakoś grzać. Chętnie więc skorzystałam z okazji, że musieliśmy odwiedzić Tatusia w pracy, i wyskoczyliśmy na super spacer.
A walk with the Baby around Katowice downtown is always a good idea, especially when the sun finally started to heat up. So I gladly took the opportunity that we had to visit Daddy at work, and we took a great walk afterwards.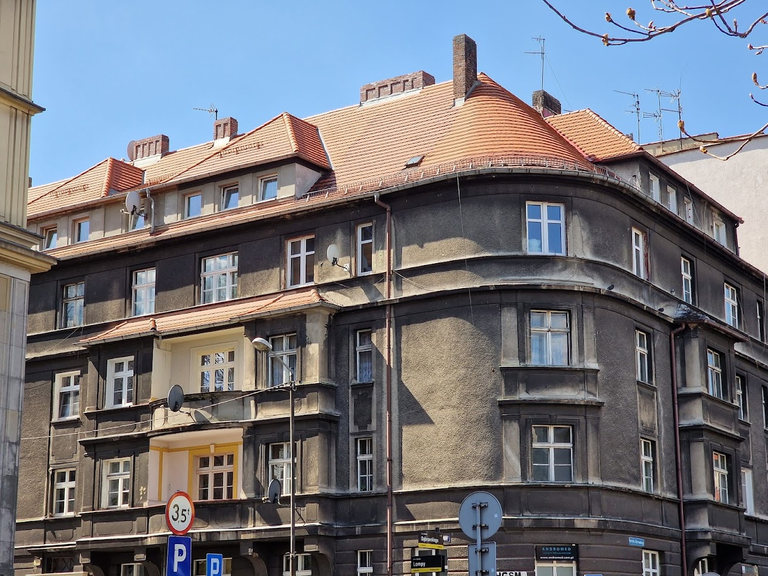 Ponure gmachy czy strzeliste kamieniczki? Wszystko tu jest, wszystko ma swój urok.
Gloomy buildings or soaring tenement houses? Everything is here, everything has its charm.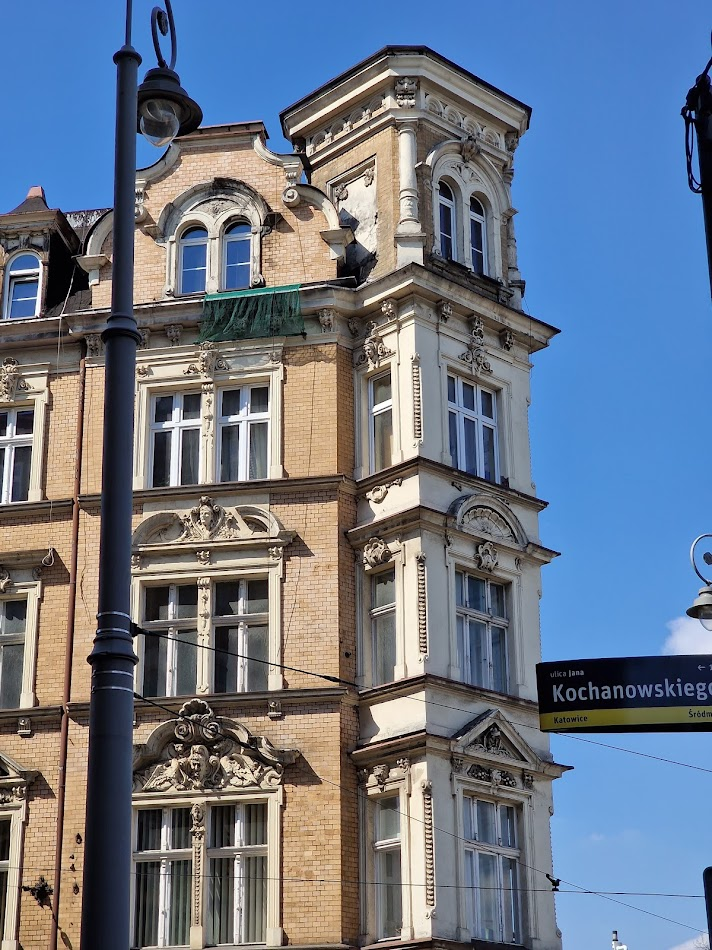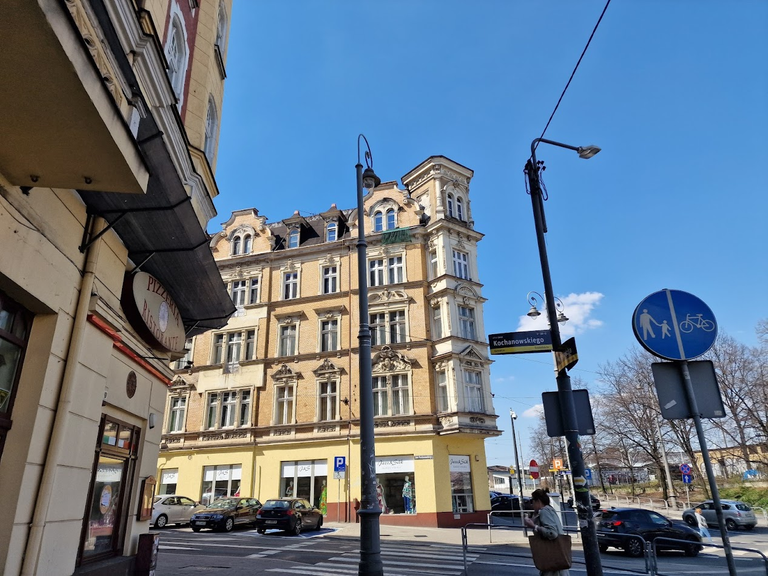 Przeszliśmy sobie niespiesznie na ulicę Dworcową, nowy deptak w mieście. I proszę, odkryłam coś nowego, spostrzegawcza ja.
We walked slowly to Dworcowa Street, a new promenade in the city. And here you go, I discovered something new, perceptive me.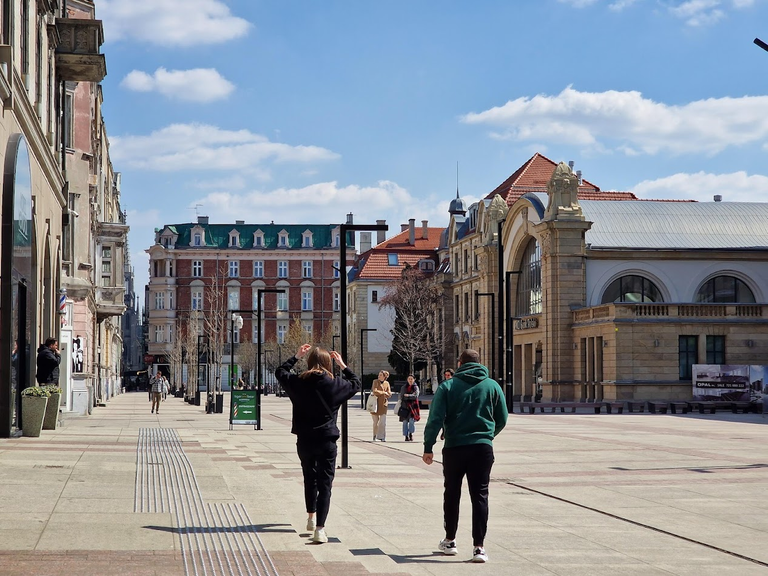 Mianowicie, jak się stanie w dobrym miejscu, to już z Dworcowej widać dobrze Kościół Mariacki! Całkiem ciekawe ujęcie.
Namely, if you happen to be in a good spot, you can see St. Mary's Church from Dworcowa Street! Pretty interesting shot.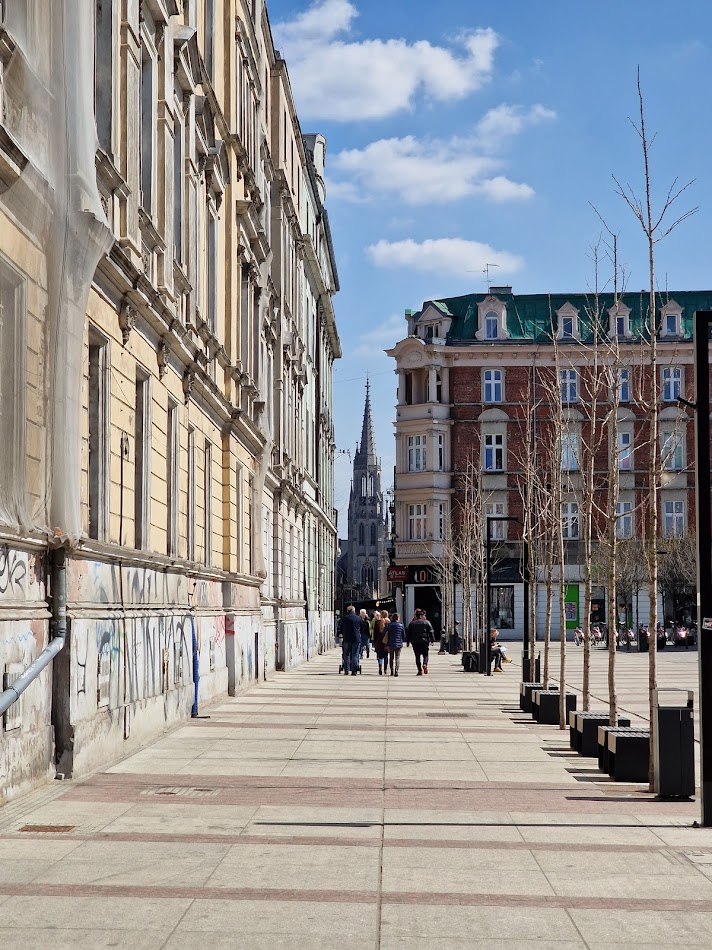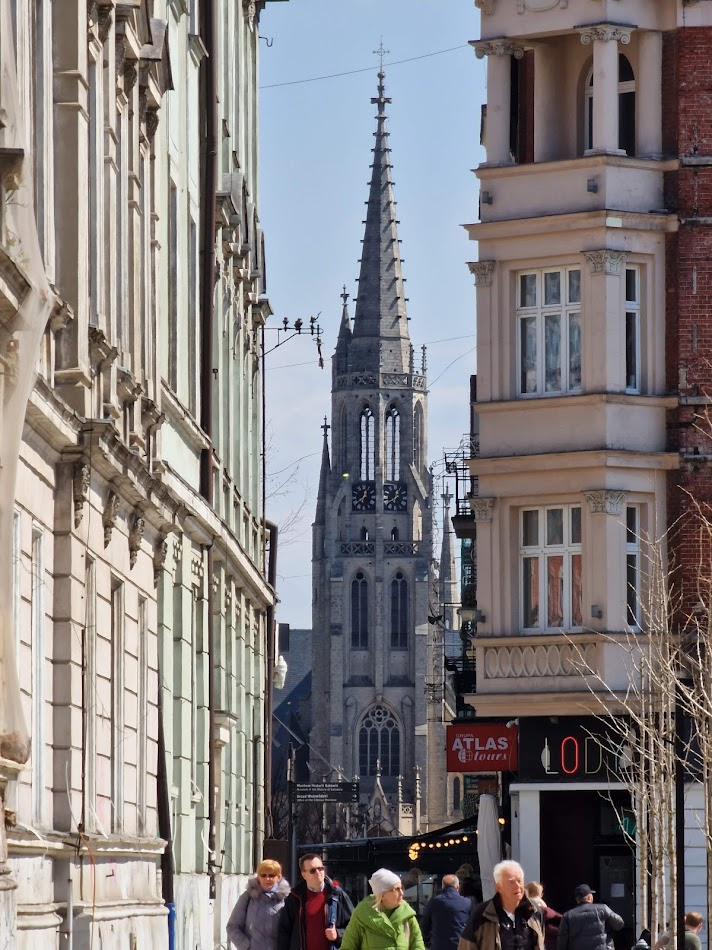 Ruszyliśmy tą Mariacką, Tu zdjęcie upamiętniające ten pierwszy długi spacer nowym wózkiem, w kierunku do jazdy na przód, a nie do mamy. Bombel nic nie protestował, był tylko lekko zdziwiony. Ot, niczym kolejne odcięcie pępowiny :)
We moved to the Mariacka street. Here is a photo commemorating the first long walk in a new stroller, in the direction of driving forward, not to the Mummy. The Baby did not protest anything, he was only slightly surprised. Just like another cut of the umbilical cord :)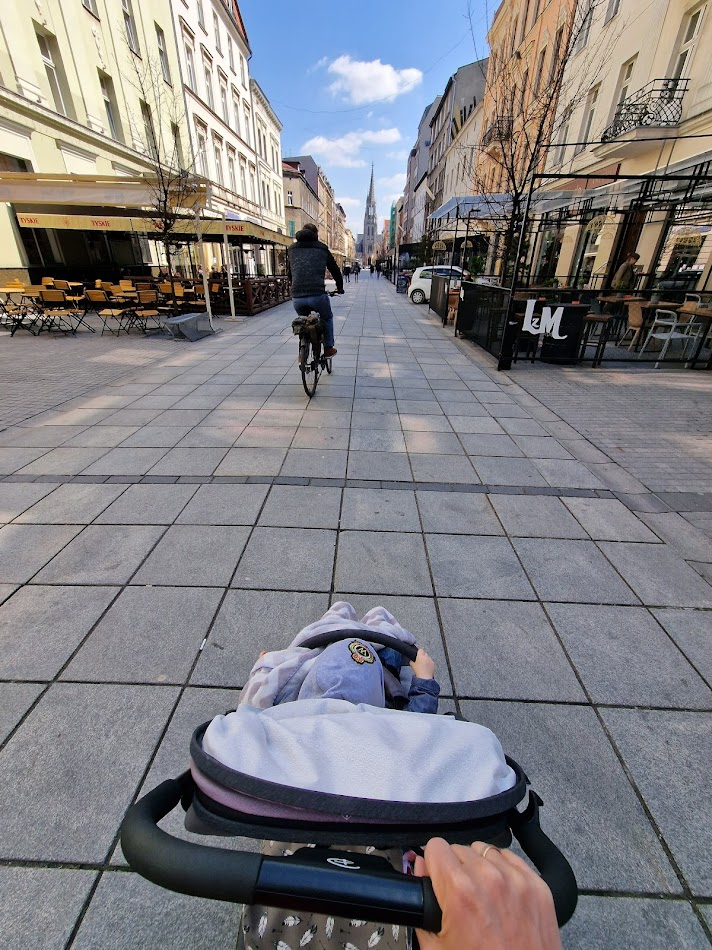 Sam kościół z bliska specjalnego wrażenia nie robi, za to pięknie zakwitnięte drzewo już tak. Czekałam, oj czekałam na ten widok!
The church itself does not make a special impression up close, but a beautifully blossomed tree does. I was waiting for this sight so long!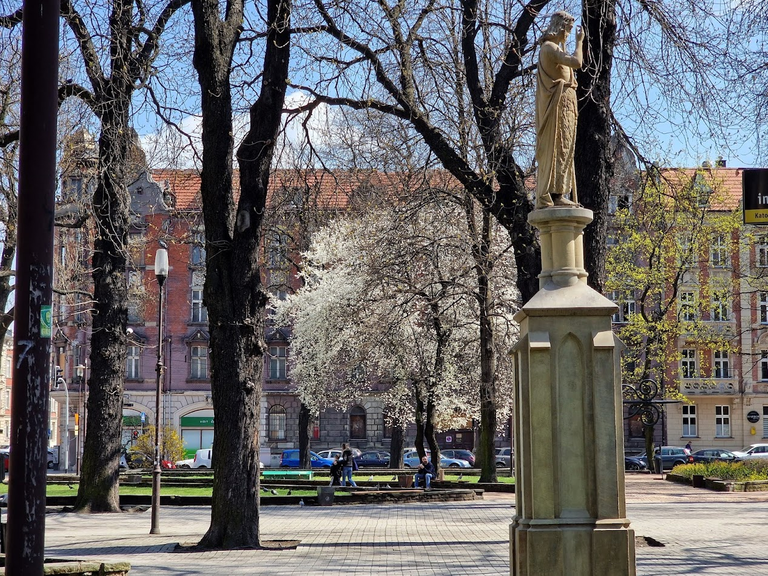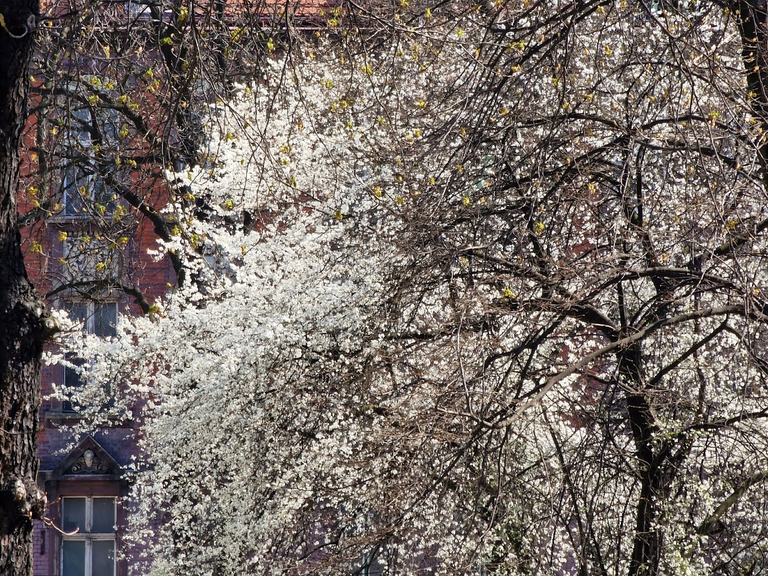 Wracamy w kierunku dworca. Kolejny kościół po prawej, a zza niego nieśmiało zerka na nas .KTW.
We go back towards the station. Another church on the right, and from behind it shyly peers at us .KTW.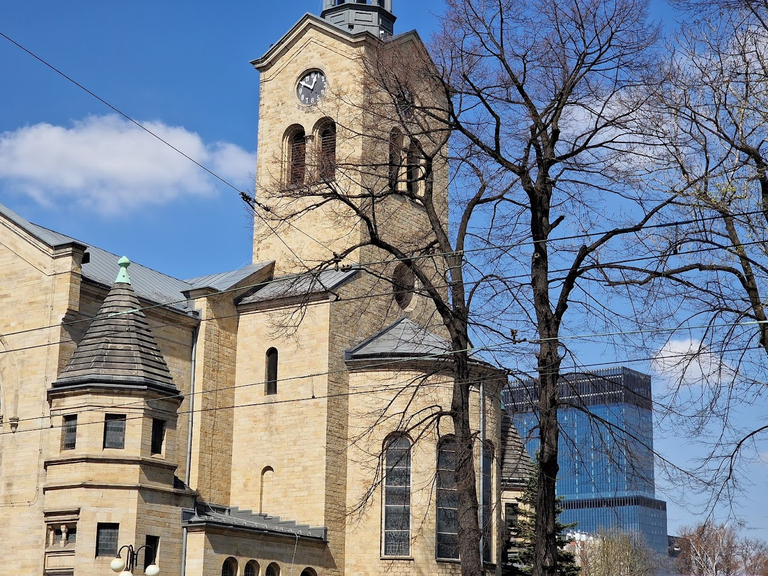 Kamienica na Warszawskiej, będąca niechlubną siedzibą partii rządzącej.
The tenement house on Warszawska Street, which is the infamous seat of the ruling party.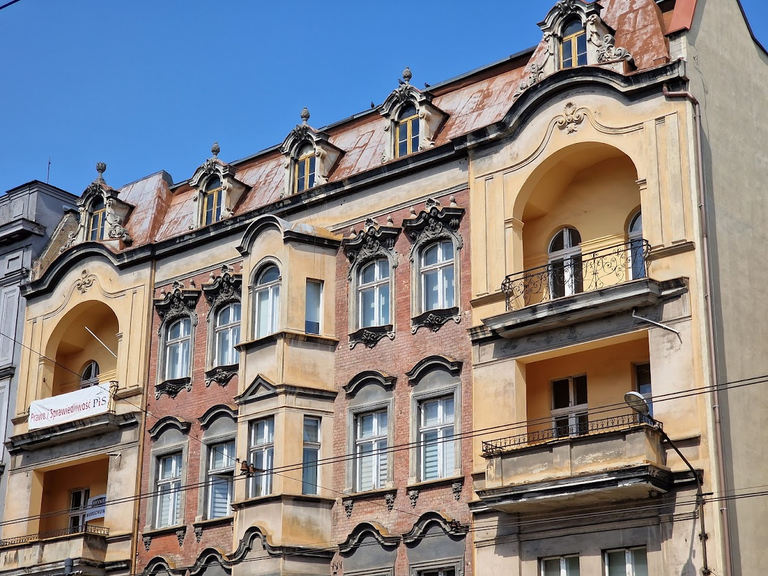 Dotarliśmy do rynku, a tu niespodzianka! Jarmark świąteczny! Kompletnie zapomniałam, że na Wielkanoc też się odbywa. Jest dużo mniejszy niż Bożonarodzeniowy, ale ludzi krząta się całkiem sporo, nawet o tak wczesnej porze.
We got to the market, and here's a surprise! Easter market! I completely forgot that it also takes place at Easter. It is much smaller than the Christmas market, but there are a lot of people bustling around, even at this early hour.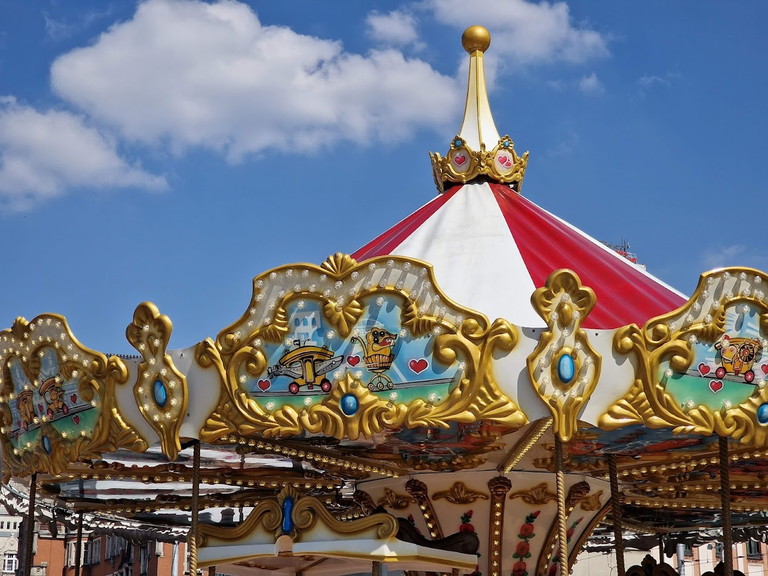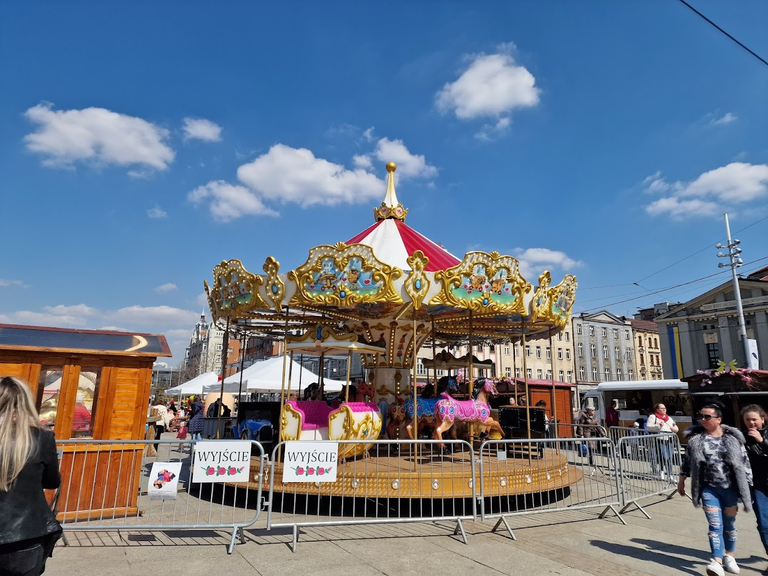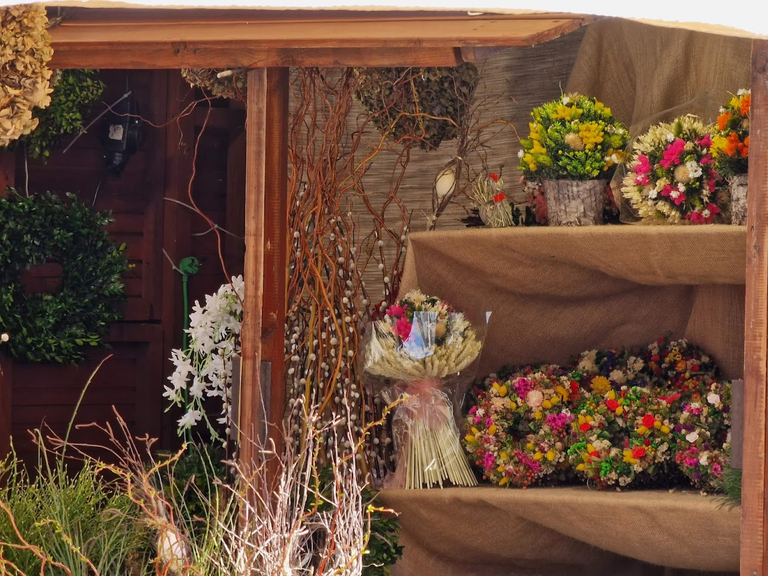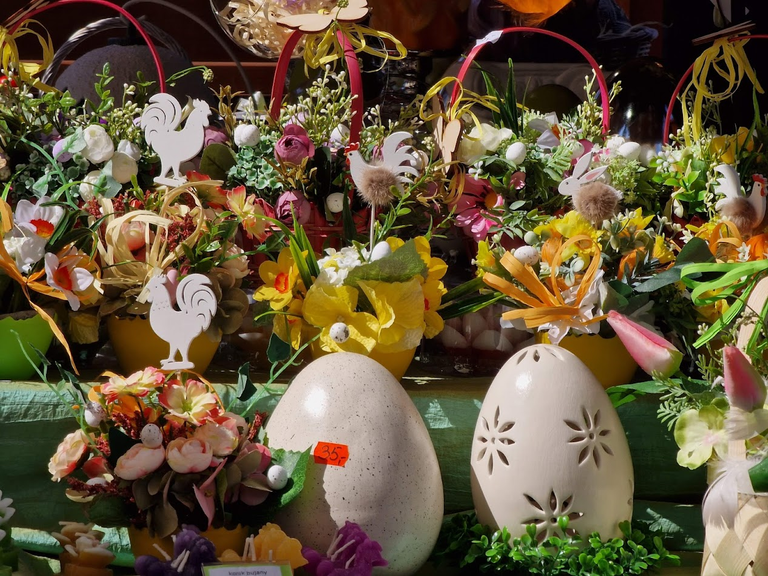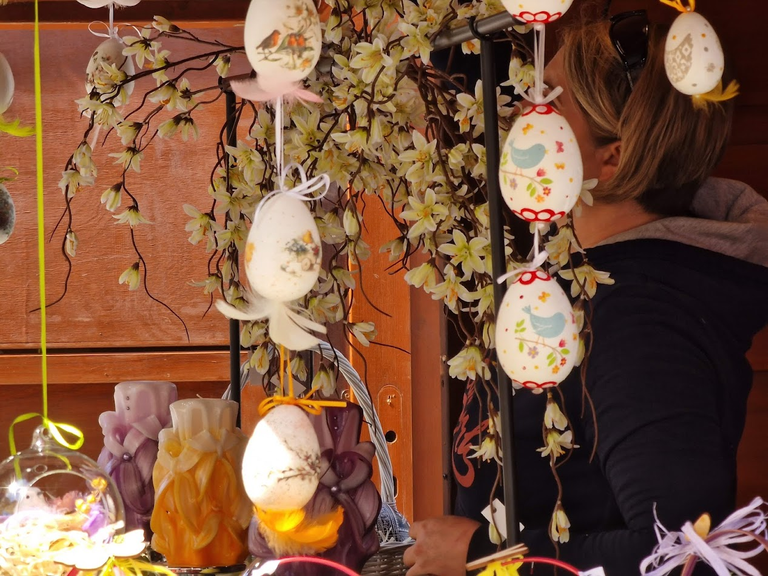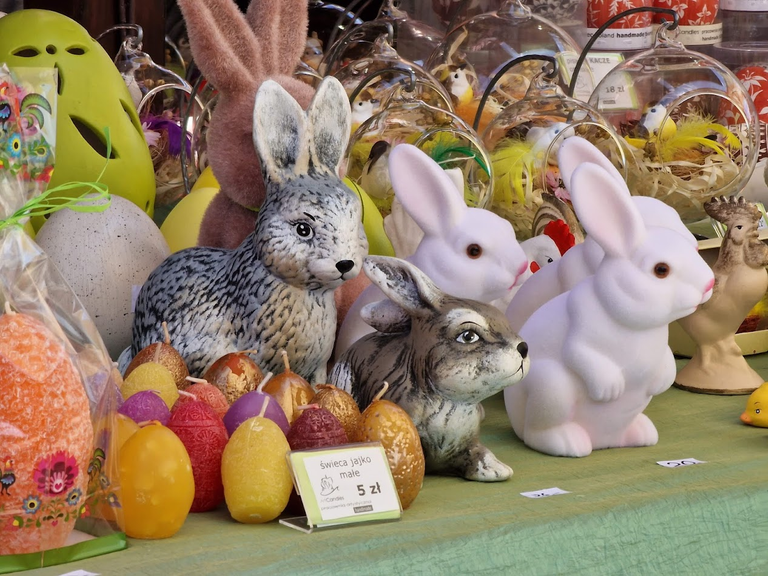 Nastrój świąteczny podbudowany, całkiem miło. Ruszamy dalej. Przechodzimy Stawową w kierunku Liceum Mickiewicza - jednej z najlepszych szkół w województwie, mieszczącej się w przepięknym budynku, niestety trudnym fotograficznie ze względu na mnogość aut wokół.
Festive mood refreshed, quite nice. We move on. We pass Stawowa towards the Mickiewicz High School - one of the best schools in the province, located in a beautiful building, unfortunately difficult to photograph due to the multitude of cars around.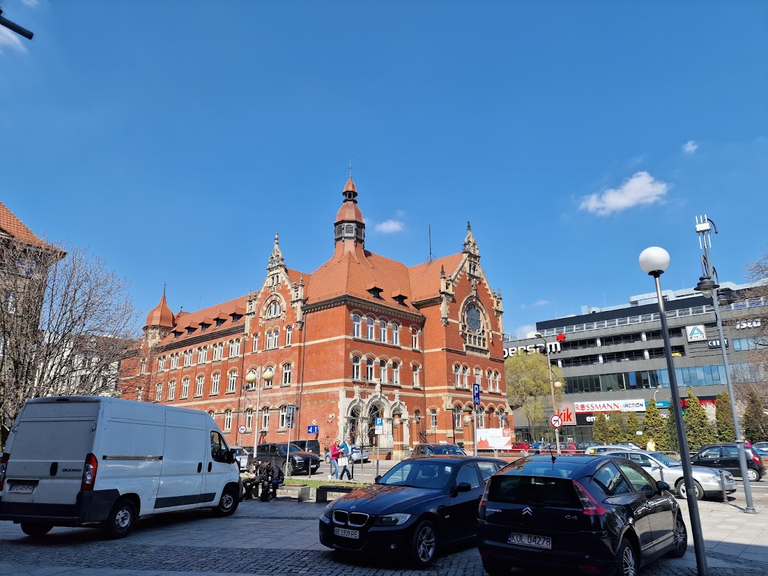 Ale detal z bliska można zrobić bez aut.
But the detail can be done up close without cars.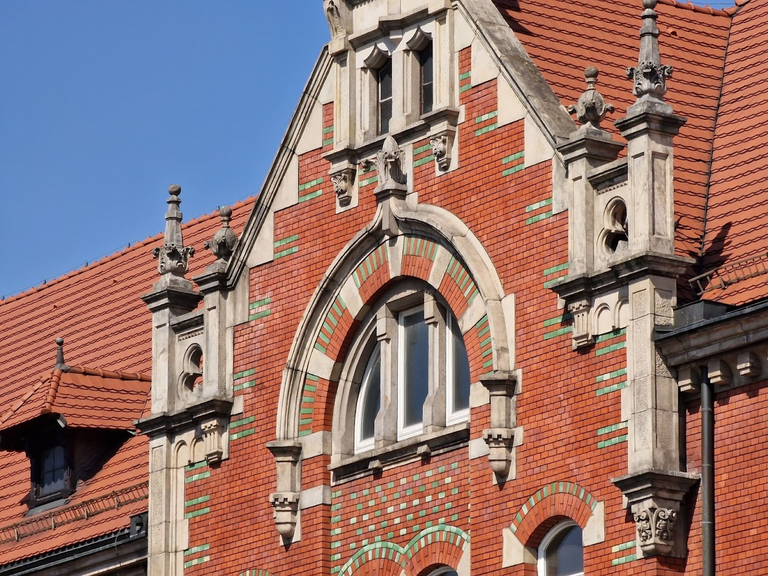 Idziemy dalej, na ulicy Słowackiego nowe znowu zerka zza starego.
We keep walking, on Słowackiego Street again the new one peeks out from behind the old one.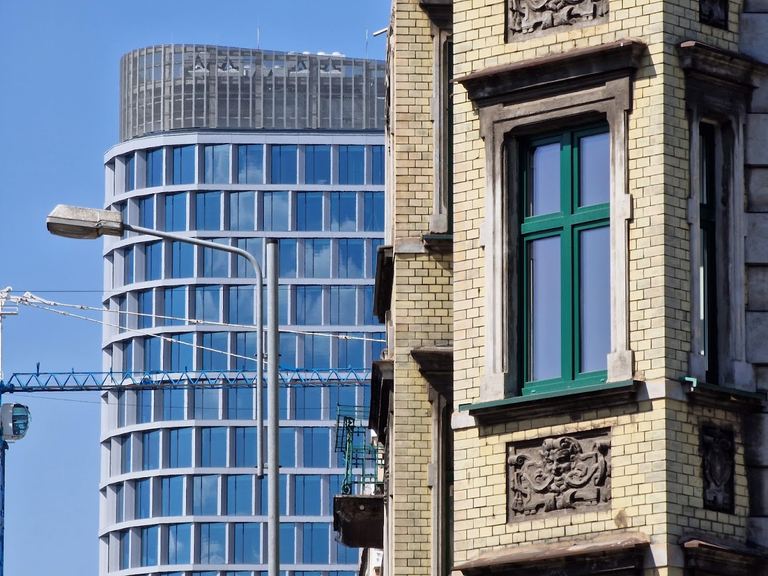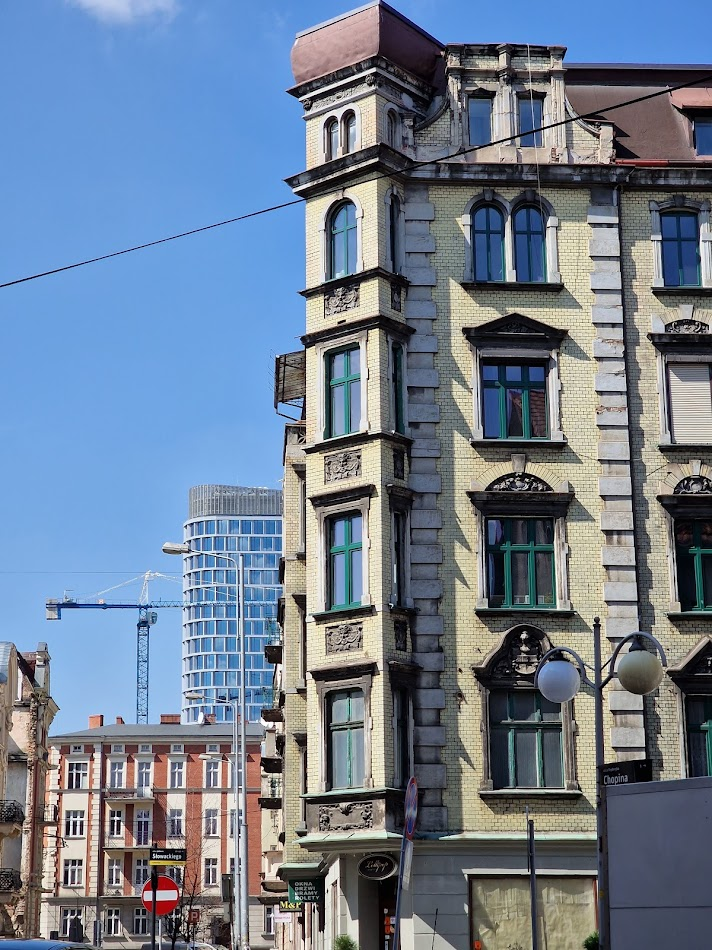 A ten różowy flaming to już w ogóle zapowiedź upalnych wakacji!
And the pink flamingo is a harbinger of hot holidays!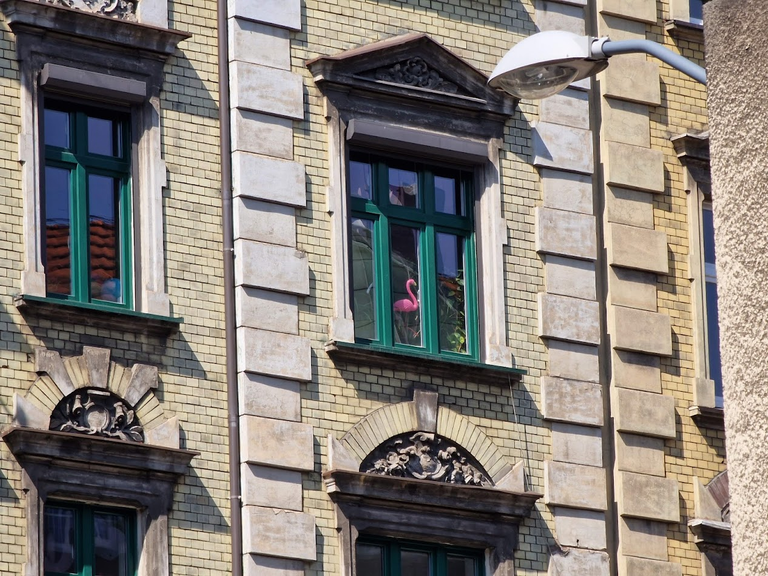 Dotarłam do Placu Wolności. Tu niestety niewiele się zmieniło, sporo meneli na ławeczkach. Ale oprócz tego jest i plac zabaw, fontanna i jakiś pomnik, więc na szczęście nie są oni już jedynymi użytkownikami tego miejsca.
I got to Plac Wolności. Unfortunately, not much has changed here, a lot of bums on the benches. But apart from that, there is also a playground, so fortunately they are not the only users of this place anymore.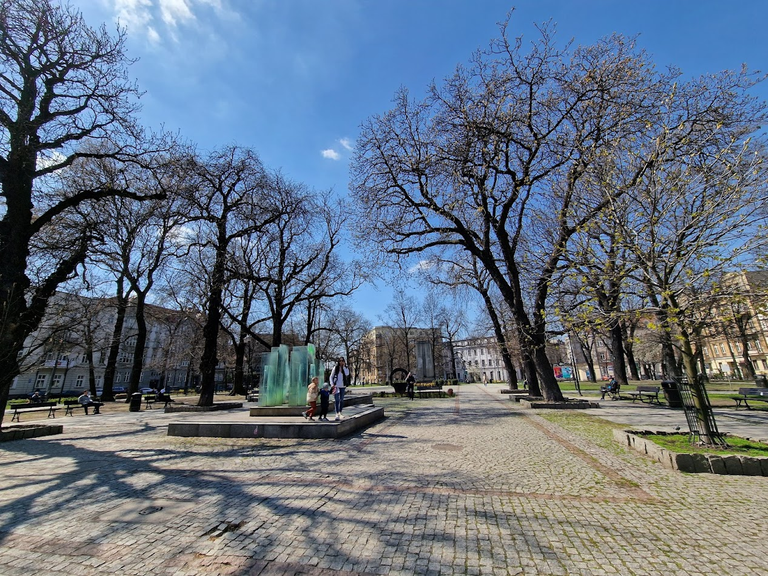 I tu też już coś zakwitło.
And here, too, something has blossomed.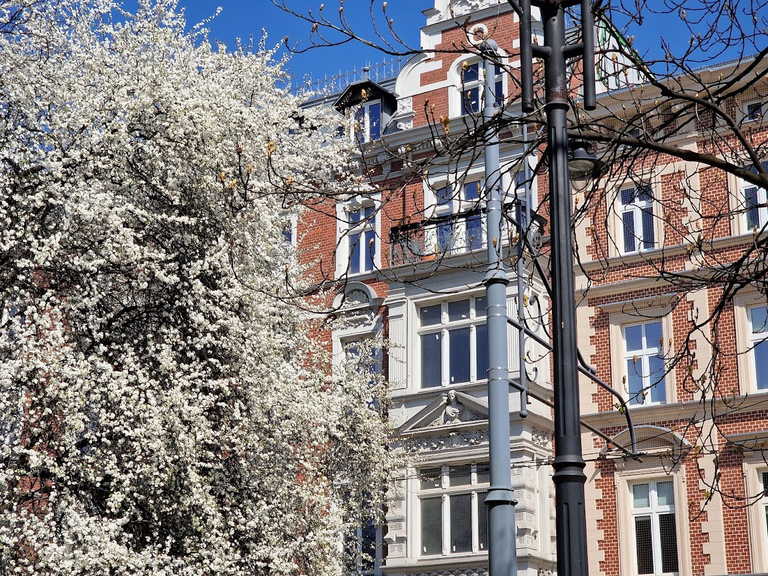 Powróciliśmy do auta, ale jeszcze na wyjeździe z parkingu podziemnego (stojąc na światłach rzecz jasna ;)) wyjęłam telefon, żeby pokazać Wam okna tej kamienicy. Abstrahując od tego, że są to okna nad jednym z najbardziej ruchliwych w okolicy ulic, spójrzcie tylko, jakie one piękne. Ahh, mieć pokój z takimi oknami!
We returned to the car, but still at the exit from the underground parking lot (while standing at the traffic lights, of course ;)) I took out my phone to show you the windows of this tenement house. Aside from the fact that these are windows above one of the busiest streets in the area, just look how beautiful they are. Ahh, to have a room with windows like this!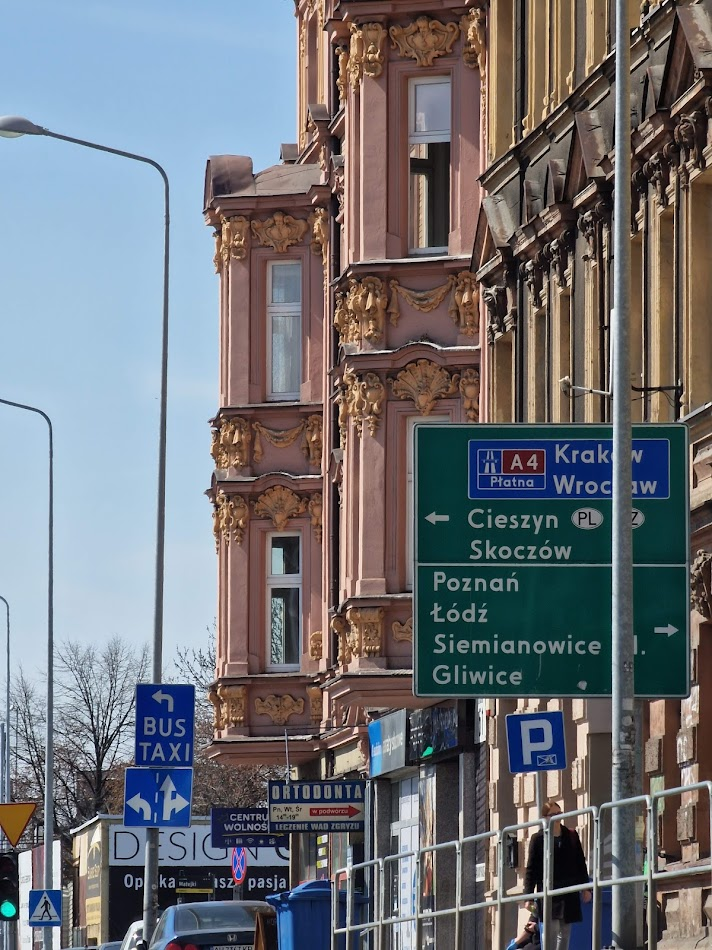 _This report was published via Actifit app ([Android](
https://bit.ly/actifit-app
) | [iOS](
https://bit.ly/actifit-ios
)). Check out the original version [here on actifit.io](
https://actifit.io/@asia-pl/actifit-asia-pl-20220413t033942853z
)_


12/04/2022

13872

---
---