[PL / ENG] Gliwice My Actifit Report Card: March 17 2023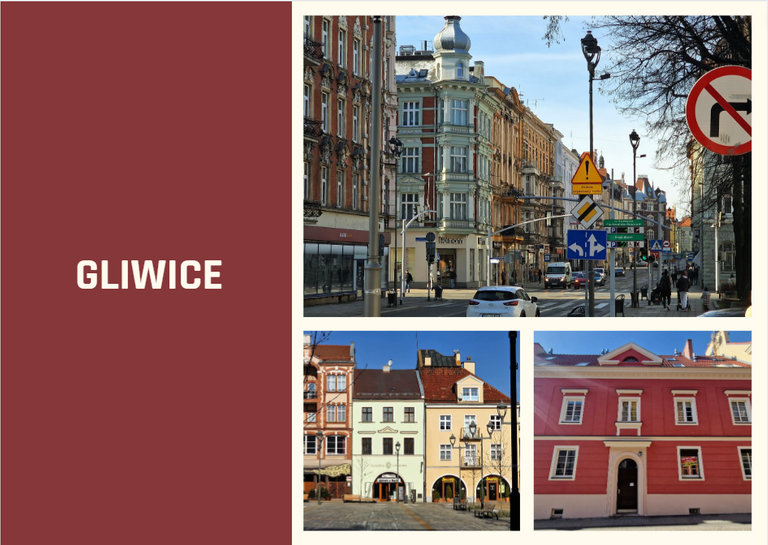 W piątkowy poranek wybrałam się do Gliwic - urokliwego miasta województwa śląskiego, czwartego pod kątem liczby mieszkańców, szóstego względem powierzchni. Miałam przyjemność pospacerować po starówce i rynku, niemal pustych w tej przedpołudniowej porze. Nie dane mi więc było wypić kawy na rynku - wszystko jeszcze pozamykane, zresztą też aż tak dużo czasu nie miałam), mogłam jednak nacieszyć oczy miłą architekturą bez tłumów. Porobiłam też niemało zdjęć - zapraszam do oglądania. Zostały edytowane w Google Photos (filtr: Honey) oraz w kilku miejscach usunęłam pojedyncze postacie, które weszły mi w kadr - niżej też pokazuję, jak można to łatwo zrobić w tej aplikacji.
On Friday morning I went to Gliwice - a charming city in the Silesian Voivodeship, fourth in terms of population, sixth in terms of area. I had the pleasure of walking around the old town and the market, which were almost empty in the morning. So I wasn't allowed to drink coffee in the market square - everything was still closed, but anyway, I didn't have that much time), but I could enjoy the nice architecture without the crowds. I also took a lot of photos - I invite you to watch. They were edited in Google Photos (filter: Honey) and in several places I removed individual characters that entered my frame - below I also show how it can be easily done in this application.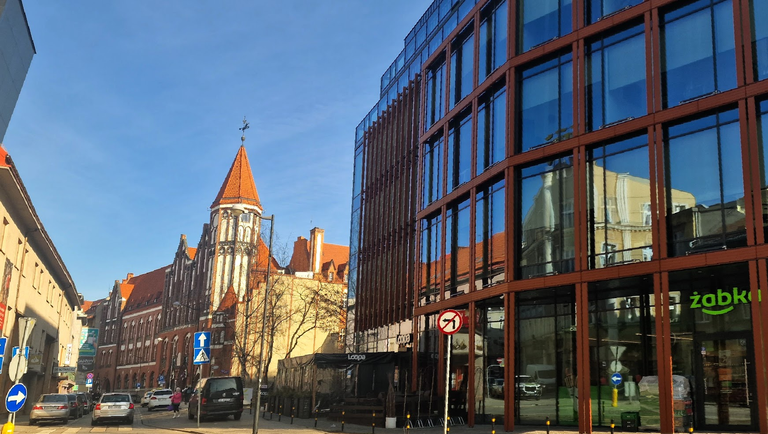 Spacer rozpoczęłam przy ulicy Dolnych Wałów, gdzie uwagę przykuwa budynek dawnej Poczty Głównej. Szczerze mówiąc, w pierwszej chwili myślałam, że to kościół, ale nie. Sympatyczne stare zabudowania poczty obecnie mieszczą lokale biurowe oraz Shrimp House.
I started my walk at Dolne Wałów Street, where the building of the former Main Post Office attracts attention. To be honest, at first I thought it was a church, but no. The pleasant old post office buildings now house offices and Shrimp House.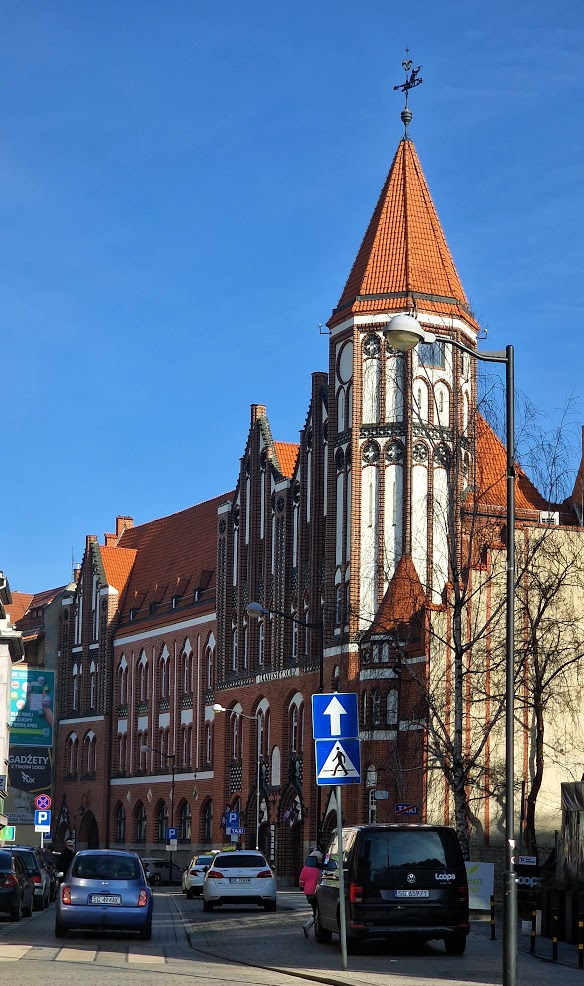 Skręciłam w wąską uliczkę Jana Matejki. Ciasno, gęsta, stara zabudowa. To lubię.
I turned into the narrow Jan Matejki street. Cramped, dense, old buildings. I like it.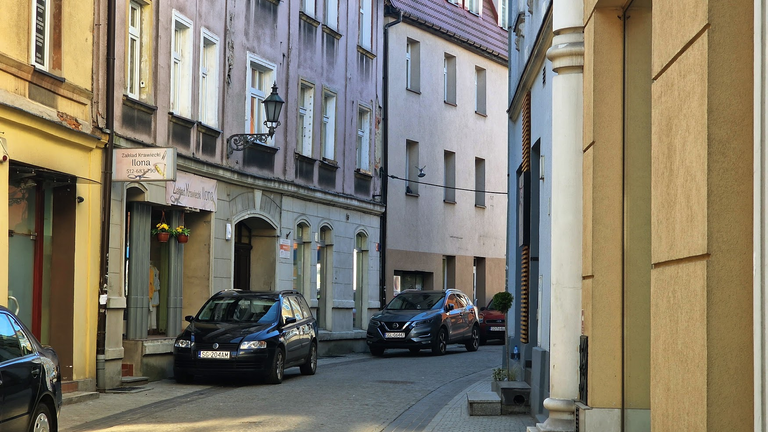 Nie chciałam tak szybko dojść do rynku, więc skręciłam jeszcze w Basztową.
I didn't want to get to the market so quickly, so I turned into Basztowa.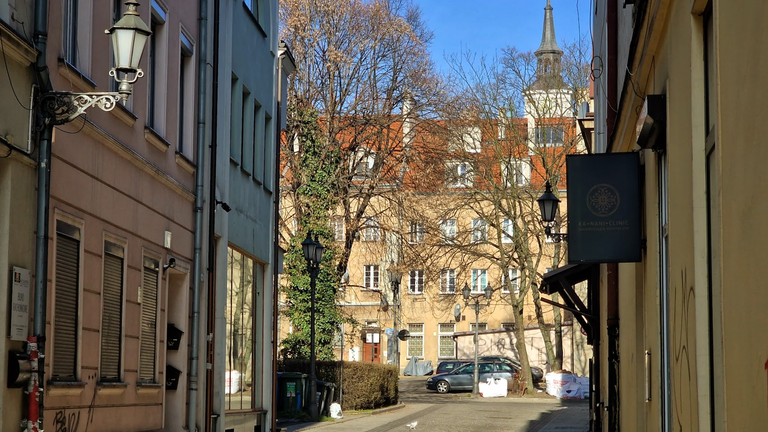 Każde szanujące się miasto powinno mieć swoją knajpę gruzińską, takie jest moje oficjalne stanowisko.
Every self-respecting city should have its own Georgian pub, this is my official opinion.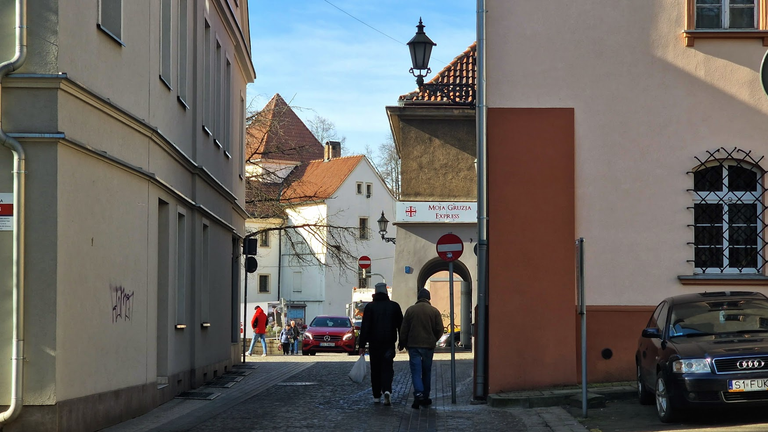 Ibu Craft Beers - wszak dziś świętego Patryka, chciałam przywieźć zielone kraftowe piwo z tej wycieczki - niestety rzecz jasna rano wszystko jest nieczynne. Ale co to tam na tej tabliczce?
Ibu Craft Beers - after all, today is Saint Patrick's Day, I wanted to bring green craft beer from this trip - unfortunately, of course, everything is closed in the morning. But what's on that plate?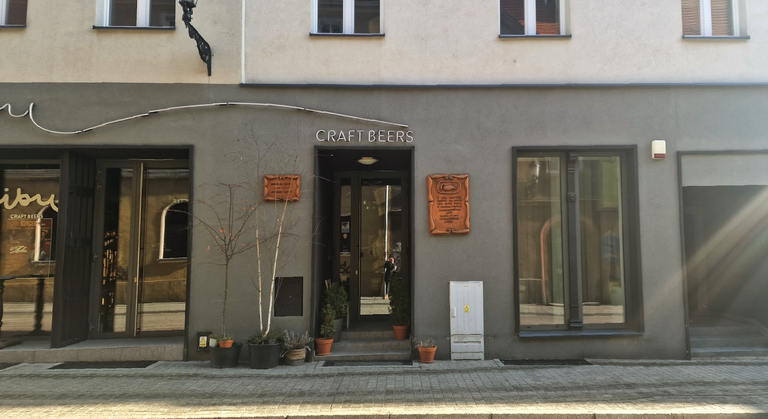 Ah, Niemcewicz i Kraszewski tu byli.
Ah, Niemcewicz and Kraszewski were here.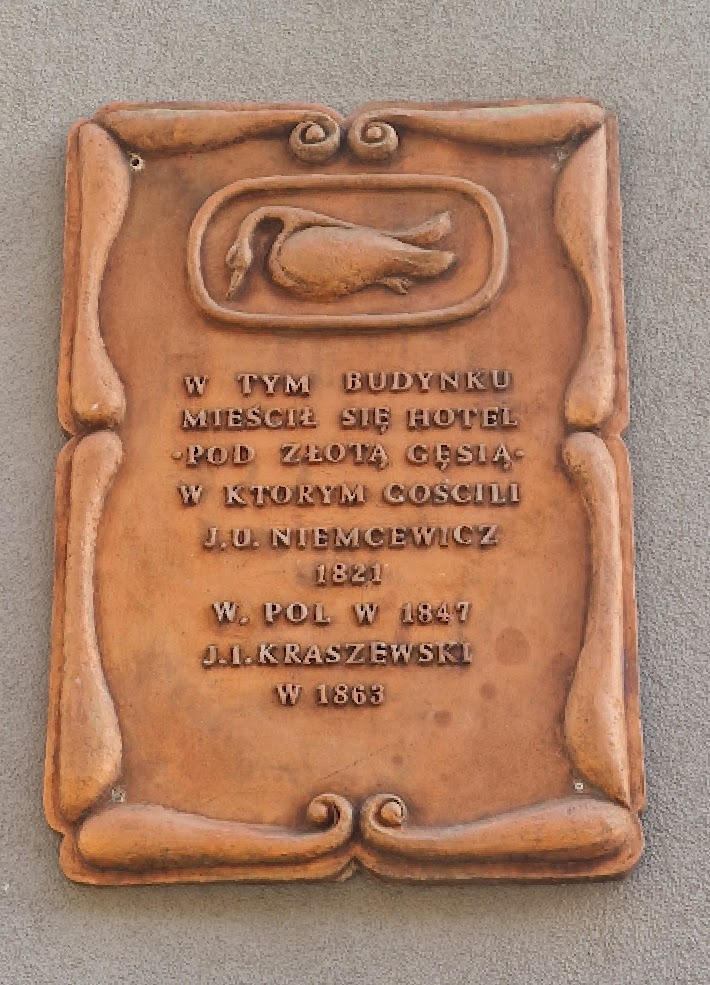 Dosyć kluczenia, wkraczamy na Rynek. Pusty, kolorowy, mile oświetlony. Dzień dobry, Gliwice.
Enough wandering, we are entering the Market. Empty, colorful, pleasantly lit. Good morning, Gliwice.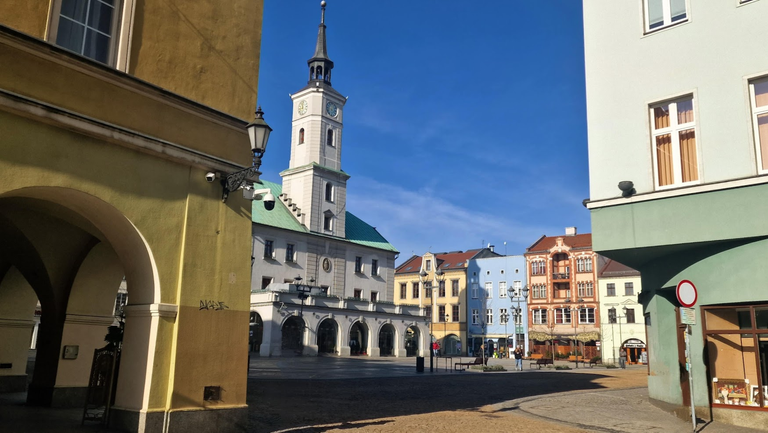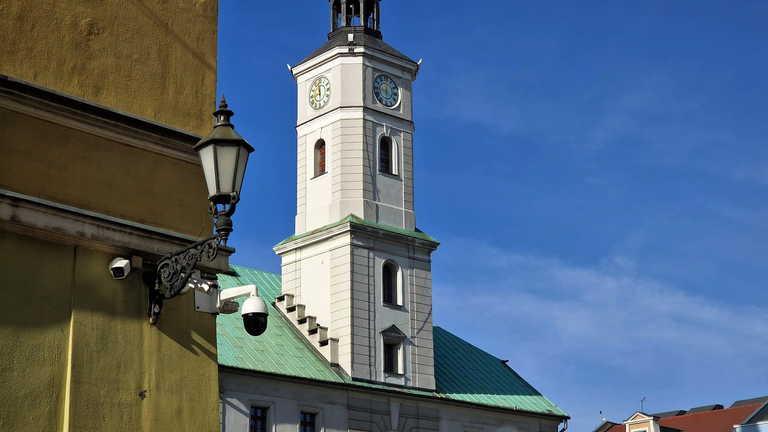 Są i mini-Sukiennice.
There are also mini - Cloth hall.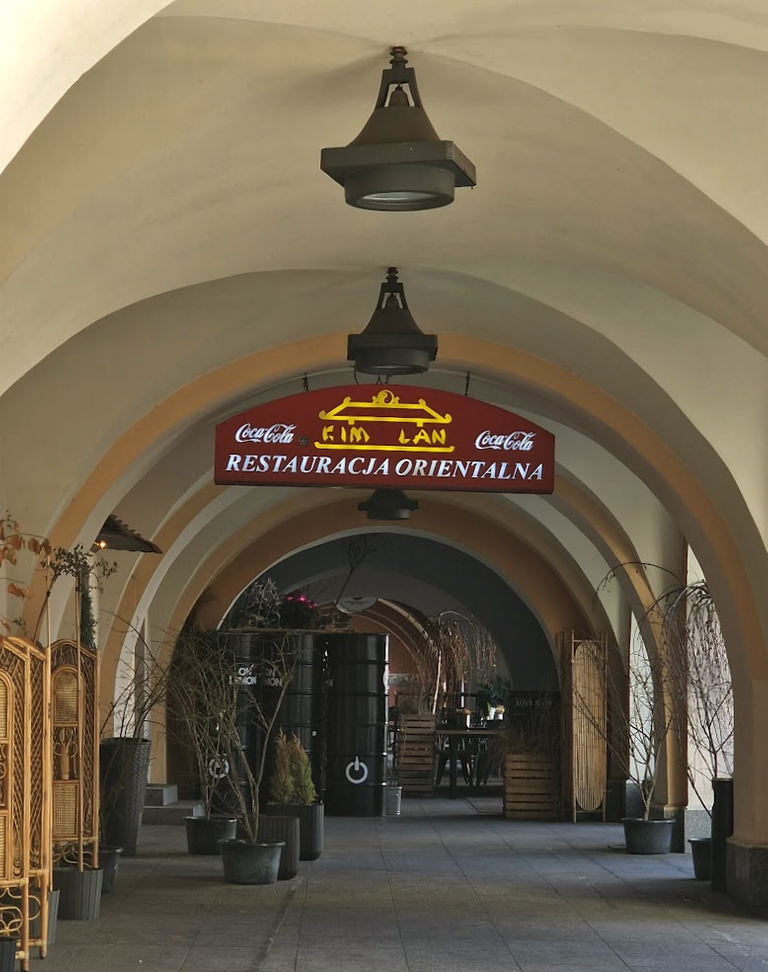 Na środku rynku majestatycznie stoi sobie... kościół? Otóż nie, kolejne zdziwienie. Oto, proszę państwa, ratusz.
In the middle of the square stands majestically ... a church? Well, another surprise. Here, ladies and gentlemen, is the town hall.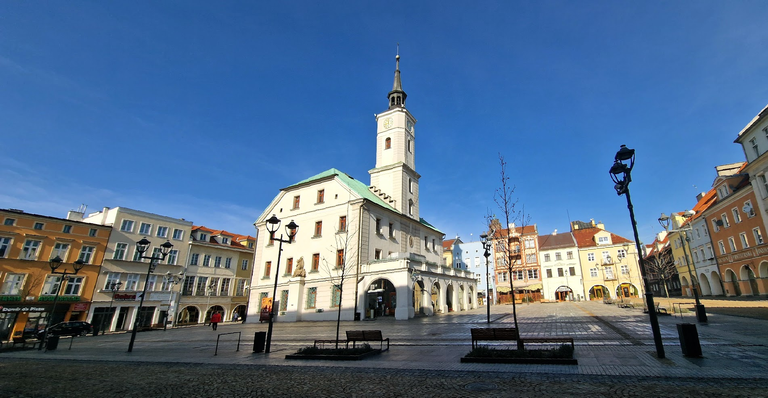 Ale spójrzmy przede wszystkim na ryneczek i okoliczne, cudownie kolorowe zabudowania.
But let's first of all look at the market square and the surrounding, wonderfully colorful buildings.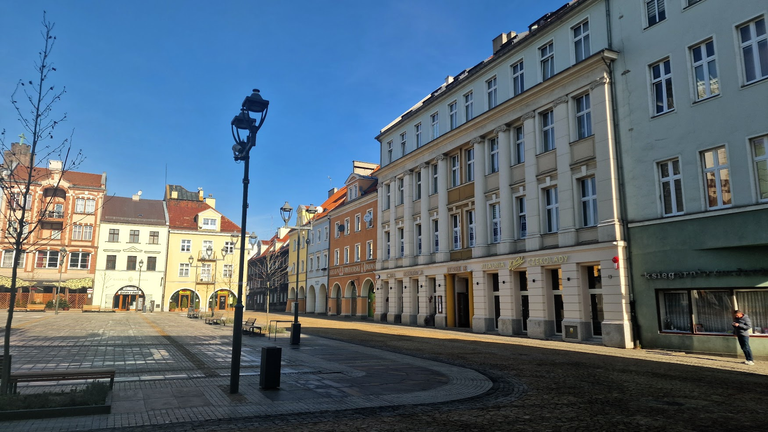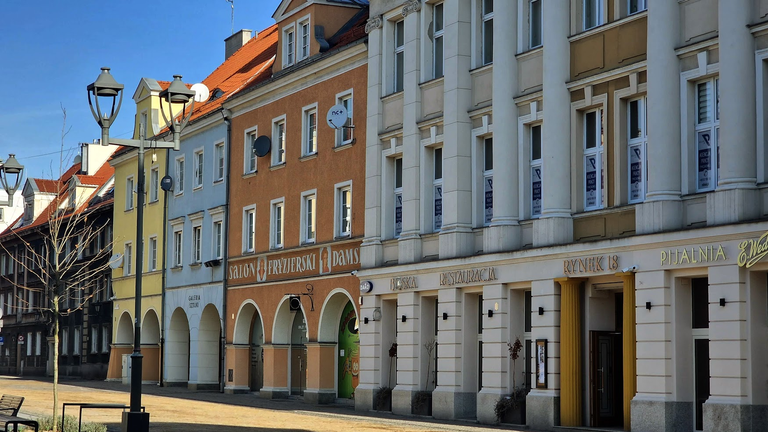 Gliwicki rynek uchodzi za jeden z najładniejszych w województwie śląskim - i wcale mi to nie dziwi.
The market square in Gliwice is considered one of the prettiest in the Silesian Voivodeship - and it doesn't surprise me at all.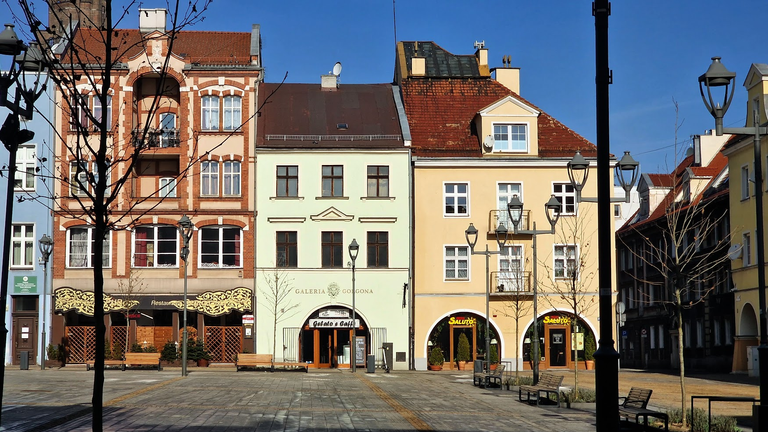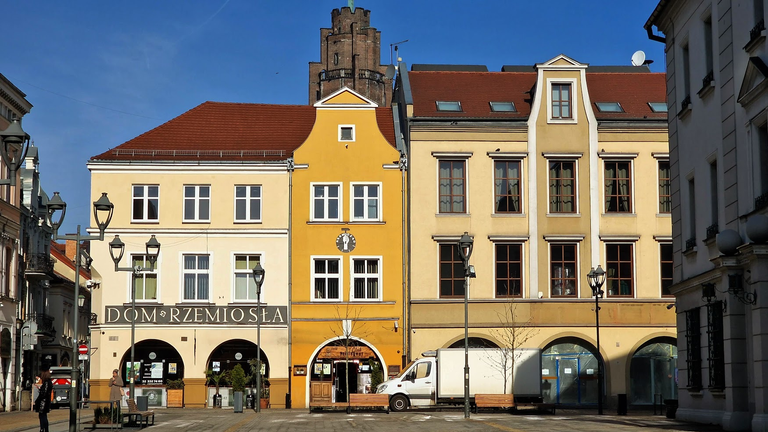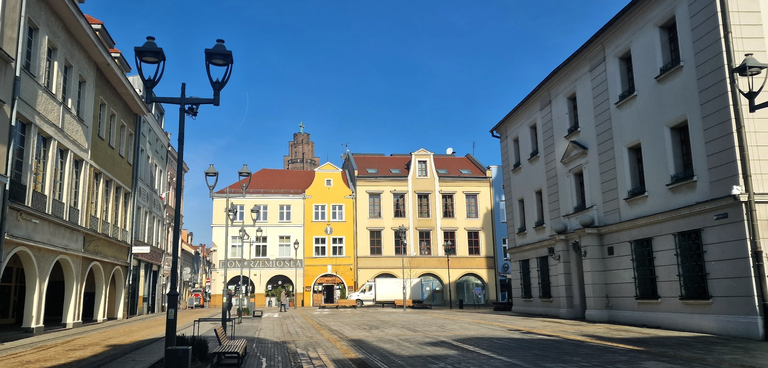 Te uliczki otulone słońcem wprost zachęcają, żeby się dać zagubić.
These streets wrapped in the sun simply encourage you to get lost.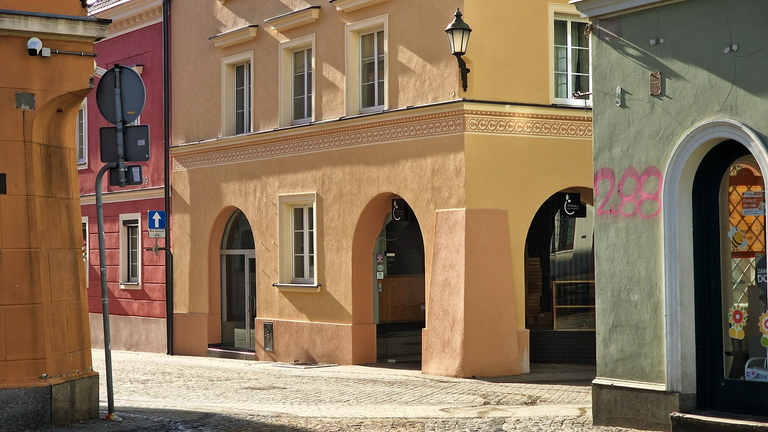 To światło, ten zaułek zachęcający do dalszej eksploracji. Co za wspaniały początek tego dnia!
This light, this alley encouraging further exploration. What a great start to the day!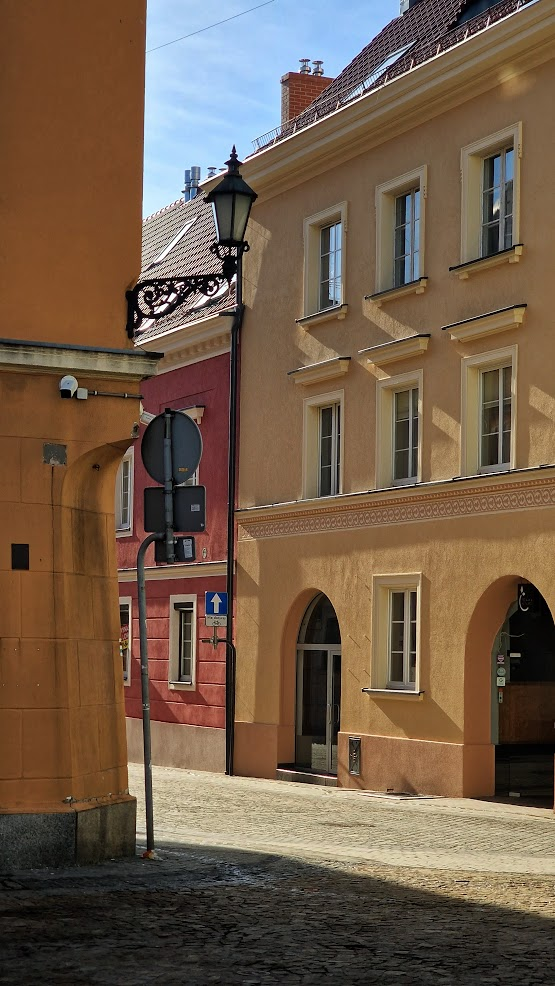 Na rynku zaś w pierwszej kolejności zachwyciła mnie elewacja domu plastyków, niby namalowana ręką.
On the market square, I was first delighted by the façade of the artist's house, as if painted by hand.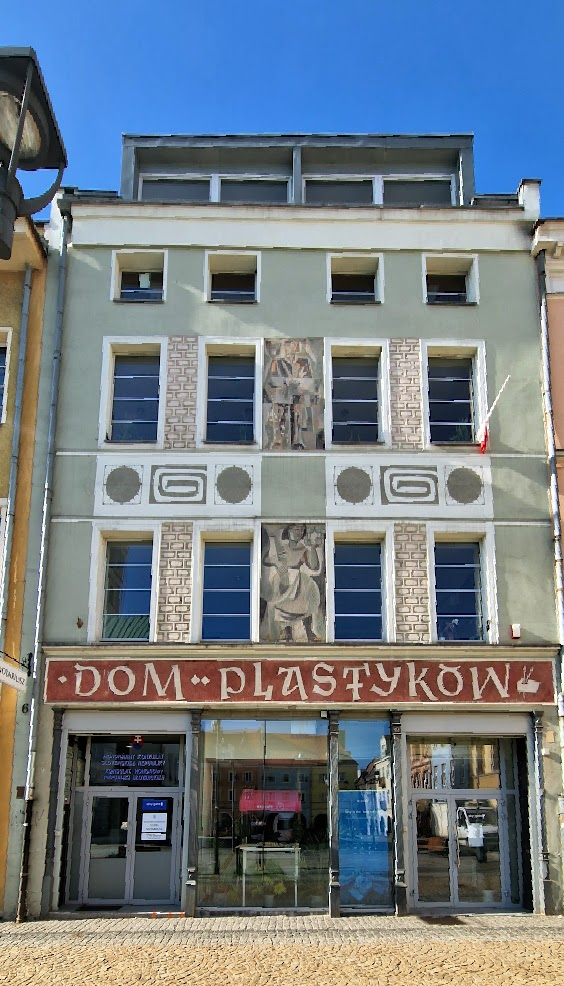 No dobrze, dobrze, ogląd szeroki na kolorowe cudne domki! <3
All right, all right, a wide view of colorful wonderful houses! <3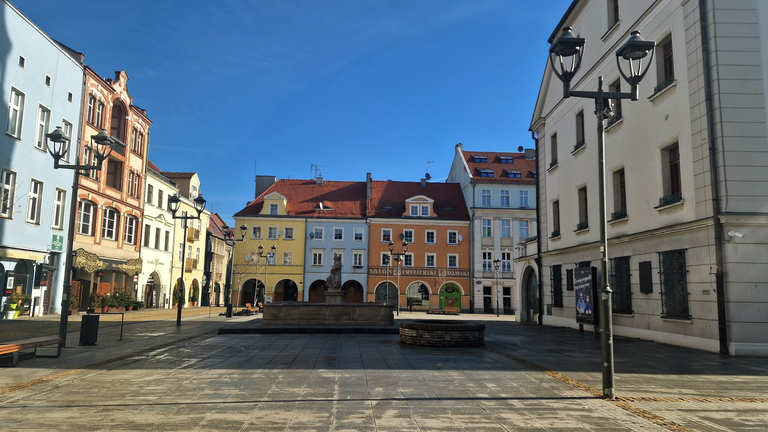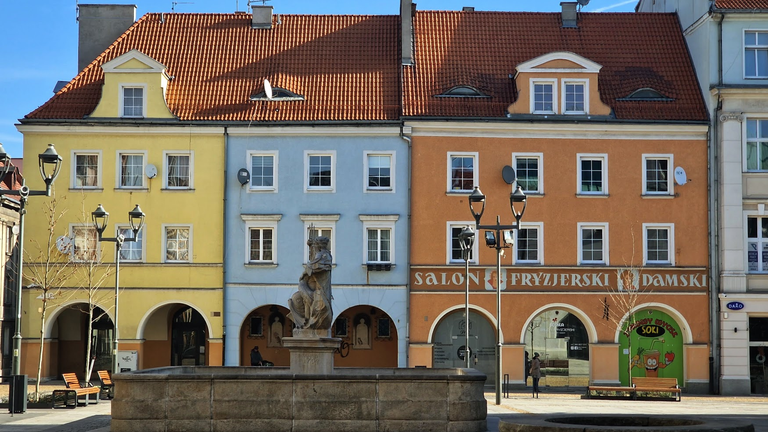 Rynek gliwicki jest naprawdę urokliwy. Muszę się tu kiedyś wybrać w bardziej ludzkiej porze na jakąś kawkę.
The Gliwice market is really charming. I need to go here sometime at a more humane time for a cup of coffee.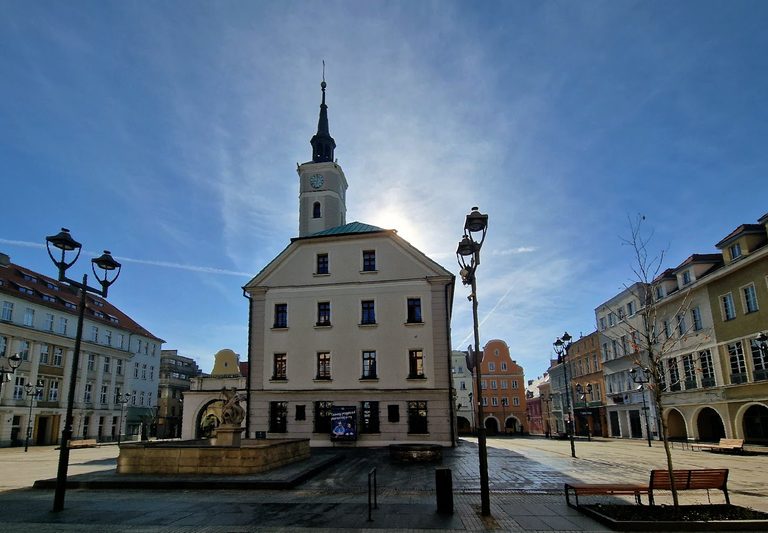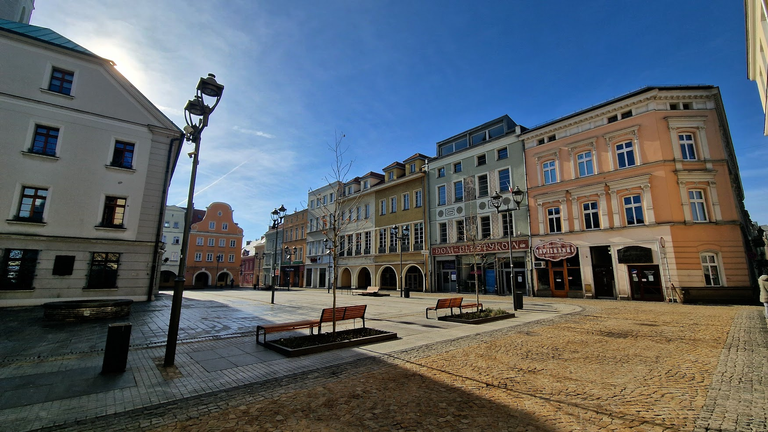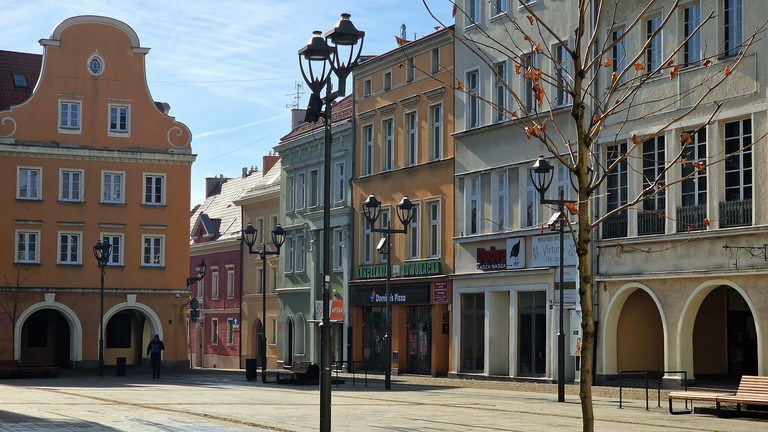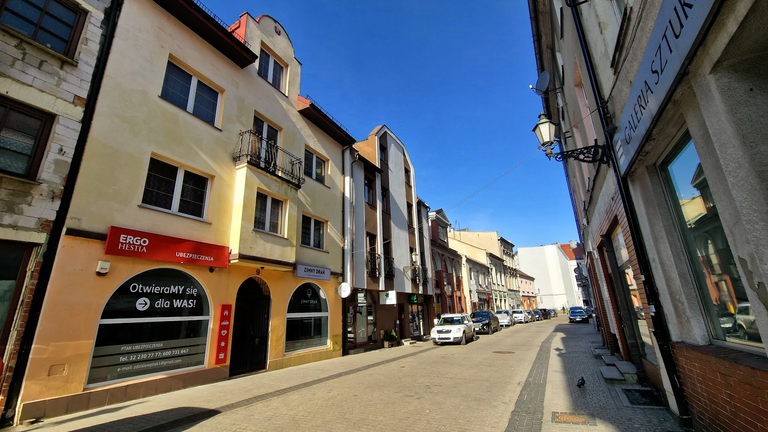 Idziemy dalej, w kierunku Kościoła pod wezwaniem Wszystkich Świętych. Jego wieża góruje nad całym śródmieściem, musi się stamtąd rozciągać wspaniały widok. Niestety, wejścia dopiero od maja. Może kiedyś.
https://gliwice.pttk.pl/panorama-gliwic
We go further, towards the Church of All Saints. Its tower overlooks the whole city center, there must be a great view from there. Unfortunately, entry only from May. Maybe someday.
https://gliwice.pttk.pl/panorama-gliwic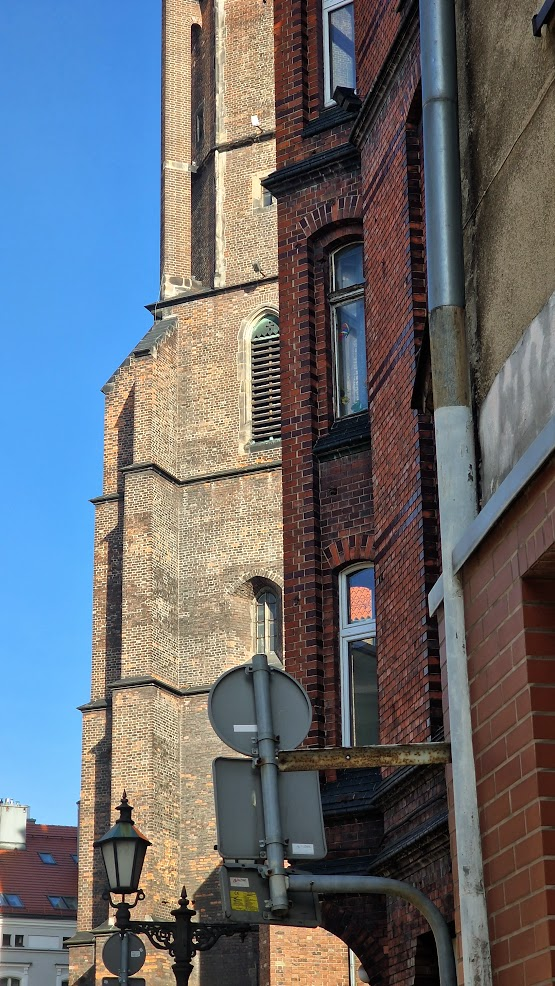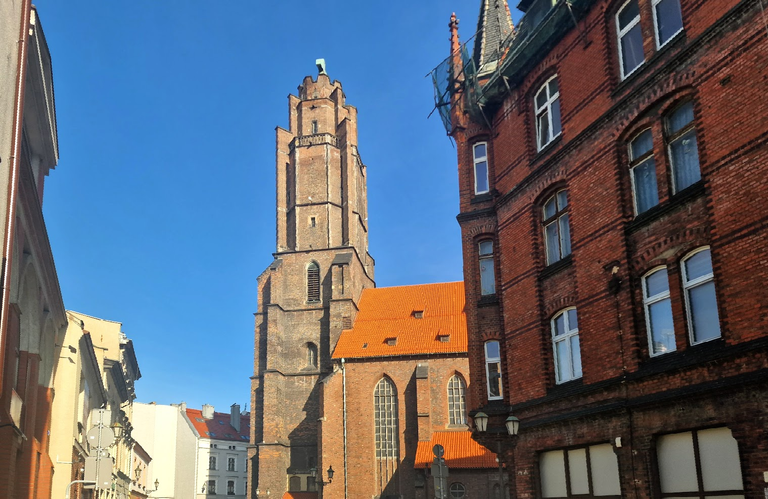 Sąsiadująca z kościołem kamienica.
A tenement house adjacent to the church.
Koło kościoła znajduje się maleńki skwer, a zza drzew machają do nas kolejne ciekawe budynki.
There is a tiny square next to the church, and more interesting buildings wave at us from behind the trees.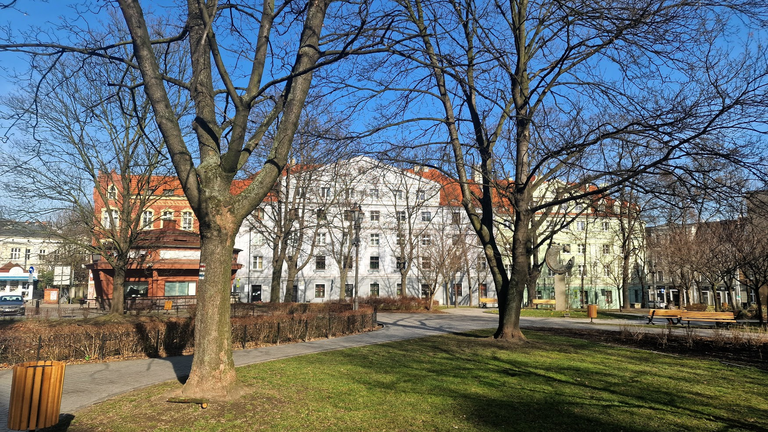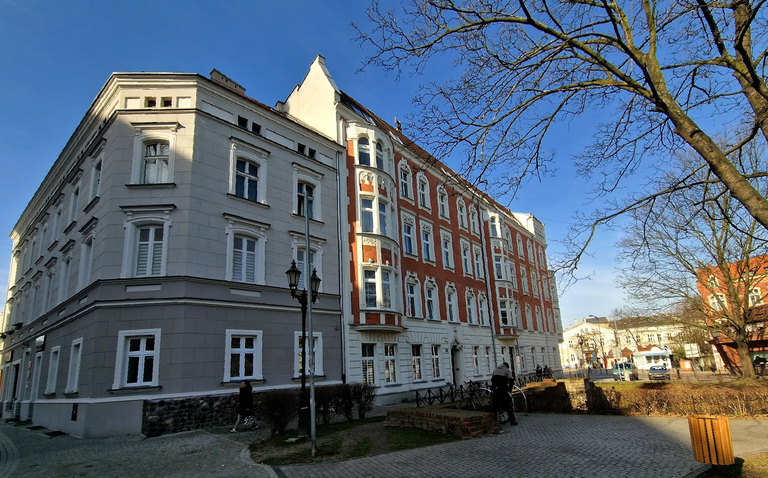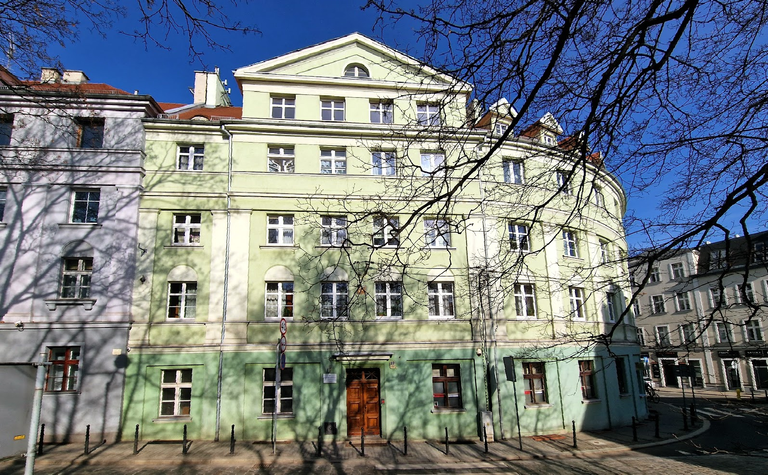 Jest też i wielka płyta, zerkająca zza kamienicy.
There is also a large slab peeking out from behind the tenement house.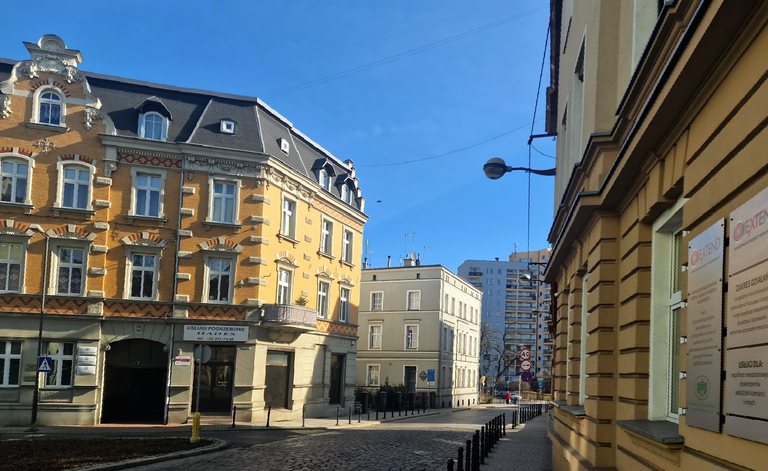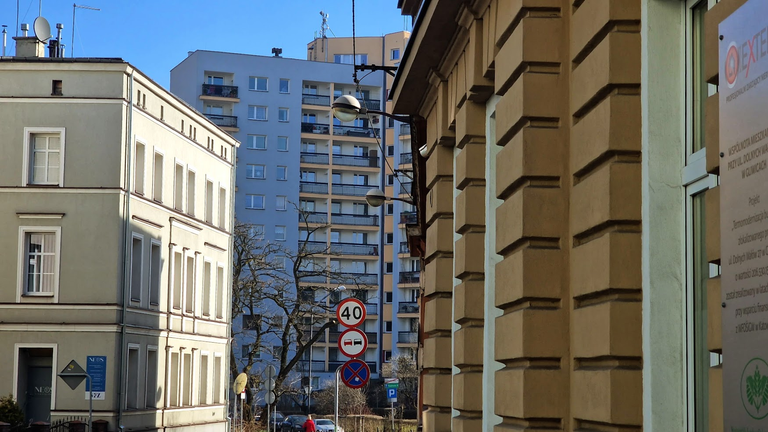 Kolejny piękny budynek z wieżyczką. Tu zachwyciło mnie padające zza winkla światło. Poranek iście magiczny, w południe nie byłoby tego wrażenia.
Another beautiful building with a turret. I was captivated by the light coming from behind the window. The morning is truly magical, at noon there would be no such impression.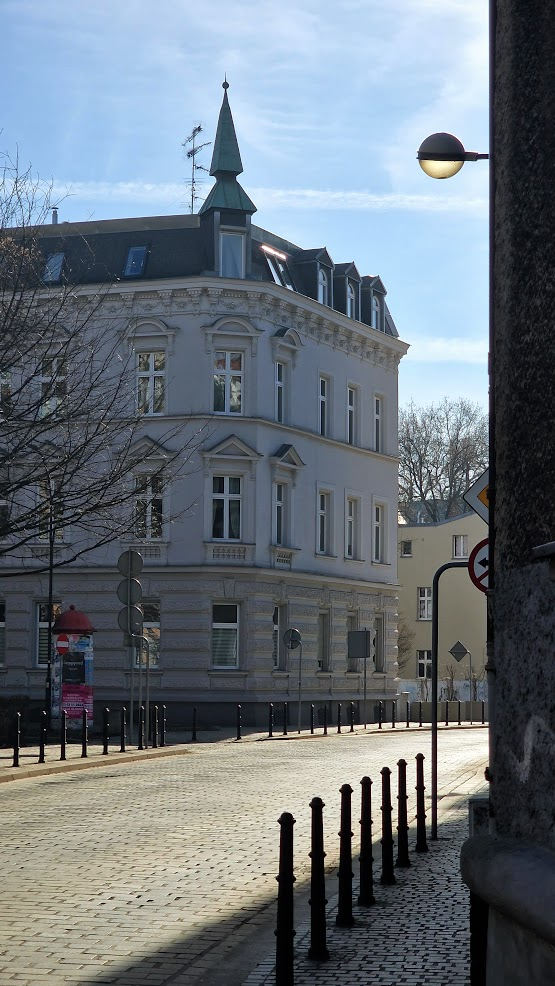 Wracając w kierunku rynku znalazłam muzeum. To willa Caro - wg opisu na Google Maps, wybudowana na zamówienie przemysłowca renesansowa XIX-wieczna rezydencja z bogato zdobionymi wnętrzami i ogrodem. Wygląda ciekawie - może kiedyś.
Returning towards the market square I found a museum. This is Villa Caro - according to the description on Google Maps, a Renaissance 19th-century residence built to the order of an industrialist with richly decorated interiors and a garden. Looks interesting - maybe someday.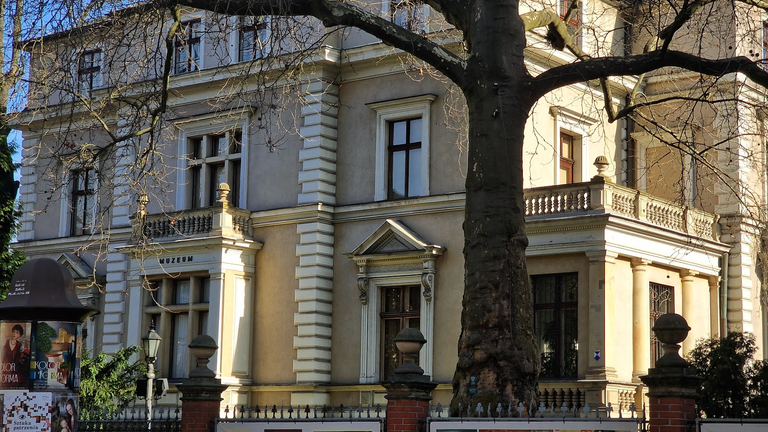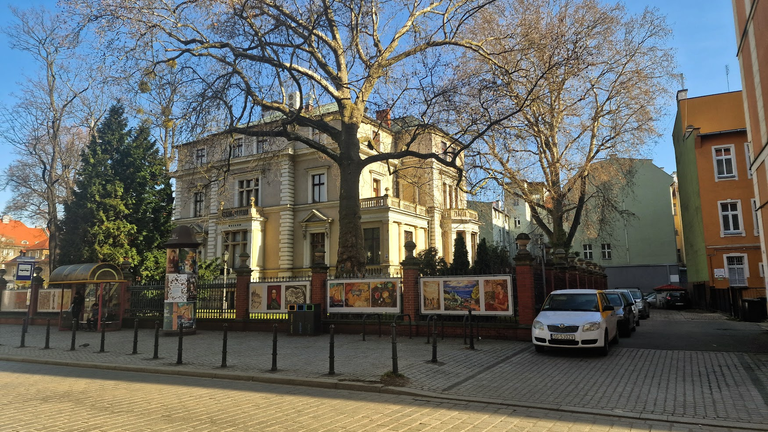 Delikatny zoom na obraz dwóch kamienic.
Delicate zoom on the image of two tenement houses.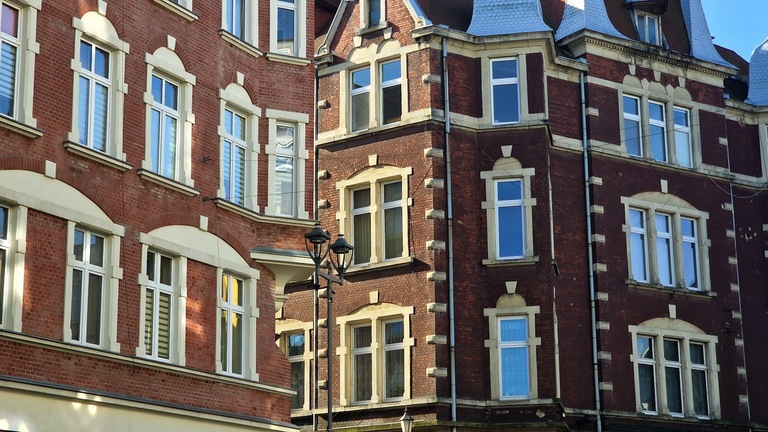 Jestem na ulicy Zwycięstwa, pełnej przepięknych, zadbanych, ogromnych kamienic. To już nie niska zabudowa rynku. Tu są gmaszyska, a jakie cudne!
I am on Zwycięstwa Street, full of beautiful, well-maintained, huge tenement houses. This is no longer a low-rise market. There are tangles here, and how wonderful!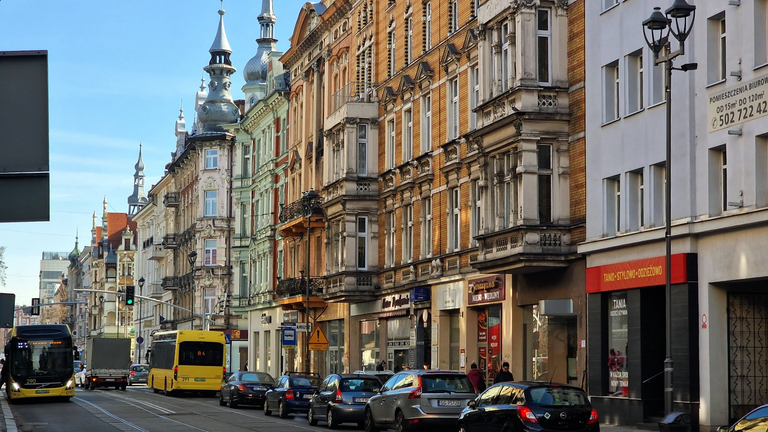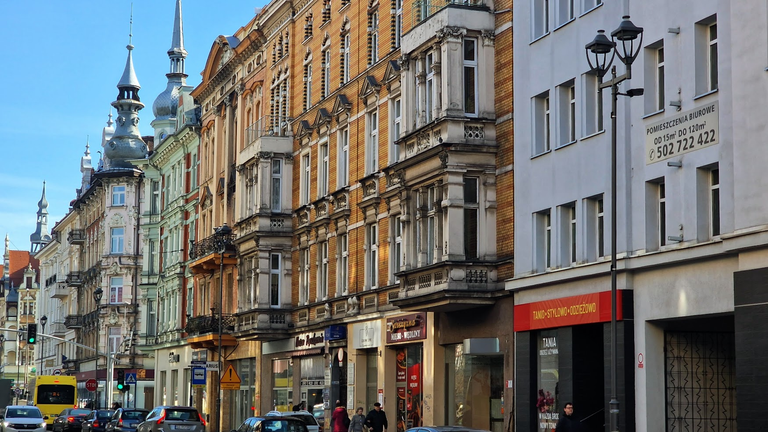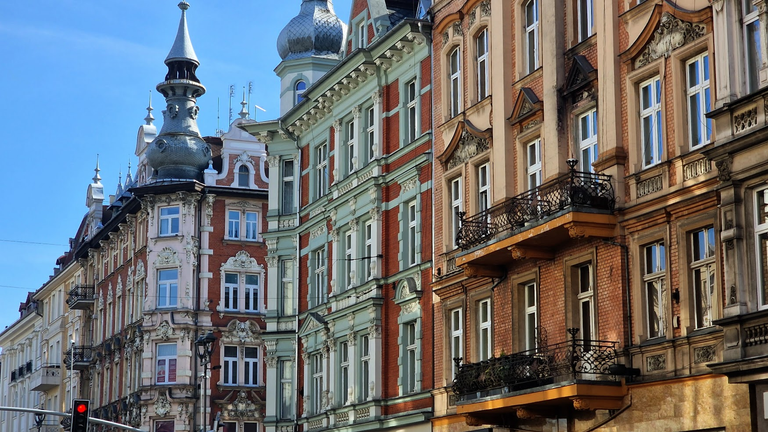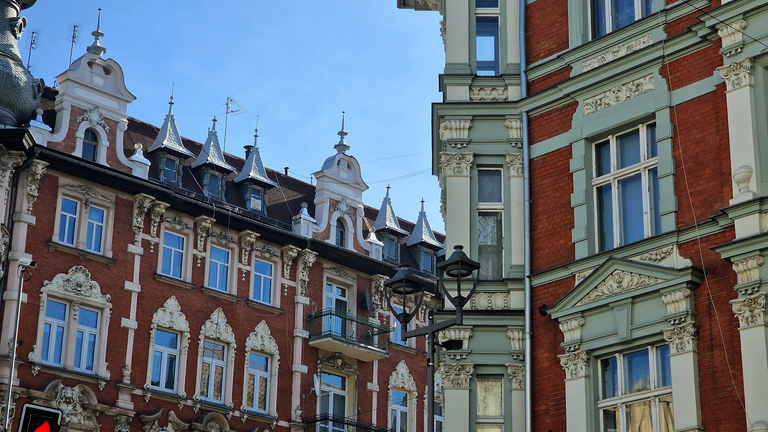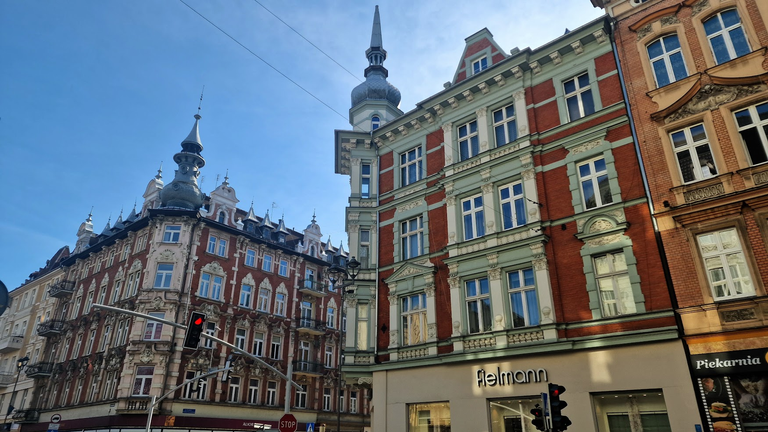 Poniżej zdjęcie może nieciekawe, ale po ciekawej obróbce. W kadrze było parę osób i właśnie tutaj Google Photos zaproponowało mi ich usunięcie. Jeden klik i nie ma ludka - a efekt, jak na tak niewielki wysiłek, jest świetny.
The photo below may be uninteresting, but after interesting processing. There were a few people in the frame, and this is where Google Photos suggested I remove them. One click and there is no human - and the effect, for such a small effort, is great.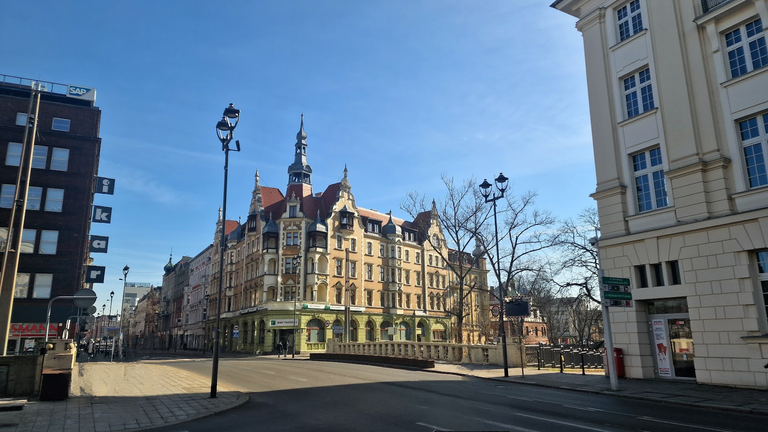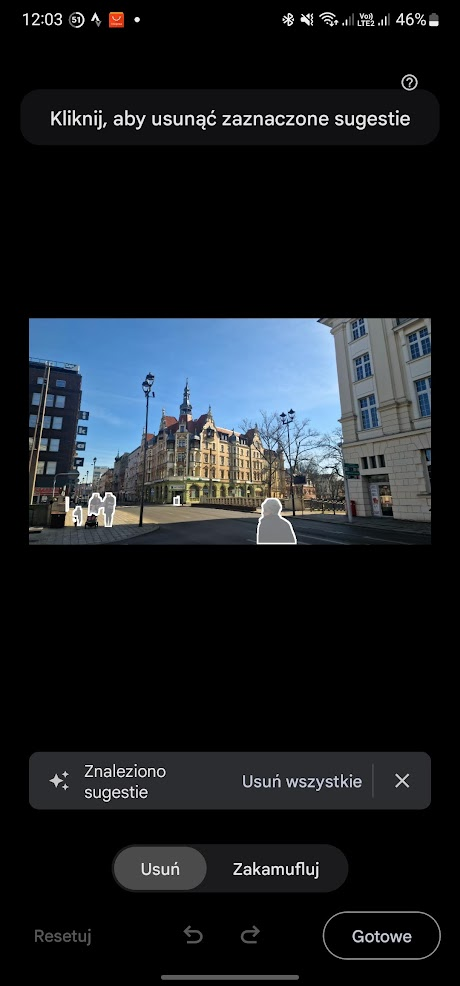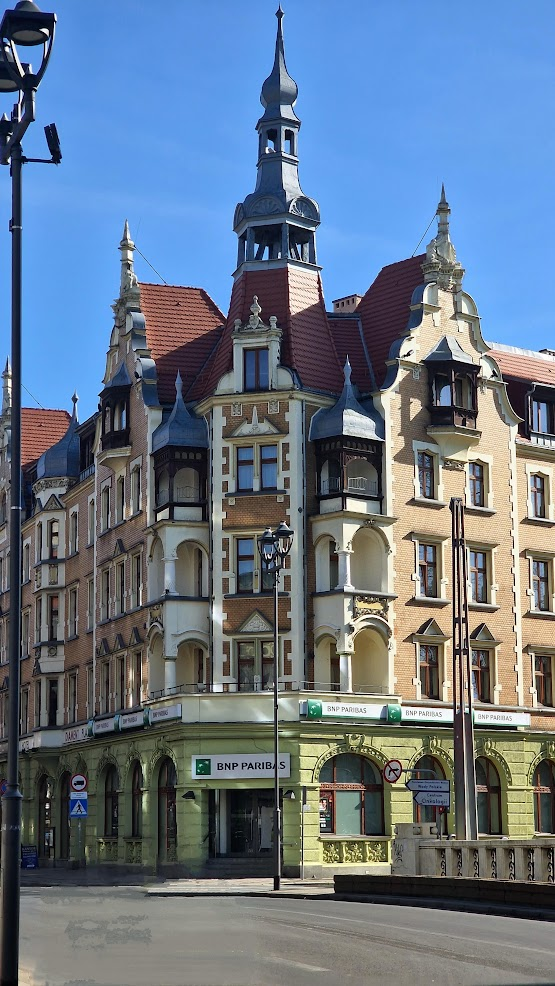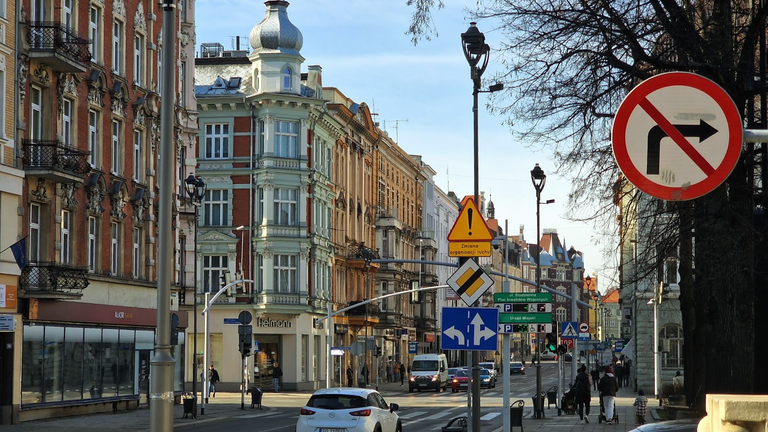 A tu płynie sobie Kłodnica.
And here Klodnica river is flowing.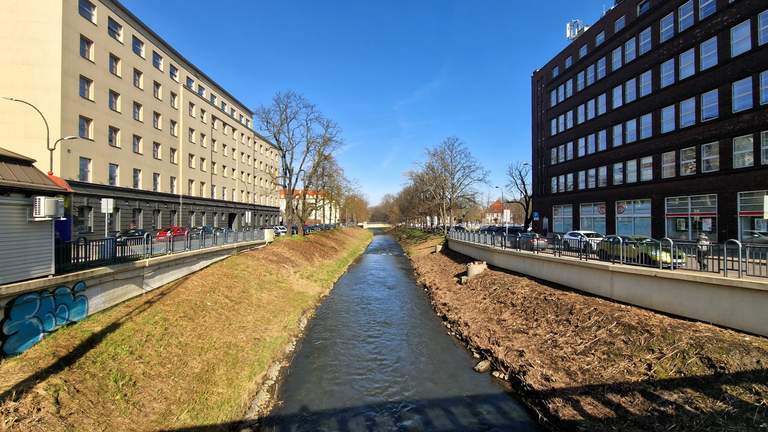 Uroczy, niewielki budynek Kościoła Ewangelicko-Metodystycznego. Chciałam odejść trochę i zrobić szersze zdjęcie, ale nie udało mi się, bo kiedy już myślałam, że złapię dobry kadr, przesłonił mi go inny, brzydszy kościół.
Charming, small building of the Evangelical Methodist Church. I wanted to move away a bit and take a wider picture, but I didn't succeed because just when I thought I'd get a good shot, another, uglier church blocked it out.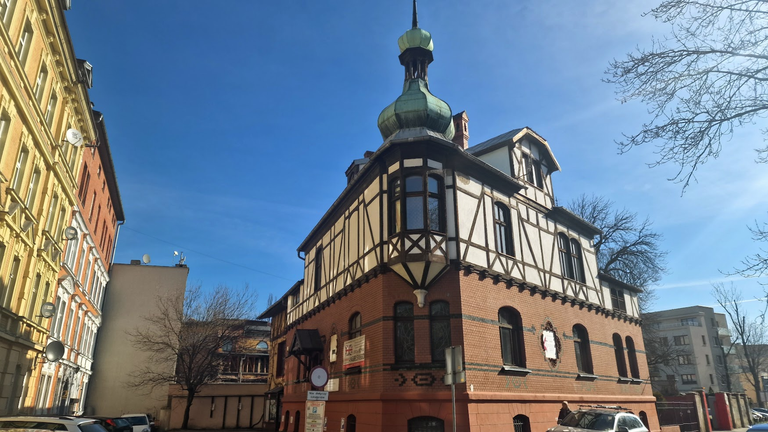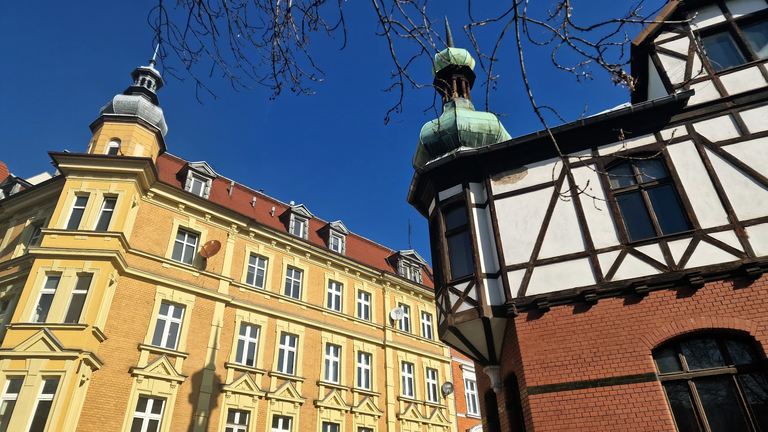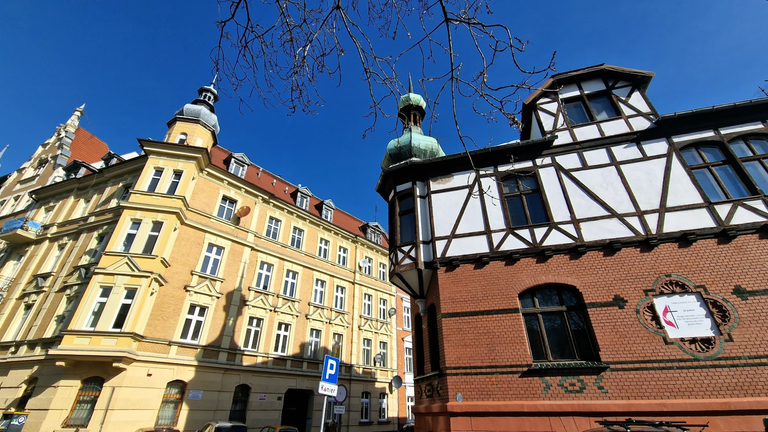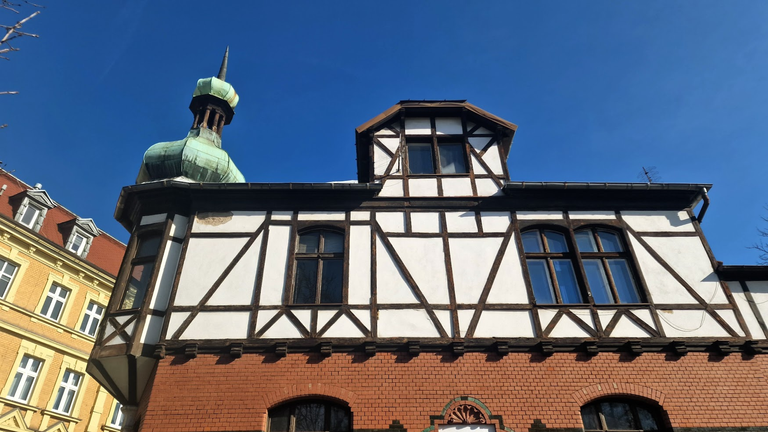 Winowajca.
The culprit.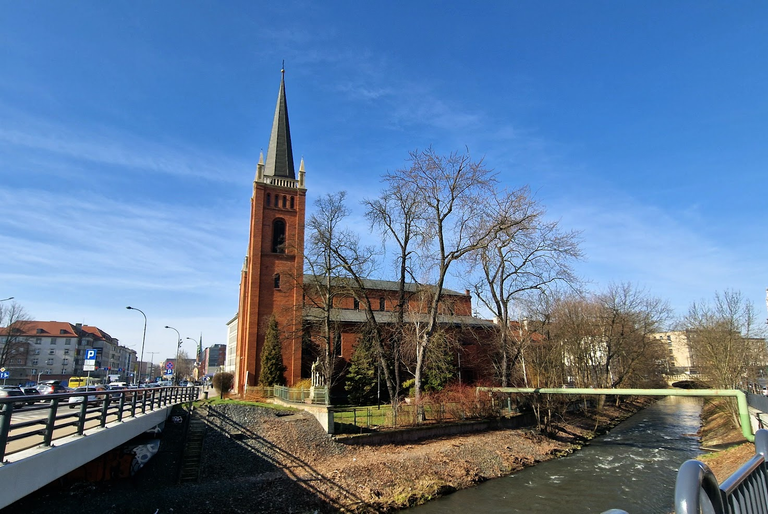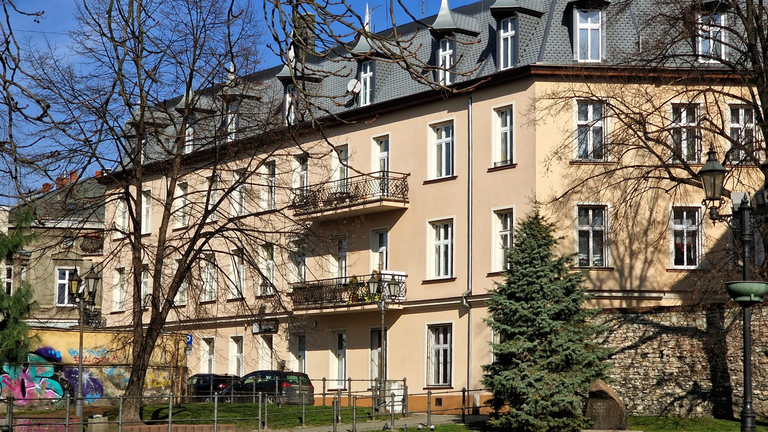 I znowu wracam do rynku, tym razem z drugiej strony - mijając zameczek i kawiarenkę zamkową (zamkniętą, otwarcie dopiero o 10).
And again I return to the market square, this time from the other side - passing the castle and the castle cafe (closed, opening only at 10).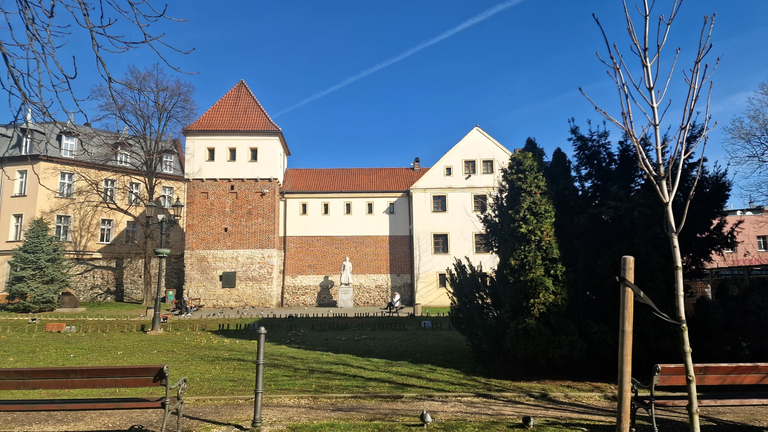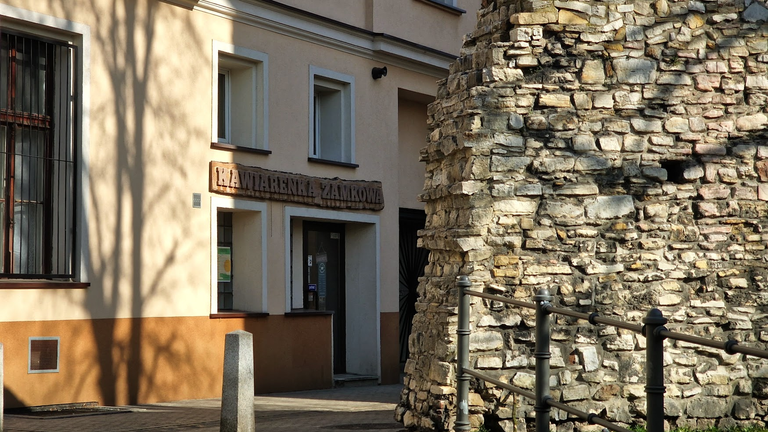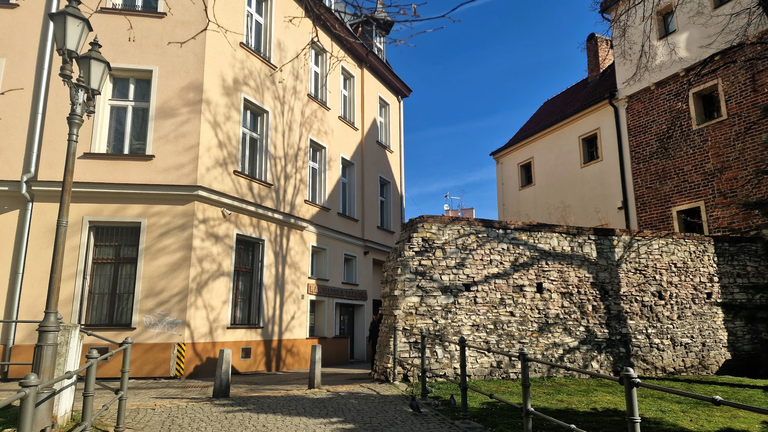 Nawet urokliwe śródmieście Gliwic padło ofiarą polskiej brzydoty. "U Jurewicza", "Piekarnia Rodzinna", "TU kupisz taniej". Tak, żeby nie zapomnieć, gdzie jesteśmy.
Even the charming downtown of Gliwice fell victim to Polish ugliness. "U Jurewicza", "Family Bakery", "You can buy cheaper HERE". So as not to forget where we are.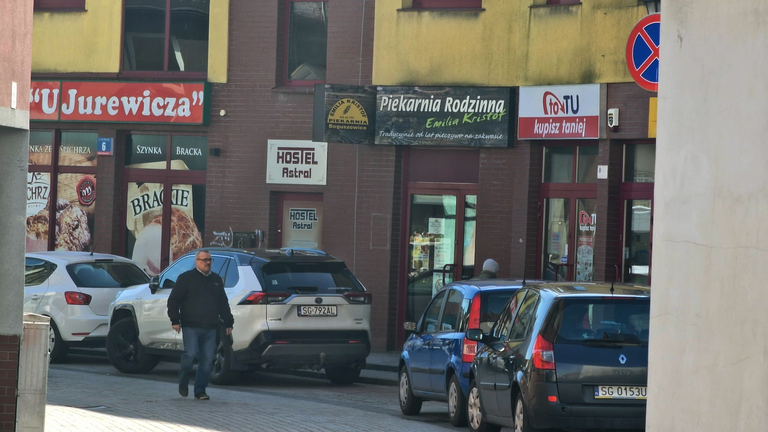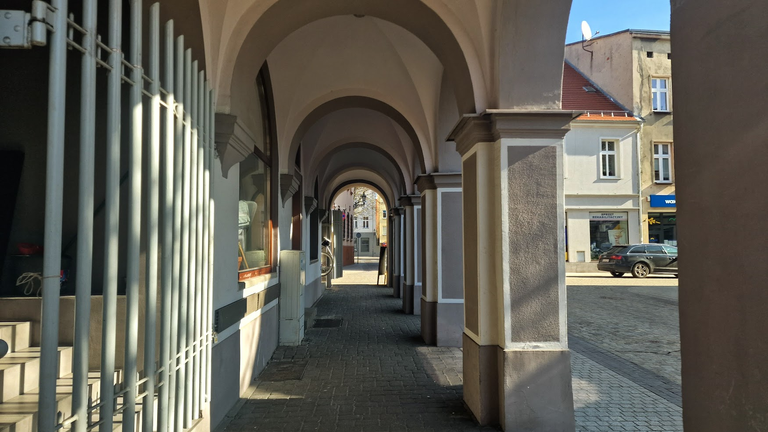 Mogłabym żyć w takim różowym uroczym budyneczku.
I could live in such a cute pink building.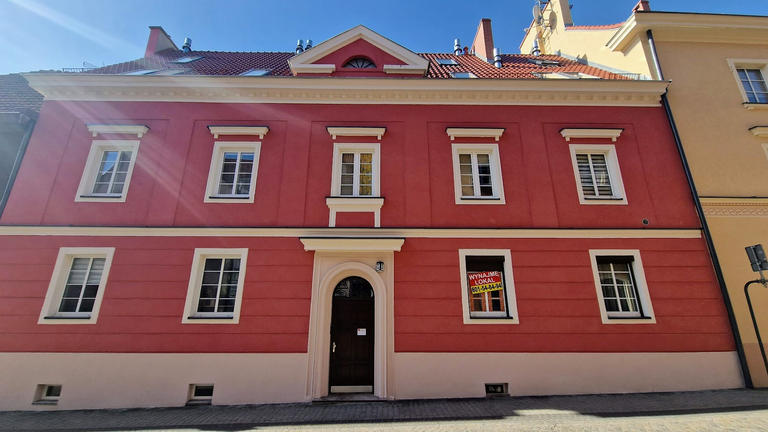 ---
A na koniec mapka z trasą, którą szłam.
And finally, a map with the route I followed.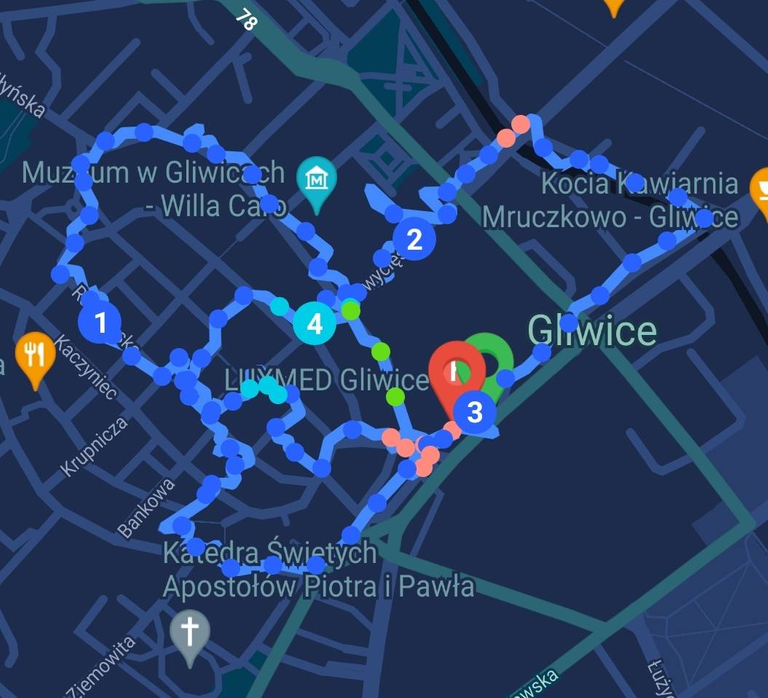 _This report was published via Actifit app ([Android](
https://bit.ly/actifit-app
) | [iOS](
https://bit.ly/actifit-ios
)). Check out the original version [here on actifit.io](
https://actifit.io/@asia-pl/actifit-asia-pl-20230318t112422446z
)_


17/03/2023

13731

---
---