Predictions and my favorite to win /Predicciones y mi favorito a ganar [ENG-ESP] 🇺🇲|🇪🇸
---
---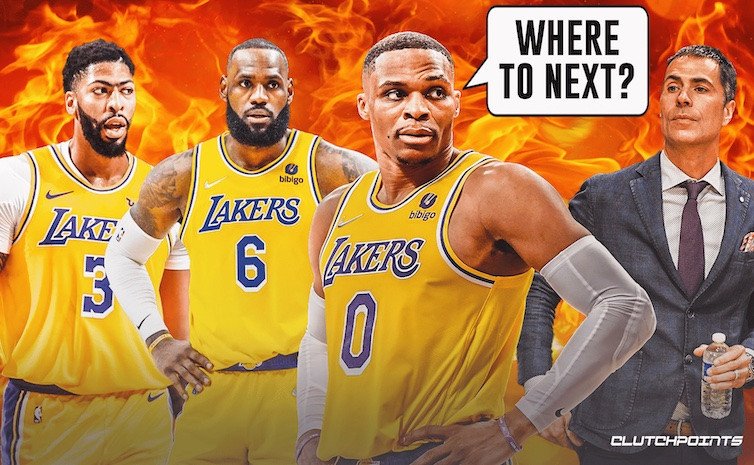 A few days before the playoffs start, there is a lot of expectation about who is the favorite to win the ring in this 2021-2022 season.
A pocos días de empezar los playoffs, se genera mucha expectativa sobre quién es el favorito a llevarse el anillo en esta temporada 2021-2022.
---
---
This season there were surprises and failures like those of the Los Angeles Lakers, a group with many stars, players that many of them will be hall of fame in a few years and even so they could not even get the tenth position to fight for at least one Play in for the pass to the playoffs. I consider from my point of view that everything in the city of Californians was pure marketing.
Esta temporada hubo sorpresas y fracasos como los de los Ángeles Lakers, un conjunto con muchas estrellas, jugadores que mucho de ellos serán salón de la fama en unos años y aun así no pudieron conseguir ni la décima posición para luchar por lo menos por un Play in por el pase a los playoffs. Considero desde mi punto de vista que todo en la ciudad de los californianos fue puro marketing.
---
---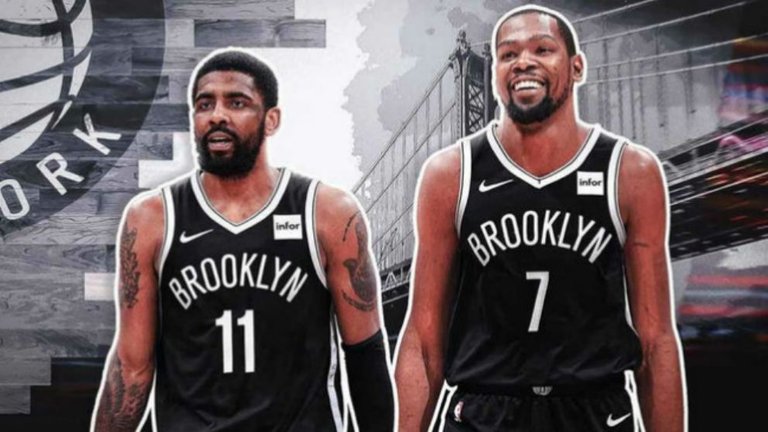 ---
---
Or like the season of the Brooklyn Nets that was perhaps not the best, but even if they were able to fight for the Play in, I could not call it such a failure, despite the fact that they went through many injuries to their players, but they adjusted a little in the dangerous final straight team if it ranks 7th and 8th is it a false seventh or eighth place against the first places? We all know that no team in the table would like to collide with the Brooklyn Nets and more so with a Durant and an Irving that in tight situations is when they bring out their cold-blooded caste the most and show that they are elite players, be careful with those Nets, team that will fight today at the Barclays Center, stadium of the Brooklyn Nets game for seventh place against the Cleveland Cavaliers where it should be noted they had a very good season.
O como la temporada de los Brooklyn Nets que quizás no fue la mejor, pero aun si pudieron luchar puesto por el Play in, no podría llamarle ni tan fracaso, pese a que pasaron por muchas lesiones de sus jugadores, pero ajustaron un poco en la recta final peligroso equipo si clasifica de 7 y de 8 es un falso séptimo lugar o octavo contra los primeros lugares?
Todo sabemos que ningún equipo en la tabla le gustaría chocar con los Brooklyn Nets y más con un Durant y un Irving que en situaciones apretadas es cuando más sacan su casta de sangre fría y demuestran que son jugadores de la élite, cuidadito con esos Nets, equipo que luchará hoy en el Barclays Center, estadio de los Brooklyn Nets juego por el séptimo puesto en contra de los Cavaliers de Cleveland donde cabe recalcar hicieron una muy buena temporada.
---
---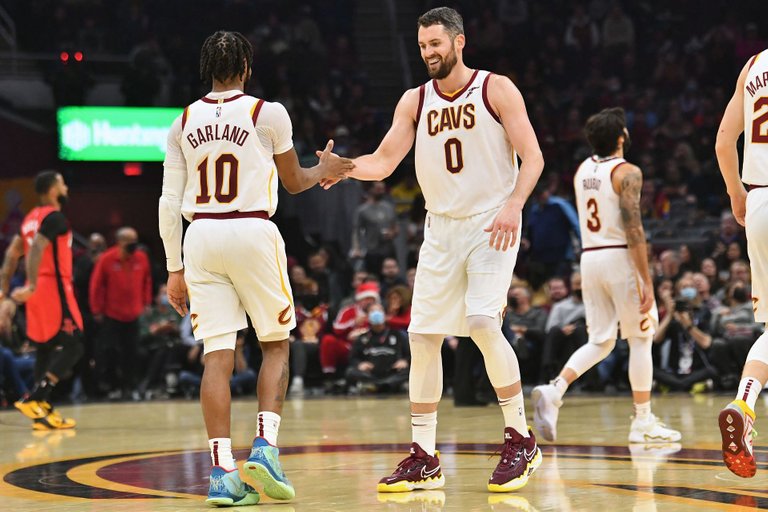 ---
---
Despite having many injured players, even so, the Ohioans knew how to cope with Kevin Love like in his old days in Minnesota and their main star Darius Garland doing his thing with his magnificent plays, triples, assists and game control to sneak in and fight for a place in the playoffs, be careful with that it can be a team that makes it difficult for the favorites to pass.
Pese a tener muchos jugadores lesionados, aun así los de Ohio supieron como arreglárselas con un Kevin Love como en sus viejos tiempos en Minnesota y su estrella principal Darius Garland haciendo de las suyas con sus magníficas jugadas, triples, asistencias y control de juego para colarse y luchar por un puesto a los playoffs ojo con eso puede ser un equipo que dificulte el pase de los favoritos.
---
---
Two teams that generated surprise
Dos equipos que generaron sorpresa
---
---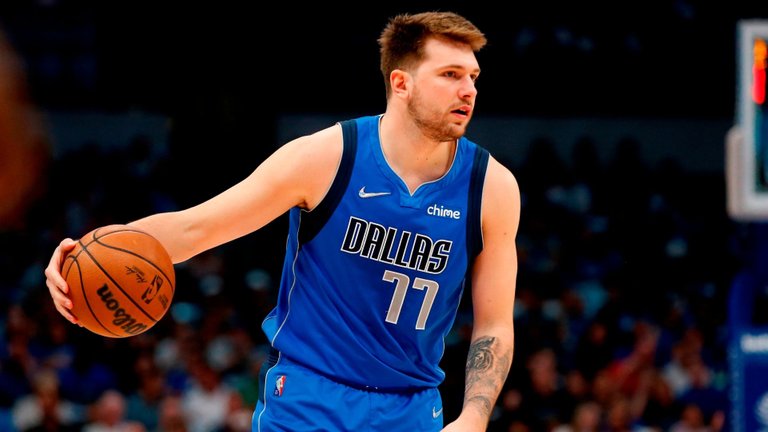 ---
---
If we talk about surprises, we talk about the Dallas Mavericks who created few expectations about them, it was known that it was a team that would be in the playoffs, but nobody would imagine that they would classify fourth in the Western Conference with a Luka Doncic on fire, with a season As for Mvp, I would say from my point of view that he is in the top 5 among the favorites for the MVP for the most valuable of the season without taking out the season of Greek Giannis Antetokounmpo, Joel Embid and Nikola Jokic and Booker.
Si hablamos de sorpresas, hablamos de los Dallas Mavericks que crearon pocas expectativas sobre ellos, se sabía que era un equipo que estaría en los playoffs, pero nadie imaginaria que clasificarían de cuarto en la Conferencia Oeste con un Luka Doncic en llamas, con una temporada de Mvp diría yo desde mi punto de vista que está top 5 entre los favoritos al Mvp por el más valioso de la temporada sin sacar la temporada de griego Giannis Antetokounmpo, Joel Embid y Nikola Jokic y Booker.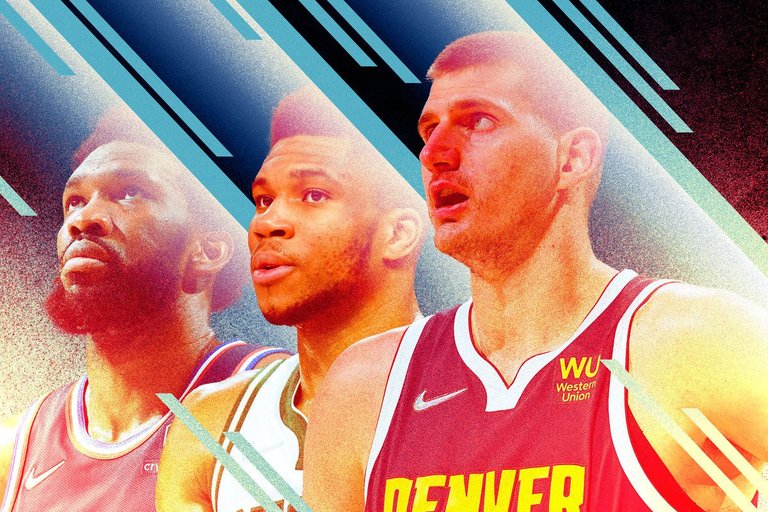 ---
---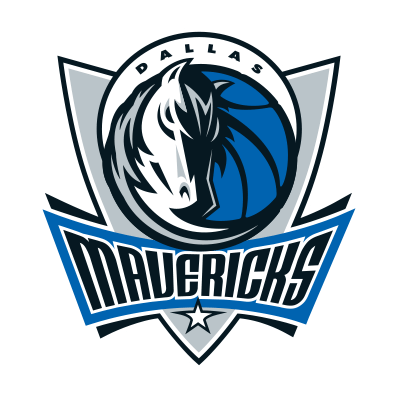 ---
---
Be careful with Dallas, I'm keeping an eye on this team, in a conference as difficult as the West where there was talk among the clear favorites to occupy the first places such as the Phoenix Suns, the Golden State Warriors, the Los Angeles Lakers, who remained eliminated, and the Utah Jazz who always leave me in doubt for their good seasons but they fade in the playoffs when they have to prove themselves.
Cuidado con Dallas les pongo el ojo a este equipo llevan, en una conferencia tan difícil como lo es el oeste donde se hablaba entre los claros favoritos a ocupar las primeras plazas como los Phoenix Suns, los Golden State Warriors, Los Angeles Lakers, que quedaron eliminados, y el Utah Jazz que siempre me dejan en duda por sus buenas temporadas pero se apagan en los playoffs momentos donde tienen que demostrar.
---
---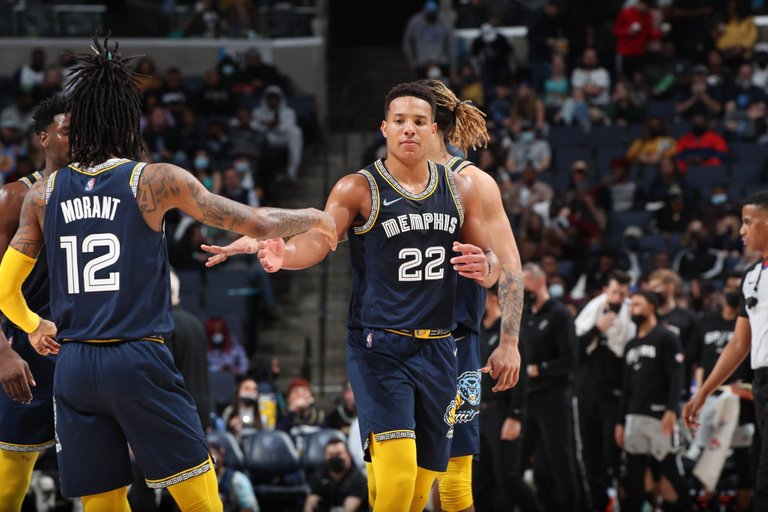 And what more surprises like that of the Memphis Grizzlies team, a young team loaded with a lot of energy and speed, being one of the most explosive teams in the NBA and together with its star Ja Morant they occupied second position in the Western Conference with a magnificent record of 56 games won and 26 lost, thus being the second best record in the league.
Y que más Sorpresas como de la del equipo de los Memphis Grizzlies, un equipo joven cargado de mucha energía y velocidad, siendo de los equipos más explosivos de la NBA y junto a su estrella Ja Morant ocuparon la segunda posición de la Conferencia Oeste con un magnífico récord de 56 juegos ganados y 26 perdidos siendo así el segundo mejor récord de la liga.
---
---
Phoenix Suns best league record
El mejor récord de la liga Phoenix Suns
---
---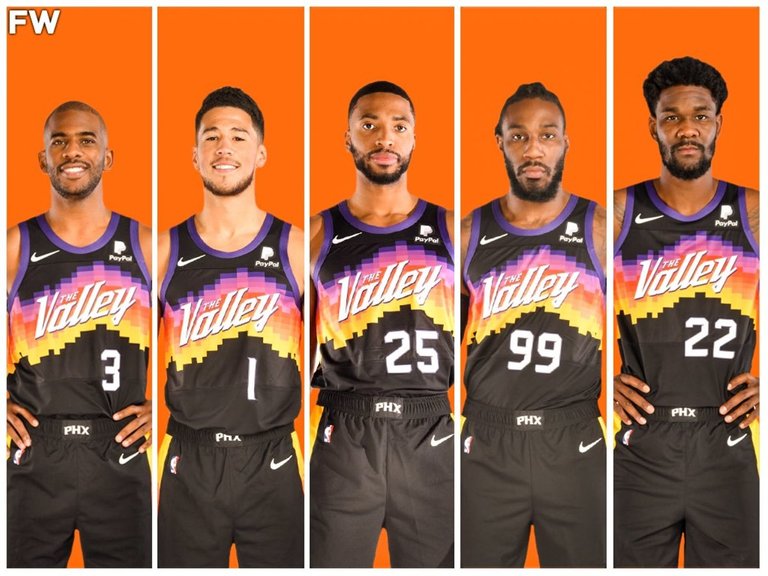 ---
---
Behind the Phoenix Suns who have been showing since the bubble that they are a team to be feared and difficult to beat. The Phoenix Suns enter as the clear favorite ranking first in their Western Conference with a record of 64 wins and 18 losses, making it the team with the best team with the best record in the league and a clear favorite to win the championship. With his excellent collective game, a coach who has made this team have an excellent collective game, with a good bench and role players and with his two top stars Devin Booker and his stellar point guard the experienced and veteran Chris Paul who at 36 years old knows how to show what it means to take a team to these instances with his good control of the ball and controlling times, making good passes, defenses and those luxurious assists the Phoenix Suns are the clear favorites to win the championship, they have youth, experience , defense, fast attack, good rebounders and an excellent bench that knows how to appreciate the good minutes that his coach gives him on the pitch. Monty Williams is also among the favorites to win coach of the year for his good season.
Por detrás de los Phoenix Suns quienes vienen demostrando desde la burbuja que son un equipo de temer y difícil de vencer. Los Phoenix Suns entran como claro favorito clasificando primero en su Conferencia Oeste con un récord de 64 juegos ganados y 18 derrotas, lo llevan a ser el equipo con el mejor equipo con el mejor récord de la liga y un claro favorito a ganar el campeonato. Con su excelente juego colectivo, un entrenador que ha hecho que este equipo lleven un excelente juego colectivo, con una buena banca y jugadores de rol y con sus dos máximas estrellas Devin Booker y su estelar base el experimentado y veterano Chris Paul quien con 36 años de edad sabe demostrar lo que es llevar un equipo a estas instancias con su buen control de balón y controlando los tiempos, haciendo buenos pases, defensas y esas asistencias de lujos los Phoenix Suns son los claros favoritos a ganar el campeonato, tienen juventud, experiencia, defensa, ataque rápido, buenos reboteros y una excelente banca que sabe apreciar los buenos minutos que le brinda su entrenador en cancha Monty Williams entre los favoritos también a ganar entrenador del año por su buena temporada.
---
---
Will the East be the strongest conference?
Sera el este la conferencia más fuerte?
---
---
This season there is a lot of talk about the East, since it was very close from start to finish, the teams were on par and the first 5 places were even, there was no clear candidate for who would get the first place in the Eastern Conference, until the last instance that the Miami Heat team secured a position in the league with a magnificent record of 53 wins and 29 losses, a team full of stars, and experienced players, that there was a lot of talk that they were fighting for that first place between the Milwaukee Bucks champion team of the Last season, the Boston Celtics who, with their good defense and offense led by Jason Tatum as MVP and Jaylen Brown, did their thing and surprised more than one by occupying the second position in the Eastern Conference with a magnificent record of 51 Games won and 31 lost ahead of teams like the Philadelphia Sixers who had a good season with their star player Joel Embid and James Harden who arrived in the middle of season in a change with the Brooklyn Nets that both teams came out favored.
Esta temporada se habla mucho del este, ya que, estuvo muy pareja de principio a fin los equipos estuvieron a la par y los primeros 5 lugares estuvieron parejos no había claro candidato de quien obtendría la primera plaza de la Conferencia Este, sino hasta últimas instancias que el equipo de Miami Heat aseguraron una posición en la liga con un récord magnífico de 53 victorias y 29 derrotas, equipo lleno de estrellas, y jugadores experimentados, que se hablaba mucho que estuvieron peleando ese primer puesto entre los Milwaukee Bucks equipo campeón de la temporada pasada, los Boston de Celtics que con su buena defensa y ofensiva a cargo de Jason Tatum modo Mvp y Jaylen Brown hicieron de las suyas y sorprendieron a más uno ocupando la segunda posición de la Conferencia Este con récord magnífico de 51 Juegos ganados y 31 perdidos por delante de equipos como los Philadelphia Sixers quienes hicieron una buena temporada con su jugador estrellas Joel Embid y James Harden quien llegó a mitad de temporada en un cambio con los Brooklyn Nets que salieron favorecidos ambos equipos.
---
---
Team to follow and show what they are made for?
Equipo a seguir y demostrar para que están hechos?
---
---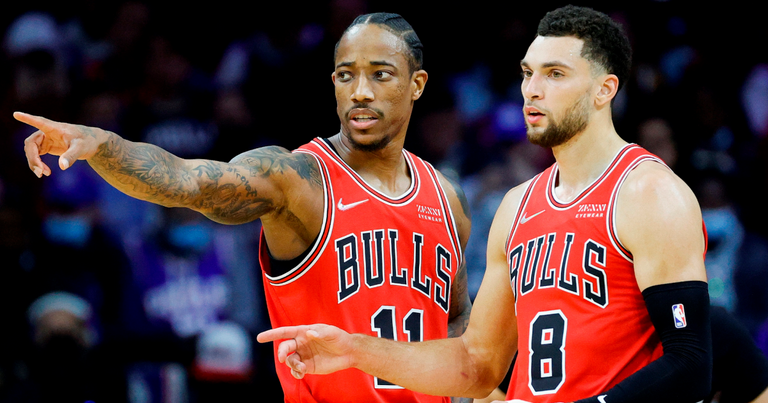 Team that created expectations at the beginning of the season were the Chicago Bulls, who were armed in the summer with players of the stature of DeMar DeRozan, Alex Caruso and taking over the services of star point guard Lonzo Ball, who at the beginning of the season created great expectations because of the team they had and the great start to the season that they were experiencing being among the best 3 in the east and they finished sixth and that's the way it is a team to keep an eye on, because of the good players they have.
Equipo que crearon expectativas al inicio de temporada fueron los Chicago Bulls, quienes se fueron armando en el verano con jugadores de la talla de DeMar DeRozan, Alex Caruso y haciéndose de los servicios del estelar base Lonzo Ball, quienes a principio de temporada crearon grandes expectativas por el equipo que tenían y gran inicio de temporada que es estaban viviendo estando entre los mejores 3 del este y quedaron de sexto e igual así es un equipo a ponerle el ojo, por los buenos jugadores que tienen.
---
---
The uncertainty of who will win.
La incertidumbre de quien ganara.
---
---
There are many expectations of who will be the champion, or what will be the surprise, which will be the favorite team that will come out of the quick first round. Of course, some intense playoffs are coming up, and I'm already looking forward to this great show with the best basketball players on the planet showing what they're made of.
Hay muchas expectativas de quien será el campeón, o cuál será la sorpresa, cuál será el equipo favorito que saldrá de primera ronda rápida.
Claro está que se avecinan unos playoffs intensos, ya estoy ansioso por qué empiece este gran espectáculo junto a los mejores jugadores de balocesto del planeta demostrando de que están hechos.
---
---
my favorite to win
Mi favorito a ganar
---
---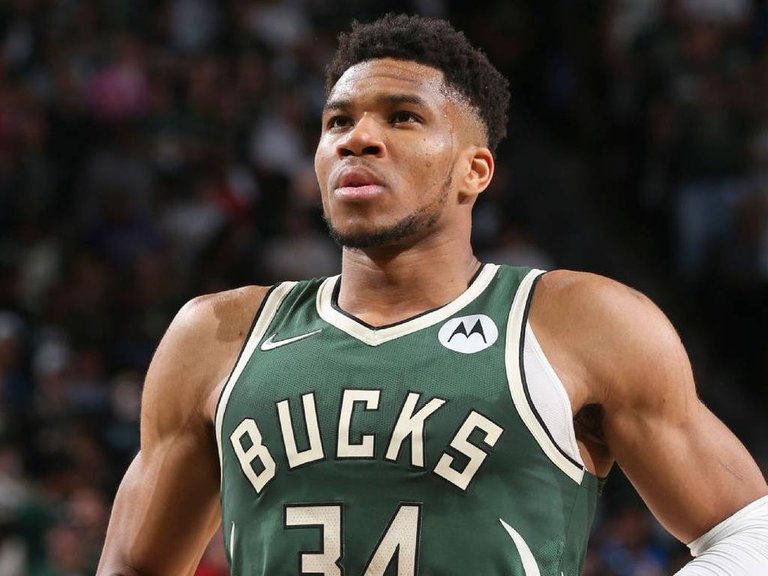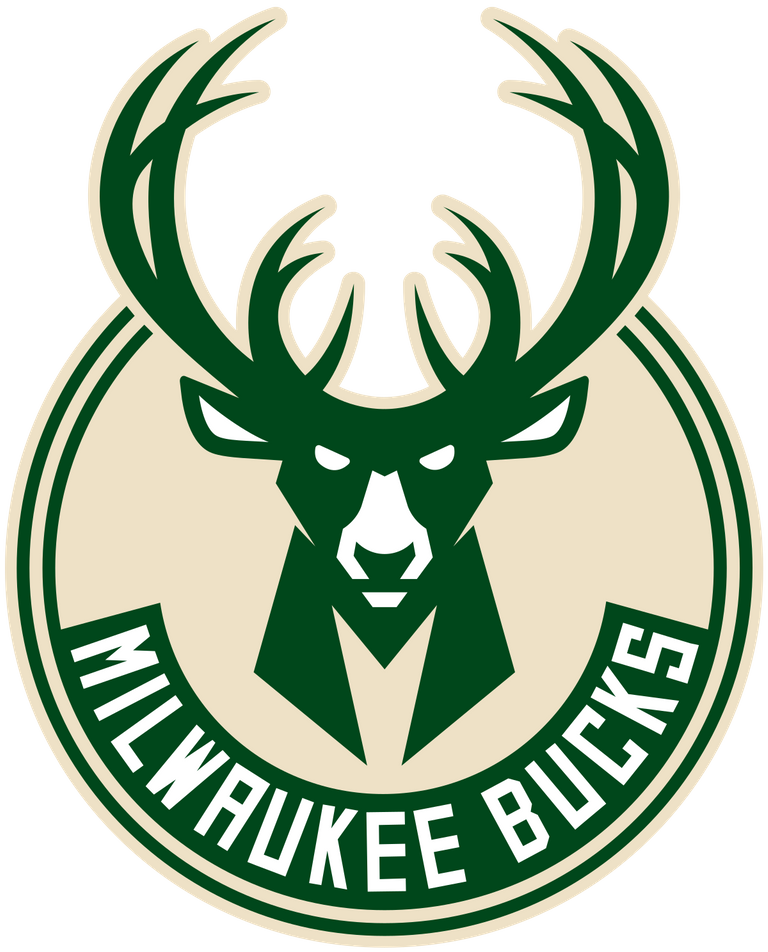 ---
---
I have my candidate, and it is more than anything the Milwaukee Bucks, I think they can repeat again and win the championship, they are a fast team, with good shooters from the triple zone, excellent defensive players and big men who can play well in the paint and they have their all-star superstar Giannis Antetokounmpo a player who has proven he's up for big things and my strong candidate for MVP and defensive player this season, he has the strength and grit of yet another championship.
Yo tengo mi candidato, y son más que nada los Milwaukee Bucks, considero que pueden repetir nuevamente y poder ganar el campeonato, son un equipo rápido, con buenos lanzadores de la zona de triples, excelentes jugadores defensivos y hombres grandes que pueden hacer buen juego en la pintura y tienen a su estelar superestrella Giannis Antetokounmpo un jugador que queda demostrado que está para grandes cosas y mi fuerte candidato para más valioso y jugador defensivo de esta temporada, tiene la fuerza y la garra de otro campeonato más.
---
---
***
---
---
The content is totally original from @athleticactivity.
El contenido es totalmente original de @athleticactivity.
---
---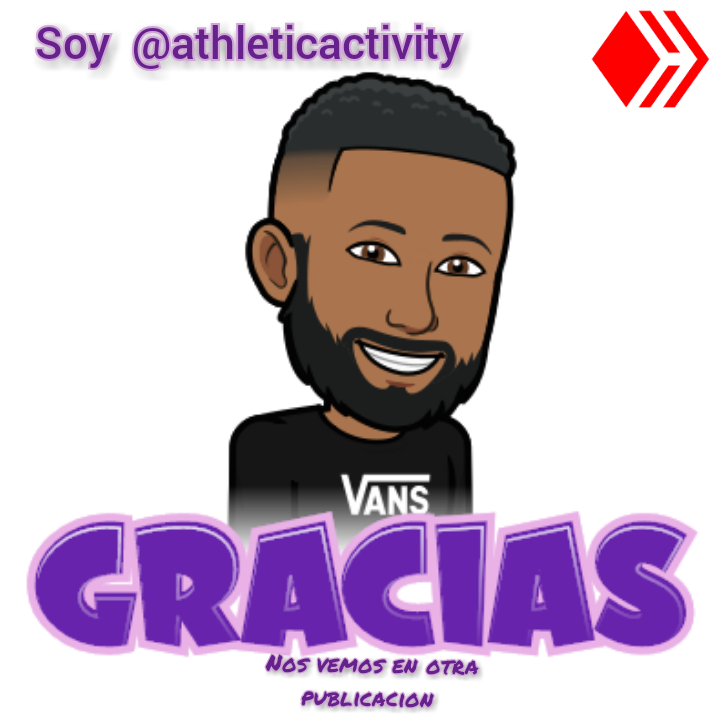 ---
---
Thank you very much for your time and reading, I'm Jherome Vargas.
Muchas gracias por su tiempo y lectura, Soy Jherome Vargas.
---
---
See you in a future post.
Nos vemos en una próxima publicación.
---

---
---
---