Liverpool in talks with crypto firms to take over front-of-shirt sponsor deal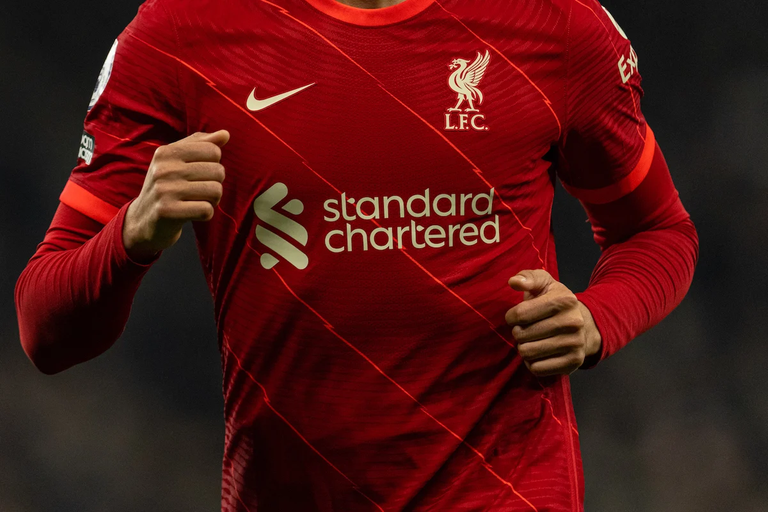 Source
The crypto industry is seriously taking a deep dive into the sports industry too especially when it comes to the football side, sponsoring and partnering with clubs to expand their presence probably for recognition, to gain more awareness or spread the good word about cryptocurrency. Within the past two months, two big football clubs have partnered with blockchain platforms for sponsoring their kits or covering other activities they do.
First, it was Manchester united that partnered with Tezos a blockchain platform that will be sponsoring their training kits and the deal is worth more than £20m ($25.4m) a year and that's why if you look at Manchester United's training kits you will find their logo on it as their sponsor. Then also, Manchester City who's also a top premier league club also partnered with OKX last month to be their cryptocurrency exchange partner and the deal also covers OKX sponsoring both the men's and women's team operations too making them their official crypto partner.
However Liverpool isn't left out of the equation but what makes theirs different is the crypto company wants to be the main sponsor of their front shirt brand because so far, other clubs deal with crypto company has been either training kits or other operations and if this comes through for Liverpool, they will be the first club doing so. They are still sceptical about making the deal happen because their current sponsor Standard Chartered is planning on renewing their sponsorship again once it expires in May 2023, so how will this play out?
The standard chartered has been their front shirt sponsor for nearly 12 years now and the deal is worth £40m ($50.9m) a year and tends to expire next year May they plan to renew but now that another company has come into the picture and no matter how the what both companies say, Liverpool wants a deal worth £70m ($89m) over two years. But for the deal to be done, Liverpool fan groups have to be consulted just like it was done when the club launched the club NFTs, so an agreement has to be made between the club, fans and the company.
Posted Using LeoFinance Beta
---
---