My Fpl Team Talk : Gameweek 4
---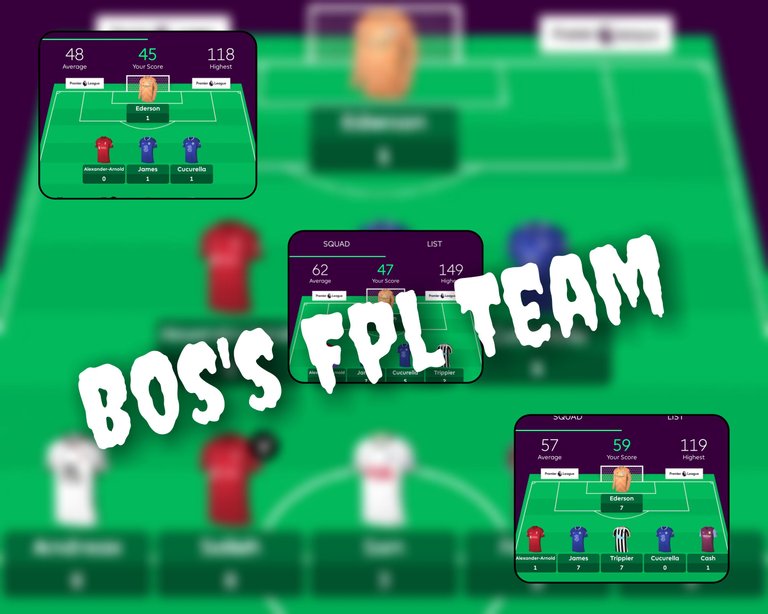 ---
I didn't think I'd be making this post for two reasons. First one being how bad my team performed for yet another gameweek,and the second one being how fast this next gameweek is approaching. In a few hours it'll be the deadline and Gameweek 5 will begin.

Gameweek 4 didn't start by giving me any false hope as a lot of my players were playing around the same time.
Ivan Toney Blanked, Rodrigo who I brought in blanked, Mancity conceded early on so Ederson Blanked. Salah, who was my captain and who I expected to haul against Bournemouth, blanked miraculously despite his team beating Bournemouth 9-0. It was really frustrating to watch. 6 different Liverpool players scored but he wasn't able to find the net. Alexander Arnold on the other hand repaid me for my patience and got a goal, an assist, cleansheet and 2 bonus points bagging a stunning 17 points to somewhat salvage the horrible state my team was in. My Chelsea defense pairing wasn't all bad, as both defenders got assists, even though they conceded.
In the evening Gabriel Jesus joined the blankers party and from there I knew my week wasn't going to be stunning, unless Son, Trippier and Bailey turned up. Haaland, who a lot of people captained, got a hattrick so the average score was already really high.

On Sunday I wasn't really expectant of anyone except Son,and maybe a Clean Sheet from Trippier.
Bailey didn't start the game, so he blanked, he looked dangerous when he came on so I wonder why Gerard had to wait for Coutinho to injure before bringing him in. I watched in pain as Fornals, who I sold for Rodrigo, finally scored and delivered the differential points I'd been looking out for the last two weeks, and I wasn't going to get them.
Trippier Conceded and blanked,then Son who I have been watching patiently disappointed once more, leaving me with a measly 47 points
---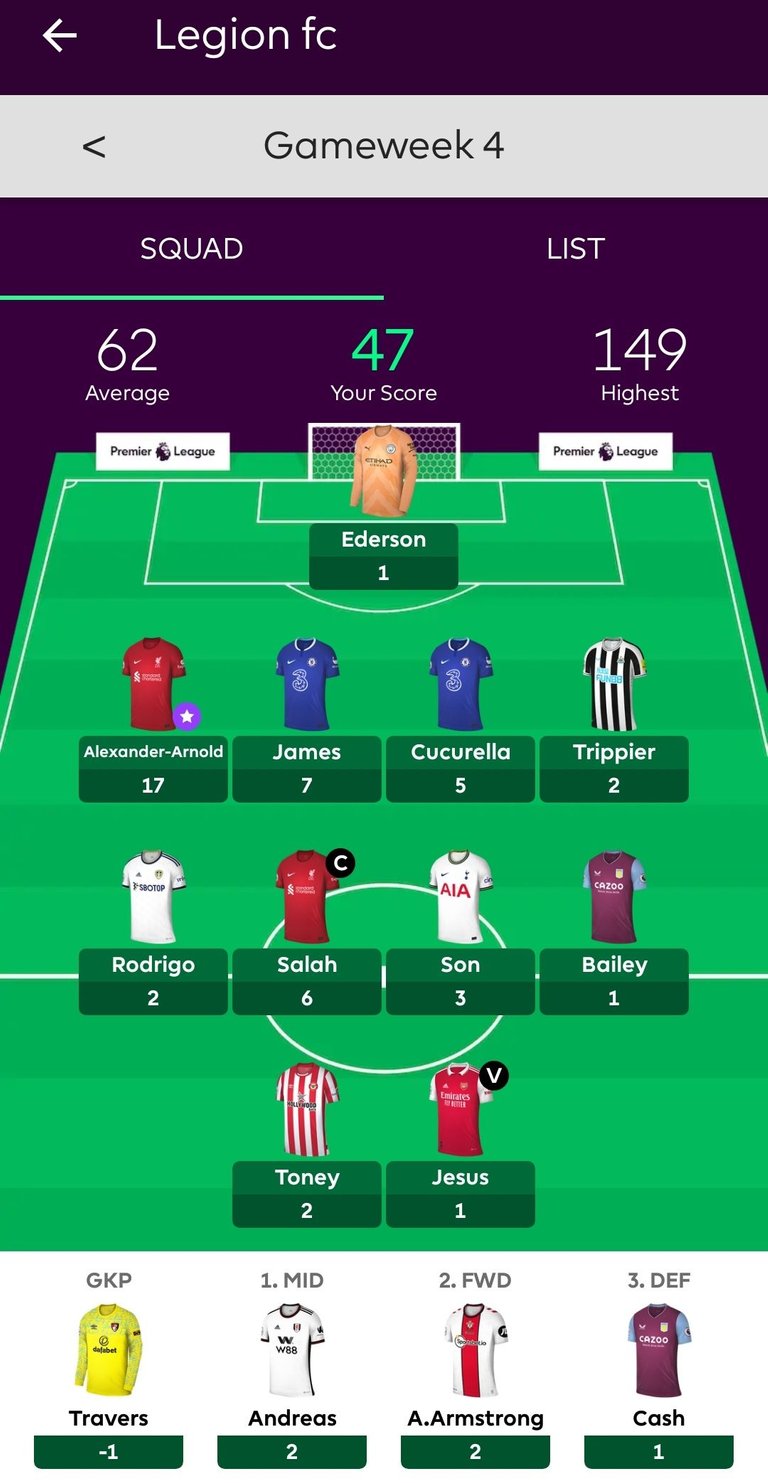 ---
It was a great gameweek for a lot of people, especially those who captained Haaland or Kane who both delivered the points. That showed as the average was a season high, 62 points.
I'm currently sitting 69th in the hive fpl league with a total of 207 points
---

---
And now I'm currently 72 points away from the top of the league. It's starting to look bleak, but I just have to keep going, gameweek by gameweek.
---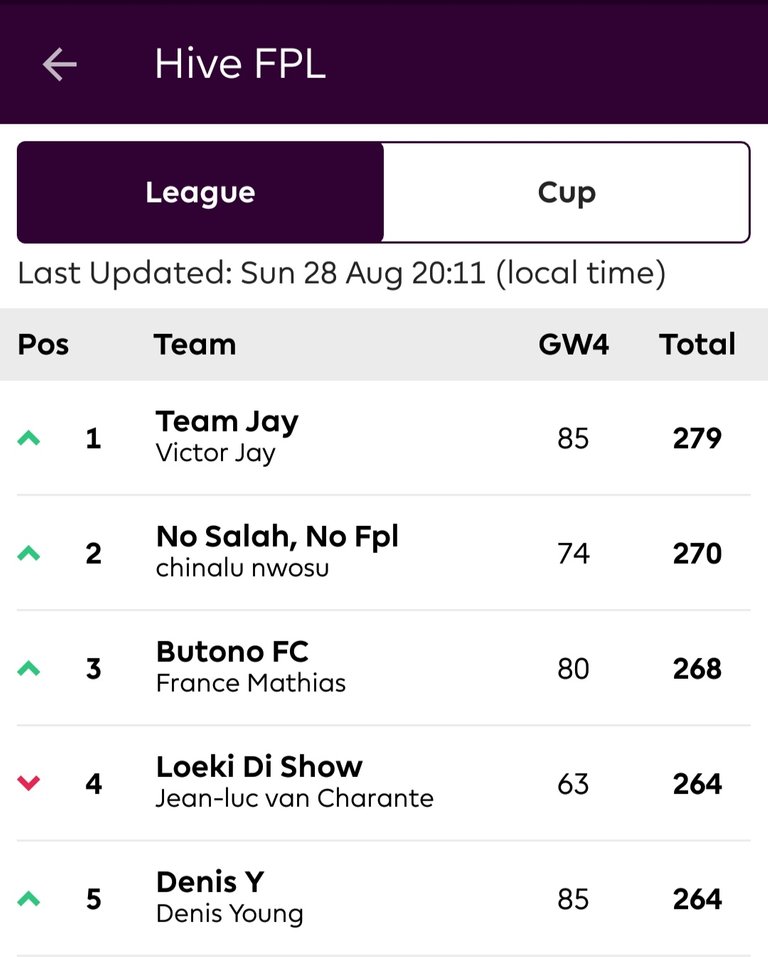 ---
I'm averaging about 50 points per gameweek, and I need to improve on that these coming weeks.

MY TEAM FOR THIS WEEK
It's another week of shoving the wildcard thoughts down. Probably after gameweek 10 or so, I'll finally succumb to those thoughts. I believe by then the players who will perform long term will be known. I Just need to be disciplined and slowly shuffle and get the players who are more likely to perform.

I gave Son and Arnold a final chance last week as they both had relatively easy fixtures. Arnold performed and gave me 17 points while Son was disappointing for yet another gameweek. At such a price, he shouldn't be dropping binary digits every gameweek. So this week I sold him and brought in Gabriel Martinelli.
Gabriel Martinelli is a midfielder I've been looking out for since he started performing in gameweek 1. He's priced at 6.4m and has delivered 24 points so far, and only blanked in gameweek 4. The stats however back him to continue to perform for the next couple gameweeks.

Another great option I was considering going for is Martin Odegard (6.6m), he's delivered 31 points so far, he blanked in the first two gameweeks but has performed in the last two gameweeks. In the end I went for Martinelli because even though Odegard has dropped more points the stats has backed Martinelli to continue to perform, whereas Odegard's stats seems more spontaneous. I'm looking for consistency so I went with Martinelli. Although I'm a bit concerned that Smith Rowe will return soon, and then there may be less minutes for Martinelli.
---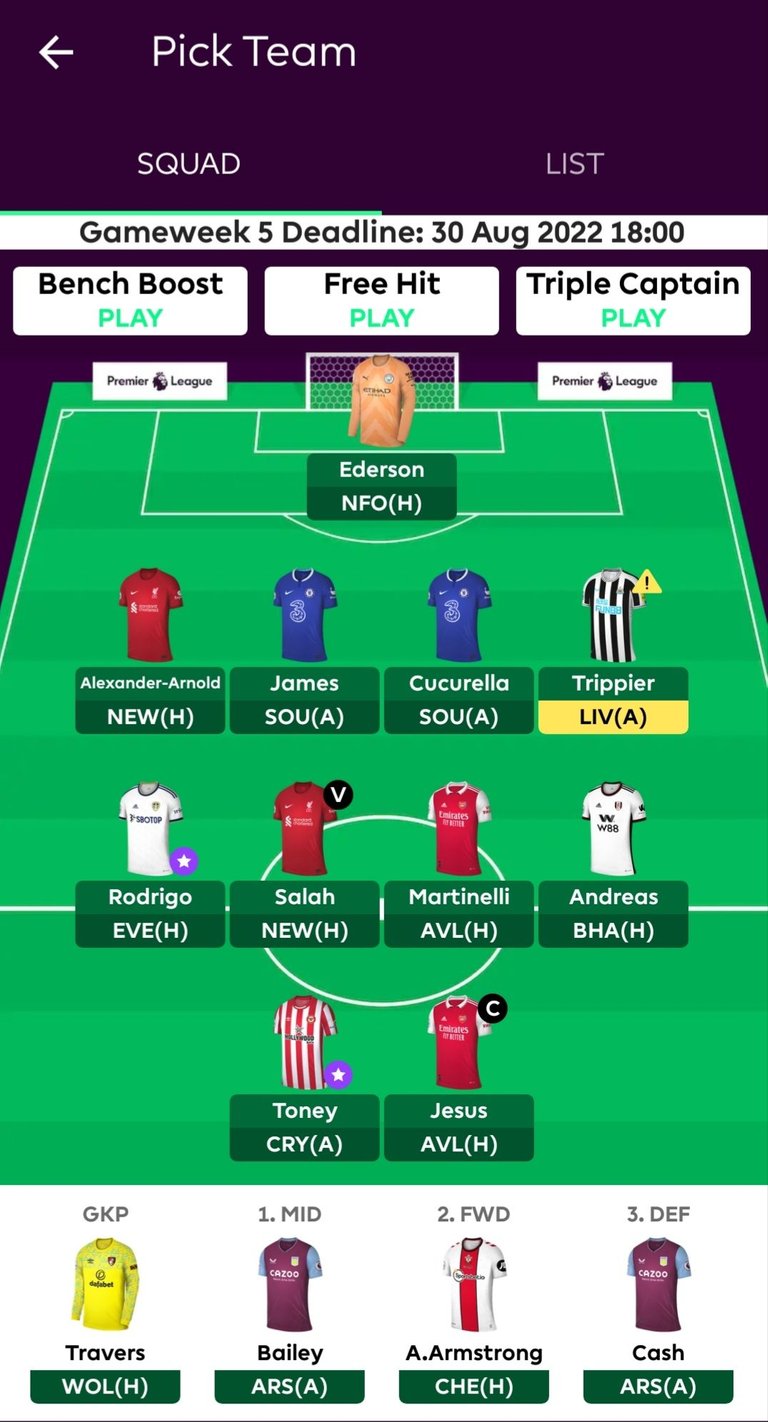 ---
Other than that change, my team for this week is the same. I'm Captaining Gabriel Jesús against Aston Villa. Aston Villa have been bad defensively, and Arsenal have been stunning. I'm hoping Gabriel Jesús can turn up and deliver some premium points for me.
I just saw bad news that Reece James is most likely unavailable for the match this evening, which means Leon Bailey will have to come on for him. I was really hoping James would play and deliver some points for me, which is why I still didn't bench him.
I'm also looking to add one of Arsenal's defenders to my squad, as they're quite cheap and have been delivering points lately.

I'm really hoping this gameweek turns out good for me. I'm picturing the average will be less this gameweek as it's a midweek fixture and fatigue may affect some players. Hopefully the players in my squad will not be too tired. Thanks for reading, have a wonderful day.

NB:All photos are screenshots from the official premier league app
Posted using SportsTalkSocial
---
---