Rabona - My End of Season 70 Update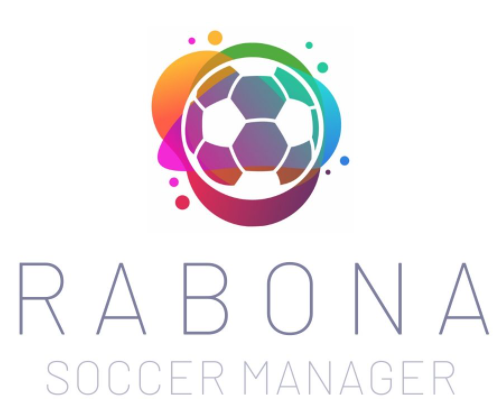 Season 70 Strategy
Legion FC started the season 70 campaign in League 2. My current strategy is pretty simple. I don't believe I have the infrastructure to support a League 1 team, so my strategy is to stay within League 2 and grow my fanbase. Ideally, I would like to be middle to top of the table each season for increased rewards, but I don't expect to be competing for a promotion spot. The key for this period of my growth is to keep the on the pitch results as good as possible while keeping payroll at a minimum until the number of fans catches up to the ambitions of the club.
Season 70 Results
We finished 3rd in the table for season 70! That is higher than we expected given the current strategy to win games as cheaply as possible. Overall, the league had some good competition with the top half of the league being within 23 points of each other. One less draw and I would have lost the tie breaker for 4th place.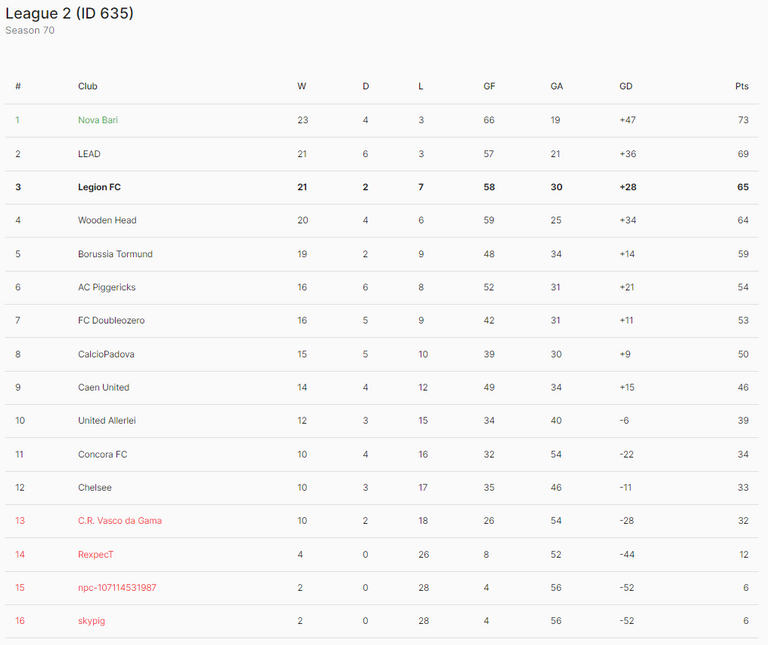 We have moved to over 52,000 fans as a result of another successful season. Building our fanbase is the #1 goal right now as we eye players with larger salaries and need a way to pay for them.

Season 70 Financial Results
We ended the season almost $850,000 RBN in the red. Below were our income/expenses.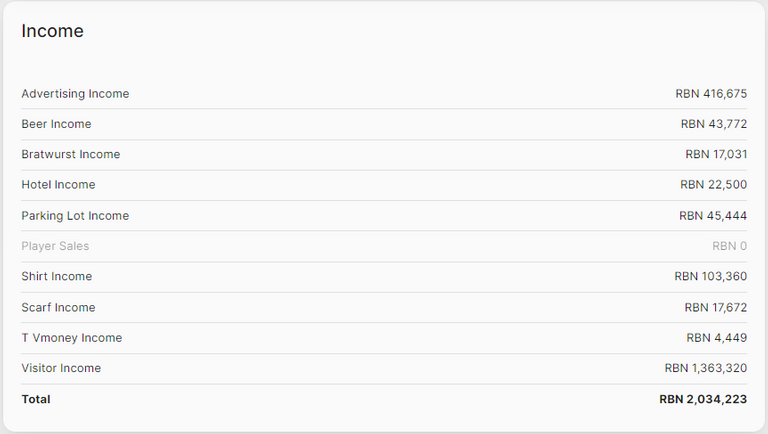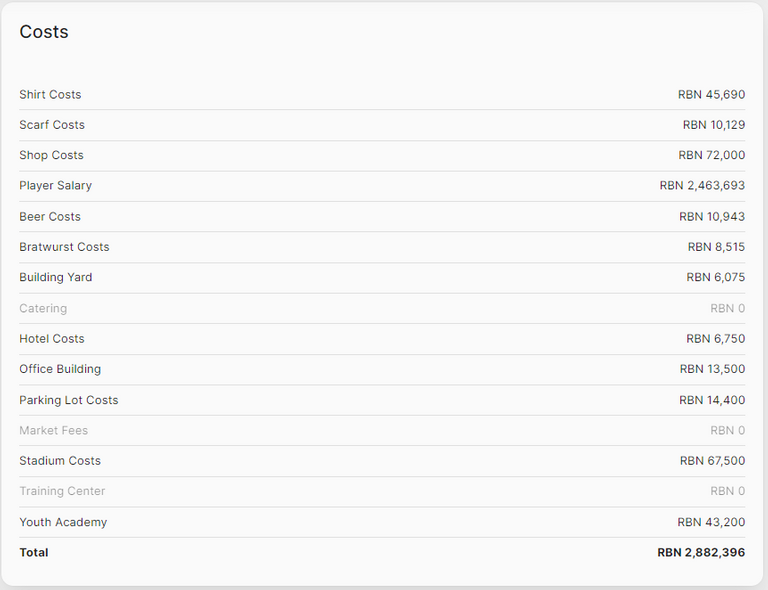 That seems like an expensive season, but as you can see from the chart below, we improved season over season. The cost to jump into League 2 was fairly expensive. We are trying to keep a competitive roster to increase the fan base quickly. The salary expense is our top expense by a lot. It is an expensive strategy for now. It should pay off shortly.

I'm overall happy with the financial results of the team. Especially when you add in the 0.177 Hive bonus that was paid out to the owner :).
Facilities Update
As I said in the strategy section, I am trying to grow my fanbase to grow into my infrastructure. I have already started the upgrade to level the stadium to level 9 increasing the capacity to 6,000 seats. Our last home match brought in 3,150 fans at 30 RBN each for a capacity of over 98%. The stadium upgrade should be available in the first half of the season. I will drop the ticket price considerably and play with numbers until we can find the optimal pricing to take advantage of the new stadium. I expect it will be a nice boost to revenue.
Stadium Capacity - Level 8 - Currently upgrading
Catering Capacity - Level 8
Shop Capacity - Level 2
Hotel - Level 7
Parking Lot - Level 8
Office Building - Level 7
Building Yard - level 3
Youth Academy - Level 8 - Currently upgrading
Training Center - Level 0
We are also focusing on our youth academy. That strategy may be a bit of a mistake financially. We enjoy seeing our home grown players take the pitch, and we hope our fans will enjoy that as well. It can also bring the cost of the squad down considerably and open the possibility of transfer fee income.
Squad
The season 71 squad is honestly pretty thin. We will need to add some pieces in the market at some point during the season. Our academy kids did not impress as much as we hoped this season. We will wait until mid season (if we can make it) to see how the table looks and how our injury situation is to determine how hard we need to look on the open market for signings. The upside to the thin roster is a cheaper salary expense.
The roster will be headed by veterans Amir Persson and Michael Caruso. We are really excited about the prospects of Hanus Kopecky and Fabio Engel who are still young and came out of our academy.

Season 71 Strategy
My season 71 strategy will be more of the same. The roster is very thin (and cheap) right now. I'll try to get away with that as long as I can, but I'll have to make some moves very soon. The stadium upgrade should finish soon which will give me an opportunity to play with pricing of tickets. Our longtime fans will enjoy the reduced ticket prices while we try to fill the new expansion. The expansion of our Training Center will also give the possibility of more exciting youngsters coming from our club. I usually scout a few players from the academy at the end of each season.
About Rabona
Rabona is a classic football (soccer) simulation game built on the Hive blockchain. It is play-to-earn style game where in-game currency can be traded for cryptocurrency. The gameplay is very simple, so there is no need to be a football (soccer) fan to figure out what is going on.
See my previous post introducing Rabona for more information on how to get started or more detail on the game itself. https://peakd.com/oneup/@belhaven14/cheap-to-playplay-to-earn-series-rabona.
Here is my referral code if you just want to jump in: https://rabona.io/?ref=belhaven14
Best of luck to you and see you in Season 71!
---
---