ANYWHERE BUT CHELSEA
Maybe I should start fasting from now till end of the transfer window 😂😂
to see this👆👆 doesn't happen .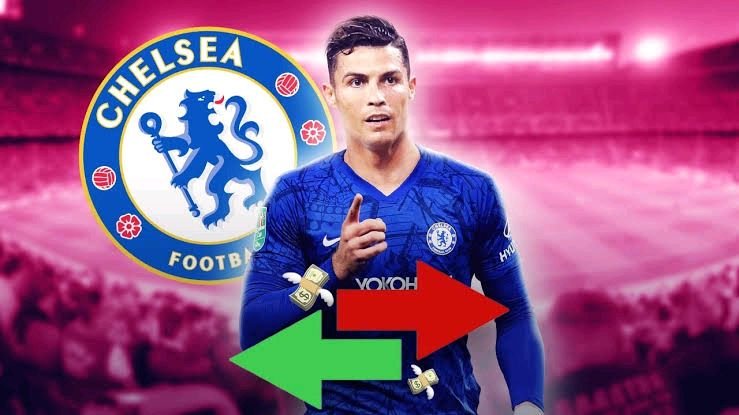 It's no longer news ( It started as a rumour though, but now it's clear and evident ) that Cristiano Ronaldo has asked to leave Manchester United, a request that didn't sink down well to Manchester United and their fans. they still want him to stay. the new coach wants him to stay. He , according to source has stated one time, that he would love to have Ronaldo in the team because, he (Ronaldo) is part of his plans, that he would love to have someone as experienced as Ronaldo to stay in the team so as to be a form of example and motivation to the younger ones. He has developed some trust in Ronaldo, and believe that with him by his side ,he can be able to return Manchester Uniteds' lost glory , therefore the club still needs him. And of course the reason is clear and evident.
Most especially is the fact that he is "RONALDO" No one can do it the way he does in the pitch , he is always a threat to the other team , always the player to look up to in changing things and releiving the team if need be , and he's always proven himself in all of those aspects (except on rare occasions, and most times, due to the lackadaisical attitude of his teammates at that time ) therefore I don't think any club would let him go just like that without a fight.
Secondly .. he's quite an influencial player . he has a lot of influence on players and also fans. His presence in the pitch would make other players who might be derailing in some areas to buckle up and not to lack focus. Also on the fans side , I know for sure that there are some certain fans who started supporting Man United since the day Ronaldo returned . they have been following him all the way from Man United, while some started from Real Madrid to Juventus and now back to Manchester United .
I would not want to call names, though I know some of them .
A player who , despite being now at the last phase of his career , and yet playing in the toughest league at the moment was able to score 24 goals last season and coming up as the third highest goal scorer in the league (competing with fresh bloods like Mohammed Salah and Son Heung Min,
although this awesome performance could not help the team secure champions league spot) cannot just be let to leave as he asks.
His reasons for wanting to leave is quite justifiable, no body would blame him for wanting to leave . Many people are saying many things, but we've found out by a real source that his real reason for wanting to leave is because of the the clubs lackluster performance in the transfer market now open. everybody knows that for the club to be able to participate or compete with other top clubs next season, they need to buy new players and they need to start doing so. If not, they wouldn't be able to find a spot also in the top four next season and he doesn't see himself as not playing champions league anymore until he retires.
If Man United would want to keep him still in the club , they just have one thing to do , and this is within their power . They need to accelerate their rate of participation in the transfer window, they need to buy more players to strengthen the club and make them strong enough to face the other top clubs next season.
but if he still insists on leaving , it's fine he can leave to anywhere but not Chelsea.
There are many clubs that , according to rumors have been linked with the transfer of the great striker. Jorge Mendes his agent has already set to work. right now he is still enjoying his vacation because he is not a part of the crew that has gone on the pre season tour , he has been given more time to sort things out with his family .
He can go to Bayern , Barcelona, or even PSG but not Chelsea, which has been a stronger rumor since his decision to leave.
Many of us are aware of the fact that
The rivalry between Chelsea and Man United fans in this side of the world ( Africa, Nigeria to be precise ) is just so strong.( I can't say about other parts of the world ) they are just a typical example of the expression "cat and dog". they never see eye to eye , I came into the world to meet the rivalry and I joined the trend and so did you all .
We see Chelsea fans as noise makers while they see us as "living in past glory" and so many other descriptions
A Manchester United fan while watching a Chelsea match is hoping to see them loose and vice versa....
Seeing Ronaldo play for Chelsea would be an eyesore to Man United fans , it's true that he has haters already , but if this happens, his number of haters would multiply automatically.
Man United fans that had followed Ronaldo to the club would certainly not go with him to Chelsea because of the rivalry
there would be mixed expectations from a Man U / Ronaldo fan, in that while praying for Chelsea to loose he would also be hoping Ronaldo would score
Imagine Chelsea taking away Man United best player currently from them and using him against them in the coming season , probably scoring goals, hat tricks and free kicks and penalties 😭😭it would be so unbearable for Man United fans which I'm also a part of ,he's likely to loose some number of his followers on Instagram,Twitter and other social media handles although that may not have any effect on him ..
but honestly, I would really love him to stay
which is why I made the first statement and I would if it were possible 😂😂
---
---