IF I WERE RONALDO....
It's no longer news that Manchester United last season emerged 6th in the table, that being their worst season with 58 points , the lowest they have ever gotten, and unfortunately it was this same season that Ronaldo returned to Manchester United, expecting to have a wonderful season with the club .
And every blame was heaved on this man.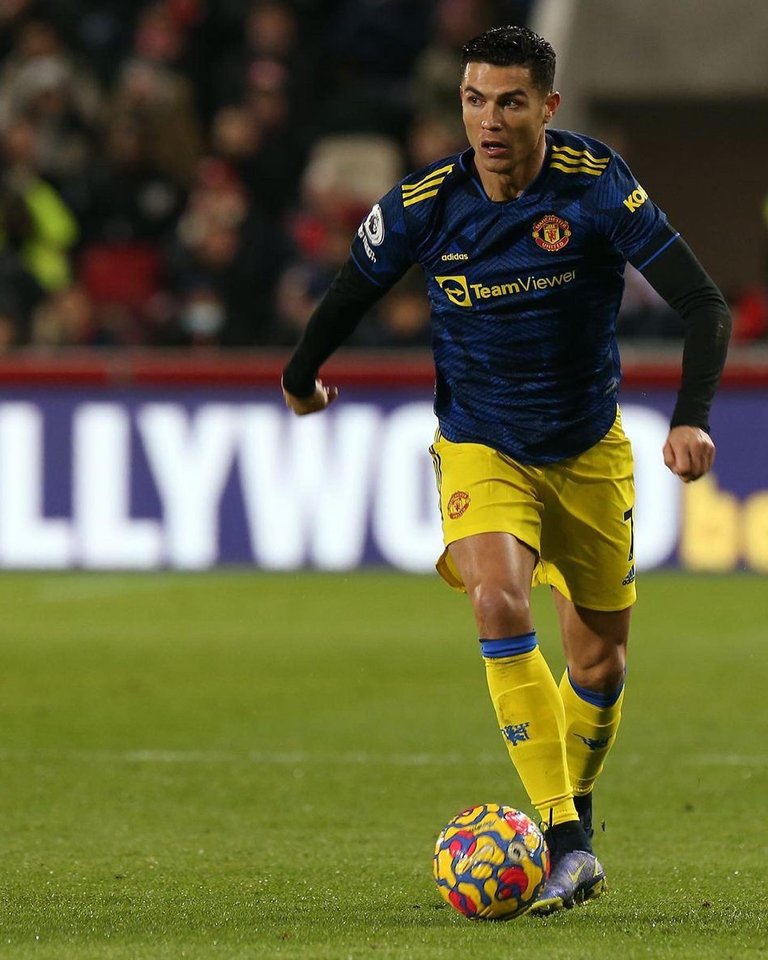 Source
He was carried up by many football analysts , both locally and internationally , claiming he was the reason Manchester United did not do well prior to last two seasons , where they ended in the 2nd position
Despite the fact that this same man became the 3rd highest goal scorer in the league that season.
It still baffles me how that with so much goals coming from one player in the team , and goals scored by other players in the team , and also having such great talent as David de Gea at the back post, this team was not able to clinch the top four.... there certainly must be an area that's not functioning properly
But football analysts and some other persons involved in this discussion are not making it better for the striker. While some has come up with the conclusion that him being Manchester Uniteds' highest goal scorer at age 37 is not meant to be so and hence is the problem , they also forgetting what Calibre of player he is, that this same Ronaldo and has on so many occasions proven that age Is just a number , this is just something he's been doing for years he's been very good at it and has yet not shown any sign of relenting. Some say he is not a team player , And some say he makes other players become lazy and rely on him and therefore the squad suffer some level of backwardness .
WHO'S FAULT IS IT ??
Firstly I would say this , because I do not understand how so many goals being scored by a player could be the problem a club is facing
If (as Football analysts say) Ronaldo is not a team player, this means he plays for himself. But being able to (as a personal player) score so many goals for the club he plays in . why not the rest of the team try as much as possible to secure the goals scored by this personal player ?? what happened to the rest of the squad ??
what happened to the defence line ??
How can he be working hard in the front line to convert goals and then some others at the back are conceding so easily? And yet after everything,the whole blame is vested in this same guy,it's just discouraging.
Secondly, I don't see any reason why an inclusion of a star player into a big club would make the players Lazy. I mean it's not supposed to be so .
A player who has got a lot of experiences from playing in different leagues and making names there, is expected to be a role model to the younger inexperienced ones in any team he finds himself in terms of hard work, discipline and focus in the game. But the Man United squad instead of learning from the 37 year old decided to rely on him to carry them along. he played his own role nonetheless he couldn't play another's. But now the world is blaming him for something which is absolutely not his fault
For deciding to leave, he's not to be blamed at all,being the kind of person he is . He is a player who has be nicknamed king of champions league because of his exploits in the competition, scoring the most goals and also having the most assist in the competition . he has never played Europa league before in his and life this would be his first time ,if he eventually stays in the club, and the realization of that doesn't augur well with him which is why his agent has been touring the whole of Europe looking for a champions league spot he can fix him, most of which has proved abortive, recently he was spotted at Athletico Madrid trying to negotiate with Diego simeone, but Athletico Madrid agree to make this deal ?? Ronaldo being one of simeone nightmares, after all he's done to him .
But IF I WERE HIM (which I'm not)
I would stay back at the club . He has always been this guy that proves the media wrong .
while some People are thinking otherwise, some are already opting that his absence in the club is one of the reasons they are doing well in preseason. but the coach doesn't think so , he believes Ronaldo is a very good asset for him in the club and he is looking forward to working with him .
So if I were Ronaldo , I would work with the new Coach and see to it that I bring back Manchester United to their Glory days. After then I can walk away ( if need be ) being certain that I've cleared the doubts of many .
N/B: This is just my own opinion, It's how I think Ronaldo should handle the problem facing him now, I might be wrong from your own perspective.
just let me know how you feel he should go about it
---
---