MATCH WEEK 1 LALIGA FIXTURES MY PREDICTIONS
The New season is just a few days from now and football lovers all around the world are in anticipation, can't wait for it start already .
However in the meantime we are being entertained with the ongoing preseason matches, some clubs are really impressing their fans already , giving them an insight of what they should be expecting this season .
The transfer widow is roughly a month old now , and it has been quite busy from the start , with a lot of transfers going on , A lot of clubs (if not all) have been doing businesses, either buying or selling players or even more so, hijacking deals in order to reshape the squad and make them ready for the competition ahead , which would be a though one, it had been easier for some Aclubs last season ,but I do not think I would be so this coming season
The New seasons fixtures have been fixed, and clubs are getting ready for the competition. Last season had a lot of drama that went down with it, and while the last 3 clubs were relegated , the first 3 from the lower league have been promoted, Time for a fresh start , it's now left for them to do well and retain their position in the 1st division, or fail to do so and return to where they came from. their performances will tell.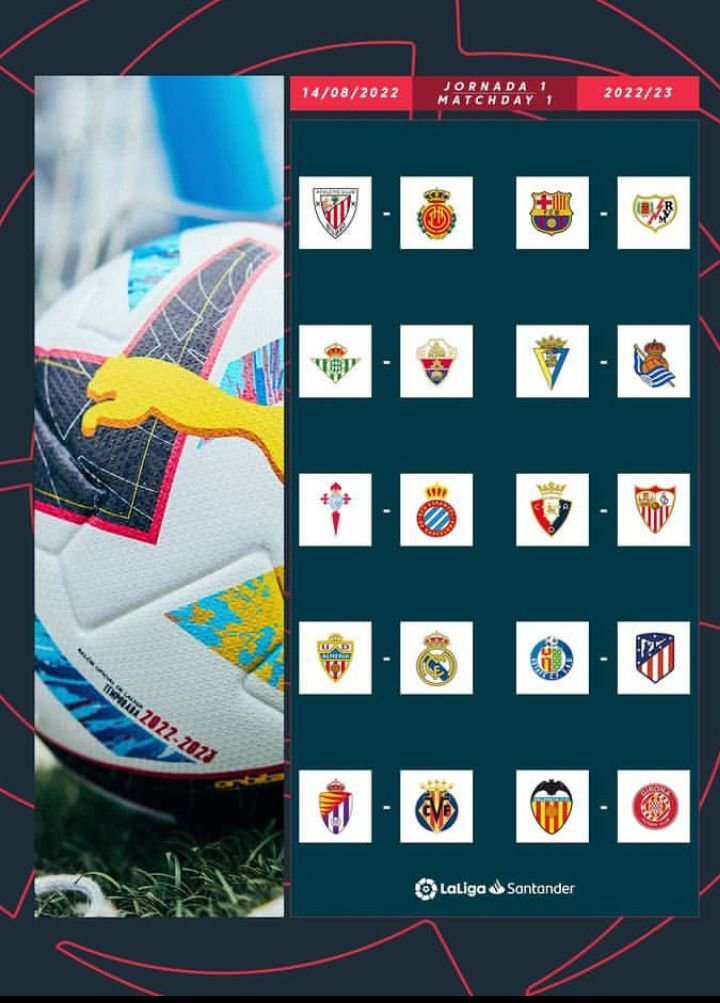 Source
Here, I already made my predictions on how match week 1 would look like in the premier league, in my last post, but today I want to make predictions on how the la Liga first week matches may look like, being another league that's just as though as the premier league. Mind you ,these are predictions I make based on my own analytics on clubs performances both in the market, the ongoing preseason games and also based on club name. and therefore some might not work out as I predicted , I'm human you know
PREDICTIONS
OSASUNA VS SEVILLA
Osasuna has been more active in the transfer market. than Sevilla , who has just gotten one signing so far and having one of their big players(but on loan) returned to former club. but clearly Sevilla is a stronger option to pick between the both teams (despite Osasunas' new signings) with so many known stars . it's easy to pick the winners here
CELTA VIGO VS ESPANYOL
With a lot of players returning from loan and both clubs spending also in buying players in the transfer window they seem ready to face each other in their first clash of the season . I see Celta Vigo coming out with a win , if the away side does not hold them down for a draw .
VALLADOLID VS VILLARREAL
With a total of 5 transfers, 2 coming in as free agents , the club ,who just returned from the 2nd tier of the league seem prepared and looking forward to face top club Villarreal, who are yet to spend money on any player this summer . That notwithstanding I still predict Villarreal to get a comfortable win over Valladolid.
BARCELONA VS RAYO VALLECANO
there's not much to say about this match, the result of this game is as clear as the blue sky . I think in this case ,instead of predicting which club would win, we should be predicting how many Barcelona players will score, and how many goals each would score during the match.
CÁDIZ VS REAL SOCEIDAD
Cádiz fc just like real sociedad has also made some new signings,but the latter has been more active than the other , making a total of 3 signings yet
I predict real sociedad to have a comfortable win against cádiz. they are the tougher ones to beat among the two.
VALENCIA VS GIRONA
Valencia,last season managed to stay among the top 10 . So far they have gotten 2 new players into the squad and their first test would be against Girona, One of the clubs promoted from the 2nd tier of the league. I don't see the match being an easy one for Valencia,as they would be striving to keep themselves in the 1st tier. I predict the match a draw
ALMERIA VS REALMADRID
Almeria is another club returning to the LALIGA 1st division, their fans can say they have returned to stay and win games.... Well that may certainly be true , but not in this case, Their first game being against la Liga boss team REAL MADRID, It cannot be true , they stand no chance to even score a goal in this game, certainly not. Maybe try another time.
ATHLETIC CLUB VS MALLORCA
Athletic Bilbao is one of the top clubs in LALIGA , no doubt about that, and picking them to win the match against Mallorca who ended up nearly relegated last season should be an easy decision. Athletic Club so far this season has decided to look into their you get squad ,picking most of their new players from there , and this new, young , vibrant players would love to play well in order earn their coaches' admiration and also gain attention by big clubs in the near future .
GETAFE VS ATHLETICO MADRID
Athletico Madrid in the transfer so far has just afforded one player, another from a free transfer , and then one youngster from the junior team Guiliano simeone the coaches' son. and also their is a possibility of them signing Cristiano Ronaldo. It's an upgrade for the team who could have actually won their first match against Getafe without the new players.
REAL BETIS VS ELCHE
REAL BETIS was in a good form last season. ending the season in the 5th position they were a better side amongst the two clubs , ELCHE clinching the 13th position last season. So far real betis has been busier in the market buying players and making sales also. Real betis is a stronger team among the two and they are likely to win the match if , Unless ELCHE fights for a draw .
So, these are my own predictions on LALIGA first meetings it going to be a lot of fun. all might not be correct , but I'm sure not all would be incorrect .
Incase you still thinking on clubs to bet on , you are free to copy ....but don't come after me if the games cut . but if otherwise then you are welcome 😂😂🚶🚶
---
---