MATCH WEEK 1 PREMIER LEAGUE FIXTURES ... MY PICK ON WINS, DRAWS AND LOSS
The New season is just a few days from now and football lovers all around the world are in anticipation, can't wait for it start already .
However in the meantime we are being entertained with the ongoing preseason matches, some clubs are really impressing their fans already , giving them an insight of what they should be expecting this season .
The transfer widow is roughly a month old now , and it has been quite busy from the start , with a lot of transfers going on , A lot of clubs (if not all) have been doing businesses, either buying or selling players or even more so, hijacking deals in order to reshape the squad and make them ready for the competition ahead , which would be a though one, mostly in the premier league. the fight for top 4 would be a crazy one
The New seasons fixtures have been fixed, and clubs are getting ready for the competition. Last season had a lot of drama that went down with it, and while the last 3 clubs were relegated , the first 3 from the 2nd division have been promoted, Time for a fresh start , it's now left for them to do well and retain their position in the 1st division. their performances will tell.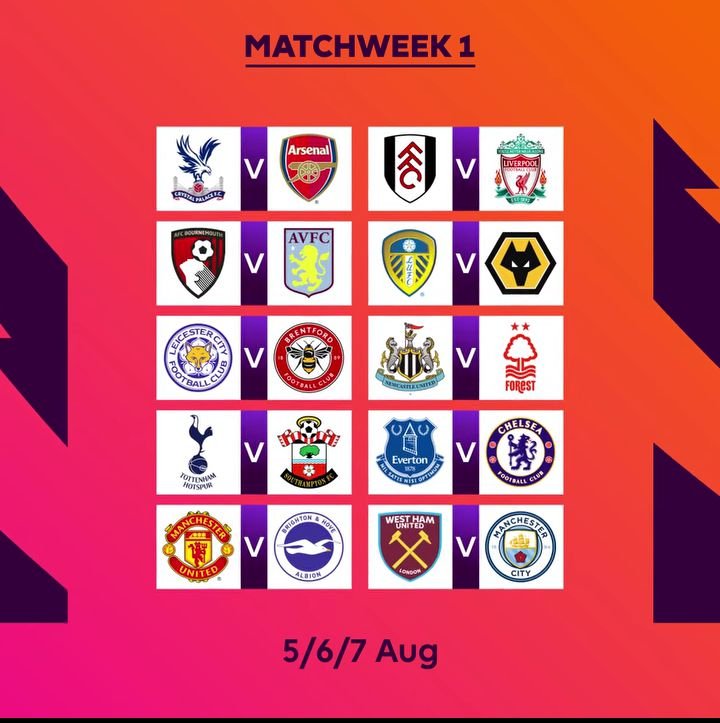 Source
Here, I already made my predictions on how match week 1 would look like in the premier league .mind you ,these are predictions I made based on my own analytics on clubs performances both in the market, the ongoing preseason games and also based on club name. and therefore some might not work out as I predicted , I'm human you know
MY PREDICTIONS
CRYSTAL PALACE VS ARSENAL
This match might seem too clear to determine the winner already , but, this is football, anything can happen . Nevertheless I'll still go with Arsenal. They have been so much active in the transfer market this summer , making a total 5 new signings, they have been performing well in the preseason matches ongoing , so I think anybody would easily bet on them winning this match without thinking twice .
BOURNEMOUTH VS ASTON VILLA
Today's preseason match against Manchester United would give a hint on what Stephen Gerrard intend to do this coming season , he's here to mean business , with a total of 4 new signings also you can tell his been doing a good job in the market too. But here's the problem . The side he is facing ,for the start of the season has just returned from 2nd division of the premier league and may not like to start the new season with a bad result.
I'll yet go on with Aston Villa for a win , if Bournemouth do not hold onto a draw.
LEICESTER CITY VS BRENTFORD
Brentford has been busier than the former in the transfer window after letting go of one of their star man to Manchester United. with Leicester city only affording a player yet , but it's really tough to tell which club would emerge winner in this match , Leicester city being already packed with great players and a good Coach. They have been showing a lot of improvements in the team from their few preseason matches so far. It would be a hard test for the bees, and they might end up at the foxes belly if they don't strive
TOTTENHAM VS SOUTHAMPTON
with a total of 6 transfers each for both clubs, one can tell that there is some revitalization in the two squads. Tottenham no doubt is a top club with a new , strong minded coach and top players ..... But Southampton is one club that you can't just rule away so easily , (Tottenham didn't stand a chance last season) therefore I predict a draw , If Tottenham is not lucky
MANCHESTER UNITED VS BRIGHTON
With a new coach on board , Manchester United has been doing a lot better . They have been a bit busy in the transfer market also , strengthening their squad defensively, although we have not seen most of the new signings play yet , and , obviously Ronaldo still absent , the older ones (some returning from loan ) have taken a new shape, Nothing close to what we saw last season , the preseason tour has not been a bad one at all,3 wins in a row and just an unfortunate draw shows that something is cooking . I'm comfortably picking them for a win against Brighton
FULHAM VS LIVERPOOL
I don't think I have much to say on this particular match , Fulman obviously just returned to the league and clearly would want to win , but they would be welcomed warmly by liverpool, At least it would sound as a warning (being new comers) that there are clubs you don't mess with in the premier league. A comfortable win for Liverpool
LEEDS VS WOLVES
The home side has currently made 6 new signings with the rest returning from loan while wolves have just made 2 with the rest also returning from loan . Leeds united did not perform well last season , they were just a win away from relegation while wolves made it to the 10 position in the league but now their has been some new signings , I think they might pull some treats to the wolves, and so for the first time, I'm going for a draw .
NEWCASTLE VS NOTTINGHAM FOREST
Newcastle last season was among the clubs tipped to be relegated , but somehow as the season's end drew closer, the club was purchased and the former coach was replaced and then, Newcastle surprised the world, by rising from the relegation zone so quickly to the 11th position.Well they would be facing Nottingham Forest the start of next season, a club that had made up to 11 new signings this summer (the highest signings by a premier league club yet this summer) a good start for them. but I'm seeing this match as a draw if Nottingham do not shockingly win.
CHELSEA VS EVERTON
Everton has been busy in the transfer market also ,but this time around they are not buying, they are selling and even more so a valuable player, without replacing him yet . and I think it's telling on them already , having lost twice in their preseason game, I don't think it's a good remark for a club about to play in the premier league, but the window is not closed yet ,so we hope to see them act. But to start the season with a club like Chelsea is not encouraging, It's a comfortable win for the blues (I mean Chelsea)
WESTHAM VS MANCITY
Westham is also another strong club in the league with big names , but I don't think they would stand a chance against Man City in this game .
Man City last season was able to win the premier league title amongst other titles and also reach the quarter finals of the Champions League without Erling Haaland.
but now , his inclusion into the squad will go a long way . So without much write up on this particular match, I pick Manchester City for a comfortable win.
So sports community, what do you think about my predictions ?? how do you think these matches would end?? let me see your own suggestions in the comment section.
---
---