RETIRED BUT NOT FORGOTTEN ❤️❤️

Since the day it started ,there have been many great players who had graced this great game called soccer. a whole lot of them has come and gone. we can only talk about the ones we saw playing during our own time.
There were great players who played during the time of our fathers, fore fathers, fore-fore fathers and many generations back . we didn't watch them play, but history tells us about them.
Each and everyone of them has contributed in making the game what it is today , which is why , with their fans located in all parts of the world , the game of football is the most viewed and also the sports with the highest number of fans.
Talking about our generation of players , there has been a whole lot of them great ones too (both retired and still playing ), they are so many that one would eventually loose count trying to number them .
talk about the likes of ronaldinho , delima Ronaldo , Roberto Carlos , Jay Jay okocha, Pele, Maradona, Ibrahimovic, Sergio Ramos, Lewandoski, Mbappe, Benzema , Haaland, Salah ,Neymar and of course the two greats that has been at the top of the game for Soo many years now, Cristiano Ronaldo and Lionel Messi.
There are soo many more of these players ,I would have loved to keep mentioning, but, we will save the discussion for another day
I want to talk about one of the great players who has also graced this awesome game of football, whose contributions to the game actually created a huge impact . He was having a very wonderful career but he had some complications health wisely that altered his wonderful career.
Many of us might be guessing who this man could actually be, well some of us probably has guessed right . He's the brilliant country man and best friend of Lionel Messi, Sergio Kun Aguero .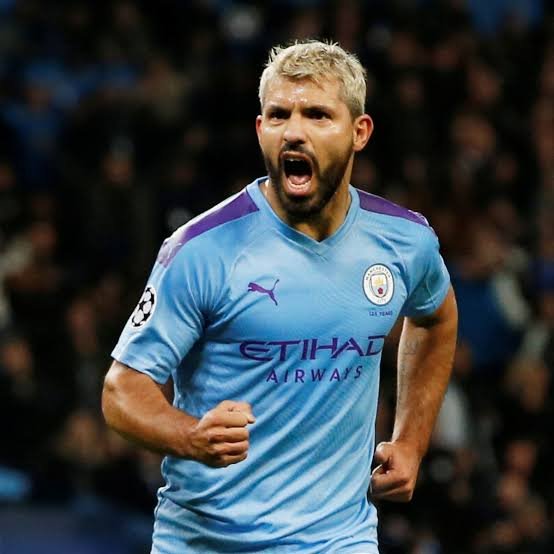 Many of us who play football video games , (pes, FIFA and others) can agree with me that Aguero is one of the toughest guys in the game . imagine your opponent running towards your goal post with Aguero ... you know what you are up against because he was strongly built in such a way that he hardly falls. He poses so much threat in the game , just like in real life
AGUERO
Sergio Leonel Aguero del Castillo is his full name but he is popularly called kun Aguero. Considered as one of the greatest forward of our generation .and one of the greatest players in the premier league during his time in Manchester City
He is one of the many Argentinean born with football on their feet, born into the family of Leonel del Castillo and Adriana Aguero on the 2nd day of June 1988, he's currently 34 years old
He was married to Giannina Maradona , the youngest daughter of the legend also from Argentina Diego Maradona , they had a son Benjamin Aguero, but the marriage only lasted for 4 years
Aguero who according to Roberto Mancini is a photocopy of Romario (due to their similar playing pattern) began his footballing career at the age of 15 years and 35 days making him the youngest player to play in the Argentine Primera división after Diego Maradona.
He had a wonderful time in La Liga when he moved to Atleticó Madrid in the year 2006 in a transfer worth €23 million. There he established himself as one of the worlds best and prolific young players in La Liga then , winning the Don balon ,Golden boy, and also the world soccer young player of the year . Aguero also won the UEFA Europa League and the UEFA Super cup at ATM before moving to the premier league side , Manchester City in 2011 at a then whooping amount of £35million where he had the most successful period in his career .
During his 10 years at the club , Sergio Kun Aguero won five league titles , notably, Manchester United can never forget the last minute winner goal he scored in the final league game of his debut season that robbed Man United of the league title and awarded Man City their first league title after 44 years .
Not only that.....he won 6 EFL Cup and an FA Cup. he was part of the team when they reached their first UEFA Champions League final . Aguero won the golden boot while at Man City ,and was included twice in the PFA team of the year.
Aguero is the clubs all-time highest goal scorer, fourth premier league highest goal scorer and the all time non-english scorer in the league with 184 goals , the most premier league goals scored by a player for a single club (SUCH A RECORD!!😯😯)
In 2021 he left Manchester City as a legend to join Barcelona on a free transfer. And there he was set to continue his wonderful career probably taking it to a higher level , but for the sake of some health issues, he had to retire at the age of 33. he managed to play 5 games at Barcelona scoring a goal in the first El Clásico of 2021/22 season.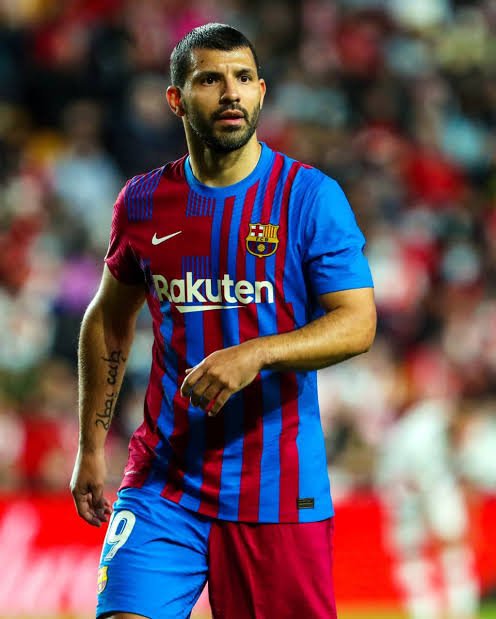 ---
---