SO FAR SO GOOD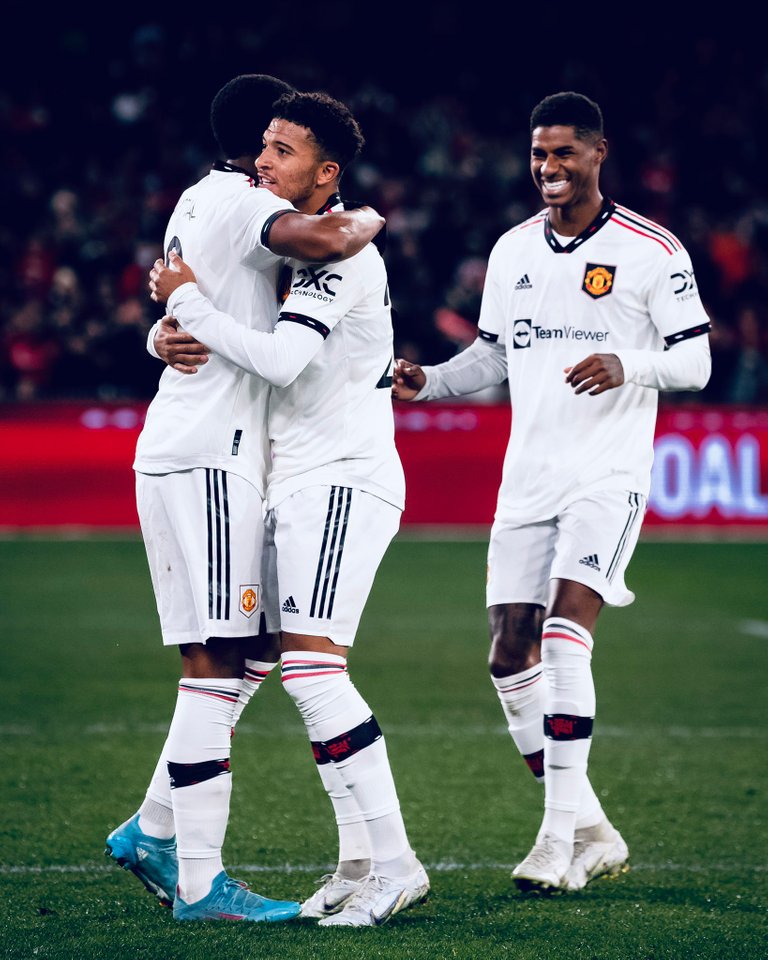 Source
Manchester United has continued with their winning streak in the pre season as they clinch their third win in a row in a 3-1 win against Crystal palace in Melbourne this being their 2nd match in Melbourne
this obviously is a good insight for fans on what they should be expecting this coming season, but then the question goes, would Manchester United be consistent??
Of course they should . Eric ten hag is a good Coach , as we all can tell, he has brought a lot of improvement to the team and also he is covering up some lapses in the squad by bringing in some new key players to make up for the areas in the squad that are lagging behind . Although, of course there has been some errors he had noticed in the course of the games played committed by some players. These errors are always bound to be obviously judging from the fact that he had barely trained with the club up to a month. But with constant training all those mistakes would be curbed off .
On the players side, One can easily tell that they are adapting so well and fast to the coachs' new style of play because, they have shown a lot of improvements based on what we have seen in the last 3 games . there has been a lot of changes in their pattern of play , unlike what we saw in them last season. A friend of mine(A Chelsea fan as a matter of fact) after watching the highlights of today's match was surprised, he had called me to ask if it were really Manchester United that played that way😂😂😂 . Their has been a lot of pressing by the squad , which is mostly what the coach has instilled in them in the few weeks he's trained with them.
During his interview yesterday , he mentioned that he would always want for the team to press, stating that he always loved high pressing game which is how he had played even at Ajax, and that he has his own ideas of bringing in the pressing game , despite the fact that this same pressing game failed during Ralph ragnick's tenure at Manchester United, and so far he's proved that his own ideas are different from the others , and probably when the league starts we'll see how it helps the United side.
Anthony Martial , one of the Manchester United returnee who was sent on a loan to Sevilla last season has been on hot form this past few weeks on preseason, I will say "he came back with fire in his boots" having scored in each of the last three games, he's already showing class and also a good impression to the new coach I hope he keeps it up to the next season.
Van de beek is not also left behind because the former Ajax player has been doing absolutely well since rejoining his former boss, his wonderful assist yesterday against palace speaks volume. things do not seem to be much different for him since his trained under him before now . He didn't have much playtime under Ole Gunner and was sent on loan under Ralf ragnick, but would find playing time under ten hag .
Then our new signing Tyrell Malacia has really shown his here to mean business. He's just been spectacular on the pitch . he will pull a big threat to any wing forward on his side of the pitch , the likes of Mohammed Salah , Bernardo Silva , would go through alot when playing against Man United
The young lads are not bad at all on their own side , all are trying to do better under the new coach ,we have seen some impressions in players like Iqbal Zidane , James Garner and some other youngsters, showing their class in the senior team .
we are yet to see garnacho play for the team this pre season, he's another youngster that would shine under ten hag.
The other new signings are yet to join them on the tour , and we are yet to see them perform . we would be expecting them soon ,they of course would definitely bring more upgrade to the squad .
While Ronaldo is still contemplating on whether to return , or leave , the rest of the squad are having a good time on the tour and we hope this makes him have a rethink . And hope his return if possible would add positivity to the squad.
---
---