A Massive 3 Points For Rafa Benitez Side Against Arsenal.. VAR denied Richardlison A hattrick
Everton at the start season was having a very impressive form but for the last 24 points, they were able to just accumulate 2 points.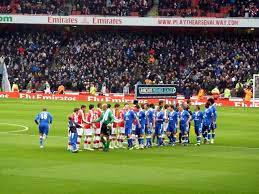 source
I believe a team like Everton won't take it easy at all and Rafa Benitez was really aware of it before going to the game. In 27 minutes in the first half, some of the fans left the stadium to express their dissatisfaction about the performance of late and seeked for immediate response. It has been 27 years since they last won their Major Trophy and that was FA cup between Manchester United and since the, they have not even come close in winning any trophy. So the 27minutes demonstration by the fans was aimed to end the long drought of wininig a trophy..
Richardlison opened the scores but only to be overruled by the VAR. Well when VAR was introduced, the idea behind was to score more goals but it seems, VAR has rejected many goals since its introduction.
After cancelling the goal by VAR, Arsenal took the lead and that ended the first half.
Early in the second half, Richardlison scored again and it was overturned again by VAR.
I really love the determination put in by this dude, He was disappointed at first but continue to maintain his composure and likely he got the equalizer for his Everton before Gray late in the game stole the headlines with a sublime finish. The goal was a cracker.
Highlight of the match is posted here.
💪💪💪

Mikel Arteta record as a manager against Everton is very bad. He has not even managed a draw against them in their last 3 meetings, 3 consecutive losses for the gunners which is very bad. What Arsenals was lacking in the game was concentration, Missed chances and determination in wining the game. Some of the individual players failed to live to expectation, The likes of Nketiah, Xhaka and Aubameyang who missed a great opportunity to secure a point for his side.
---
---