[CONTEST] NBHive: 18th Gameday + 17th Gameday Results/ NBHive: 18a giornata + Risultati 17a giornata
---
🇬🇧 ENGLISH VERSION 🇬🇧
---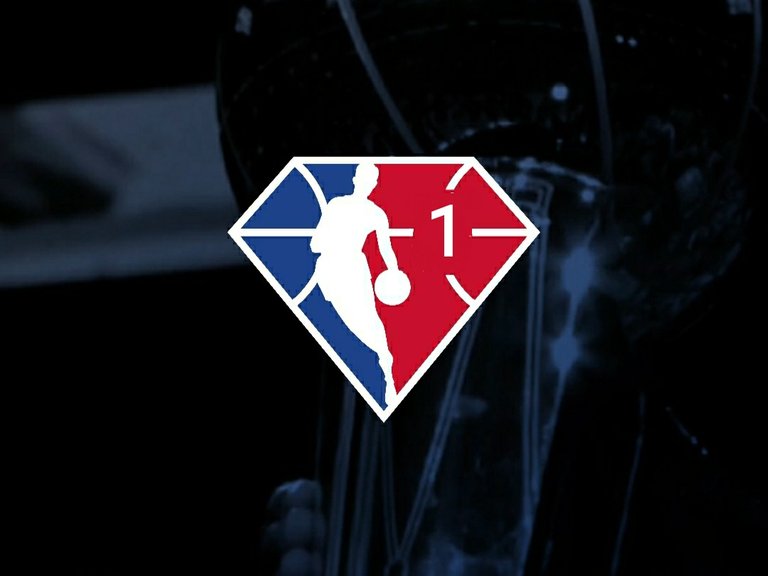 Good evening Hivers,
Here we are again here today with the usual appointment with the NBHive which today is full of twists.
Meanwhile, I leave you the results of tonight's games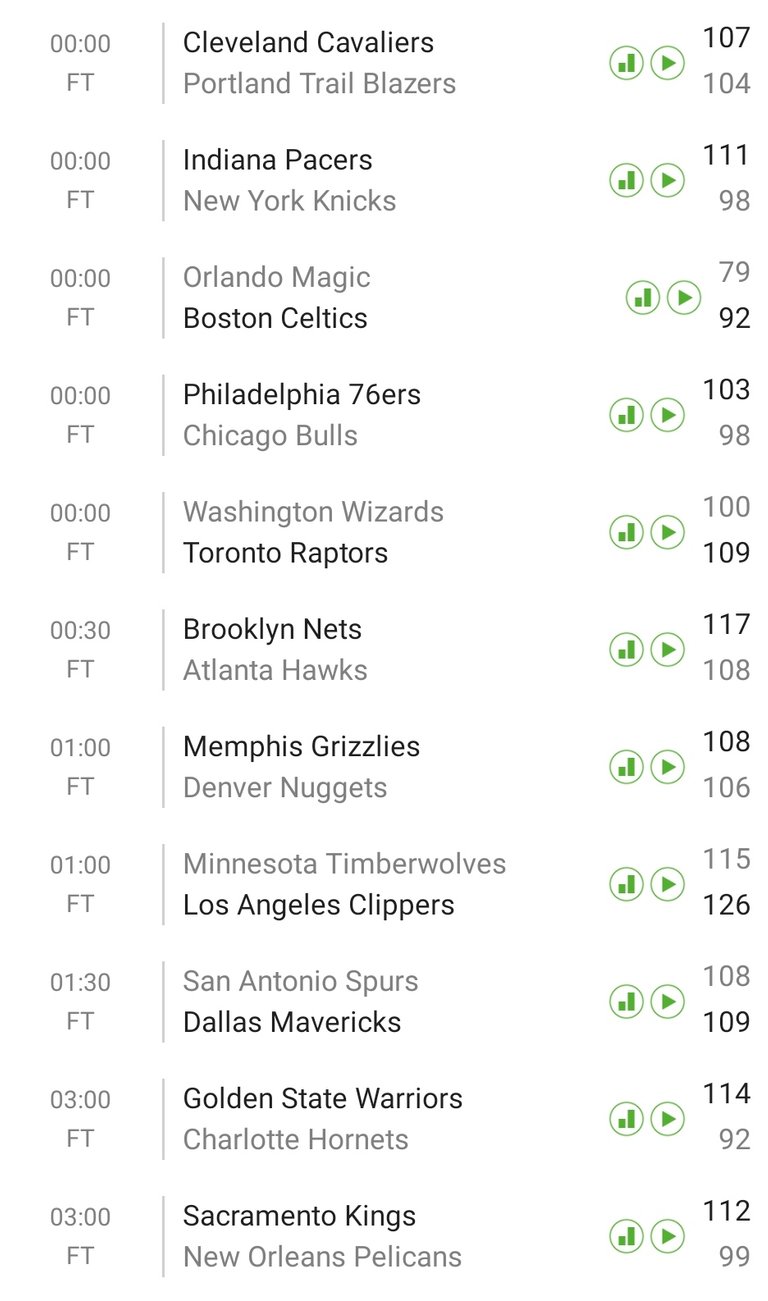 ---
RANKINGS
Now let's go and see today's partial ranking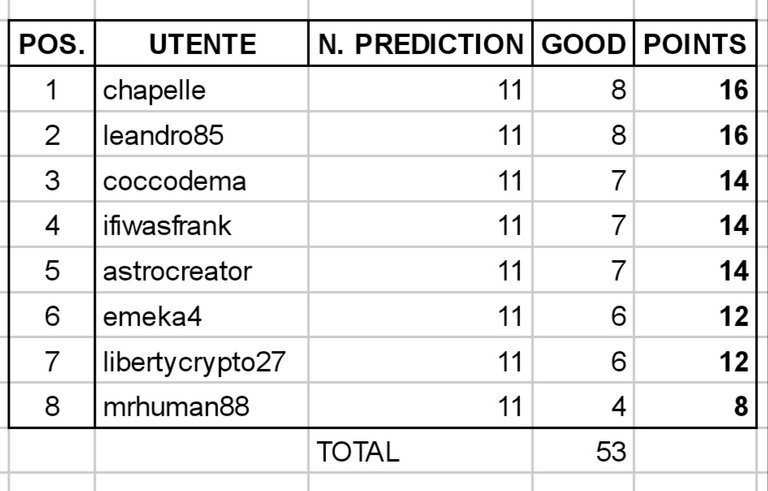 And then we continue with the updated general classification which, as I anticipated, sees some twists.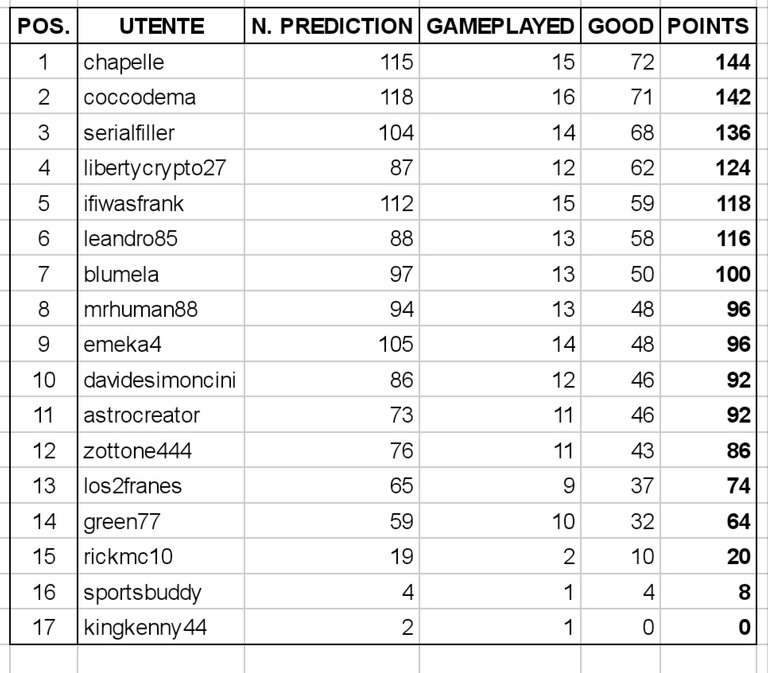 @serialfiller ends up in third position, ousted from the first position by @chapelle and also overtaken by @coccodema
@ leandro85 off @blumela in sixth position and @emeka4 gains 3 positions.
Finally @astrocreator overtakes @zottone444
---
AWARDS
The seventeenth day was rewarded with 0.66 HIVE
0.099 HIVE will go to the pool for the final season prizes which to date amounts to 4.051 HIVE (2.526 / 1.768 / 0.758).
0.099 HIVE will be allocated to the day's prizes.
Every single exact prediction is worth 0.001 HIVE
---
** NEXT TURN **
Below you will find the matches to be predicted today and which will be played in the night.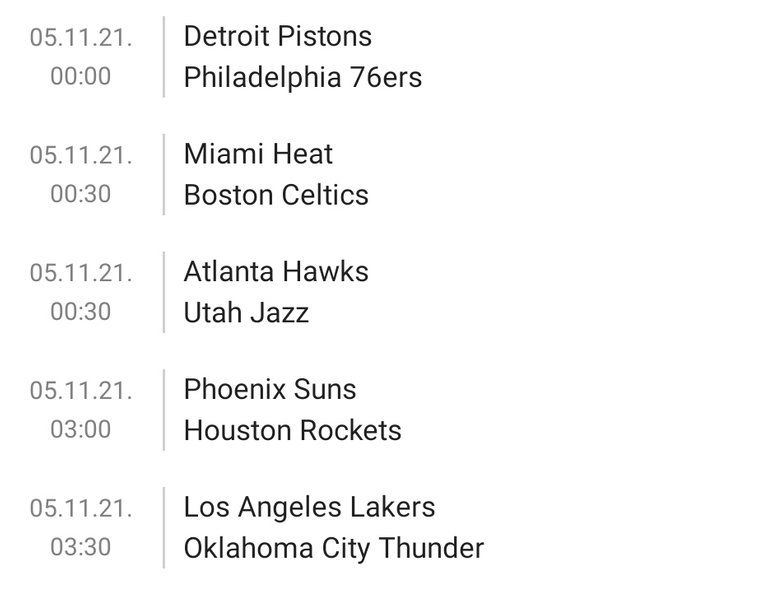 ---
---
RULES
The rules will be very simple.
Each day you will have to predict the winning teams.
every exact prediction will have a value in Hive
to participate, just leave a comment on the post with your predictions
30% of the rewards I will receive from each post will be distributed in prizes
another 30% will be divided among the top 3 who at the end of the championship (including the playoffs) will have made up more exact predictions
whoever guesses all the predictions in a single day will grab the whole day's prize pool
---
If you want to participate in another interesting contest, visit @blumela's Wheel of Fortune
---
Call for players: @blumela @libertycrypto27 @zottone444 @mrhuman88 @green77 @art2class @tosolini @kork75 @ifiwasfrank @statico @ciuoto @serialfiller @lallo @regytravel86 @noemilunastorta @riccc96 @aston.villa @claudio83 @mad-runner @robibasa @makeitreal95 @c3r34lk1ll3r @davidesimoncini @rizzellofabio @cryptoitalover @leandro85 @ricky85va @giulius @coccodema @motivationsimo @los2franes @kingkenny44 @astrocreator @chapelle @emeka4 @rickmc10 @sportsbuddy
---
Images are screenshot from SofaScore App and Google Sheets
---
🇮🇹 VERSIONE ITALIANA 🇮🇹
---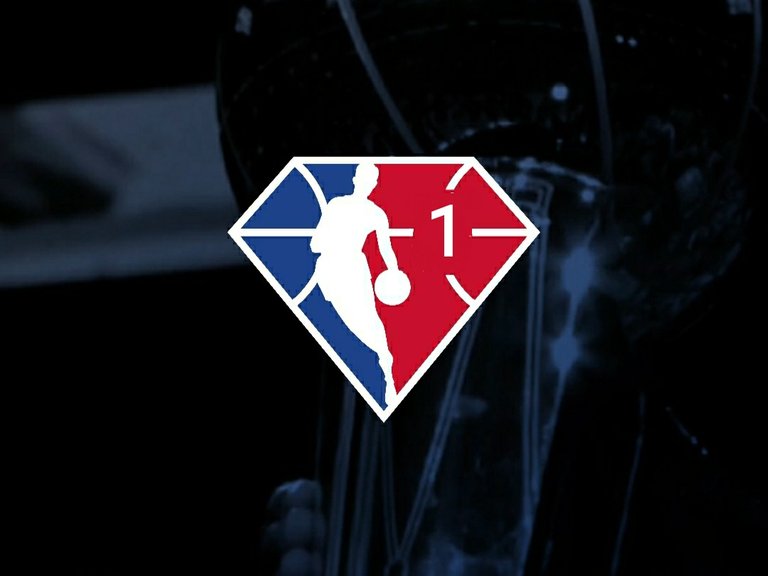 Buonasera Hivers,
Eccoci di nuiovo qui anche oggi con il consueto appuntamento con la NBHive che oggi è piena di colpi di scena.
Intanto vi lascio i risultati delle gare di questa notte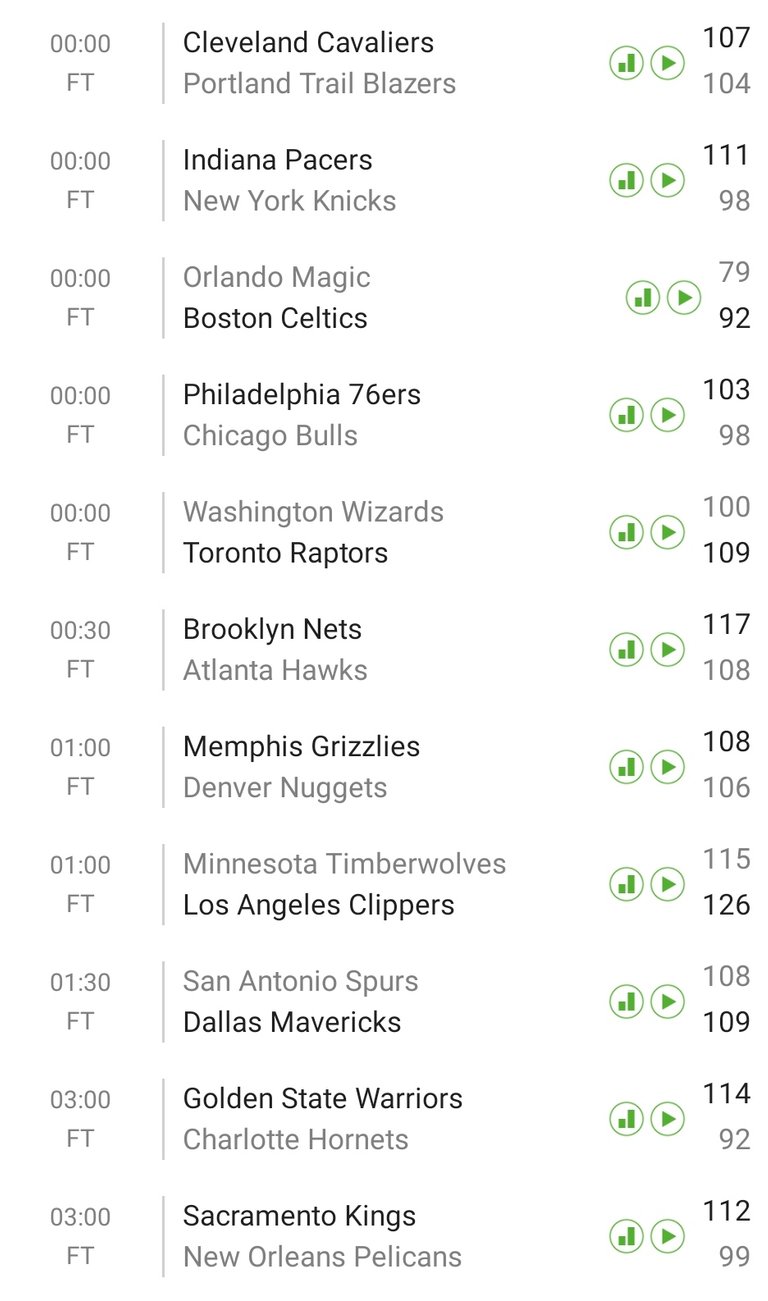 ---
CLASSIFICHE
Ora invece andiamo a vedere la classifica parziale di oggi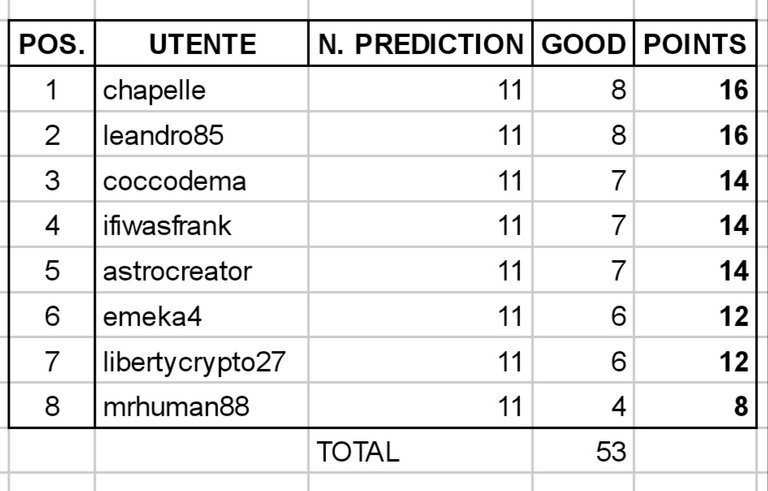 E proseguiamo poi con la classifica generale aggiornata che come anticipavo vede qualche colpo di scena.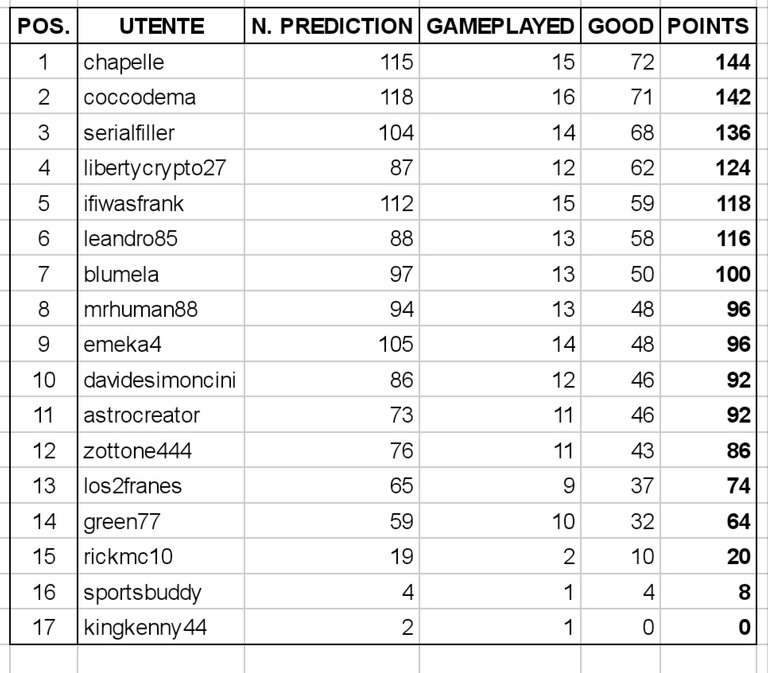 @serialfiller finisce in terzaposizione, spodestato dalla prima posizione da @chapelle e sorpassato anche da @coccodema
@leandro85 stacca @blumela in sesta posizione e @emeka4 guadagna ben 3 posizioni.
Inifine @astrocreator sorpassa @zottone444
---
PREMI
La diciassettesima giornata è stata premiata con 0.66 HIVE
0.099 HIVE andranno nella pool per i premi finali di stagione che ad oggi ammonta a 4.051 HIVE (2.526/1.768/0.758).
0.099 HIVE saranno destinati ai premi di giornata.
Ogni singolo pronostico esatto vale 0.001 HIVE
---
PROSSIMO TURNO
Qui sotto trovate le gare da pronosticare oggi e che si giocheranno nella notte.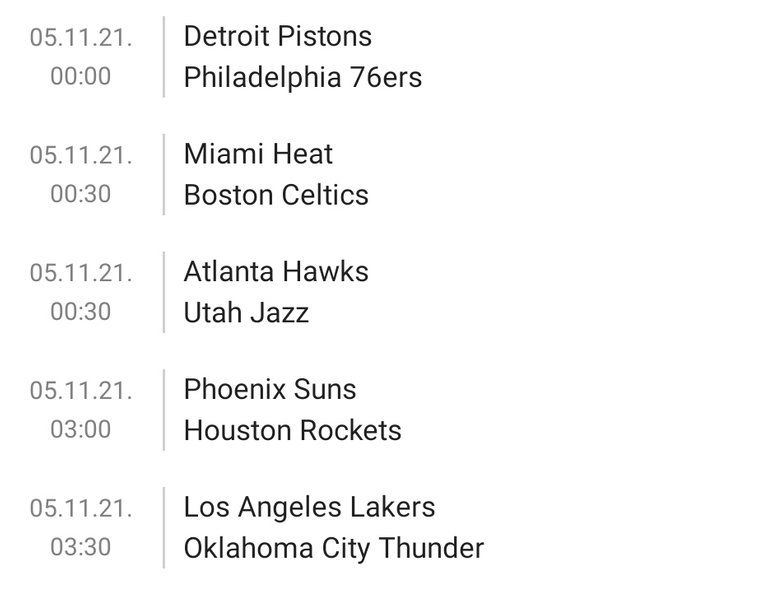 ---
REGOLAMENTO
Le regole saranno molto semplici.
Ogni giornata dovrete prevedere le squadre vincitrici.
ogni previsione esatta avrà un valore in Hive
per partecipare basta lasciare un commento al post con le vostre previsioni
verrà distribuito in premi il 30% delle ricompense che riceverò da ogni post
un altro 30% verrà diviso tra i primi 3 che a fine campionato (playoff compresi) avranno confezionato più previsioni esatte in questo modo: 50% al primo, 35% al secondo e 15% al terzo
chi indovina tutti i pronostici in una singola giornata si accaparra tutto il montepremi di giornata
---
Se volete partecipare ad un altro contest interessante, visitate la Ruota della Fortuna di @blumela
---
Chiamata per i giocatori: @blumela @libertycrypto27 @zottone444 @mrhuman88 @green77 @art2class @tosolini @kork75 @ifiwasfrank @statico @ciuoto @serialfiller @lallo @regytravel86 @noemilunastorta @riccc96 @aston.villa @claudio83 @mad-runner @robibasa @makeitreal95 @c3r34lk1ll3r @davidesimoncini @rizzellofabio @cryptoitalover @leandro85 @ricky85va @giulius @coccodema @motivationsimo @los2franes @kingkenny44 @astrocreator @chapelle @emeka4 @rickmc10 @sportsbuddy
---
Le immagini utilizzate sono screenshot preso dall'app SofaScore e Google Fogli
---
---