All Road Leads To Finals//11|07|2021//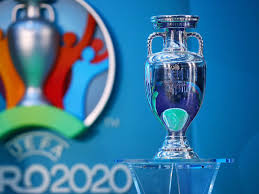 Source
Good evening sports lovers and I am glad to come your way this evening with the latest football and what is happening in Euro 2020.
Yesterday, I asked a question who will join the queue but today confirmed the Three Lions (England) to be at the finals with Italy come Sunday, and it will decide who walk away with the Euro 2020.
little brief history
The competition began on the 11th of June, 2021 precisely Friday as Italy defeated Turkey in the opening match. England on the other side plays better football though the striking force is not paying off because everybody was looking up to Harry Kane to pull the strings but so far, Sterling has been the one with the magic touch. One thing you didn't notice is that England conceded their first goal in this tournament against Denmark. They have played 1 draw and 4 wins. Good for them but the final will be played in Wembley, will the home advantage give them the trophy, we will get to find out on the 11th.
Some people still get it twisted about the competition but the main reason the name remains Euro 2020, is that the competition that was meant to be held last year was shifted to 2021 due to the Corona Pandemic(Covid19). So the name still stands as Euro 2020 but only the change in a year that makes the difference in case you are asked in your examination question😎😎🙏🙏.
Denmark for me plays for Christian Eriksen having fainted in the First Match against Finland and they ended up losing the game after 1-hour break but football is not the way we see it because is unlikely faces that are playing the finals on Sunday. The same day, we also witness Brazil take on Argentina for the Copa America finals and my take for this one is Italy crown the champion, while Brazil will win the Cope America finals and that is my take, thanks for having me.
---
---