Euro 2020 Quarter-Finals Is Looming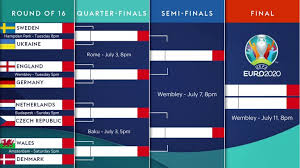 Source
Euro 2020 is a twist of fate. Yesterday's matches were just filled with goals but today, we saw how England defeated Germany for so many years to avenging the deficit they suffered in the 2010 world cup in South Africa. In other fixtures, Ukraine was able to humble Sweden thanks to a late goal that secure the victory for them.
Round of 16 was tremendous though some of the matches were one-way traffic. The likes of France one of the tournament favorites were eliminated, Portugal follows the train, Netherlands, Wales, Sweden, Germany, Austria, and Croatia were given their marching orders. The likes of Belgium, England, Spain, Switzerland, Ukraine, Denmark, Italy Czech Republic all emerge to the next round.
As it stands now, is a game for anybody to win because nowadays, games are not based on names again or FIFA ranking but is based on what you can exhibit on the field of play. For me now, nobody is seen as the favorite although the god of soccer still gives it to Belgium to win it.
29 goals scored in the round of 16 and this signifies more to come in the quarter-final. Let seat tight and except more dramas from the Euro 2020 because is breathtaking.
Sterling stole the headline again with another goal and that is 3 goals in 4 matches and people with the expectations are the ones making a way in the competition and thank God Harry Kane was able to find his shooting boot today. England has one of the best squads in this tournament but will they go far, that is where the question lies.
I love every action and drama this Euro 2020 produces because even you put your money on the so-called big boys, they will disappoint you but just a matter of time, we will know the realest in the competition because, on the 11th of July, we know the winner of the prestigious trophy known as Euro 2020 and have the reigning champion.
---
---