Guillermo Rigondeaux's return against champion John Riel Casimero

Hello guys, how's the retuning bull 🐂 market going at your end?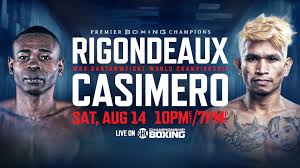 Source
Today I talk about the upcoming match between this two beast happening tomorrow as the Cuban Guillermo Rigondeaux [20 (13KO) -1] returns after a year and a half of inactivity to the ring. A 40-year-old former unified world champion of Super Bantamweight and current WBA regular champion at bantamweight returns this August 14 against current world champion John Riel Casimero [30 (21KO) -4], who comes to win by KO against Duke Micah.
Rigondeaux, is a former Olympic medalist, which helped him to have important triumphs in professional boxing. Unfortunately for his style and technique, Boxing promoters came to despise him, for being a "boring" fighter, which sounds strange, since boxing is the art of hitting without being hit. Of course that phrase is not taken into account in these times. His rival, the Filipino, is a good champion, in fact this fight fell almost a year ago because Casimero had to face Donaire, a fight that in the end was not finalized due to the demands of Donaire's team.
This is going to be one of those fights that develops slowly. Rigondeaux is not going to go to the clash like he did with Julio Ceja. He is going to be the same elusive and uncomfortable fighter as before, that purist fighter, of a boxing with good counterattack. The funny thing here is the physical state in which Rigondeaux is going to arrive, since he is 40 years old. We do not know how much the rust affected him because he had not fought more than 12 months ago, so we have to analyze his physical state in that regard.
Instead Casimero comes from knocking out a Ghanaian fighter, on the undercard of last year's Charlo vs. Derevyanchenko fight. Although his rival was undefeated, the result was what was expected: a knockout by the Filipino. In the event of a victory on the side of the Philippine-born boxer, it would be an almost definitive retirement for Rigondeaux and an important win evidently since he could unify with Donaire or Inoue. But should he win Rigondeaux, things would get very interesting at bantamweight, as he could have a second fight with Donaire, which would turn out to be very interesting.
In the first fight they had, Rigo gave Donaire a boxing chair, but now that they are veterans it could turn out to be an even fight. Finally, it will be an interesting fight, so Rigondeaux can offer his 40-year-old against a difficult opponent with a good punch. No one has it easy, but do not think that it will be a fight with exchange of blows but a strategic fight to hit without being hit.
---
---