Genesis League Sport - Slowly Building my Deck
Being a Splinterlands fan and a Sports fanatic I was really excited when I heard that Splinterlands was going into the sport domain but not only that but it was going into the football area as well which really made pricked my ears. Ever since it launched I have been keeping a close eye on many areas of the game. The price of GLX started high as per usual with these kind of things and it dwindled away to less than a cent. Instead of selling at the peak as did most people I just held and earned the interest. Maybe I should have sold but I held on none the less. I never go to the exchange with any of my rewards from Hive. The HP I accumulate and the liquid Hive was always transferred into Dec and spent buying Splinterlands cards. Now it is buying Genesis League Goal packs. It is interesting that you can buy them off Genesis League goals site for $10 per pack or $5 and one GLGT per pack.But you can buy them on Hive engine for around 6 Hive at the moment which is nice.
You need to buy 100 packs from Genesis League for Beta access but I quite like just growing my deck the rewards way from Hive so my goal is a pack per day. Some posts won't get me enough to do this. Some will get me 3 but when I have a goal I am like a squirrel and will gather frantically until I have achieved that goal.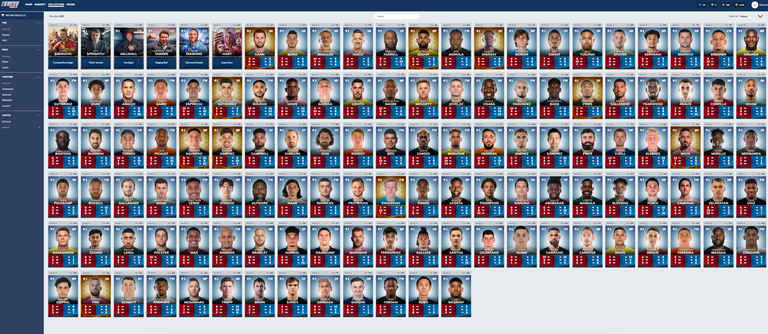 So far I have 123 cards. 10 of them are gold foil. The most expensive card I have is is a gold foil called Gaston Gimenez and he is worth $35 already which is nice. Now we know little about card stacking or level upgrades so Gaston may rise or fall. We do not know yet so there is quite a few rumours going around in how the gameplay may pan out. But it is exciting to be in at the start. I look at some people that were first to Splinterlands with their gold foil alphas and who knows, this could be the start of something huge. Stranger things have happened.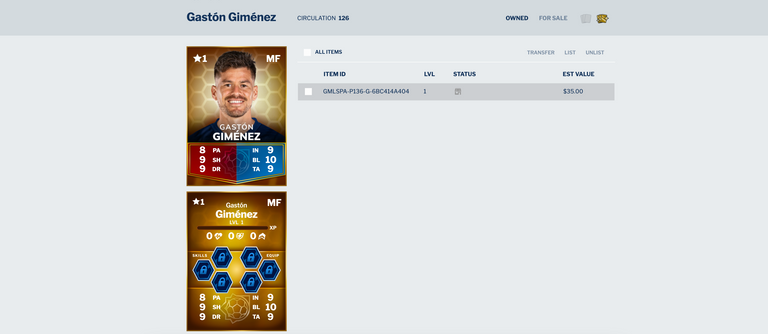 The jury was still out for me with the coaches but they are growing on me. I have not pulled a gold foil coach yet but that is the dream. I heard somewhere that a game with be made up of a coach which is the equivalent of a summoner in Splinterlands. 1 x Goalkeeper 2 x defenders, 2 x Midfielders and 2 Forwards. Coach abilities with weather , injuries will all play a part in the game so it is fair to say that different coaches will trigger certain players. Kind of like the Llama and Kron the Undying combo that we all know and love.

As regards the GLX and GLGT I am stacking these as well. GLX is equivalent of SPS and GLGT vouchers. GLGT's are 1 cent so I may start concentrating on building my bags here as well.
I am still seeing a relatively small community in Genesis League. Whether it is the Hive users
Don't generally like Sport
They don't know about Genesis League or
Don't see it as a good project
I am not sure but the foundations were set with Splinterlands. The mistakes were made already. This one may have a quicker rise to main stream with the partnership with the MLS. Also the validator nodes are out already and I am contemplating whether to buy one. With GLGT at 1 cent , it may be the best time.
Users on Discord are moaning about no communication but I am quite happy stacking cards that I would like the game to be delayed somewhat. I was around when Steem Monsters Launched and there was nobody saying much because the expectation was low at the time and then Splinterlands exploded. The expectation is now high, very high in fact. But it looks like they are nailing their brief so far. The spotlight is on other Dapps at the moment.
My most successful crypto purchase was a small sports token by the name of Chiliz .$chz that partnered with football teams to become their sports shop crypto of choice. You could have a vote on things like the new home kit or the painting on the walls of the dressing rooms. It wasn't much but enough to create hype. I can see Genesis League going that way. Very bullish about it even before the gameplay. So whatcha all waiting for. The markets are open and there are gold foils for $3. A steal.
---
---