Last Man Standing 2023. Just over 1 Week to Go.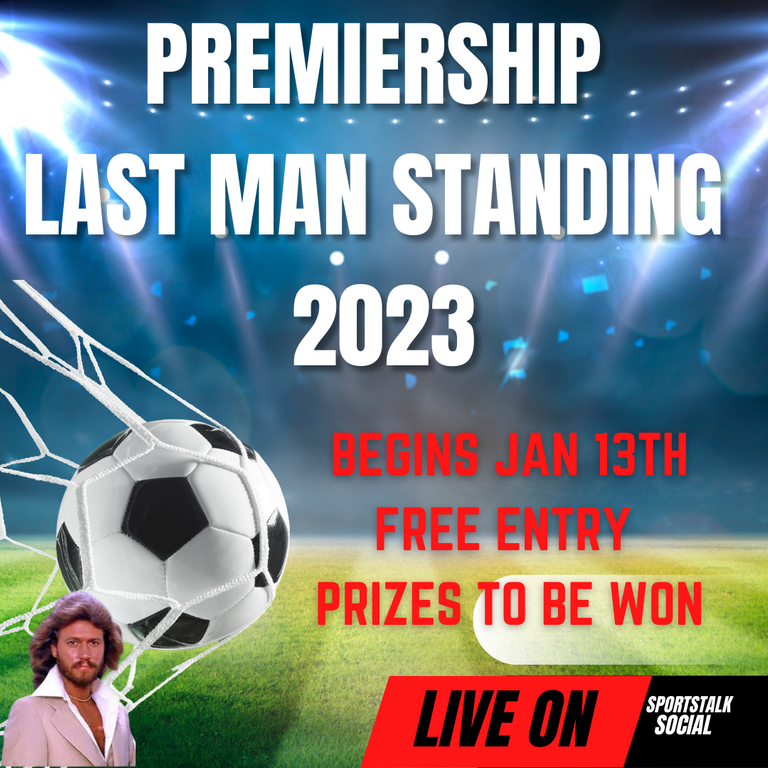 Hello again and welcome to the week before the 1st Last Man Standing match day.
Link to the launch post is here
We are taking entries up until the 12th January for anyone that would like to take part in the contest. There is HBI to be won and it's all just a bit of fun. Let us have a look at the team selections so far. We have 25 entrants which is not bad but hoping to get over 50 entrants for 2023.
Selections So Far
How to Enter
You have until the 12th January to pick a team that you think will win their match from the fixture below. It is that simple.
If the team wins then you are through to the next round. If the team that you select loses then you are eliminated. The trick is to keep winning matches until you are the last (wo)man standing.
Now there is a catch. You cannot select a team that you selected already so there is an element of strategy involved. Do you pick the top teams to win at the start or do you save them for later on. You may not reach week 2 or 3 if you do this however so there are a number of ways to play it.
It is free to enter. Just comment below your team and you are in. Thanks to those who have entered already.
Fixture List Week 1
So the below games commence on the 13th Jan. This is Gameweek 1. Choose Wisely.

Source
I will publish the results after the last game is played on the 15th Jan which is ironically Arsenal versus Spurs so I will be in great form or very bad form. Depends how it goes. Anyway give it a try. Even if you do not have one clue about football just pick a team. The worst that can happen is you get knocked out and many an expert will fall at the first hurdle anyway so there is nothing to lose really.
---
---