Last Man Standing Competition Begins Tomorrow 20th November. Final Call For Entrants. 50 SBI prize and free to enter.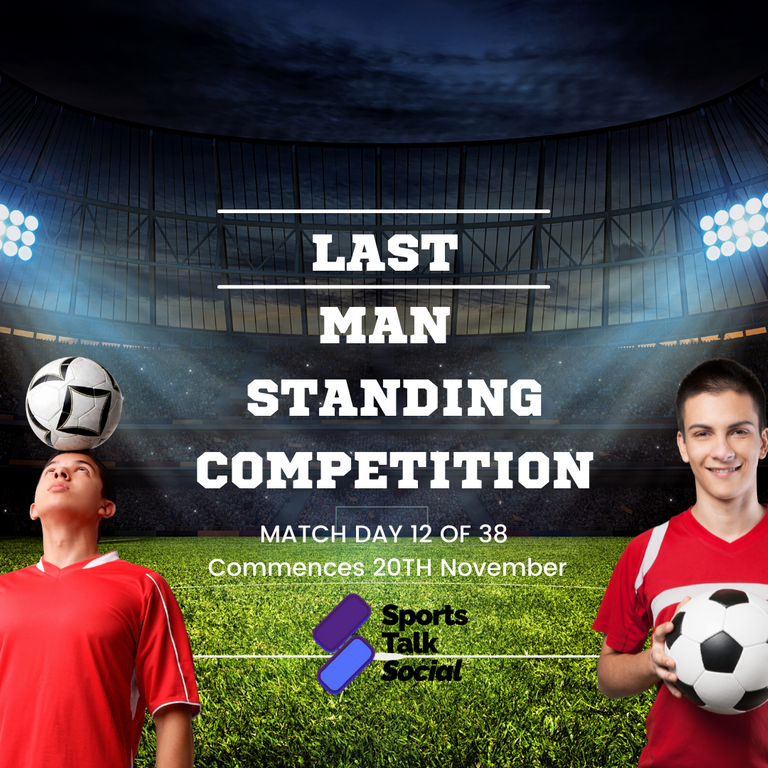 So we are still taking entries into the Last Man Standing competition that starts tomorrow with the premiership getting underway again after those pesky internationals.
A link to the original competition post and how to enter is here:
https://peakd.com/sports/@blanchy/last-man-standing-competition-commencing-20th-november
You will see all the details on how to enter in that post. It takes two seconds. Just comment on a team you think will win. So let's take a look at the selections so far.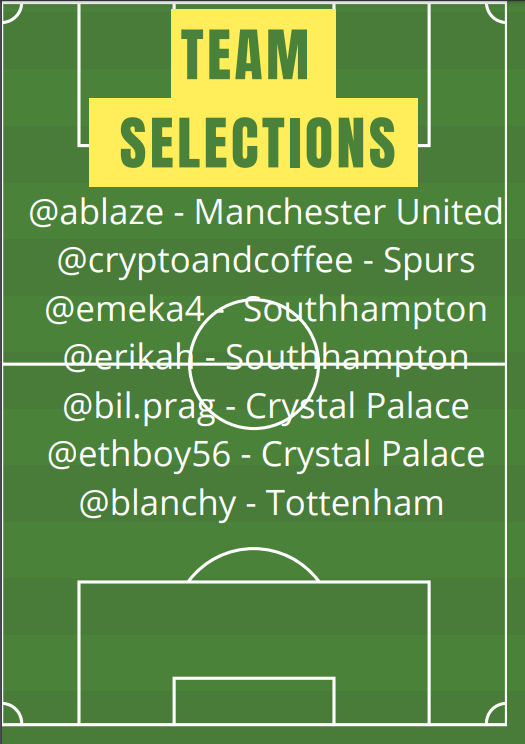 We have @ablaze picking Man United. That should see him through but the Utd players are not playing for Ole. Maguire thinks he is being bullied by an Irish pundit and they can't seem to get the balance right. Watford are not great and I don't see Claudio Raneiri doing anything with this lot. If United lose it's goodbye Ole for sure.
Myself and @cryptoandcoffee have gone for the mighty Spurs. Conte gave all the players individual training regimes before they left on international duty. The 11 remaining players have been run ragged in training. Cuti Romero and Los Celso are out and Skippy is suspended. So not a walk in the park. However Leeds are having their difficult second album season and Bielsa is getting found out. They can only play one way and they have no plan B . A victory for Spurs here.
@erikah and @emeka4 have chosen Southampton. I am seeing a strategy here with everyone. Norwich are poor but have Southampton enough to put them away. You would like to think so.
@bil.prag and @ethboy56 have chosen Crystal Palace away to Burnley. Not a nice place to go Turfmore. Strange part of England that don't like the whole taking the knee. It will be a fiery affair this. Palace have been on fire lately hammering Man City off the pitch. But I reckon a banana skin here. Burnley are tough and will kick them all over the pitch. Draw is my bet.
Nobody selected City , Liverpool or Chelsea which is interesting . Chelsea and Liverpool have tough opponents but I would have thought Man City would be a walkover so I am surprised noone has picked them yet.
And there we have it. If I can get another few names before the whistle blows tomorrow that would be great so if you want to tag a few people to take part then it would be a bit of rivalry between communities. And some people that have never seen a match in there life may get on well. A friend of mine actually got to the last 8 in the paddy power LMS and she just picked randomly.
It's free to enter and just a bit of craic (fun).
---
---