Last Man Standing Week 2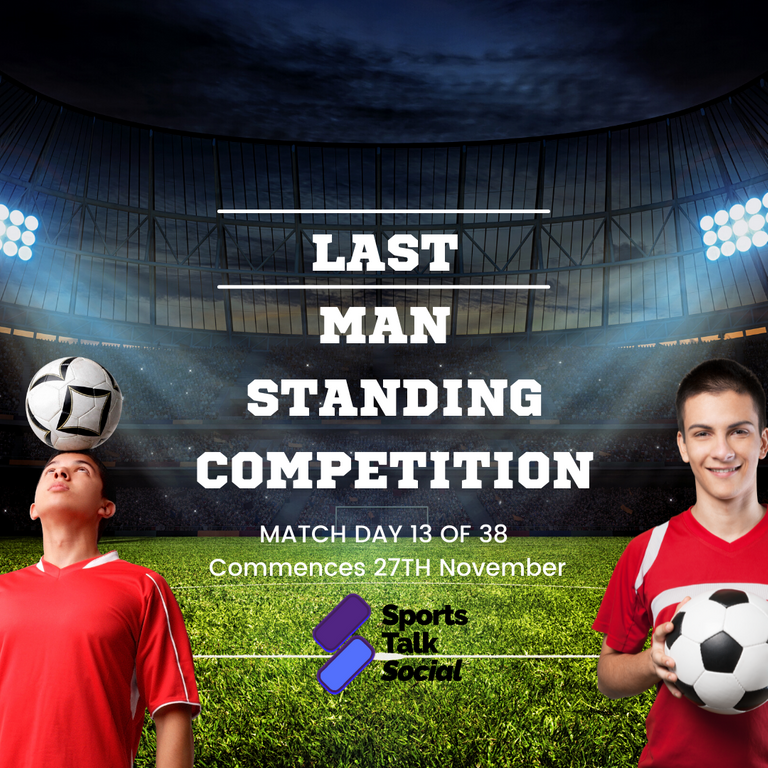 Welcome to week 2 of last man standing which is now a closed competition to the entrants from week 1. We will be running a new competition as soon as there is a winner of this one which I don't think will take long at all.
We had a bloodbath week 1 of the contest with half the number of contestants going out in Round 1.
The remaining contestants are below
@blanchy : Myself. The clear favorite of the competition and all round good egg. However the competition prize is 50 S.B.I and I can't sponsor myself so someone else has to win it. I'm on here for the craic.
@cryptoandcoffee The wily old dog gets got his tactics right last week. Known to throw a few other contestants off the scent. The South African has a big chance on going all the way this year. He waits until the last minute with his selection to study the form.
@empress-eremmy
This contestant gave me her selections straight after last weeks games so she is a confident woman and she knows what she wants. She is gone for Arsenal to come back fighting against Newcastle this weekend. Lots of talking point to this game. We will see how Eddie Howe is doing with his new Newcastle and we will also see how Arsenal come back from the hammering against Liverpool last week
@silversaver888 It's hard to predict who this person will pick this week but they could be the dark horse of the competition here. A new entrant into the LMS series. His debut season could be a winning one!
@deniskj my old pal from @sportstalksocial who is a life long Man United supporter who is a previous winner of this competition so lots of pedigree here. Refuses to give me a team because he looks at injury lists as a gauge around who he goes for. The protractor , the compass , XG , Saves. Nothing is left amiss when @denniskj . He did pick Liverpool last week over his beloved Man United which I found hilarious but he went with his head and not his heart and got through to the next round. @deniskj is the man to beat in this competition.
So lets look at the fixtures.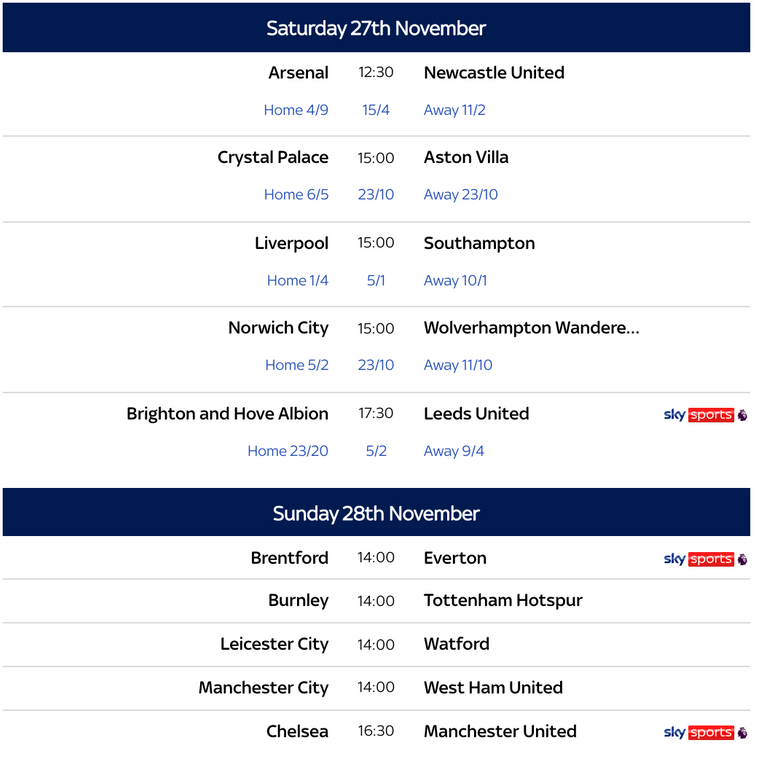 Source
A few dodgy ones here. West Ham rested some players during the week including Antonio who will be more of a handful than Messi , Neymar and Mbappe put together the other night. Declan Rice may be back also for this game so it's not a banker by any stretch.
I am going to go for Liverpool this week against Southampton. They won last week to get them back on track and they have a good record against the Saints.
But some even games here. Chelsea should hammer United but with United's individual quality they may all start playing again. But I cannot see past the pensioners as much as I hate their every fiber of their being.
Leicester are having a hard time of it at the moment and were booed off last week. Surely they can beat Watford but the same can be said against United last week. Watford are starting to play with Sissoko pulling the punches.
Brentford and Everton is a hard one to call. Everton are on the wane while Brentford are starting to feel the full force of the premier league. Wolves should beat Norwich in my opinion as they are playing well, better than the results show. They have been just unlucky lately.
Anyway I am just waiting for selections off 3 people
@cryptoandcoffee
@deniskj
@silversaver888
Get them in before kickoff tomorrow or you will be eliminated.
---
---