Premiership Last Main Standing Contest Deadline Approaching in 2 Days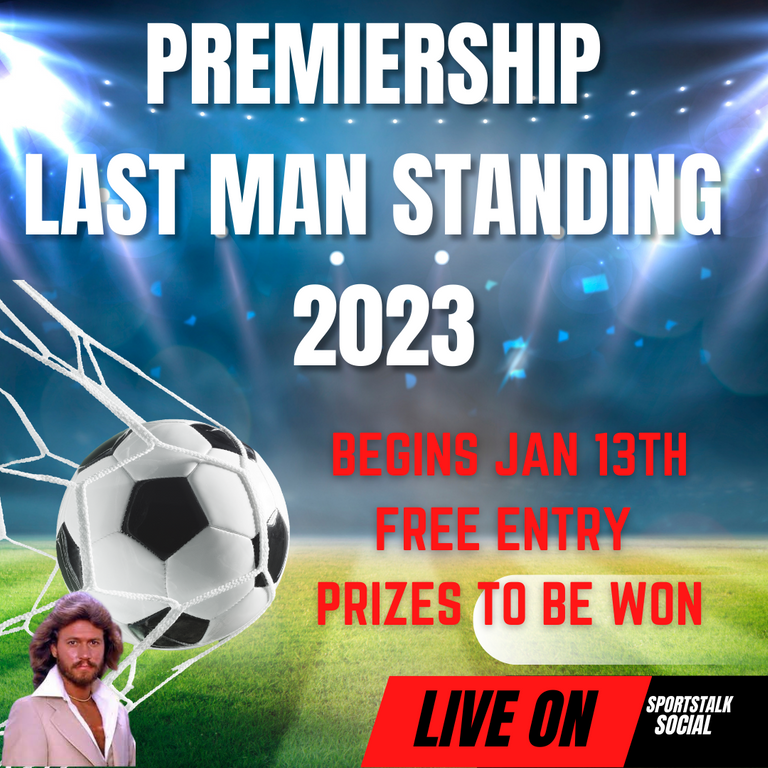 Only a couple of more days until this contest is closed for entrants. We have had a great response so far as we look to add the final few entries over the next two days before we are locked in and not taking any more contestants. Once Last Man Standing commences then that is it, you cannot enter half way through. So the first game takes place in Friday night between Villa and Leeds so I need your picks in before 8pm GMT on the 13th Jan.
If you would like more details on Last Man Standing competition then you can click the launch link https://peakd.com/hive-101690/@blanchy/premiership-last-man-standing-contest-2023-launchhere
Leave a comment on any of the posts to select a team that you think will win from the fixture list below and that's all you have to do. If you win you go through to next week. If you lose you are eliminated. Simples.
Fixtures
The first game of Gameweek 1 kicks off on the 13th January at 8pm so time is running out for to accept the last entrants in the game. As I said it is all a bit of fun and very interesting to people who like sport. I do not know the first thing about the Premiership you say? Who cares. Just pick a team and try your luck. Some of the most knowledgable football minds on Hive will be turfed out in week 1 so it not as if you will embarrass yourself.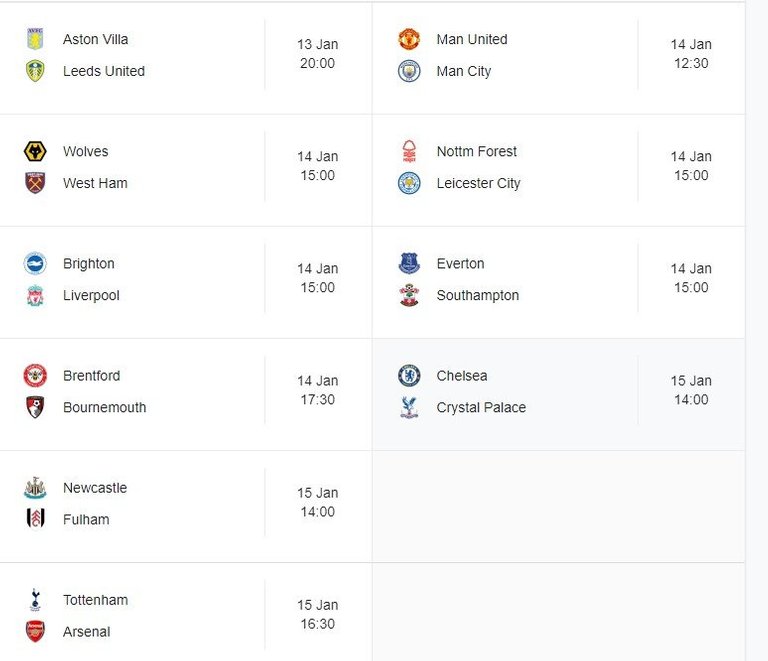 Entrants So Far and Team Selections week 1
If your name is not on the below list then I missed you so leave me a comment to add you. The champion @gone-hive and @ogeewitty should get a move on if they want to be in this round and decide on a selection. So here is the list so far. Feel free to tag reblog , retweet and all that jazz to this post to get more players involved. The more the merrier.
Team Selections so far
Newcastle Selected by 8 contestants
Brentford Selected by 5
Liverpool Selected by 3
Everton Selected by 3
Aston Villa 2
Chelsea 2
Notts Forest 1
Arsenal 1
Man City 1
Southampton 1
Leicester City 1
So Newcastle are the top pick for contestants this week as they take on Fulham who have been doing well this year. It's a strange one this and how times have changed. Is it a nailed on win. I would not be too sure about that but they are going well so hopefully they will get the win or 8 players will be out in the first round.
Brentford are the second most popular selection at 5 contestants. They play Bournemouth. They should overcome them. I would say their odds are more in their favour than Newcastle.
People are keeping the likes of Man City and Arsenal as they play strong opposition this weekend. 3 people have selected Everton which must be some kind of suicide mission to see who gets knocked out first but Lampard is under pressure so they might come out fighting this weekend.
Interesting how Spurs don't have any selection this week as it is clear they are gonna hammer Arsenal. It's strange. Best change that. My selection is Spurs to beat Arsenal
Hive Username
Team Selection Week 1
Win/Lose
@blanchy
Tottenham.
So there we have it. Last Man Standing 2023. Tag a mate and get them involved.
Cheers.
See you all with the results on Monday.
---
---