Roy Keane 's Half Time Team Talk With Death Splinter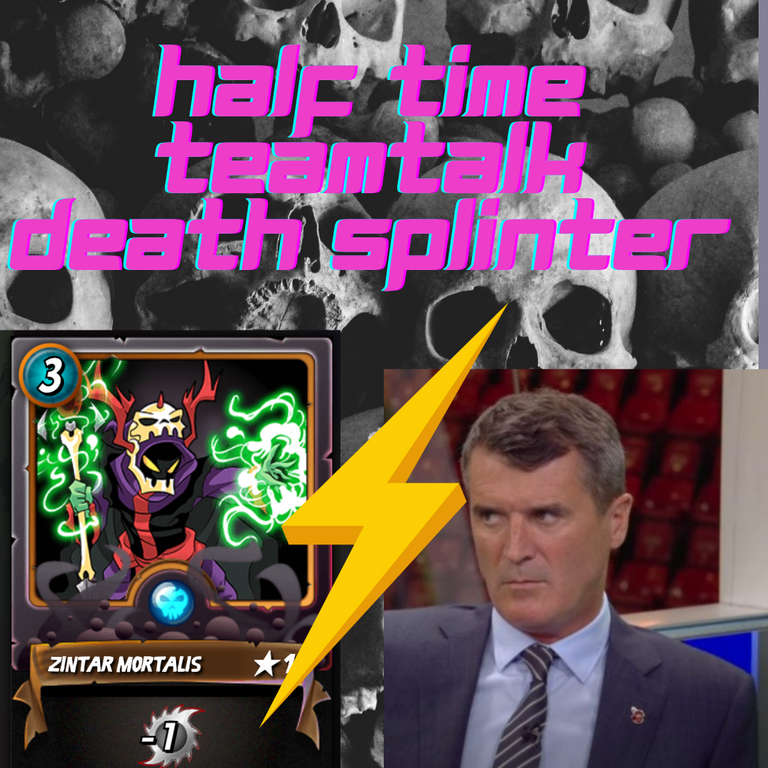 Zintar, tell the players to sit down please, you have been the captain here for years with your -1 attack spell but maybe its a case we can't afford to buy a new summoner. But the players respect you. Lads you have been top of the table for years. Years. But we have to stay up there and Haunted Spirit isn't getting any younger. However this Earth Splinter is battering you. Haunted here has played every game for 4 years and I have yet to see this group of players go out and come home with a win without him. Isn't that right haunted spirit?
uuuuuuuuuuuurrrrrrggggggggghhhhhhhhh.
Right Haunted calm down. Stop getting a big head.
But he won't be around forever lads. No pun intended. He probably will be but these chaos monsters are going to be fighting for places and to be honest. himself, undead priest and Twisted Jester are sick of carrying this team. Undead priest. Great defending there. Nice use of the dark arts. Right up my street. When in doubt leave one on him. I don't know what this team would do without you. Twisted jester, keep working it out from the back.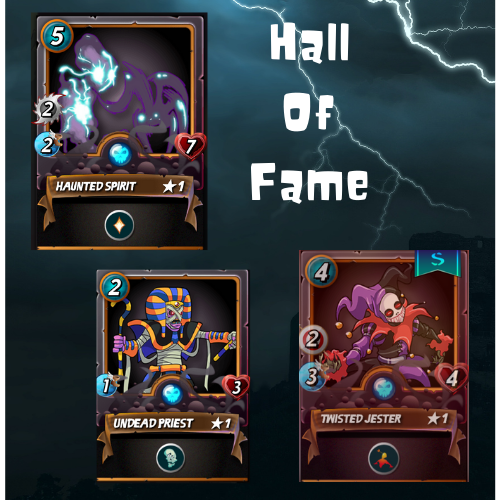 The rest of yee, I'm not quite sure about. Vampire, you are meant to be the king of the undead but yet if you get hit once you are out for the count. And you are afraid of crosses. Do your job and start gaining energy from the get go. Grow a beard as well. You need to man up a bit. Everyone thinks you are a soft touch.
Undead Minotaur. I know you can attack twice but you have a punch like a 3 year old girl. What's the point of attacking twice if it doesn't have any impact? Eh? That's shocking that is. Disgraceful. And then to cup your ears and look up at me after you delivered your two hit baby hit combo only to be knocked out in one punch by a retaliation by none other than Stonecutter Orc is unforgiveable. We all know thats his only talent is to retaliate. You got away with it the first time but the second time he finished you off. Your career in the team is over. I'm gonna rent you out to some crypto millionaire and see how you like it. No wonder you're dead. I would have loved to be in Athens fighting you back in the day when you were alive. I'd be having a few sirloin steaks by the fire that evening I would say.
Spineback wolf. You are the fastest player on the pitch but you have very little energy. I want you ducking and weaving. more. I'm gonna put you up front with haunted spirit as a number 10. See how that goes.
Lord of Darkness, you started off great in your career but if you were any slower you would stop. It's all that armour you are carrying. You need to shed a few pounds Lord. You are a professional athlete now. You need to improve your speed. I trust Haunted Spirit more to be honest. I don't know where he gets his energy from. You are a Rolls Royce Lord, we all know your qualities but an 8 health without heal is not worth a shite in the diamond leagues. You will be found out by a couple of magic combos. Speaking of magic.
Where are these new signings with magic. Dark Enchantess . Well played and that goes for you too Cthulho but how am I going to play you in a 12 mana?? You with that cursed slimeball on a 1 mana. Do me a favour!! You would be slaughtered. I am only play you in the champions league games where mana is at 99 unfortunately so that makes you a luxury player.
Skeletal warrior. I struggle to know what you do? I don't know what you are sniggering at Animated Corpse. You are both on the transfer list with that half 5 year old, half bull.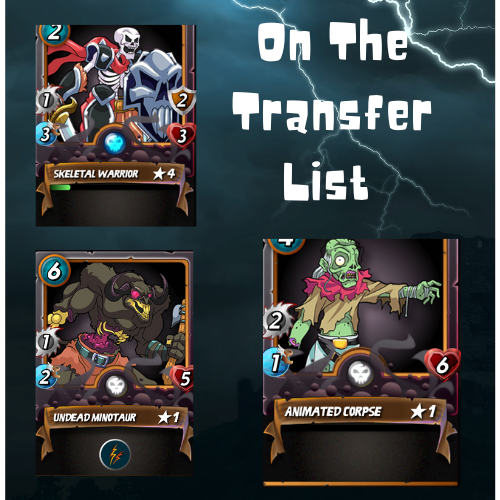 We need a target man up front for the tourney. Throw in Undead Rex and see how he gets on. I heard he's handy. And can someone improve the medical team in this squad. Haunted spirit seems to be the only one regenerating. What about the rest of yee? Granted Vampire you do but you are normally gone before you can do it. You guys are the death splinter so you should be winning this easily. I haven't even spoken about the fucking spider in the corner yet or that lad that calls himself a nightmare. He lives up to his name anyway thats for sure because he is a fucking nightmare on the pitch. I will stick with the old guard in the second half if i want to get things done right. None of these new boys are cutting the mustard. Twisted Jester , go after that tree of theirs. Once he is down then the rest fall like a deck of cards. Now go out there and win it for me.
---
---