Sublime Sunday with the Chicago Bulls at the United Center
My husband was born and raised in Chicago, IL so he's a true lifelong Chicago Bulls fan. I've been a basketball fan in general since both my sons played basketball in school and Ryan played four years of college basketball. But I'd never had much interest in professional basketball until
@crypt-skip
came into my life. Now we both are avid watchers throughout the season. A treat is when we actually get to attend a game in person. Sunday was such an event - Chicago Bulls vs New York Knicks.
We went early to be there when the doors open. Tonight was Joakim Noah Bobblehead night, where a free collectible was given to the first 10,000 fans. I'm a HUGE fan of Joakim Noah, who played center for the Bulls from 2007 - 2016. He was traded back to the Bulls this year so he could retire as a Bull. He's now an official ambassador for the Bulls and he's well known in Chicago for his Noah's Arc Foundation. From Wikipedia:
In 2010, with his mother, an artist, Noah founded the Noah's Arc Foundation to help engage children with positive self-expression through arts and sports.The foundation has a special focus on at-risk youth in Chicago.
We actually also attended the game on November 21, which was a tribute to Joakim.

source-Joakim Noah Gets A Standing Ovation in Chicago via YouTube
The bobbleheads were supposed to be given out that night, but some kind of shipping snafu happened and they didn't arrive. I'm happy that they showed up for tonight's game and I was able to snag one.
One of the best things about coming early is getting to watch the teams warm-up before the game starts. Watching a game on TV usually subjects you to tons of commercials instead of the live action on the floor.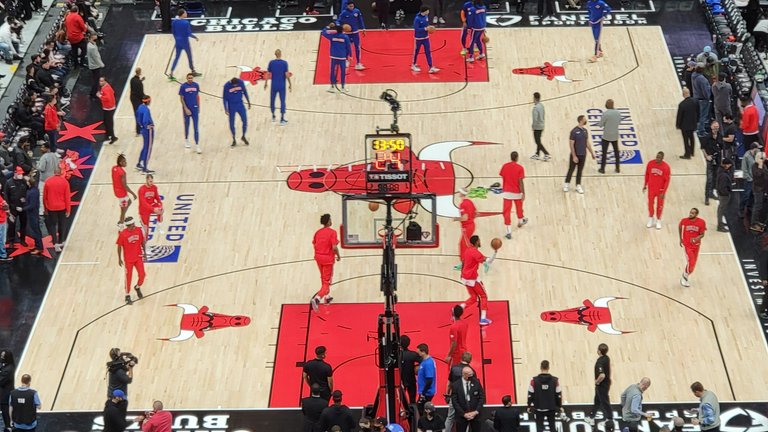 When the game is ready to start the first thing is the beautiful and stirring sequence featuring the "Run With Us" theme and the charging Bulls and then the introduction of the team. Next, they always have some version of the National Anthem. Today's version was a saxophone rendition with team players and fans alike standing and paying homage to our flag and our country.
Of course, there are always the professional dancers for the teams and ours is called the Luvabulls. They perform during time-outs and at halftime.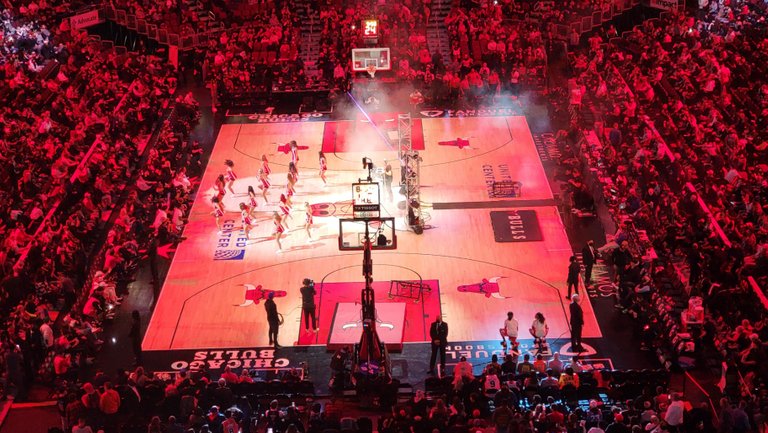 There are fantastic colorful graphics up on the jumbotron and accompanying music by the in-house DJ. This high-energy mood enhancer helps to keep the crowd engaged and cheering for their team.
Last month in November when we were here at the United Center the Bulls also played the Knicks. In that game, we lost by 3 points at the very last seconds of the game when a 3-point shot was missed by our scoring machine DeMar Derozan. Tonight was sweet payback because we were able to win the game 109-103 to take the top spot in the Eastern Conference.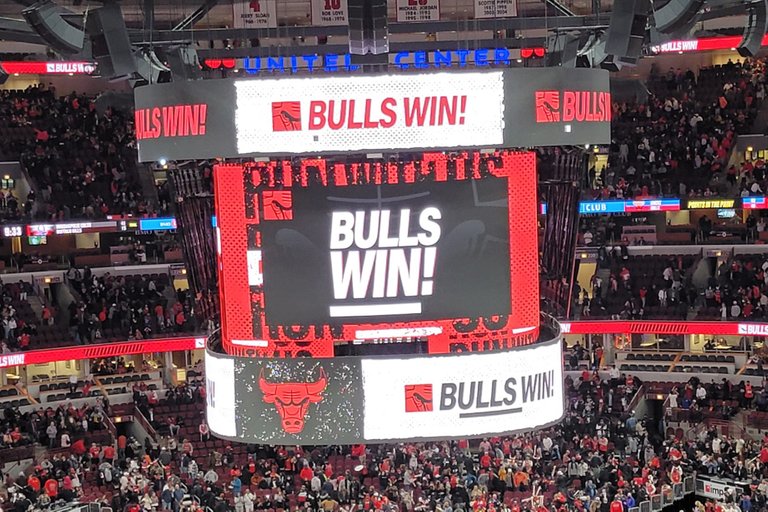 After the game we took some time to just chill in our seats because the mass exodus is like a stampede! While we were waiting for the crowd to clear we asked a kind usher to snap our picture to commemorate the fun occasion.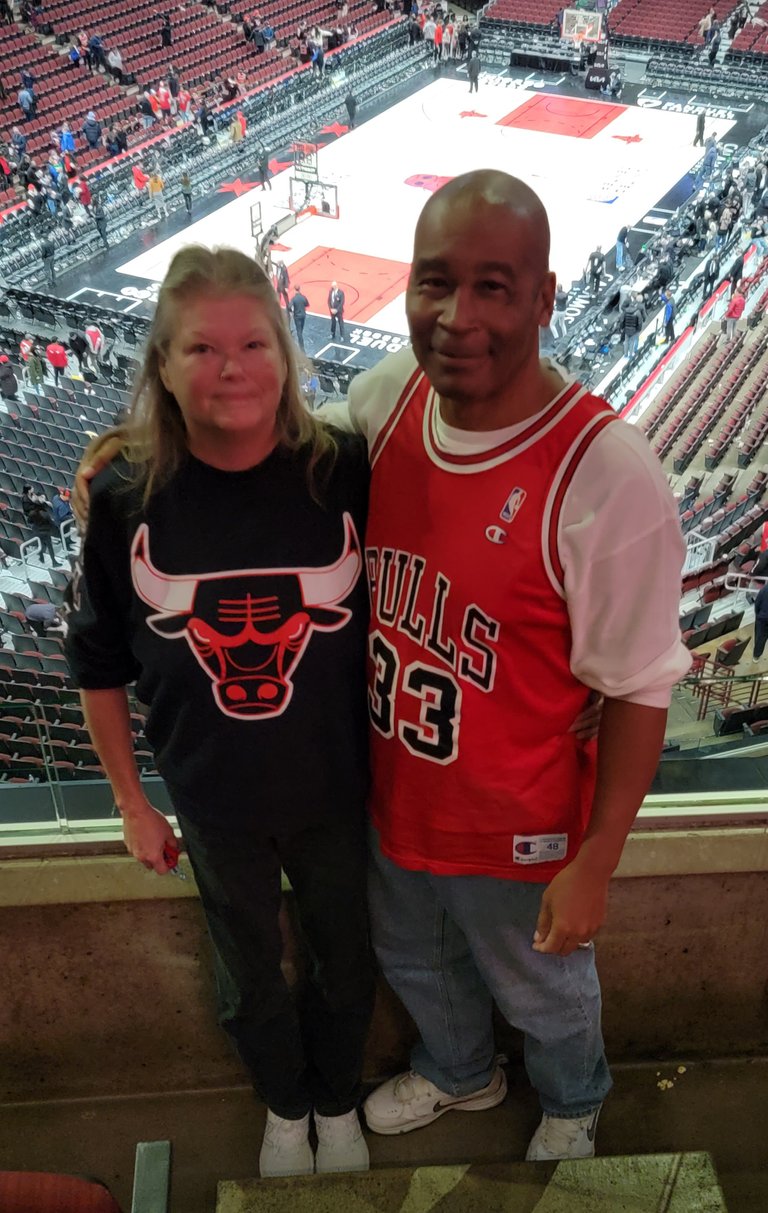 We had a GREAT time at the game, and even better, we're coming back tomorrow night to watch the Bulls vs Pacer game. While we live 300 miles away, we are staying in Chicago through Friday in order to attend Thanksgiving dinner with family in Chicago.

source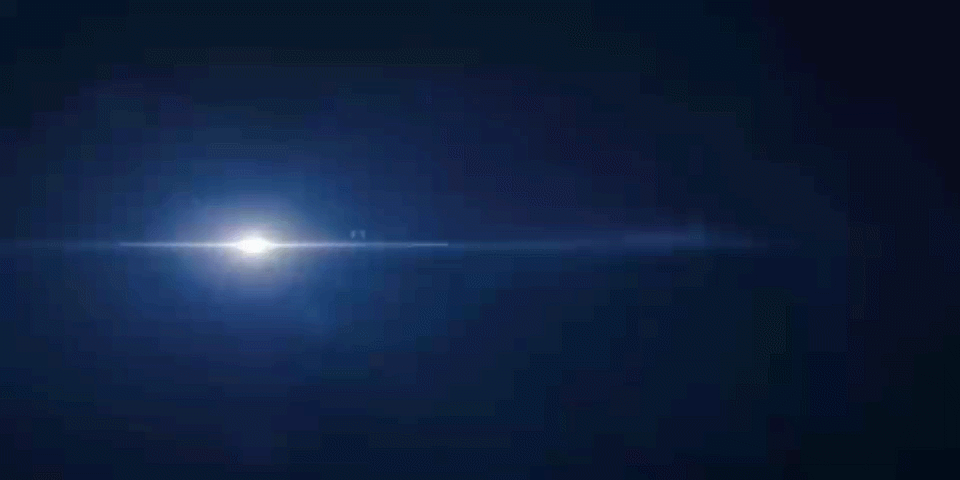 Hive is a social blockchain where you can join communities, share and curate content and earn cryptocurrency that is growing in value. Sign up for an account at Sign up for Hive.
---
---