A Colorful and Fun Walk with the Hubby

Been wanting to go out with friends to enjoy my vacation but we can't fix our schedules. They also have other matters to attend to so I just decided to go grocery shopping/date with the hubby.😁
We went on grocery shopping at the neighboring town of Hilongos. Over the years, this sleepy town has awaken and started to grow more in terms of economy. More establishments are built and more businesses are prospering. Bigger convenience stores, malls (smaller ones), and restaurants have been popping up like mushrooms such as Metro and Prince Mall that just recently opened. Of course that's very good thing!
We arrived in Hilongos after a 15-minute ride on a minibus. We decided to get off the bus at the terminal since it's near the Metro where we will be checking some grocery items.
In the terminal area, we get off to a colorful area where booths were built which represented the different popular festival in the Philippines. It is represented by different organizations of Hilongos as their contribution to the Alikaraw festival.
Alikaraw festival is an annual activity as part of the town's fiesta celebration held every December 28 of the year. It is the town's renowned event to celebrate it's bountiful harvests and rich natural resources.
We went there on December 27 so we were not able to witness the culminating activities but we were able to take photos of the colorful and creative booth display.
This is Tuna festival booth made by LEYECO IV, a local electric cooperative and distributor which is located in Hilongos. Tuna festival is annual festival celebrated in General Santos City, South Cotabato which is the Tuna Capital of the Philippines. The booth showcase the abundance of tuna fish in the country.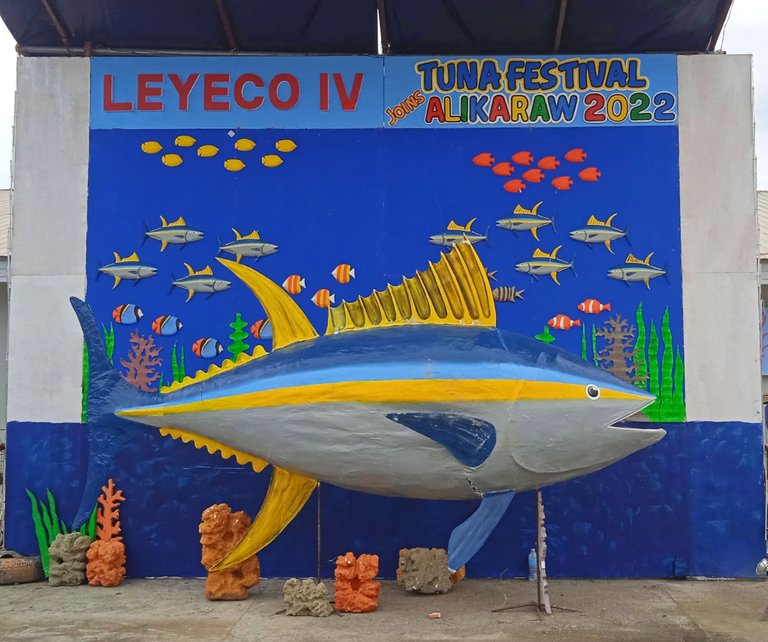 The booth reminded me of that fun game in the computer called feeding frenzy though. 😁😁
This is the booth of Pinaflores festival which is represented by Hilongos South District. It is a festival celebrated in San Carlos City, Negros Occidental showcased by its vibrant colors and lovely flowers.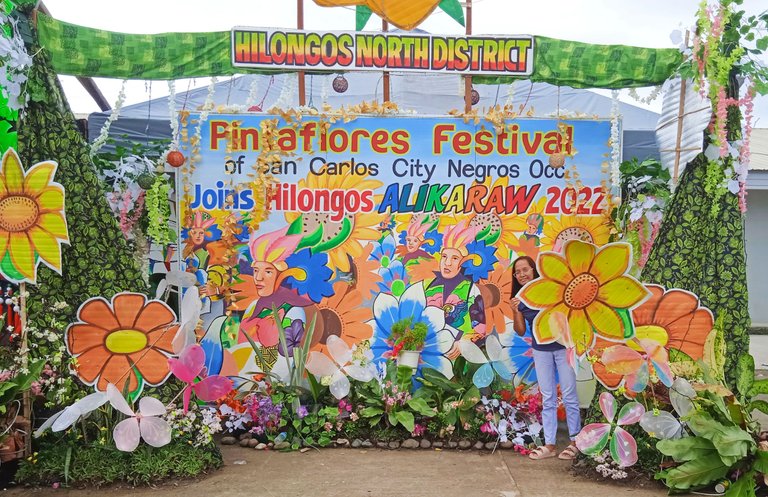 I couldn't help but take a pose with the colorful booth like an unwanted insect among the flowers. Hahah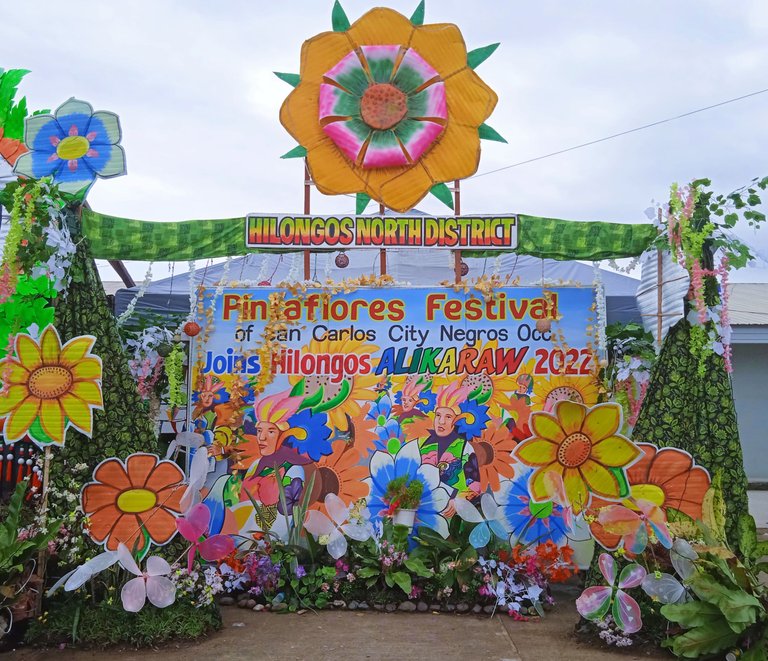 Pampanga's Hot Air Balloon Festival booth is created by Hilongos National Vocational School showcased by its colorful hot air balloon. It is is an annual aviation sports event in the Philippines.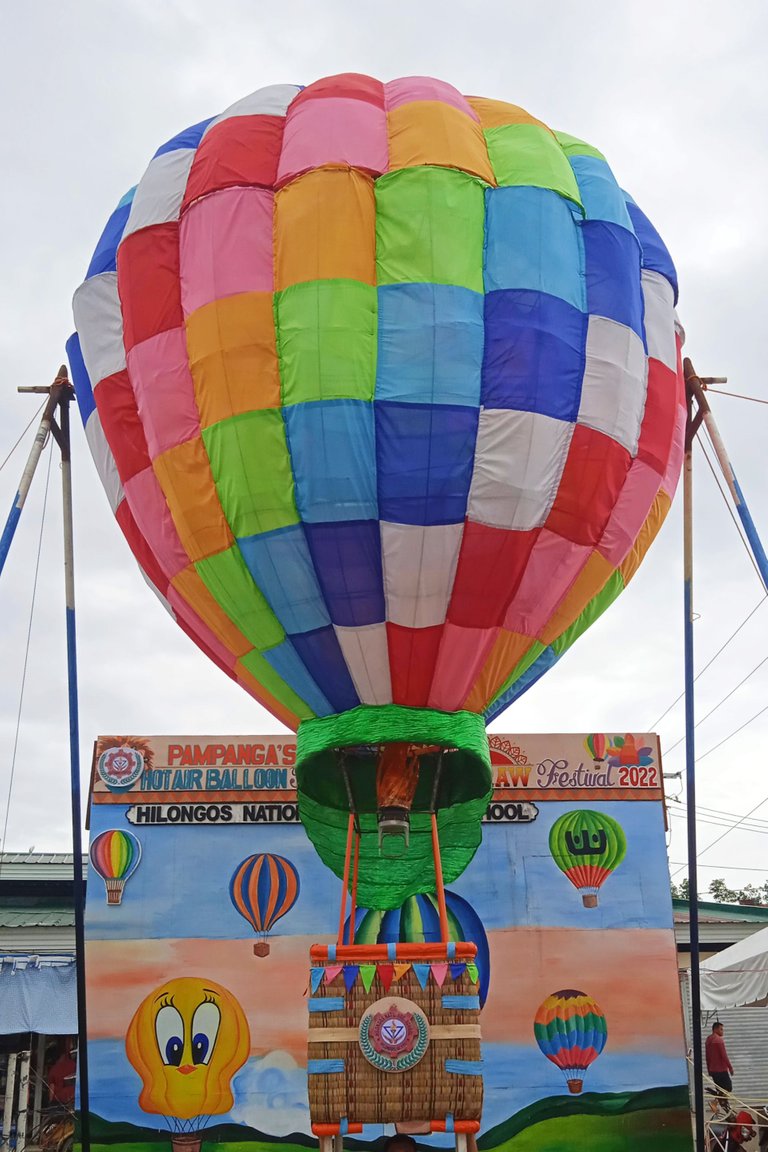 A model of a hot air balloon looks like the real thing.
The Ati-atihan Festival of Aklan, Panay Island. The booth showcased the unique ati-atihan costume.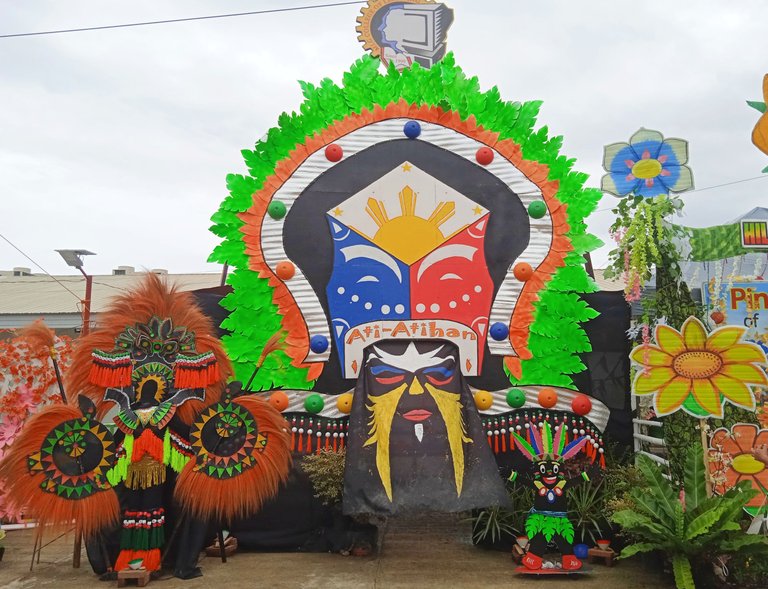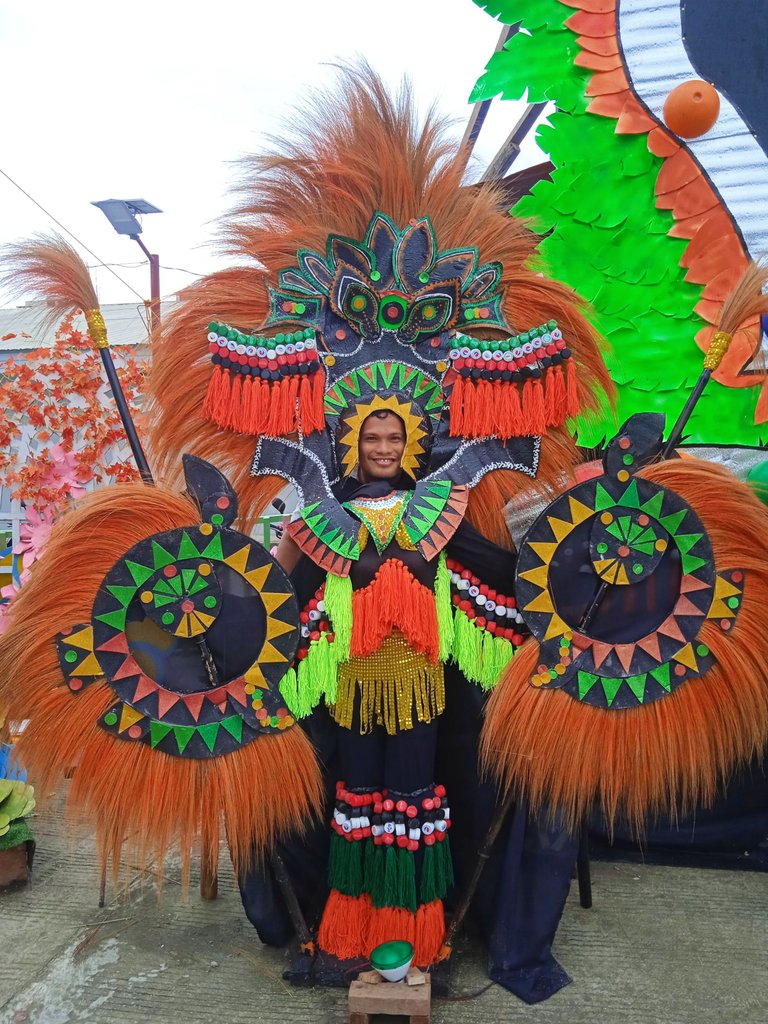 This is how it looks like when you are wearing an ati-atihan festival costume. You'll look like a tribe king.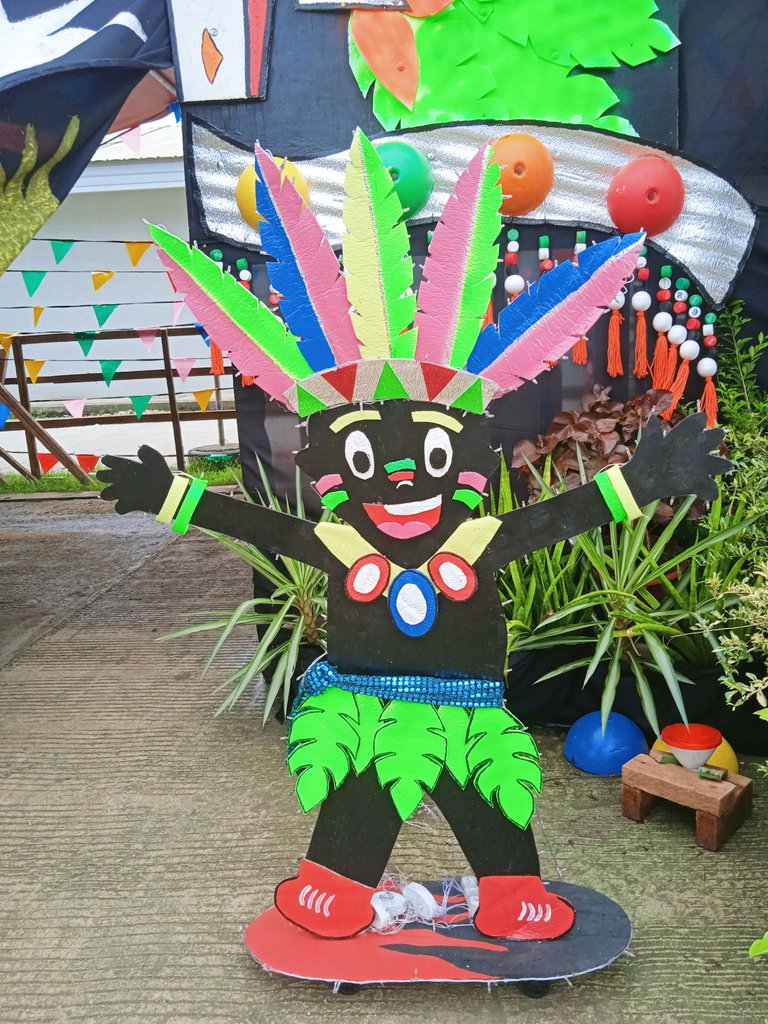 The Buyugan Festival of Abuyog, Leyte. The booth shows the Buyog which means bee as the center of this festival.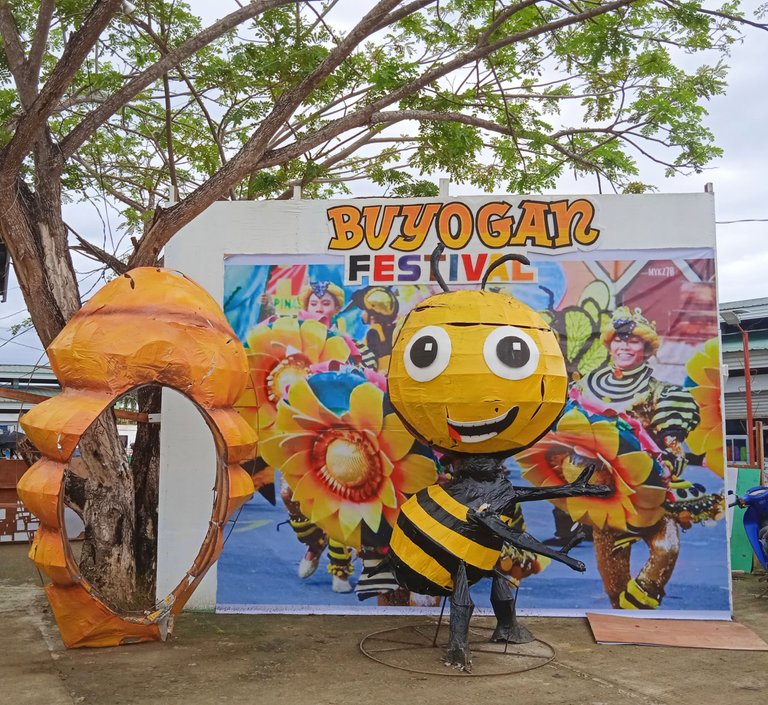 What a cute and a happy bee.😁
The smiling faces of the MassKara Festival of Bacolod, Philippines. Bacolod is known to be the City of Smiles. This colorful booth created by Hilongos East District will definitely make you smile.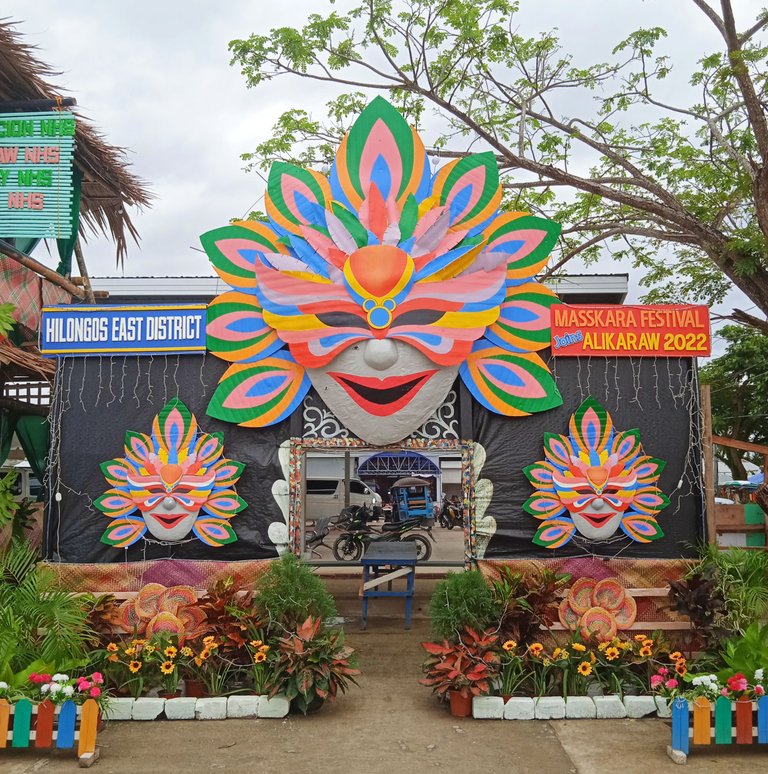 This booth created by HIPSSEA, an organization of different schools of Hilongos shows the Buglasan Festival of Dumaguete City, Negros Oriental. It is dubbed as the Festivals of Festivals.
The booth is a two story building made of bamboos and other native materials. Beautifully made, just love how this appears to be a real native Filipino House.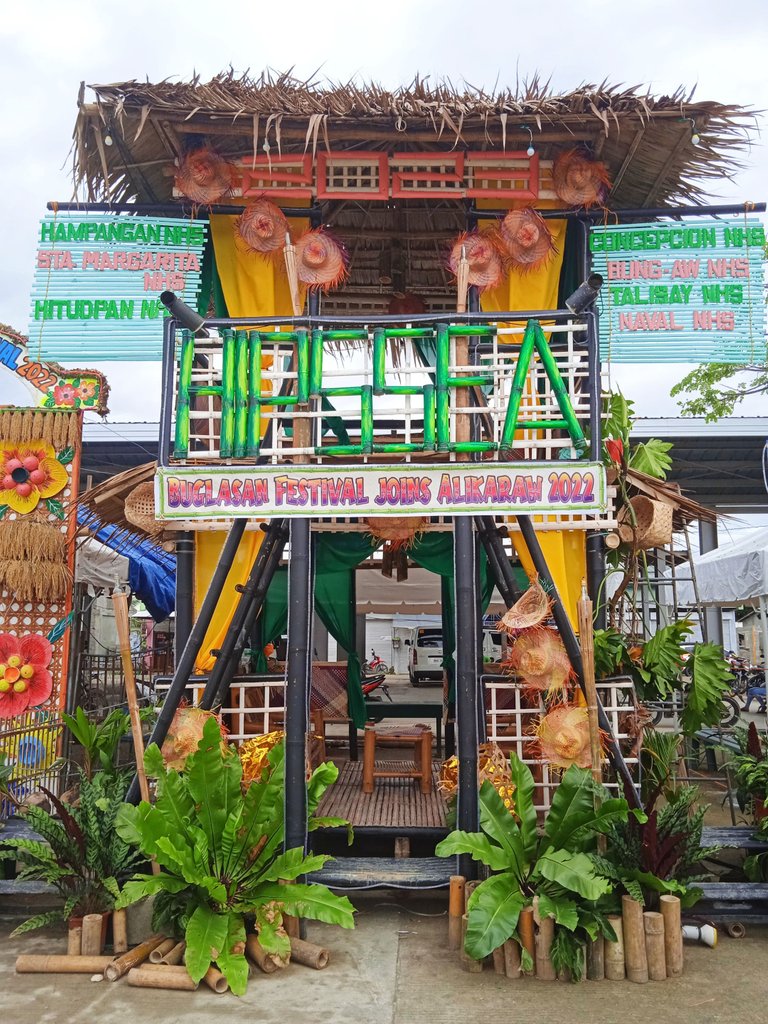 I think this is Higantes Festival but they were not able to finish it. It has no head yet.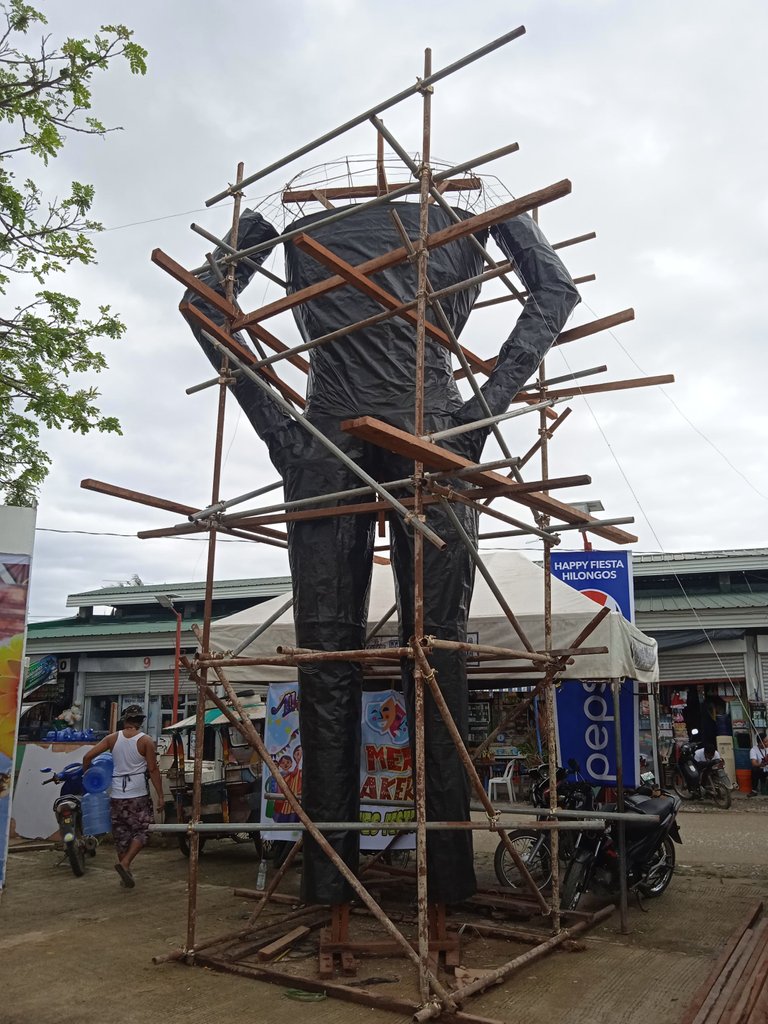 And the last booth that also caught my attention is this booth created by Hilongos South District that represent the Pahiyas Festival of Lucban, Quezon. The Pahiyas Festival is celebrated to show the people's gratefulness after a bountiful harvest.
They use a variety of crops to adorn this beautiful booth like rice grains, buko, nipa fruit, and camote.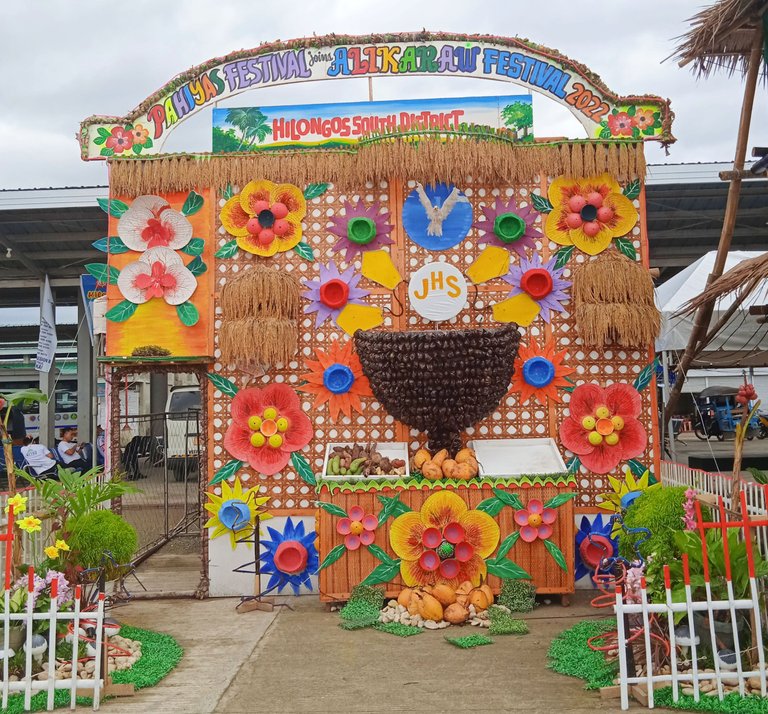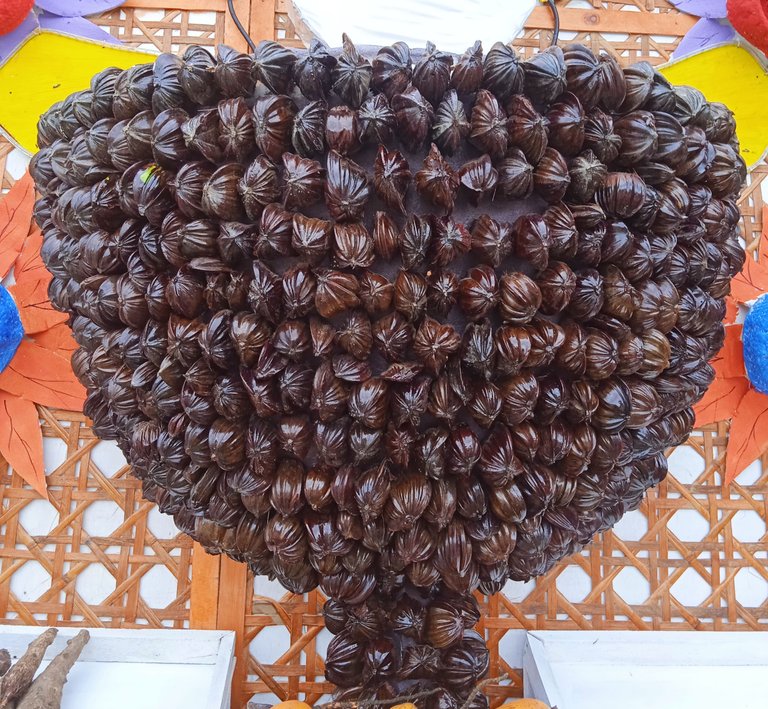 Fruits of Nipa Plant.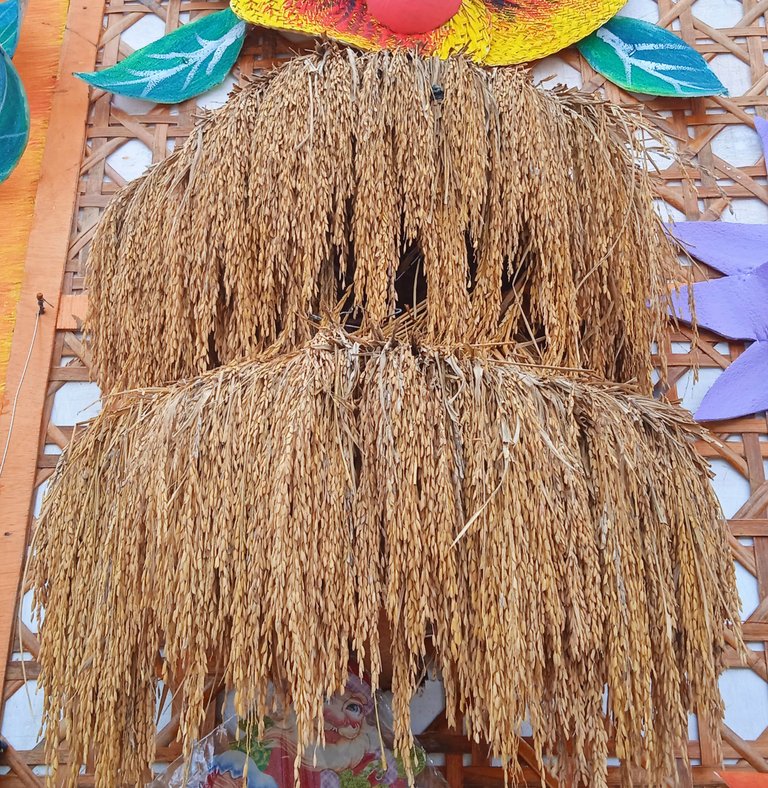 Rice grains.
After we took our time taking photos of these colorful and creative booths, we headed to Metro to look for the things we needed to buy.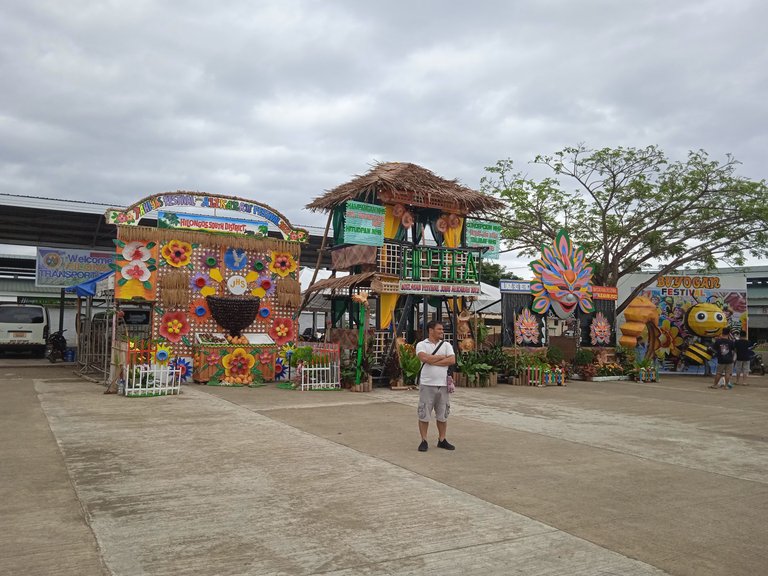 We went inside Mr. DIY store to look for poster color and drawing book for the kids.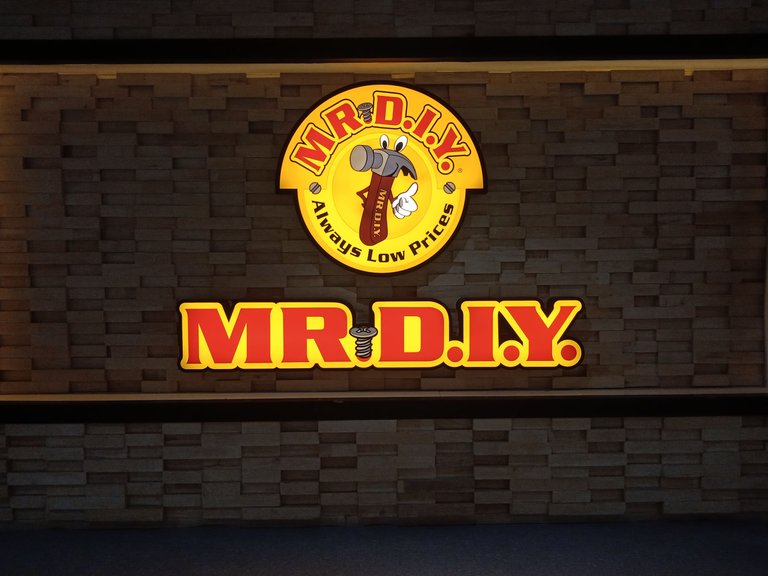 We also planned to have our snacks inside where there is an area where we can buy some drinks and food but we decided to go somewhere else.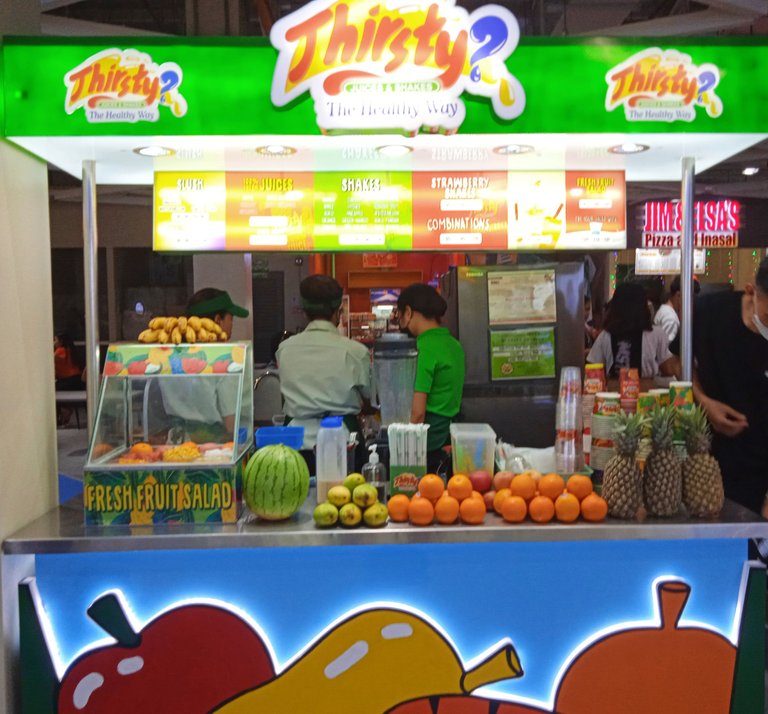 We decided to walk from Metro Store to J&F Department Store where we were heading. It is little bit far but we love the walking. It's our way of bonding since we only get to di this when my hubby is home for the holidays. And the weather was cloudy so we didn't have to worry about the scorching heat of the sun.
We passed by the fortified Immaculate Concepcion Church. It is an old church built during the Spanish era in the 18th century. The church is already renovated and what remains of the original parts are the bell tower and the brick-wall surrounding the church.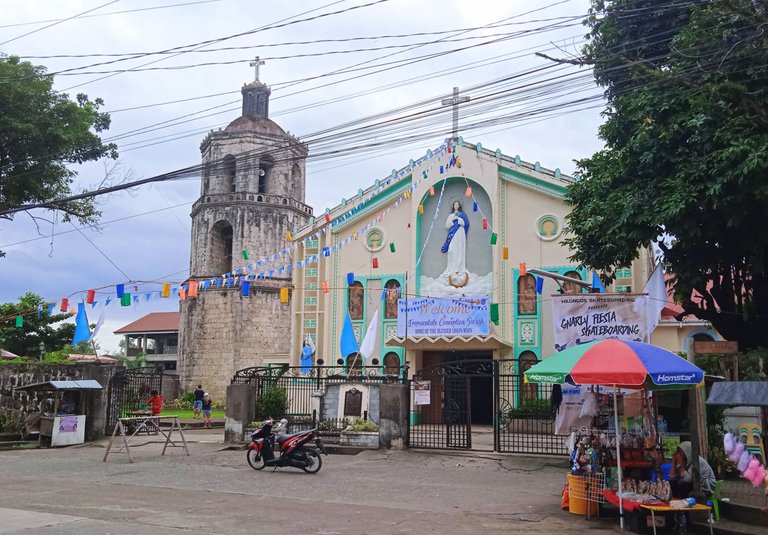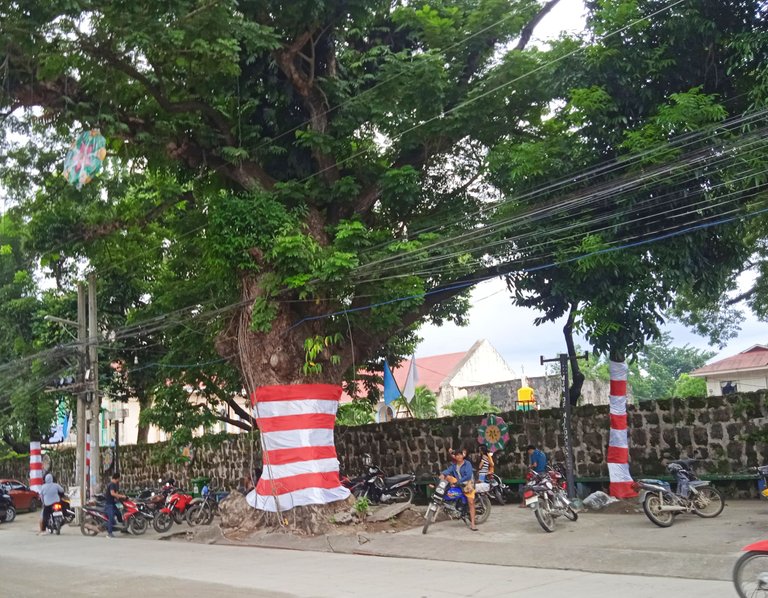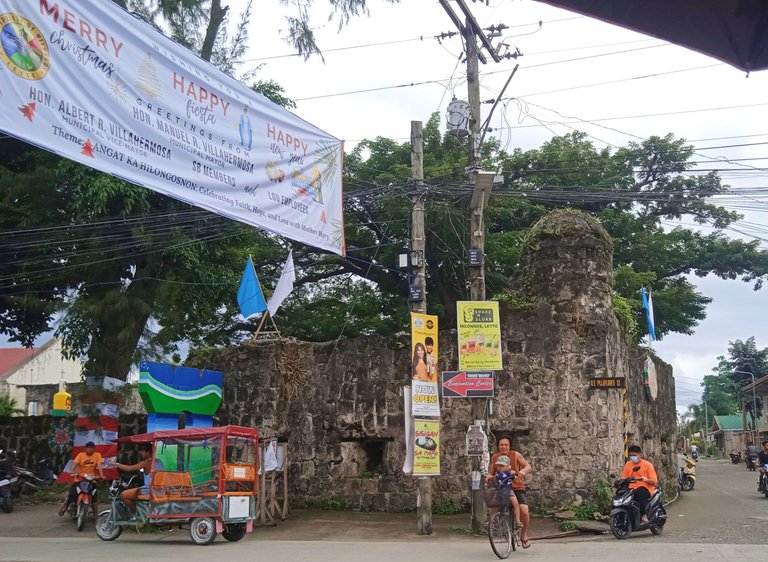 I love walking on this area as it gives off that nostalgic vibe to the town.
Opposite to the church is the Hilongos Municipal Hall. On my opinion, the size and the architectural design of the town hall represents the town's economy. It is like status symbol and you'll get the feel of the town just by seeing their municipal hall.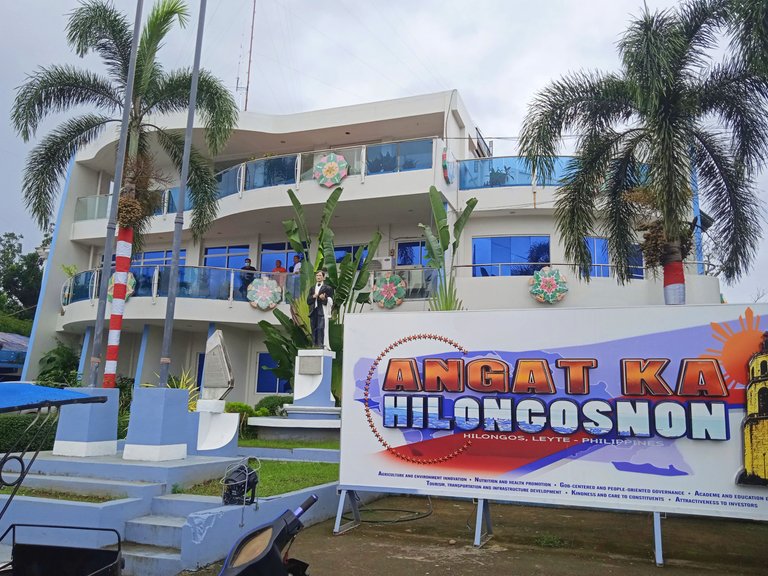 We walked further and reached the other corner of the street. We noticed that there was a sports competition going on. We checked it out to see what's happening and found ourselves watching the sports event 'til finished. It's a sepak takraw competition played between Manila team and Cebu team.
We got hooked by the action-packed and close fight game between the two teams. It was a fun game to watch. We did not expect to be able to see this kind of game so we were really happy that we walked our way to another store.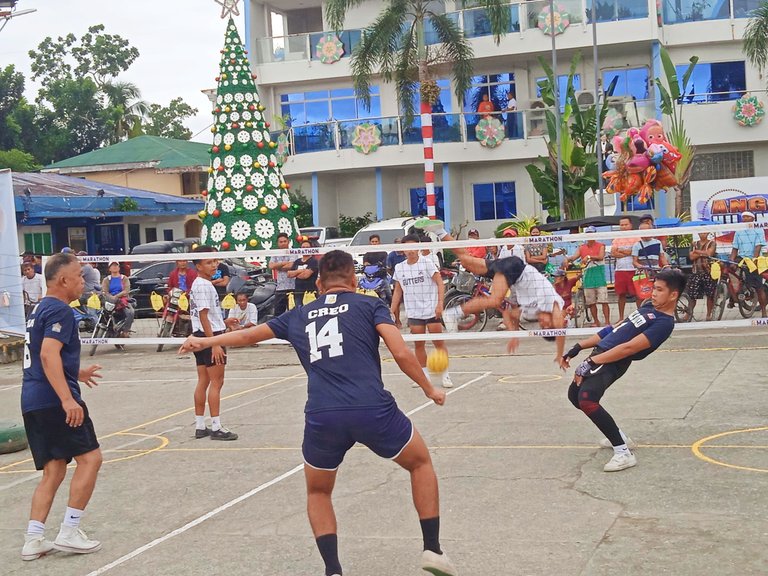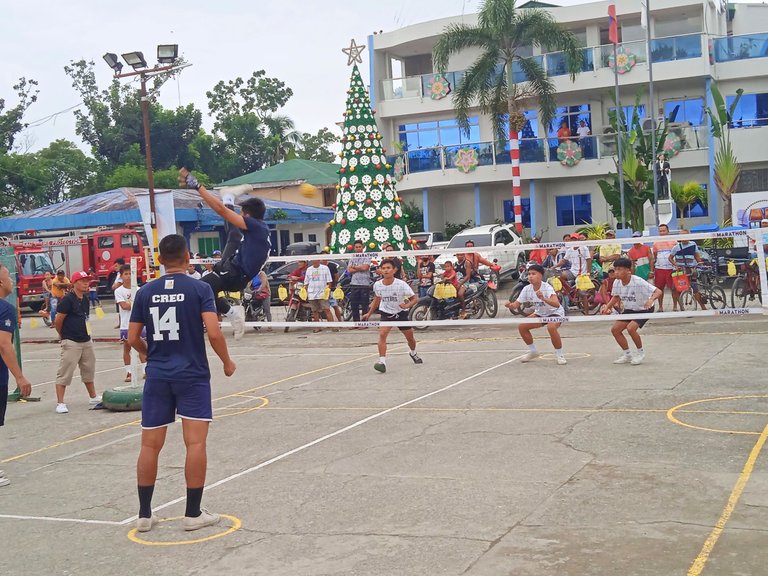 I saw a man selling balloons while watching the game. I was tempted to buy one for the kids. I love flying balloons. They bring back beautiful childhood memories. And I want my children to experience the same kind of joy when I bought them one. But I just let it pass. Maybe next time.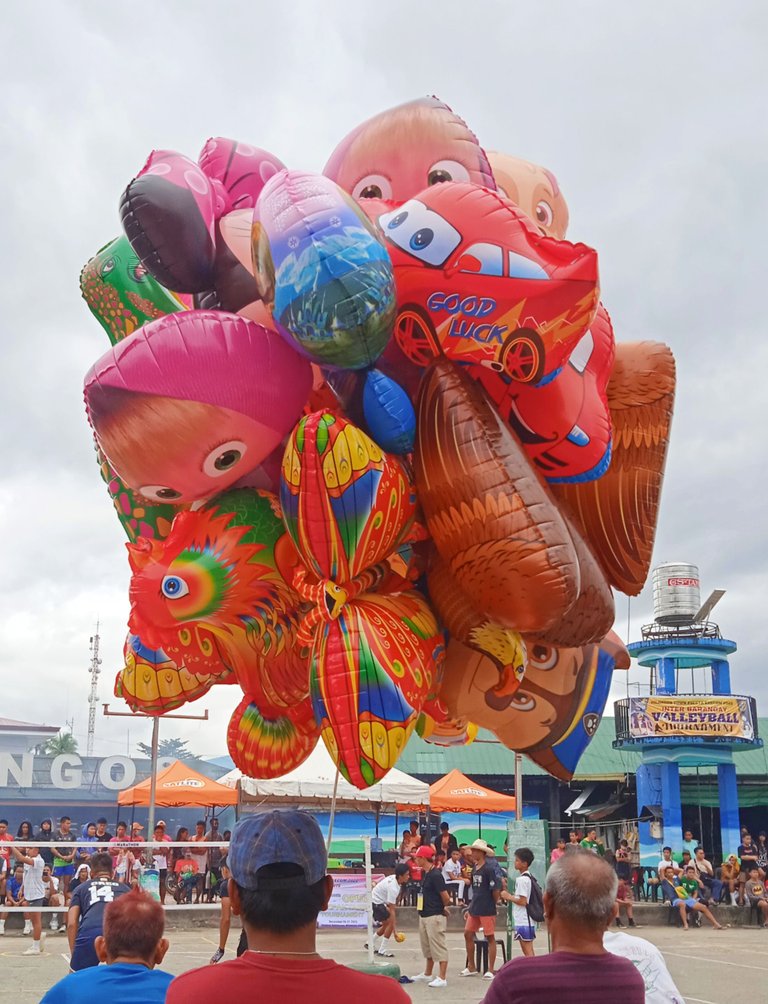 After the game we headed to to J&F store where we were able to buy the things we were looking for and had our snacks at Panny's.
This walk would be one of my most memorable walk as I was with my date. 😁😁 And we did not expect to find beautiful spots and events in town that made our shopping plans turn date. Haha.
I hope you have your fun and sweet time with someone special too. This is my participation to @tattoodjay 's #WednesdayWalk initiative.
Thank you for reading. Have a wonderful holidays.
---
---