MA FIRST EXPERIENCE AT SKATEHYPE

Published by SKATEHYPE.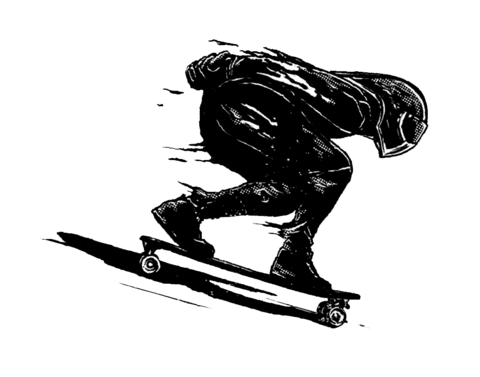 Hello Skatehiiive!
Hello Skatehyyype!
Hello all Hive communities!

Girls and Boys, all right?

This is my first post on SkateHype. 
I'm very proud of all this progress. 
The future is here!

Today I decided to bring another relic. Another video from when I was starting to do some speeds. This spot is the Vista Chinesa located in Rio de Janeiro. It is great for freeride and speed. But it has a community that's not very receptive. Some unbearable cyclists, who are from the South Zone of the city n think they are owners of the place. Some equally boring strange cops. Combined with a series of reckless accidents. They've tried to take out the longboard in this place several times. But everything that is forbidden gets even better right?
Olá skatehiiive!
Olá Skatehyyype!
Olá todas comunidades Hive!

Meninas e Meninos, tudo ok?

Esse é meu primeiro post na SkateHype. 
Estou muito orgulhoso com todo esse progresso. 
O futuro está aqui!  

Hoje decidi trazer outra relíquia. Outro vídeo de quando eu estava começando a fazer alguns speeds. Esse spot é a Vista Chinesa localizado no Rio de Janeiro. É ótimo para freeride e speed. Mas, possui uma comunidade não muito receptiva. Alguns ciclistas insuportáveis, que são da Zona Sul da cidade e pensam que são donos do local. Alguns policiais igualmente chatos e estranhos. Combinados a uma série de acidentes imprudentes. Já tentaram acabar com o longboard nesse lugar por várias vezes. Mas tudo que é proibido fica ainda melhor né?

(Unsupported https://odysee.com/$/embed/Suicide-Crew_-Raw-Run-Vista-HD/ca1ce77d6a8cade489848b20f03b990a408e4531?r=9g7XKbXBCkQjKjjaFtHoFcqRBZUe142V)

What do you guys think? Is it necessary to end such a fun sport? Maybe raising awareness and educating people is a better way. Anyway skateboarding is amazing, pure endurance. And resist there. But I can say with ownership that there aren't so many longboarders in Rio de Janeiro at the moment. Most of us are back on the street. All equipment is expensive. And now that I'm a father, I'm more cautious. But the skills continue. If you throw me down the hill, Dad breaks everything!
O que vocês acham? É necessário acabar com um esporte tão divertido? Talvez conscientizar e educar as pessoas seja um caminho melhor. De qualquer forma skate é incrível, resistência pura. E resiste por lá. Mas eu posso dizer com propriedade que não há tantos longboarders no Rio de Janeiro no momento. A maioria de nós está de volta ao street. Todos os equipamentos estão caros. E agora que eu sou pai estou mais cauteloso. Porém as habilidades continuam. Se me jogar na ladeira o pai quebra tudo!

I invite everyone to participate in the communities: HiveBR, MusicHive and SkateHive. In addition to being a content creator, I am a Moderator and Curator in these communities. Let's exchange ideas and evolve together.
You guys are also meeting me on these discord servers:
HiveBR, MusicHive n SkateHive.
I am available for new projects, services and to learn from you at all times.
Convido a todos a participarem das comunidades: HiveBR, MusicHive e SkateHive. Além de criador de conteúdo sou Moderador e Curador nessas comunidades. Vamos trocar ideias e evoluir juntos.
Vocês também estar me encontrando nesses servidores de discord:
HiveBR, MusicHive e SkateHive.
Estou disponível para novos projetos, serviços e para aprender com vocês a todo tempo.
HELP ME GET TO 1000 SUBSCRIBERS AT ODYSEE

Boelter Mc
Welcome to the BoelterMc universe. I am a rapper, skateboarder, born and raised in Rio de Janeiro, Brazil. Currently dedicated to starting my music career and working on projects on Web 3.0. I am curator and moderator in the communities Skate Hive, Music Hive and HiveBR. I am committed to bringing together musicians from all over the world in a music community with many events and benefits. I host the Radio Foundation on my computer. We are currently in Odysee and the Metaverse of Urnowhere. I'm available in discord to work on projects, call me!
If you like the content leave your upvote, share your ideas in the comments, if you find it interesting you can reblog! Spread love and follow my blog to be connected! BoelterMc Hugs and Kisses!

Have you voted for Stoken's proposal? No? Vote now! Stoken is coming true! I am happy! 🐝❤️
---
Join the Stoken/Skatehive Discord

---
What STOKEN plans to bring to Hive 🍯

Unique name, and meme-ified branding that will stand out above the hard to find Hive brand.

Real world events tied to web3 content creation.

Attracting non crypto content creators, into web 3.0

Exciting content to bring in non crypto audience.

Focus on onboarding large, existing communities i.e: Reddit skateboarding: 385k members, and Redbull: 10 million YouTube subscribers.

NFTs. Plans include real world utility, fund raising, and future gamification.
DTF ( Decentralized Token Fund )

Stoken DAO: Decentralized voting system to allow the community to sponsor athletes, content creators, influencers, and real world events.

A new token for you to earn for doing Hive stuff!

Possibility of future airdrop of governance tokens. 

---
---
---