A Short Lived Celebration for the Spartans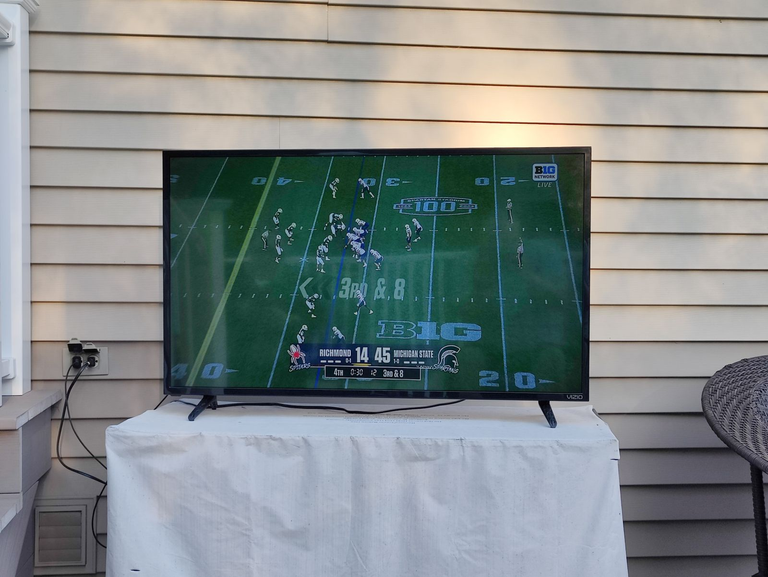 ---
Typically, this time of year, my wife and I are still camping. We often find a local bar to watch the Michigan State football game at, or we bring the TV outside and we watch it at our campsite. I have several fond memories of watching early season Spartan games while doing some Fall camping. It's a magical time of year.
For a number of reasons, we aren't doing any more camping this year, so @mrsbozz had the great idea of pulling our main TV outside and trying to capture the same feel of camping while at home. Thus, on Saturday afternoon I found myself sitting on our deck watching the Michigan State Spartans take on The Richmond Spiders.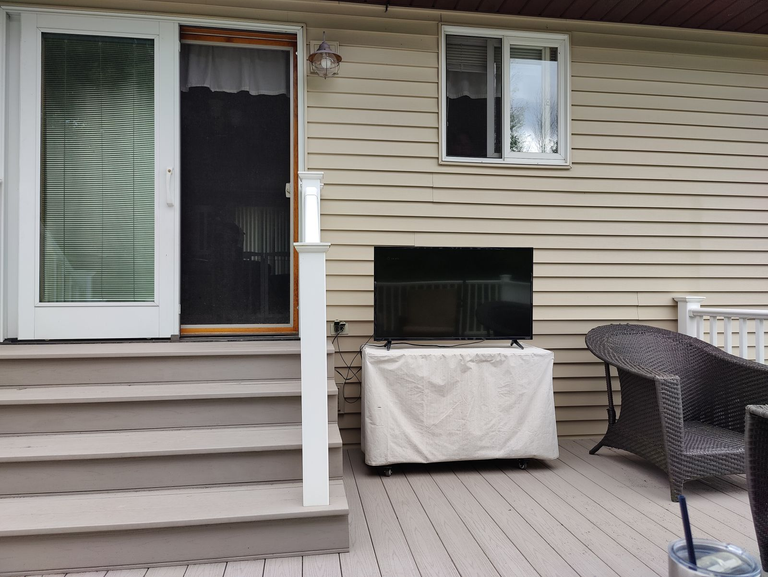 ---
There was a bit of difficulty watching the game as I couldn't determine a good place to put the TV. If we put it on the end of the deck, we would need to run an extension cord for power and as the game progressed, we would be looking directly in to the sun.
On the other hand. Where we ended up putting it on the east side of the deck, we had to deal with the sun reflecting off the window above the TV and the TV itself. It was fine early in the game when there was cloud cover, but after the clouds went away, I struggled to see what was going on.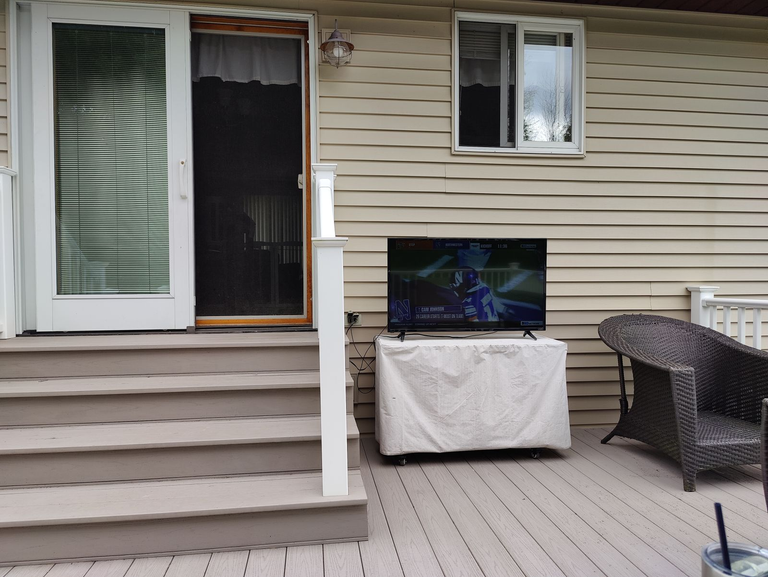 ---
Ideally, we would have put it on the North side of the deck, but that is where the steps are to get down to the lawn and I am sure Jovi wouldn't have appreciated that. Plus, I was grilling some items and I needed to be able to easily access that area to get to my grill.
It was a good idea, but ultimately, I think we need to pay to get our deck covered when we can come up with the funds. It would solve a lot of problems that we currently have with that space.
This post isn't really about my deck though. This post is about the fact that we are now two weeks into college football and the Spartans aren't looking too shabby so far.
Sure, these are what you might call cupcake games, but the team has some pieces that I think it is worth getting excited about. The new quarterback seems to be settling in, and we have some run and pass options that just might give us a chance in the Big 10.
Honestly, I think the real star so far has been the defense. They have been doing great the past two games. Last week they had a good showing against the Chippewas from Central Michigan, and this week they held Richmond scoreless for pretty much all of the game.
I know the final score was 45 to 14, but to be fair, the first seven of those 14 points didn't come until the fourth quarter when MSU had pulled most of their starters and a ball was fumbled by one of the back up players and ran back for a touchdown.
Likewise, the second touchdown by Richmond also happened well after the game was already decided. It would have been nice to get the shutout, but I am not complaining about a 45 to 14 win.
What I am complaining about is the drama that is suddenly surrounding the program and how that might impact their season. We got word yesterday that head coach Mel Tucker has been removed or suspended pending an investigation into some sexual assault allegations. This is a really bad look for a school that is still reeling from the Larry Nassar scandal.
I am sure there are going to be a lot of snide comments and questions from fans of other teams that don't have the best interest of the Spartans at heart. That's fine.
Let them run their mouth. I think we all know no program is perfect, at least Michigan State is stepping up to take care of it.
---
---

---
All pictures/screenshots taken by myself or @mrsbozz unless otherwise sourced
---
---