Bozz Family Fantasy Football Week 2

---
If you read my post yesterday, you know that it was a pretty good weekend for my fantasy team. @mrsbozz had some decent luck herself in her latest match up. Given our past track record, it is safe to say we both got very lucky!
With the addition of four more teams and the changes to the rules of our fantasy league this year, I have to admit, I am a lot less intense about the whole thing than I have been in the past. If neither of us win this year worst case I am looking at being out $20 versus the $50 it has always been in past seasons.
Adding teams allows you the ability to spread the cost out among the other losers like that.
I think I said this before, but I honestly hope one of the kids wins this year. I think they would get a big kick out of that and it would be something special they can remember for many years to come.

---
I had a good feeling going into this weekend. I had a player quite well on Thursday night and with any luck I was going to have some other players step up more than they did last week. That was definitely true with a few exceptions.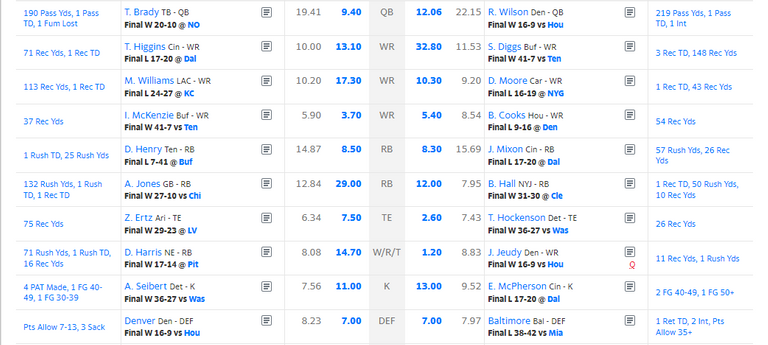 ---
As you can see, Tom Brady is just a giant bag of suck lately. If want to use the term GOAT with him, it would more aptly be referring to goat poo. He just sucks and everyone can see it. In fact, he sucks so bad that he has once again resorted to throwing tablets to make him feel better.
There is a ton of speculation that things off the field are weighing on him. There is also a lot of speculation that he might be retiring before the season is over. If that is the case, I hope he does it sooner rather than later so I can just cut my losses and move on.
I honestly want to cut him now, but he is Tom Brady, so I just can't bring myself to do it. I know just as soon as I do he is going to put up some monster game and suck me back in to his illusion of greatness.
Right now my recent pickup of Mariota is looking a lot more appealing.
Williams was my player on Thursday night that started my week off with an impressive 17.30 points. I don't expect him to do that every week, but he will definitely be staying in my starting line up for the foreseeable future.
Despite Brady's horrible showing, I had plenty of players more than make up for his short comings.
Like Green Bay's Jones who gave me an insane 29 points! Again, not something I expect to get every weekend, but when these small windfalls do come my way, I am not going to complain!
Everyone else on my team did pretty decent. These are the averages I like to see:
Running Backs : 15 points per game
Wide Receivers: 15 points per game
Quarter Back: 20 points per game
Tight End(s) : 10 points per game
Defense: 10 points per game
Kicker: 5 - 10 points per game.
In a league with 3 WR's, 2 RB's 1 TE and a Flex position those averages would guarantee you 130 points which is usually enough to win you most head to head competitions. As you can see, I had one WR that only got me 3.70 points. I will be keeping my eye on him for sure. I am going to share my bench in a second and you will see I might be making some moves.

---
Like I said, as you can see, London had a pretty impressive game putting up 16.60 points that were just left on my bench. There is a good chance I will play him instead of McKenzie next week. If past experience tells me anything though, McKenzie will probably have an amazing game on my bench and London will do horrible!
I had a bit of an issue Sunday night when I realized one of my wide receivers was not going to play. I quickly moved him to injured reserve, but with most teams having already played for the week, it was pretty slim pickings to find a replacement.
McKenzie was that replacement and while he didn't get me many points, he got me more than zero which isn't a bad thing. If Davis is expected to return to the lineup for Buffalo there is a good chance I might just drop McKenzie all together.
I'm feeling pretty good heading into next week. Then again, as I said earlier, I honestly don't care. It will be interesting to see how our next family gathering goes when the kids start doing some trash talking to the adults!
@mrsbozz won her match up. It was close, but she was able to come out victorious. She seems a lot less stressed about the whole thing this year as well. Maybe it is because we are trying to set a good example for the kids.... Who knows!
---
---

---
All pictures/screenshots taken by myself or @mrsbozz unless otherwise sourced
---
---