Bozz Family Leauge Fantasy Football, week 1 is in the books!

---
Well, if you have been following my fantasy career for any amount of time, you likely won't be very surprised by the outcome of week 1. I had a feeling it was going to be a rough road as soon as I saw that my starting quarterback was Tom Brady. On top of that, we have more teams in our league this year, so that means the talent needs to be spread across more people.
I have a feeling it is going to be the people who take a gamble on those up and coming rookies that are going to have the best shot at winning this year. It just seems reasonable that one break out player from your team could have a huge impact on your overall score.
The question is, can they do that week in and week out to give you some consistency?
Only time will tell....

---
As you can see, I didn't just lose, I got beaten down into a bloody pulp. My opponent put up a score 1.5x better than mine. It was a pitiful showing and I hope it isn't an indication of what may come.
I had to make some tough decisions this week based on some injuries within my team. I think one of them paid off, but the other one didn't so much.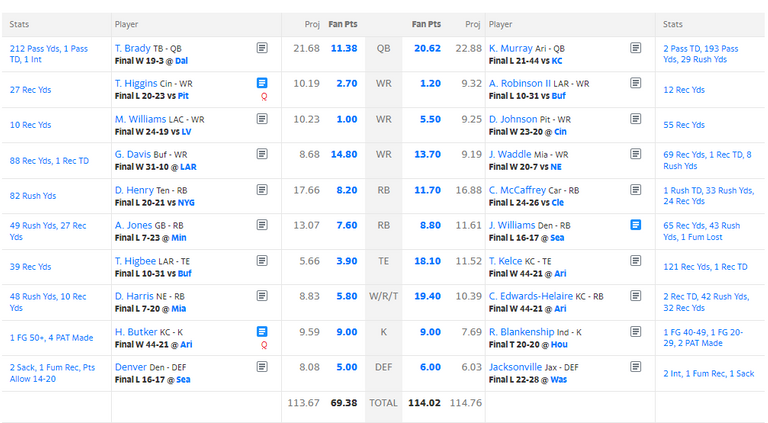 ---
Like I said, Brady was a massive disappointment. I am actually pretty close to dropping him from my team, but I have a feeling people will think I am crazy for doing that. Plus, there isn't much talent left out there to pick up in place of him.
I know it is horrible, but I almost wish he would get injured so the decision would be made for me and I don't have to struggle with it myself. If he keeps putting up numbers like this, I don't see how I can keep starting him.
Higgins was on pace to have a pretty decent game for me and then of course he ended up getting a concussion and had to be pulled from the game. That seems to be the way it goes for me. That precaution ended up giving me a whopping 2.70 points from him. I do hope he recovers okay. Concussions are no joke.
That 1.00 point from Williams is a kick in the nut(s) as well. Wide receivers are supposed to be the bread and butter of your lineup right next to the running backs. Putting up numbers like this does not put you on my favorites list. I don't know if this was just a fluke or Williams needs to end up on the cutting room floor.
Higbee was the gamble I took since I didn't know if my other tight end was going to be healthy enough to play. Since Higbee played on Thursday and Ertz didn't play until Sunday, I went out on a limb with Higbee. As you will see when I show my bench players, it didn't pay off for me.
The rest of my team was just pretty much meh. I'd like to see my wide receivers and running backs putting up 15 to 20 points each week at a minimum. They have a long way to go to hit those numbers.
The rest of my players I am happy if they get ten points consistently. Except the quarterback of course, they should be hitting 20 points each week without fail.

---
As you can see from my bench, I might have had a little bit of a chance if I had played things differently That's 53 points just sitting there waiting to be taken and I left them. Probably the biggest position to keep an eye on is the Miami defense. If they keep putting up 18 points per week, I am going to need to seriously consider starting them.
I really need to do some research and figure out if there are some changes that need to be made.
With the change in our league rules this year, I am not too worried about losing. It should be less of a hit to my wallet knowing that having to buy someone a fifth of liquor is off the table.
I actually am kind of hoping that one of the kids wins this year. It would be really cool to see them run away with the championship and get that $55 to $110 in gift cards from the other losers in the league.
What would you do? Drop Brady? Give him another chance or two? My back up quarterback Jones didn't have much better of a game. In fact, it was his poor performance against Miami that boosted their defensive score so high.
I don't know, it just seems like I always get the short end of the stick no matter what!
---
---

---
All pictures/screenshots taken by myself or @mrsbozz unless otherwise sourced
---
---