Bozzy Family Fantasy Football Week 11: Destroyed

---
It would seem that my miraculous run has come to an end. I was doing pretty well this season despite the odds, but this loss paired with a loss last week against my wife has pushed me down into 6th place in the league. I feel like my teams is kind of falling apart and it might be too late in the season to do anything about it. The good news is, my wife won her game, so she is squarely sitting in the place that I used to hold right now.
I might still have a chance to make it to the playoffs, but it is going to take some strategic moves on my part as well as a lot of luck to make it there.
Although I am the commissioner for our league, I honestly don't know if it is four teams or six that make it to the playoffs. Back when we only had 8 teams in the league it was pretty easy to figure out. Now with 12 teams, I am not exactly sure what is going to happen.

---
As you can see, it wasn't even close. It feels like there have been a lot of low scoring games this season in the NFL. Those low scoring games equate to low scores from your fantasy players. Clearly that wasn't the case for my brother in law. He absolutely destroyed me. No doubt about it.
Oddly enough, many of the points didn't come from where you would normally expect. We will get to that in a second. Sure, my players numbers were nothing to write home about, but I also feel like I ran into a bit of bad luck that caused the loss this past week to happen.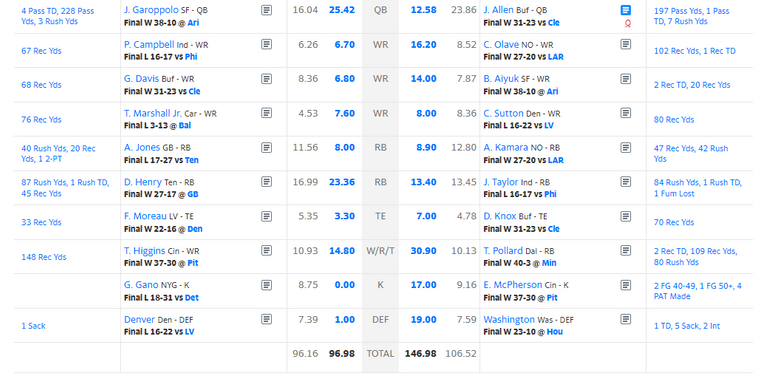 ---
Let's start at the bottom and take a look at our kickers and defense. Denver got me 1 point, whereas Washington got him 19 points. At the beginning of the season Washington was one of the laughing stocks of the league. Now here they are doing nothing but winning. Who knew.
Then we have our kickers. Zero points from mine, 17 from his. That definitely isn't a good way to start the competition. I was dumbfounded as Gano missed kick after kick in the game against Detroit. I mean it's Detroit after all. Worst defense in the league. Sure, they had won two in a row, but they were still going to allow points right?
Ugh!
After that, it's just a hot mess of wide receivers, tight ends, and running backs putting out lackluster performances. As you sill see in a little bit, even my bench couldn't save me from this beat down. As you can see, my brother in laws QB didn't do him any favors this past week. It was those last three slots in his roster that really did the damage to me.
Those three spots put up nearly as many points as my whole team.

---
I definitely made the right call picking up Garoppolo and not playing Mariota this past weekend. As much as I hate Brady, I will likely drop both Mariota and Garoppolo when I look at my roster later today. They are just taking up space that I don't need. I take that back, Brady could get hurt or decide to retire again at any moment, so I might hold on to Garoppolo just in case. Mariota is getting kicked to the curb.
Beyond that, I am going to need to do some deep research into past game performance to see who I am going to hold onto. This is the time of year that you really need to cut the fat and only keep the players who are going to help you in the post season.
It's actually this time of year that you don't necessarily want the teams or players who have been doing well all season. If they know they are already in the playoffs, they have a tendency to coast through the rest of the season. That isn't good as far as fantasy numbers are concerned.
You want those teams who are still in the fight for a spot. They are going to be playing 110% and putting up amazing numbers. Those are the players I want to have on my team. Players who are hungry. Players who have something to play for.
---
---

---
All pictures/screenshots taken by myself or @mrsbozz unless otherwise sourced
---
---