Football Wrap-up 12/22/2021: A long weekend

---
This post is a little later than usual this week. You can thank the fact that the NFL had games going into Tuesday night for that. It threw me a little bit when I was looking at my fantasy football roster, but you can see how that turned out for me in the post I just wrote with my @bozz account.
Let's get the really exciting stuff out of the way first.
How about those Lions? Eh?
Just when I was ready to give up on them again, they come out and do something that was nothing short of miraculous on Sunday. Given the fact that Arizona only had two or three losses on the season, I expected it to be an absolute bloodbath. The Lions have faced much worse teams through the season and been absolutely destroyed, so it seemed a foregone conclusion that they would lose this weekend.
But they didn't!
They just kept pulling off play after play after play. I think there were some questionable calls. I won't deny that. I don't think there were more bad calls then the Lions have suffered at the hands of in their past five to ten seasons. No where near it.
They were just doing pretty much everything right on Sunday. It was a joy to finally see that happening. I honestly think we have Covid to thank for it if you can believe that.
It was almost like a scene out of the movie The Replacements if you have ever seen that. With like a high percentage of their team on the bench due to Covid, they had to go to the practice squad and backup players who have seen little to no playing time all season.
Boy did they shine! They were absolute magic. That replacement running back (I can't remember his name) deserves a permenant spot on the roster I think. He isn't going to replace Swift, but until Swift gets healthy, he is a great tool to have on hand.
Goff looked not horrible, but I still don't think he isn't the answer for us at QB. He is off due to Covid now, so I am guessing Boyle is going to be throw to the wolves next weekend.
I also find it impressive that it wasn't even a close game. I wouldn't call it a blowout, but man, there was little doubt who was going to win the game. Even as the final minutes were ticking down.
I kept expecting that epic collapse of the Lions and comeback by the Cardinals, but it just never happened. Sorry @bigtom13.
---
The Rams also had a win last night which should again put them in pretty good position to at least be eligible for a wild card slot. I hope so anyway. It was touch and go for a while at first. I think at halftime the score was only 3 to 3, so I wasn't sure how that was going to shake out. Since my wife has Stafford as the QB on her fantasy team I was hoping for some more points. They eventually put up 20 and it worked out for my wife, so I am happy for that.
Well done Rams, keep it up!
---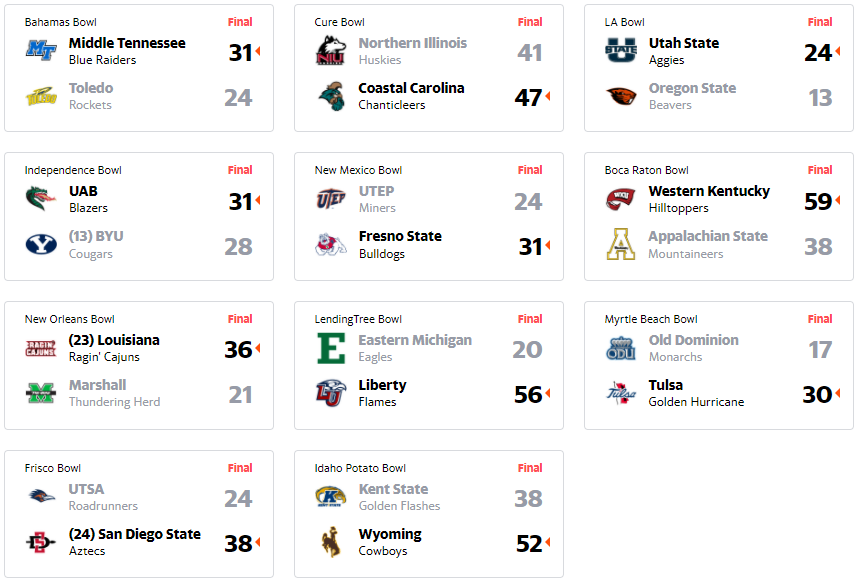 ---
Finally, we have the college bowl games that have been happening over the past week. Probably the biggest shocker there is UAB beating #13 BYU in the Independence Bowl. I'm curious what happened there. I didn't watch the game. Did BYU have players sit out the bowl or was it just a lackluster showing by them? Did UAB have one of those once in a lifetime games? Perhaps @enforcer48 can fill me in.
We still have another couple days or so before we really get into the good bowl games. Like the power teams that you have come to know and love watching each Saturday. In fact, in the past week of bowl games there were only three ranked teams on the field with BYU being the highest at #13.
Northern Illinois and Costal Carolina looks like it was a pretty exciting game in the Cure Bowl. Other than that, most of the other games were pretty much blow outs.
If I had to pick one game in the next three days that I think will be exciting to watch, I would probably have to pick the Gasparilla Bowl with UCF against Florida. Don't let the records fool you, I think this will be a good game.
As I said, things really pick up on the 28th and at that point it is going to be a crap shoot to decide which bowl game to watch.
Best of luck to Western Michigan on 12/27 in the Quick Lane Bowl.
---
---

---
---
---