I lied...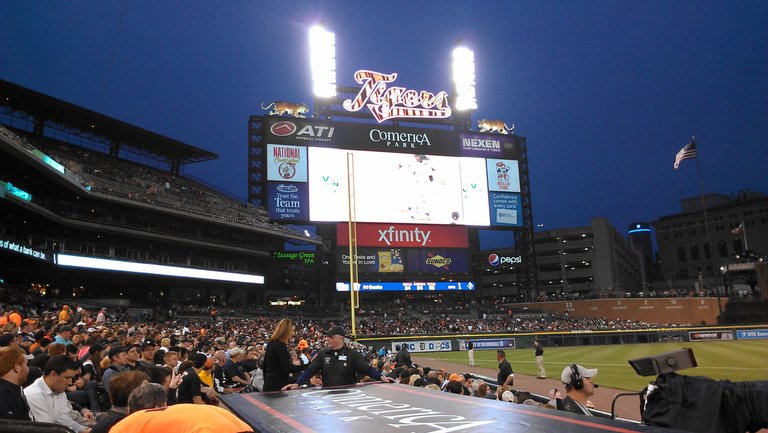 ---
I know, I know. I said I was going to do a better job of following the Detroit Tigers this year and yet here we are about two months in to the season and I haven't really talked about them too much. I apologize. I can't promise I won't do it again though.
Once Summer Softball season kicks into gear you know I am going to be talking about that and once I get going who knows when I will stop. Perhaps you could say it's for your sake that I haven't been talking about the Tigers as much. I don't want to bore you with hours of endless babbling.
Detroit has a day game today against Pittsburgh. I have to say, yesterday might have been a nice day for a day game, but today not so much. The sun is out, but we saw a 20 degree drop in temperature between yesterday and today.
It got so cold most of the state was under some kind of freeze advisory last night. Good thing I don't have my garden in yet! Anyway, the wind has shifted and it is quite chilly out. Which isn't the kind of weather I would want to be sitting in a ballpark.
The bats might be a little stiff for both teams today.
This could be a good game. The Tigers have risen in the standings to sit just below Minnesota in the AL Central. Sure, they are five games behind the Twins and they are tied with Cleveland with 19 wins, but second place is second place right?
Actually, with only 21 losses, the Tigers are only two wins away from being even on the season. That would be a really nice thing to see.
I feel like the early season has been a bit of a struggle for them. They had some early life in Spring training, but that often fades away as the regular season starts. As things warm up, I think things could turn around for the Tigers.
I hope so anyway.
Detroit has Rodriguez on the mound with a 1.57 ERA. He is facing off against Hill who has a 4.35 ERA. That is a good sign for the Tigers and it could be a good day for them if they are able to fight off the cold.
Honestly, Detroit is two hours south of here, so it could be warm down there, but I kind of doubt it. The air from Canada has been moving in and along with it the haze from the forest fires they are fighting up there.
The Tigers are off tomorrow and then they go on the road to face the Washington Nationals this weekend.
It looks like the Nationals are struggling a bit in the early season and this could be a great chance for the Tigers to pick up some games.
Fingers crossed anyway!
---
---

---
All pictures/screenshots taken by myself or @mrsbozz unless otherwise sourced
---
---