Living my best life...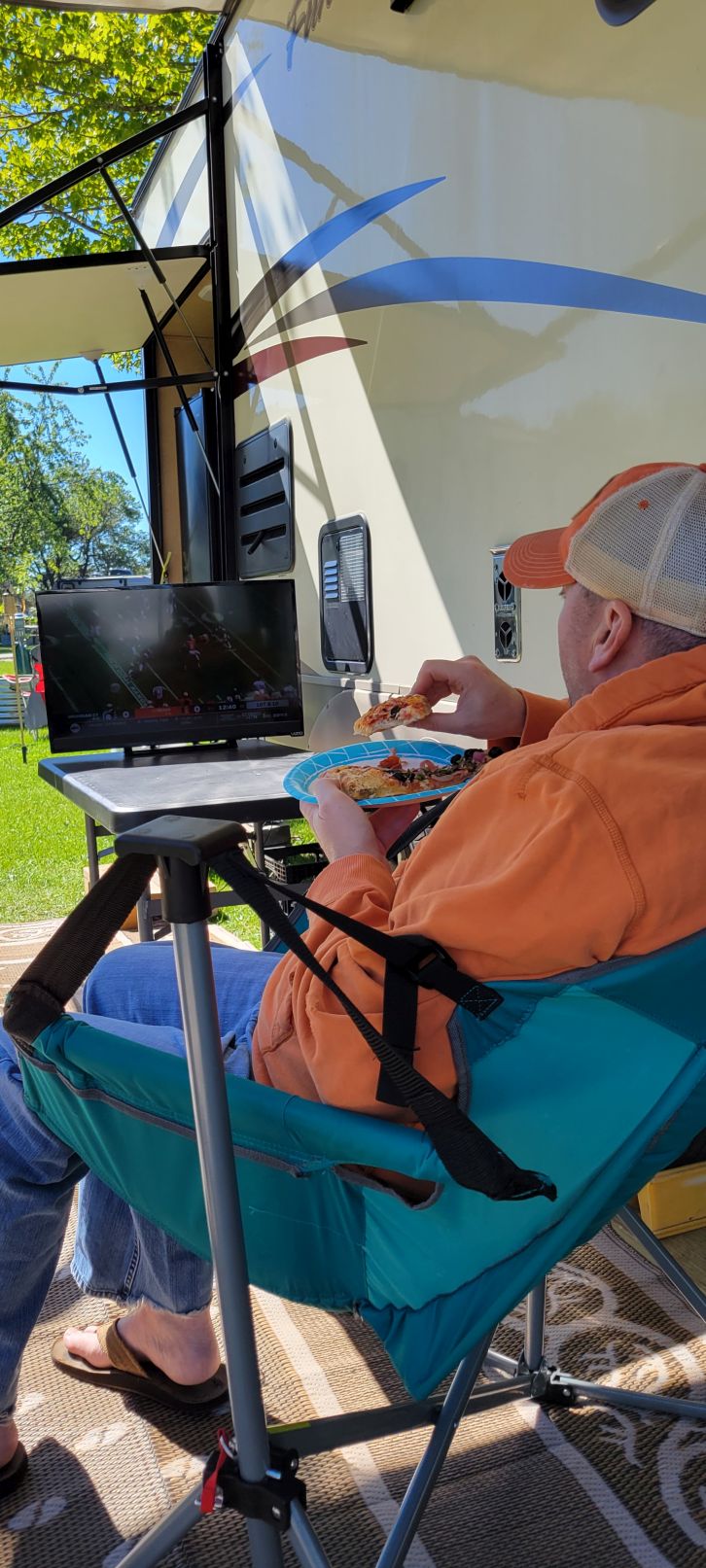 ---
That's the caption my wife used for this picture when she posted it to Facebook.
It is no secret that I am a Michigan State Spartans fan. Since they are 3 and 0 on the season so far, it is no surprise that I would find a way to watch them no matter where I was.
Even camping.
Thank goodness for a wireless hotspot and YouTubeTV. I was able to connect our Roku to our friends TV and enjoy some left over pizza while I watched them march to an impressive victory over Miami.
It is actually a little bit of a funny story... I thought they were playing Miami of Ohio, so I thought this was going to be one of those early season cupcake games that you often seen Division I teams play. They basically pay a smaller school a ton of money for the opporutnity to trounce them and give their players some reps before the regular season starts.
Well, imagine my surprise when I discovered that it was actually Miami (FL) that they were playing. Miami (FL) that was ranked something like 24 in the nation whereas MSU was unranked as of that game.
In what many thought was/is going to be a building year for the Spartans, they were playing pretty lights out agaist the Hurricanes. Sure, there are some things they need to work on, and Miami might have made some mistakes, but a 38 to 17 victory for the Spartans is nothign to scoff at.
In fact, it was a victory that catapulted them out of the top 25 into 20th place. I will take that! With big victories over Northwestern and now Miami, MSU is starting to look like more of a force to be reckoned with in the Big 10 this year. I just hope they can carry this momentum forward into conference play!
Thorne seems to be settling into the QB position much better than Lombardi did. On top of that, they had some players transfer in which has really made a difference with their game. Most notably, Kenneth Walker III who transfered from Wake Forest and was able to favorably position them for many of their scoring drives.
The defense was looking tight as well snagging two interceptions and two fumble recoveries. On the flip side, Throne had zero interceptions and the Spartans didn't fumble the ball once. Those are some refreshing stats given the past two years!
---
There isn't much to say on the pro side of things... The Lions sucked as usual. I only watched a portion of the game last night, but I wasn't surprised to wake up this morning and see that they lost 35 to 17 against the Green Bay Packers. The funny thing is, there are probably the same number if not more Packers fans in the state of Michigan, so at the end of the day, is it really a loss?
Meanwhile Stafford started to show come of the knicks in his amror as the Rams took on the Colts in Indianapolis. I did watch a fair portion of that game and Stafford had to work for it for sure. The Rams got the win, but just barely..
---
---

---
All pictures taken by myself or @mrsbozz
---
---