NCAA Men's Basketball Re-Cap 3/15/2022: Let's Dance!


---
Talk about an exciting weekend of basketball. The conference touranments culmianated on Sunday and I have to say they absolutely did not dissapoint. If this is any indication of what we have in store for the NCAA tournament then March truly is going to be madness!
I'm not really sure how the name came to be, I could probably Google it if I was feeling ambitious, but the NCAA Men's Basketball Tournament is also loving referred to as "The Big Dance".
Cue up the music because the first round play-in games start tonight.
I was really impressed by Indiana this past weekend and how far they were able to make it in the tournament. They almost made it to the finale which is pretty awesome if you ask me. I am happy to see that they made it into the field even if it is a play in game. I wouldn't cout them out just yet. They are getting hot right when it counts and they could end up spoiling some brackets.
Speaking of brackets: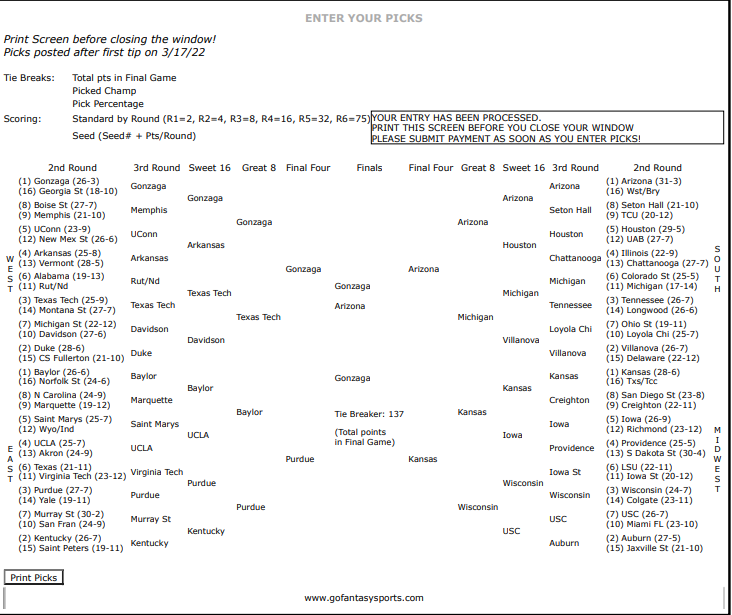 ---
I filled out two brackets this year. This is the one that I am comforatble sharing with the world. The other one is the first one I filled out this year and I realized after I created it that I should have done some things differently. Call the one in the image above @bozz's bracket version 2.0.
It is a little different format than you may be used to. That is because most people print their bracket off one of the major sites like CBS Sports, Yahoo, etc. This is from a website created by a guy that I was put in touch with several years ago. He has everything automated and all you need to do is click in the website and then send him your money. Unfortunately, he has stated this will be the last year he is going to run the brackets.
Next year I will need to go back to the old fashioned way.
Being the Michigan State fan that I am, you might be shocked that I don't have them going further in the tournament. Well, personal feelings aside, I know how they have performed the past couple of years in the tournament. Plus seeing how inconsistent they have been this season. I don't have a lot of hope. If they want to surprise me and bust my bracket, I am not going to complain.
In case you wondered, in my other bracket I do have them going further.
You probably won't be shocked to hear this, but I think it is an absolute joke that U of M even made it to the tournament. They had a horrible record and they got knocked out in the first round of the conference tournament. Sure, Michigan State had a similar conference record, but we at least made it to the later rounds.
Many people will point to strength of schedule. I kept hearing over and over about how Michigan played the fifth hardest schedule in the country. I don't necessarily believe that and I think their performance in that schedule speaks for itself. This on top of being stuck in a traffic accident this past weekend brings my loathing for Ann Arbor to a whole new level.
That being said, They were getting hot right when it mattered and I think the loss to Indiana in the Big 10 tournament was just a speed bump. As you can see I have them making it to the Elite 8 but eventually getting klocked out by Arizona.
I honestly wouldn't be sad if they lost sooner than that, but I am trying to be real. Their coach is a childish thug, but they do have some talent on their team. We will see what happens.
If you want to know what to watch this week. I think some of these 7/10 matchups in the second around are going to be really exciting. I'd also keep an eye on a couple of the 6/11 games. That Rutgers/Notre Dame play-in game could set the stage for an upset of Alabama. I am also going to bet that the Virgina Tech/Texas game is going to be fun to watch.
The 8/9 matchups are generally flip flops, so don't be shocked if those end up going either way. Beyond that, everything else should happen as expected or there will be some pretty epic bracket busting cinderella stories.
As you can see, I have Gonzaga going all the way this year. It is the same with my other bracket. It might have been a different road for them to get there, but I have them on top in either case.
We will see if that plays out the way I expect.
Who are you cheering for this year? Did you do a bracket? Let me know in the comments!
---
---

---
All pictures/screenshots taken by myself or @mrsbozz unless otherwise sourced
---
---