NCAA Men's Tournament 2022: From 64 down to 4

---
Holy cow, what a whirlwind this has been. I have been out of town so getting the time to write about everything that has happened in the mens tournament has been a struggle. The post that published last Saturday I actually wrote on Thurdsay before all of the Sweet 16 games had been played.
Here I am in the middle of the next week finally getting caught up with all the action from the past weekend. Just in time for the final four games this coming weekend. It's been a blur, let me tell you.
Friday night my wife and I tried to catch a couple of the games before we headed to bed to start our drive down to Nashville, TN on Saturday morning.
If you will recall from my last post, I said that St. Peter's might hand Purdue an upset. Sure enough that happened to be the case. I had a small bit of money on that game and the upset win by 15 seed St. Peter's put me in pretty good standing for the rest of my weekend bets. That and a couple of nice parlay's.
The Kansas and Providence game was pretty good, but Kansas came out on top. They are looking like a really solid team this year. 8 Seed North Carolina stunned the UCLA Bruins and just like that the PAC 12 is out of the mix.
I didn't really watch the Miami/Iowa state game. I think I was sleeping by that time!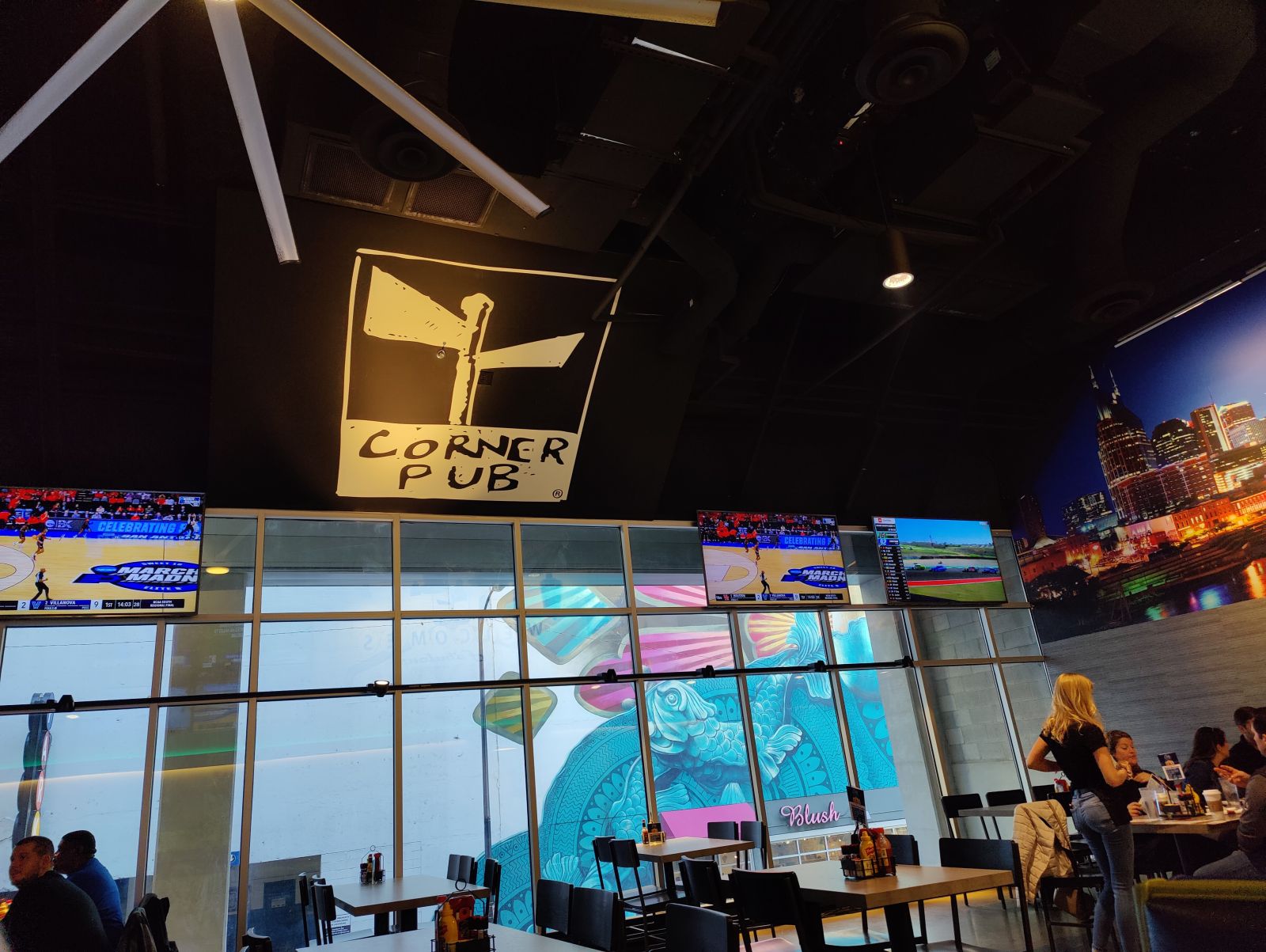 ---
@mrsbozz and I pulled into Nashville and got checked into our hotel just in time to head down to a local sports bar and catch the first batch of Elite 8 games.
As you can see in the photo above, we picked a place called the Corner Pub. It is a pretty large bar square footage wise and they had a great selection of beverages and food. They also had plenty of TV's to take in all of the sports action.
I was really hoping Houston could have a better showing. There was a gentleman at the table next to us that felt the same way. Pretty much every other word out of his mouth was a profanity as the Cougars continued to fall short time and again.
Now, I am not a stranger to colorful language, but he was so loud it overtook the bar. Our guess was that he had quite a bit of money on the game and their loss was going to put him in a bad place. Who knows...
After Houston finished up their season with the loss to Villanova, we headed back to our hotel bar and we watched Duke beat Arkansas. I really thought the Razorback had a shot at wining this game. Especially given the peromance of Duke in the earlier rounds, but the team you love to hate came up with another miracle on the Coach K farewell tour.
Sunday we found another bar just off Broadway in Downtown Nashville, and we spent part of our evening catching the final two games of the Elite 8.
The first game was St. Peter's versus North Carolina. Sadly, the cinderella run for the the 15 seed came to an end. They seemed to run out of steam as North Carolina pretty much rolled over them. It was a sad end to what had been a really awesome showing in the tournament. Peronsally, what I find even more sad is the fact that we now have to see another NC/Duke game on Saturday.
Do we really need another Duke/NC game on our TV's? I think not.
Yet that is the way it played out. In two days Duke and North Carolina will go head to head to determine which team goes on to face either Kansas or Villanova in the finals. I can't say as though anyone saw this coming. There were a lot of really great teams in the tournament this year and they just couldn't convert.
I know it is a bit cliche since they are the only #1 seed left in the tournament, but at this point I am probably cheering for Kansas. Solely for the fact that I have a bet on an SEC team to win the tournament. Don't get me wrong though, I'd love to see Villanova make it to the end and come out on top.
That would just cement my statements through this season about how good the Big East is.
Who is your money on this weekend?
---
---

---
All pictures/screenshots taken by myself or @mrsbozz unless otherwise sourced
---
---