NCAA Men's Basketball Tournament Recap: March is for upsets!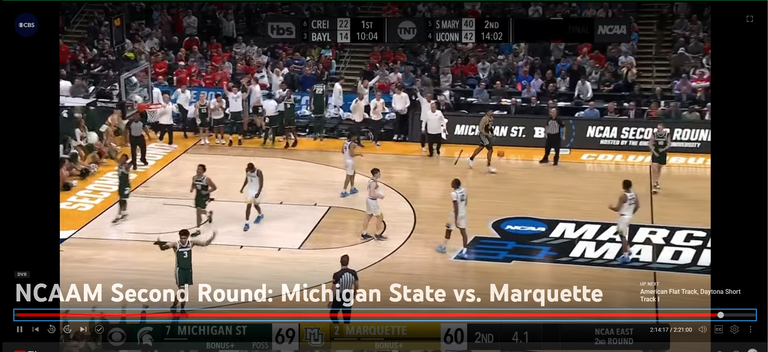 ---
To say this past weekend of men's college basketball was anything less than epic would be the understatement of the century. It was absolutely off the chain insane. Also, if you had told me that by Monday morning Michigan State would be the only Big 10 team left in the tournament, I probably would have called you a liar. Using a fair amount of colorful language at that.
Yet here we are.
Let's take a step back and see how we got here...
It's important to remember that the action all started on Thursday. If you want a recap of those games, you can read my blog post here.
We had already seen a couple of big upsets on Thursday, so it was anyone's guess what Friday was going to bring. Here's a hint, it was an absolute shocker.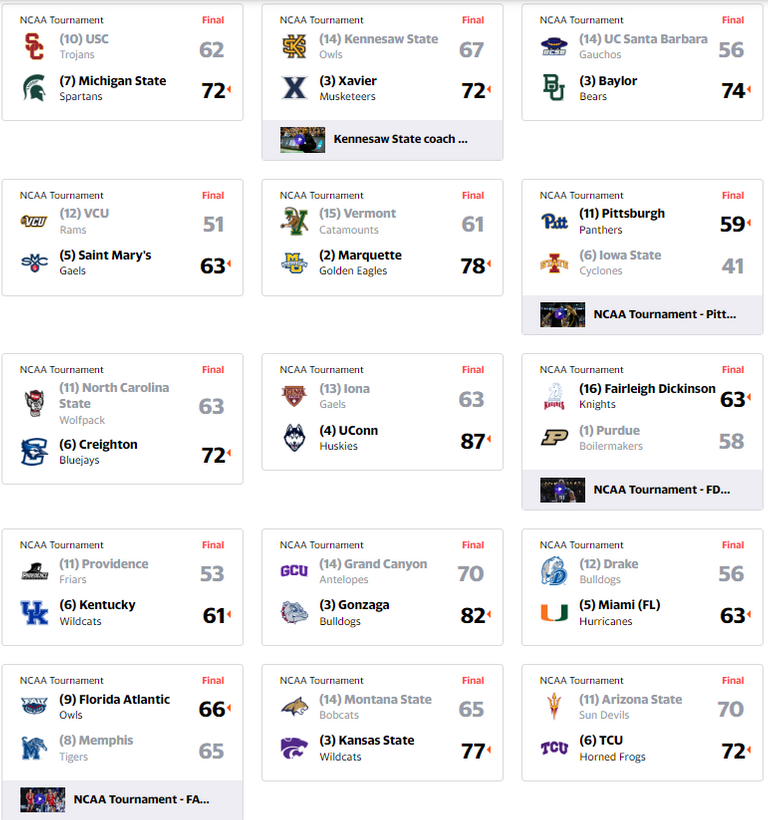 ---
The day started with my Michigan State Spartans taking on 10 seed USC. I haven't seen USC play at all this past year, but I have seen MSU play. As usual, they can be really amazing or they can be really horrible. Worst of all, they have tendency to start strong and then fizzle out as the game progresses.
Thankfully, that wasn't the case here. They were able to hold on and get a 10 point victory over USC. Then thing started to get crazy. 14 seed Kennesaw State nearly beat 3 seed Xavier.
As you can see, Baylor had little trouble handling UC Santa Barbara, and St. Mary's easily handled VCU. Things were actually cruising along pretty good until 11 seed Pitt stunned 6 seed Iowa State with an upset victory.
Then it happened. For just the second time in tournament history, a 16 seed beat a 1 seed. I'm actually not super shocked on this one. The victory by 16 seed FDU over 1 seed Purdue might have busted a lot of brackets, but having followed Purdue most of the season, mine was relatively intact.
I did have Purdue advancing further than the first round, and yes Eddy is a good player, but when you center your whole team around a single player, you are just setting yourself up for trouble. It had been proven several times in the season that Purdue wasn't unbeatable.
FDU just put the nail in the coffin.
The two other close games on Friday night were Florida Atlantic/Memphis and Arizona State/TCU. It's actually a bit sad that ASU couldn't hold on for the victory after being one of the play in teams, but it sounds like they have some housekeeping that needs to be done and it might be good for them to focus on that.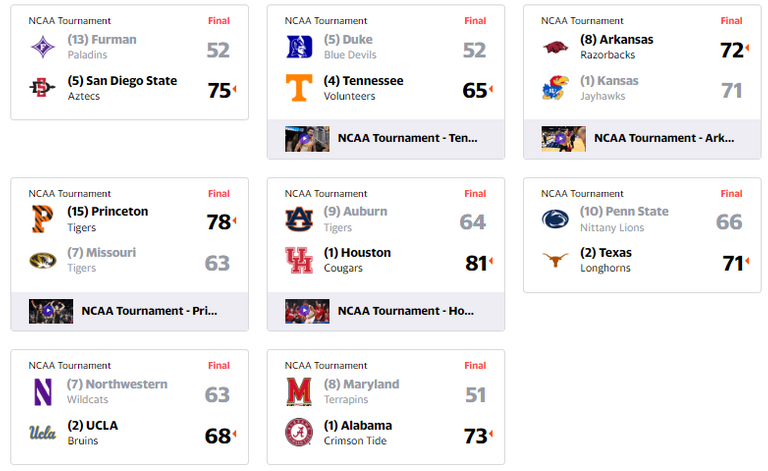 ---
The madness continued on Saturday when the second round games started. Although Furman had that great win over Virginia, on Thursday, they couldn't hang against San Diego State and fell way short.
The Duke/Tennessee game was actually one of the best games I watched this weekend. It was really close for most of the game despite what the final score says. Then Arkansas stunned the world and reminded all of us why this time of year is so special by taking down 1 seed Kansas.
That busted one of my brackets. It damaged the other one pretty severely. I had Kansas going to the final four on both of my brackets. I should also point out the Princeton victory over Missouri. Way to go Tigers!
I was sad to see Penn State out, but Texas is the winner of my other bracket, so I really couldn't feel too bad. I also had a little more hope for Northwestern, but I think this just continues to prove how biased I am for the Big 10.
Finally, that team we love to hate Alabama rolled over Maryland.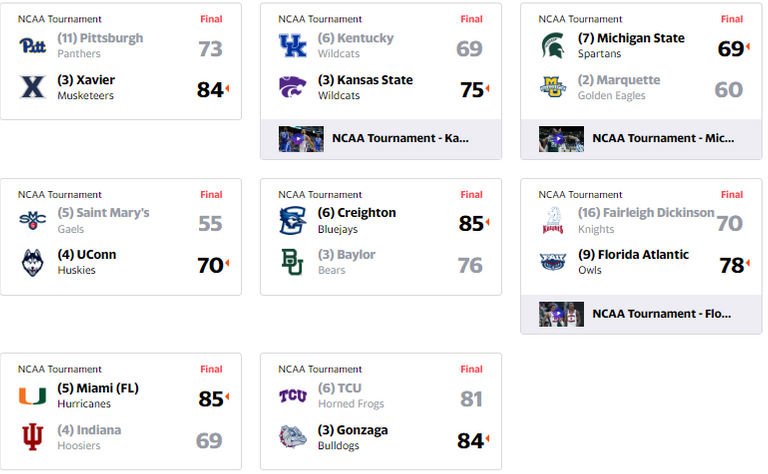 ---
With half of the Sweet 16 set, Sunday showed us who was going to fill in the other half. Xavier proved that near loss to Kennesaw State may have been a fluke and easily beat Pitt. Kentucky had a heart breaking loss to Kansas State. That was probably one of the other best games I watched this weekend.
I'm happy to point out that Michigan State beat Marquette in what most people seemed to think was going to be a Marquette route. They had me worried at the end, but they pulled away and punched their ticket to the Sweet 16. Sparty On!
Finally, in the night games, UConn rolled over Saint Mary's, Creighton stunned Baylor, and FDU made it a good game against Florida Atlantic.
Miami knocked the only remaining Big 10 team besides MSU out of the tournament by beating Indiana, and Gonzaga had a close call just edging out TCU.
Now we have to wait a long four days before the first four games of the Sweet 16 are played on Thursday. I'm looking forward to seeing how Michigan State can do against Kansas State. Arkansas will take on UConn, Florida Atlantic has to battle Tennessee, and Gonzaga will face off against UCLA in a West Coast showdown.
I can't wait!
---
---

---
All pictures/screenshots taken by myself or @mrsbozz unless otherwise sourced
---
---