NCAA Top 25 Men's Basketball Recap: Tournament Time!

---
Tournament time has started and this is the time of year that it becomes harder for me to write these posts. Things happen really fast in the next week and I might miss something here or there. I apologize for that in advance. In addition to that, there will likely be some big games over the next three days and the past two that fall through the cracks. That's just the way it is during the conference tournaments.
Just for a second, I want to backtrack and talk one more time about my nieces basketball season. If you read my post on Monday, you saw that they lost their game to a pretty big rival. I mentioned that the parents of the opposing team were being pretty disrespectful during the game. I may have also mentioned that they were making up lies and fabrications after the game that cast a not so great light on my nieces team and their fan-base.
I am including Tweet that my nieces coach posted after all was said and done. I know it looks long, but it is definitely worth the read. I am going to include a link to the Tweet. Can my HIVE community do me a favor and like/retweet this on a global scale? That would be much appreciated.
https://twitter.com/LadyRocksHoops/status/1500885573866823691?s=20&t=0vHu8PrPMm_VR-6UXL12dQ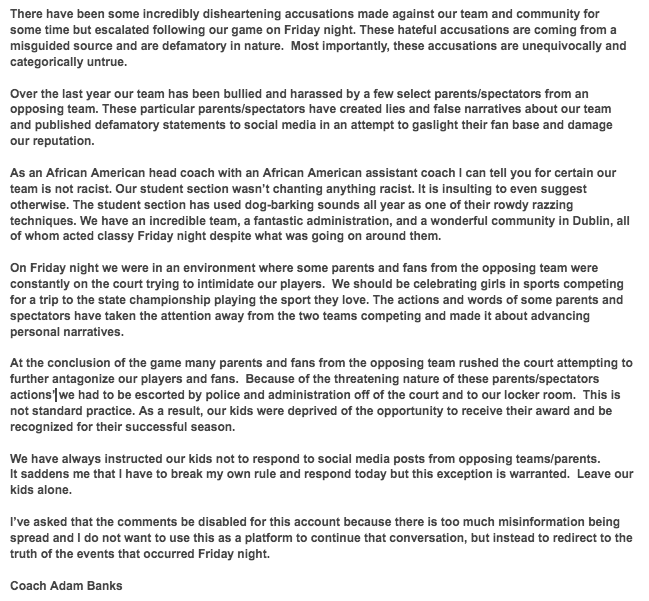 Feel free to share your thoughts on this with me in the comments.
Okay, let's get to the action this week.
As I mentioned earlier in the week, conference tournament play started this week. There weren't any real upsets in the top 25 on Monday. In fact, there were only two teams playing in their conference tournaments on Monday. Gonzaga who won their game (surprise, surprise), and I believe Saint Mary's who also won theirs leading them to a Tuesday game against Gonzaga.
As you might imagine, Gonzaga won that game on Tuedsay.
No top 25 games were played on Wednesday, but this is the day that the majority of conference tournaments started. That means you had the unranked teams jockying against each other to see if they can change their stars by going deep in the conference tournament.
Thursay is when things really started to pick up. While some of the top 25 teams have bye's in their tournaments, many of the other teams were starting their second round games.
It wasn't an upset, but the Butler/Providence game was really good. It was a close contest and just furthers my opinion that the Big East is going to give us some nice surprises come the NCAA tournament.
Seeded 7 in their conference tournament, Oklahoma beat #2 seed Baylor to knock them out of the conference tournament. Given their overall ranking, they will still be in the national tournament, but this gives another team a great opportunity to get a bid in the SEC.
For the most part, the higher seeded team beat the lower seeded one in most conference tournaments. At least as far as the top 25 nationally ranked teams are concerned.
---
As I mentioned, things are going to get a little sticky from here on out. You are likely familiar with me talking about teams in terms of their national rankings. Those are kind of out the window now and new seed rankings have been given for the conference touranments. Likewise Sunday night when the committee makes their selections, even new seed numbers will be attributed to each team. Those are the numbers I will be using going forward with my posts on Monday.
Two non top 25 games that I want to note from last night. U of M, fell to Indiana after throwing away a huge lead in the game. As an MSU fan, this couldn't make me happier. With Michigan out of the Big 10 tournament, that reduces their shot at making it to the national touranment.
However, I am also a realist, and I know that it doesn't always work that way. Money talks in the NCAA just like anywhere else and there is a good chance that the committee will see those dollar signs and advance Michigan to the tournament anyway.
More than that, they will likely seed them higher than Michgan State even though MSU won their game yesterday against Maryland and they finished the regular season ranked higher than U of M.
I guess we will find out on Sunday right?
Seventeen top 25 games on the dockett for tonight. I will be watching the Michigan State/Wisconsin game for sure. That one could have some really big implications. Wisconsin was the regular season champion for the Big 10, so a win over them by Michigan State will only bolster their chances of making it to the big dance and getting a decent seed.
Monday is going to be a flurry of activity for this post. I likely will not be able to cover all of the conference tournament happenings because I will be busy talking about the seedings for the national tournament. I will hoepfully have my bracket ready to share with you as well.
---
---

---
All pictures/screenshots taken by myself or @mrsbozz unless otherwise sourced
---
---