NCAA Top 25 Men's Basketball Recap: Aussie Rules?

---
This is another one of those Monday mornings where I have so much to write about sports-wise that it is hard to stick to my usual schedule of not covering football until Tuesday. I'm going to muster up all the will power I have and stick to the plan.
The fact is, I have some pretty awesome basketball news to cover as well.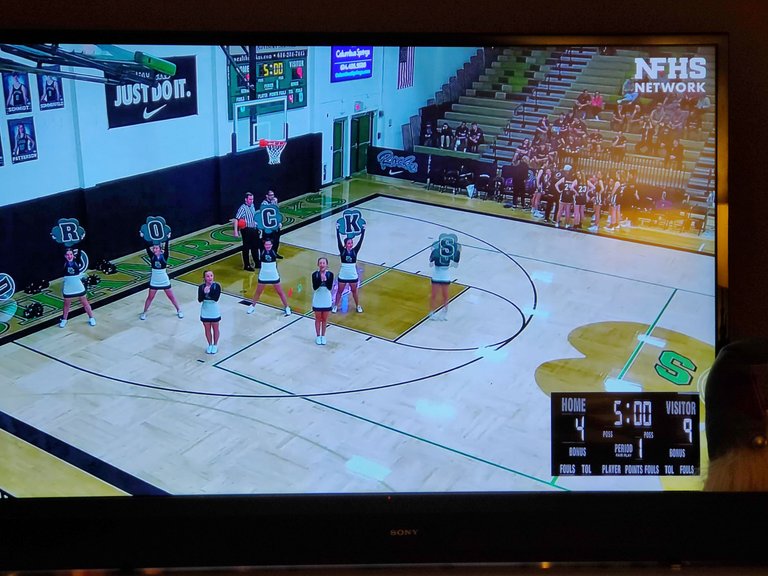 ---
Time with family over the holiday weekend was very short-lived. Everyone has other obligations and things they need to get back to. For example, my niece needed to get back down to Ohio so she could make basketball practice. They had a big game coming up this past weekend and they wanted to be ready for it.
Her high school varsity team was playing against a national team from Australia that was doing a tour of the US. We were able to stream the game from our home in Michigan and catch all the action.
It was a close contest at first, but as the game progressed, they started to pull away from the Australian team and they eventually beat them by a pretty hefty margin. I want to say 30 to 40 points. It was kind of a bloodbath honestly.
It was really cool that my niece got this experience though and I am really proud of her.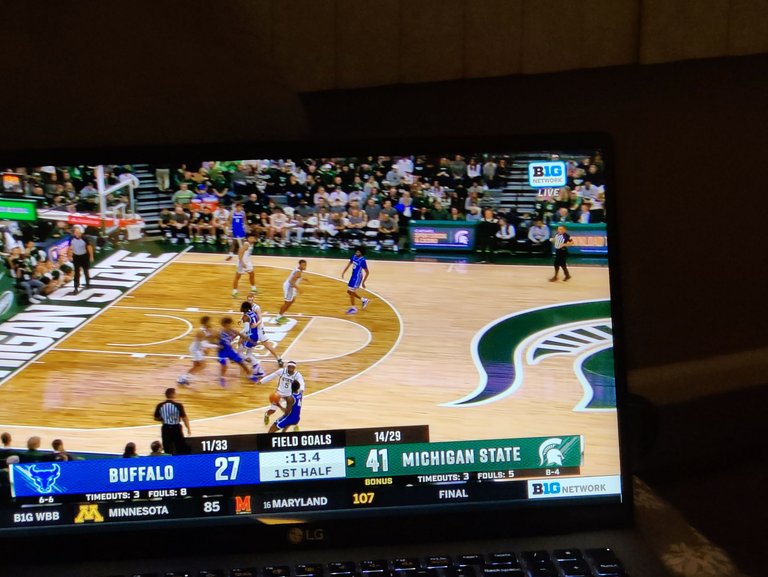 ---
While that game was happening, I was also watching the Michigan State game via the YouTube TV app on my laptop. It was good to see Michigan State playing so well even though it was pretty a cupcake game. Michigan State did have one of their key players back, so that is always a welcome boost.
Fun fact, I noticed at the bottom of the screen here that the #16 Maryland women's basketball team beat Minnesota 107 to 85 on this night. Just remember that, it will be more important later on.
Friday night there were four top 25 games to watch. Probably the biggest game and the biggest upset of the night was Pittsburgh beating #25 North Carolina 76 to 74. That's a pretty big fall for a Tarheels team that is usually closer to the top 25 not the bottom.
I should also note that #11 UCLA narrowly defeated Washington State 67 to 66.
Saturday gave us 13 top 25 games and there was a lot of excitement. If you were able to pull yourself away from the college football bowl playoff games, you likely got to catch one of these great games. I got to watch some of them myself.
It's pretty safe to say Saturday was a good day for TCU. Their football team won (more on that tomorrow), plus, their #18 basketball team won against Texas Tech 67 to 61.
The biggest upset of the day would come at the hands of #22 Xavier beating #2 UConn in commanding fashion 83 to 73.
Iowa State also beat #12 Baylor for a big upset on Saturday.
#10 Gonzaga continues to put up some insane scores in their pre-conference games. They beat Pepperdine 111 to 88.
I got the chance to watch the #4 Kansas game versus Oklahoma State. It was a fantastic game and the Cowboys game the JayHawks a run for their money. They were actually up by something like 15 points after halftime. Kansas pulled out the win though 69 to 67.
Meanwhile Kansas State beat #24 West Virginia in overtime 82 to 76.
Also, it should be pointed out that #6 Texas narrowly beat Oklahoma 70 to 69.
Finally, there was only one top 25 game on Sunday, but it was not an upset. #11 UCLA easily beat Washington.
This isn't top 25 news, but Michigan rebounded from their embarrassing loss to Central Michigan by totally dominating the Maryland men's team last night. Maryland were only able to put up 13 points in the first half and ended up losing the game by close to forty points.
Talk about painful!
With college bowl season almost over and the championship final game set, we can soon focus all of our attention on college basketball. Things are just getting hot folks!
---
---

---
All pictures/screenshots taken by myself or @mrsbozz unless otherwise sourced
---
---