NCAA Weekend Recap: March Madness has arrived!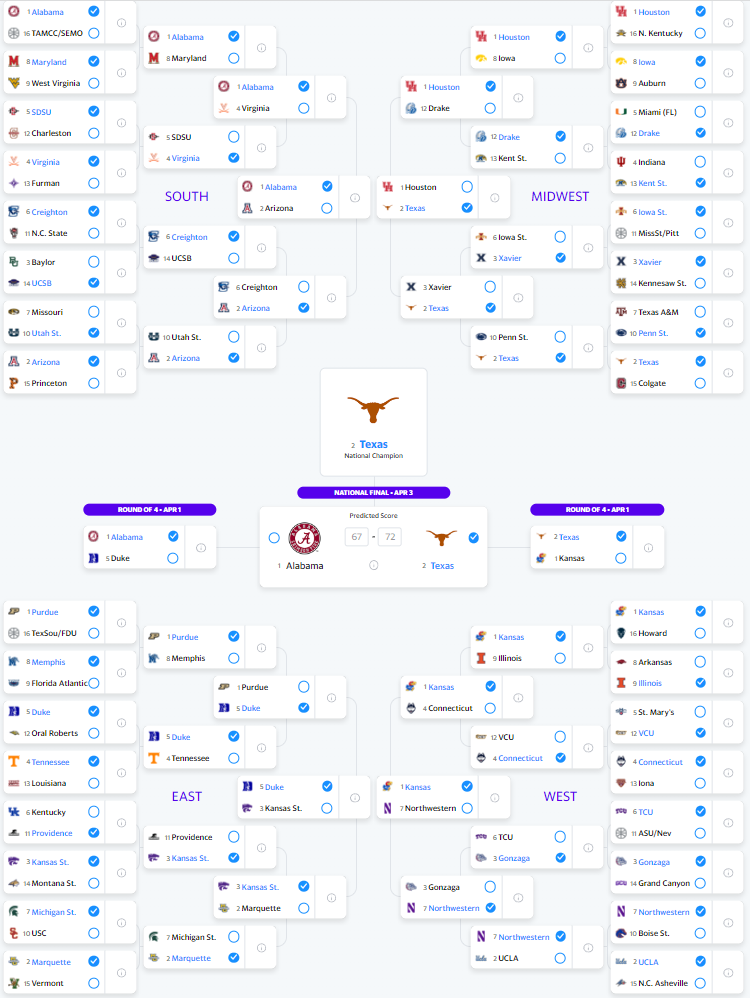 ---
I figure I might as well get the important stuff out of the way first thing. There is my main bracket. It isn't the only bracket I made, but it is the one that I expect I will be submitting into most of my office pools.
I was laying on the couch last night enjoying some boneless chicken wings when the Selection Sunday show started on CBS. I watched intently as they started to work their way through each bracket.
I was really happy to see my very favorite Michigan State make it into the tournament. Even though I don't expect they are going to make it very far given how they have been playing most of the season. This is one case where I would love to be surprised though.
I expect a lot of brackets out there are going to have Kansas or Alabama as the team that is going to take the trophy home. It's a tough one this year. There isn't a single team besides Houston that hasn't lost or proven that they can be beaten by another team.
Alabama is definitely a strong team, but we don't know what is going to happen with Brandon Miller (probably nothing), and we also know that Texas has been really strong all season. I haven't seen them play a ton, but I have been watching them and I think they have what it takes to take it all home.
Kansas, they are dealing with a few injuries that might make a difference in the early rounds of the tournament. The same is true for Indiana. In fact, I had a web page open last night that shows all the reported injuries for every team in the NCAA. I was frantically jumping back and forth between that and the bracket page to make my picks.
As you can see, I did make sure to throw in some upsets too. You know how I love upsets in college basketball. UCSB over Baylor is one of the big ones. Baylor just reported some injuries. I'm not sure they are tournament ready right now and I could see them having a big loss right away.
Even if they do make it past UCSB, I don't see them beating Creighton given how strong the Big East has been this year.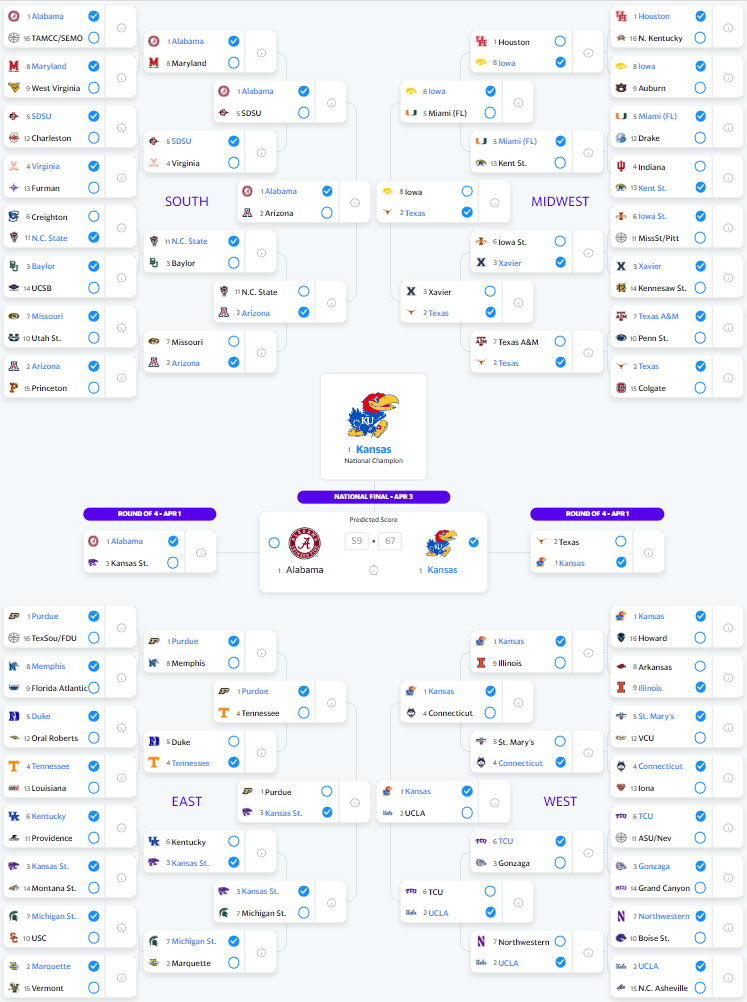 ---
As I said, I did fill out two brackets this year. No matter what, I just couldn't bring myself to have Alabama winning it all. Call me crazy, but it just doesn't feel right. If this were a football bracket maybe, but not a basketball bracket.
That doesn't mean they aren't a good team. I just don't think they can have perfect games from here on out. As you can see in this bracket I have Kansas taking it all the way. This is betting on the fact that their success last year will carry over and keep them from being star-struck. It also assumes that some of the injuries they just reported will have been cleared up by the later rounds of the tournament.
Given their high seed, they will likely have some easy games until they get to the later rounds.
I included a few more upsets in this second bracket too. This would be considered my crazy bracket where my first bracket is more my confident bracket.
I can't guarantee either of them are winners, but feel free to use one or both of them as your submission to your office, family, or friend pool.
I'm really looking forward to later this week when the play in games start happening and we get to see some of the tournament action. I will likely have the games open on YouTube TV on my computer all day!
Who do you have winning it all?
---
---

---
All pictures/screenshots taken by myself or @mrsbozz unless otherwise sourced
---
---