NFL Week 17 Recap/College Bowl Season wraps up: What a weekend!

---
I'm not going to lie, I am having a heck of a time getting back into the swing of things after the long holiday weekend. All of that free time is really kicking my butt! My motivation level is just a tick shy of zero if you know what I mean.
The fact is though, there was some awesome football this past weekend and I want to talk about it.
Let's get the NCAA stuff out of the way first. I think this might possibly be the most exciting bowl season that I can remember in quite some time. The championship teams are set and there is only one more game left before we close the door on college football for another seven months or so.
Let's work our way up to everything that went down on Saturday. #13 Florida State just edged out Oklahoma 35 to 32 to win the Cheez-It Bowl. Minnesota beat Syracuse in the Pinstripe Bowl, and Maryland upset #23 North Carolina in the Duke's Mayo Bowl.
I got a chance to watch some of the Sun Bowl and it was a pretty dang good game. Pitt just pushed past #18 UCLA to win the game 37 to 35. Little did I know that was just a taste of what I was going to get this weekend.
#5 Alabama didn't even make it close against #9 Kansas State which probably left a lot of fans questioning how TCU made it into the playoffs given their loss to K-State. At the very least, it probably had Bama fans feeling even more like they should have been given a shot.
Saturday afternoon started the playoff games with #3 TCU taking on #2 Michigan. I have to say, as a Michigan State fan I am pretty happy that TCU pulled off the win 51 to 45. It was a pretty epic game. Unfortunately, the win isn't without controversy. There are a couple of calls that U of M fans are going to be crying about for a while.
All I can say is that targeting (or not) call at the end really could have went either way. You could watch a million games this season and in half of them they would have called it and in half they would have let it go.
As for the touchdown or no touchdown call. I was swapping laundry when that happened, so I can really say. Unless it is the Lions though, these things usually even out. I have a feeling there were plenty of calls that didn't go TCU's way during the game as well.
Overall, I think it was an enjoyable game with tons of offense and a thrilling end.
The same holds true for the Georgia/Ohio State game. Talk about a crazy ending to the game. Georgia did what they had to do to put themselves back in the game. It was a bit heartbreaking to see the Ohio State player miss that field goal at the end. Then again, I am a Michigan State fan, so I don't feel too bad.
What I do feel bad about is the fact that this continues to make the Big 10 look like a bit of a joke compared to the competition. This is the second year in a row that we have proven we can't hang with the big dogs.
Instead, we end up with a TCU/Georgia battle for the title.
I am actually a bit surprised that Georgia struggled as much as they did. I know Ohio State is a good team, but I thought it would be a runaway victory for the Bulldogs. That makes me think we could be in for a real treat when them and TCU face off!
I think the saddest part of the bowl weekend actually goes to Kentucky. They didn't score a single point against Iowa in the Music City Bowl. The second saddest part of the weekend definitely goes to Ohio State, and the third saddest would go to Purdue who got blown out by LSU 63 to 7.
Finally, we had a couple awesome games on Monday as well. That Tulane/USC game in the Cotton Bowl was pretty epic. Congrats to Tulane for coming away with the win. I got to watch the end of that game and it was truly a comeback for the ages! Well done!
Also, That Penn State/Utah game was something special in the Rose Bowl. They did really well with the matchups this year. It would have been cool to see Michigan State in a bowl game, but they shot themselves in the foot on that one. Nobody to blame but themselves.
On the NFL side of things, the big news this past weekend is the fact that the Bengals/Bills game got suspended due to a player having a cardiac event on the field. The player was able to get help immediately and is in critical condition last I heard. I actually didn't watch the game and only found out what happened this morning when I was checking my fantasy football league scores.
I will write more about that tomorrow.
The Lions had a pretty awesome game this past weekend. Even if they don't make it to the playoffs,there is a lot to be excited about for next year. As the coach said, there is zero reason why they shouldn't be in the hunt for a division title next year.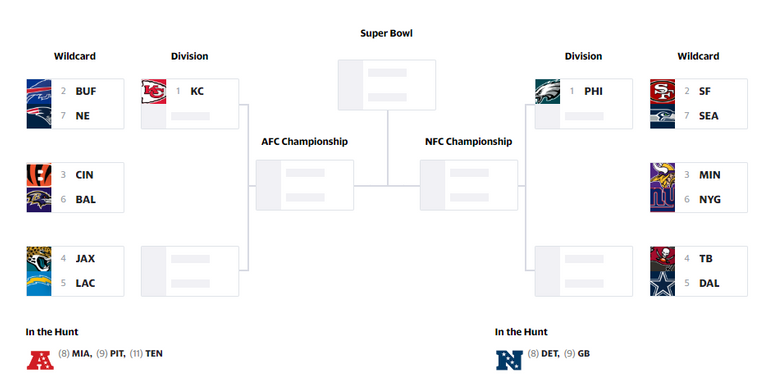 ---
I'm not going to bore you with all of the scores from the NFL. If you want to see the individual scores, so ahead and click that "source" link above. It will take you to Yahoo Sports.
The important news is we know what most of the matchups are going to be for the playoffs now. You can see the bracket above. There are still some bubble teams that we are not sure about. In the AFC we have the Dolphins, Steelers, and Titans. In the NFC we have Detroit and Green Bay.
As you can imagine that makes the Lions/Packers game next weekend an even bigger deal. Their blowout victory over Minnesota this past weekend is a bit concerning to me. Add to that the fact that the game in in Green Bay and I think it is going to be a tough road for the Lions. They did it once already this season though and they have a ton of grit. I think they can make it to the playoffs.
I am guessing there are still a couple other things that need to fall into place for that to happen. Fingers crossed it all works out.
As the #2 Seed in the AFC, I think Buffalo is still the team to watch. They are going to have even more to play for now given what happened to one of their own. I can see them winning out the rest of the season in honor of their injured teammate.
That's all I've got for today. Check back next week when we have a finalized idea of what the playoffs will look like and the NCAA will have a new (or returning) champion.
---
---

---
All pictures/screenshots taken by myself or @mrsbozz unless otherwise sourced


n
---
---