One of my favorite past times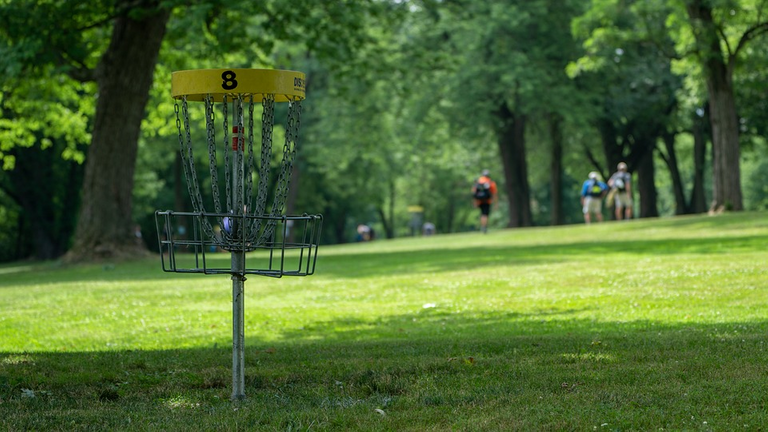 ---
I got to get out earlier this week and participate in one of my most favorite past times. The Internet says that Disc Golf was invented in the early 1900's. Apparently, the first game was held in Saskatchewan Canada. I guess I shouldn't be surprised that we have the Canadians to thank for such an awesome sport.
They are just such nice folks!
I've personally been playing since somewhere right around 2000 if I had to guess. If you aren't great at math, that is close to a quarter of a century that I have been playing this awesome game. Basically, you have flying discs and you try to get them in a basket like you see in the picture above.
For as popular as the sport is, it is actually surprising to see how many people don't know what you are talking about when you say Disc Golf. Also, if you mumble a bit like I do, they often think you are saying "Disco" and then they really get confused wondering why you want to suddenly play Disco music.
My brother in law introduced me to the sport and then I in turn have introduced it to a few of my other friends. My brother in law recently moved back to the state of Michigan, so I am hoping we get the chance to play together again soon.
My niece also recently picked up the sport, so I am super excited to try and fit a round in with her sometime. The concept is pretty easy and if you are able to throw a frisbee or other flying disc, you should be good to go.
That is one of the things I love the most about Disc Golf, it is so accessible to pretty much anyone. You don't need to be some monster athlete, you just need to know how to throw a disc. Sure it helps if you can direct the disc in one direction or the other, but that comes with time.
If you are a beginner, don't be afraid to get out on your local course and play.
The other thing I love about Disc Golf is how cheap it is to get started. You can find a good starter set of discs on Amazon for less than $30 USD. Try to do that with real golf clubs outside of a rummage sale.
Then with real golf, you have to pay for greens fees and cart rentals right? None of that exists with Disc Golf. The holes are measured in feet, not yards, so you can easily walk any of them and the majority of courses are on public land and free to play.
The cost of entry in this sport is virtually nil.
In addition to that, it is a great way to get out and enjoy nature as well as the company of good friends. There is a professional association called the PDGA and they have tournaments all over the world.
If you are wondering if there is a course near you, I highly recommend you download and install the UDisc app. It has a map feature that shows you the nearest courses to where you are and players even give them ratings. If you pony up the money for the subscription portion of UDisc, you can even get real time reports on how busy each course is.
Finally, once you have tried it out and discovered your passion for Disc Golf, be sure to post about it in the #sportstalksocial and #discgolf communities.
I finished 24 over on my Monday round. If I make it out today, I hope I do a lot better. It will only be my second time out for the year, it takes a little bit to settle back into the groove.
---
---

---
All pictures/screenshots taken by myself or @mrsbozz unless otherwise sourced
---
---