Saturday Pee Wee Football Action!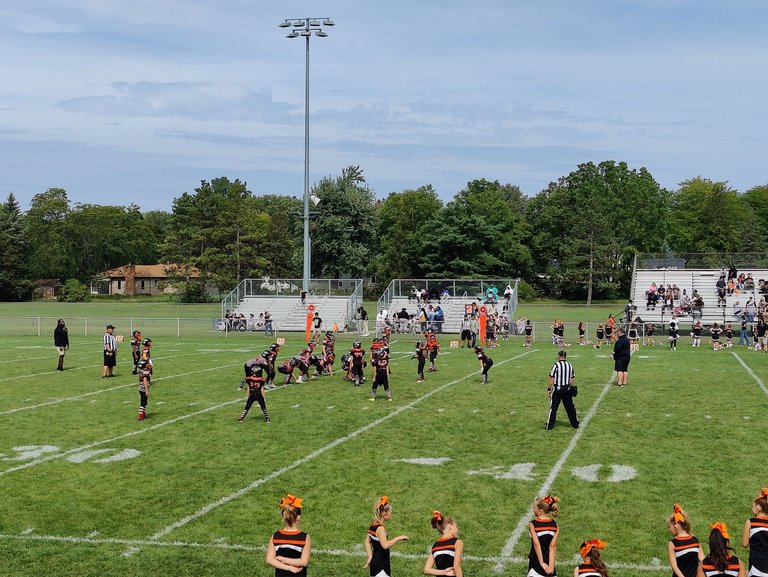 ---
To say it was a long day on Saturday would be an understatement. You would think the days of sitting at the softball diamonds waiting for a day of games would have prepared me for this, but you would be wrong.
@mrsbozz and I drove the 45 minutes down state to watch our nephews play football this past weekend. With a game at 12:30 and a game at 3:30 we thought it would be a pretty easy day. We were totally wrong. It actually wasn't until about 7:00 that we finally pulled into the driveway.
I was exhausted!
The action started off with my youngest nephew playing a game. The good thing is, at this level the quarters are only 10 minutes long and they have a bit of a running clock. That makes things go relatively quickly with the exception of injuries and time outs.
It's probably not too surprising, but at this level, the injuries are plentiful. Usually nothing serious, but you wouldn't think that was the case given the reaction some of the youngsters have while they are laying out on the field.
Thankfully, as far as I know, no one was seriously injured during the course of the games on Saturday.
One thing that I find really interesting about events like this is the way the community comes out to support the young athletes. The stadium was pretty packed and you would have thought it was a Friday night varsity game. The only thing that was missing was the marching band. They had cheerleaders, announcers, a 50/50 raffle, and a concessions menu that would put the local fast food joint to shame.
This is the part where we all realize just how horrible of an uncle I am. I can't remember if my youngest nephews team won or lost their game. What I do remember is that they called his name a couple of times for good plays and he even got some time "under center" in the quarter back roll.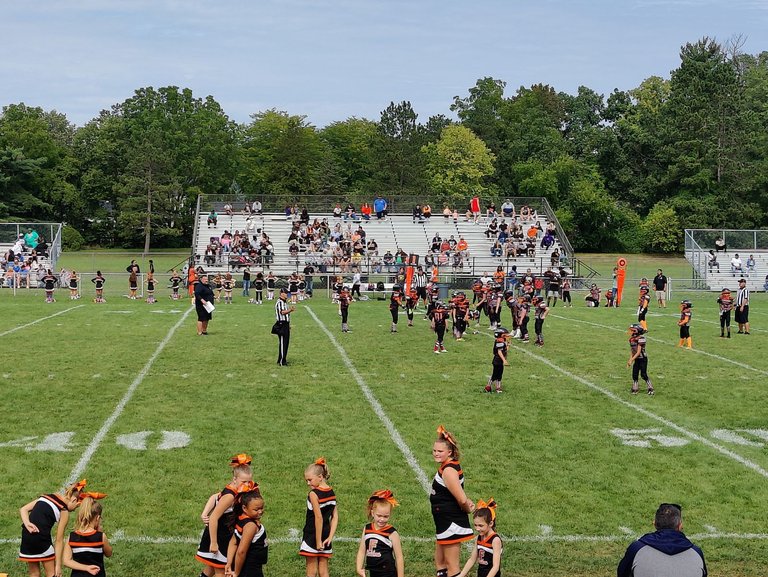 ---
After that game finished up, we had another game before his brothers team played. Even though we didn't have a vested interest in any of the players on the field, that game was pretty intense. It even went into overtime which isn't usually a thing for this level of games.
The tension was actually getting pretty high due to a couple of factors.
First, the other games on the day were played between the same school. So say they have so many kids at one level they split them up into two teams. When those teams play each other, it's actually the same school. So everyone is cheering for everyone.
In the case of this game, they were actually playing kids from a neighboring community, so that made it a sort of rivalry. There was a point where I though the police were going to need to be called to separate the coaches. It was intense.
Second, It was just a really close game and towards the end there was a rumor going around that the quarter back on the other team was older than they had disclosed and he shouldn't have even been playing.
It was crazy.
The end result was that game went way longer than it should have and the 3:30 game got pushed back a bit.
That's part of the reason it took us so long to get home.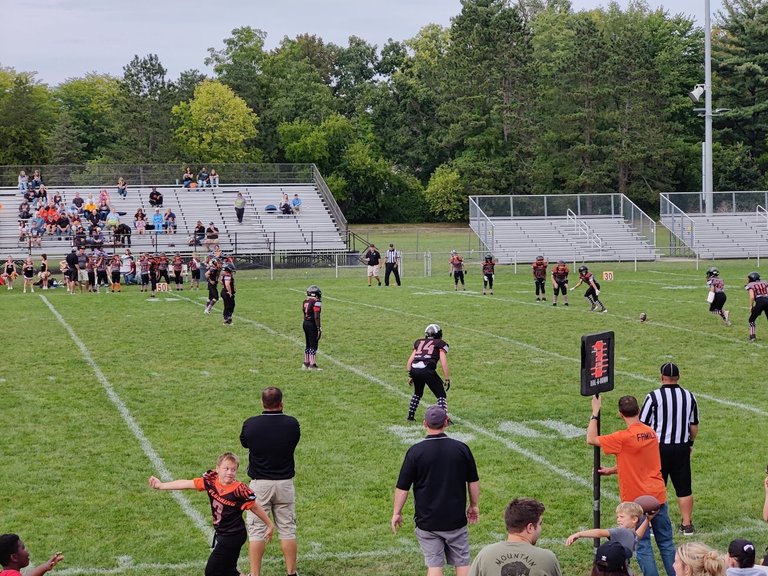 ---
Sadly, my older nephew (from this side of the family), lost his game, but man he played great. He had one little mistake at the beginning of the game where he got fooled by a hand off and tackled the wrong guy, but other than that, he was all over the place.
I think the announcer mentioned his name at least five or six times due to him sacking the quarter back or making a key tackle. It was awesome. He is shaping up to be a really great defensive player. I have little doubt we will one day be driving down on Friday nights in the Fall to watch him play.
In the photos above you can actually see him getting ready to block on a kickoff at number 14. Also in the photo along the sideline playing the roll of water boy is his younger brother #3.
It was a beautiful day for football and we actually couldn't have asked for nicer weather to be sitting there all day. I just wish they made bleachers more comfortable.
There is something to be said for enjoying the gridiron action from your Lazy Boy in your own home!
---
---

---
All pictures/screenshots taken by myself or @mrsbozz unless otherwise sourced
---
---