Sports Betting with Bozz: A whole new world!

---
I am going to be honest, I went a little nuts this past weekend. It may have not been one of my most active betting weekends, but it certainly was the most lucrative I have had in a while. A lot of that can be attributed to a little tip I got from my brother in law.
That's part of what I am referring to when I say a whole new world. I will get to that in a second though. If you have been following my posts in this series, you know that when I travel to Ohio, I haven't been able to place bets there. That all changed this past weekend.
While I didn't in fact place any bets in Ohio, sports gambling is now legal in Ohio, so I absolutely could if I had wanted to. One caveat is the fact that at least the Fan Duel app keeps your bets separated by state. So it takes a little bit of time to jump around and find all of your open and settled bets if you are moving between states in a single weekend.
The other game changer this past weekend was my brother in law introducing me to a website called Pickswise. I have never heard of it before, but basically it is professional analysts and gamblers giving your their picks which are most likely to win.
As stand alone bets, those picks probably won't earn you too much money, but when you throw them together in a parlay, you can often do quite well.
At least I did this past weekend. We will see if I can keep the momentum going in this coming weekend.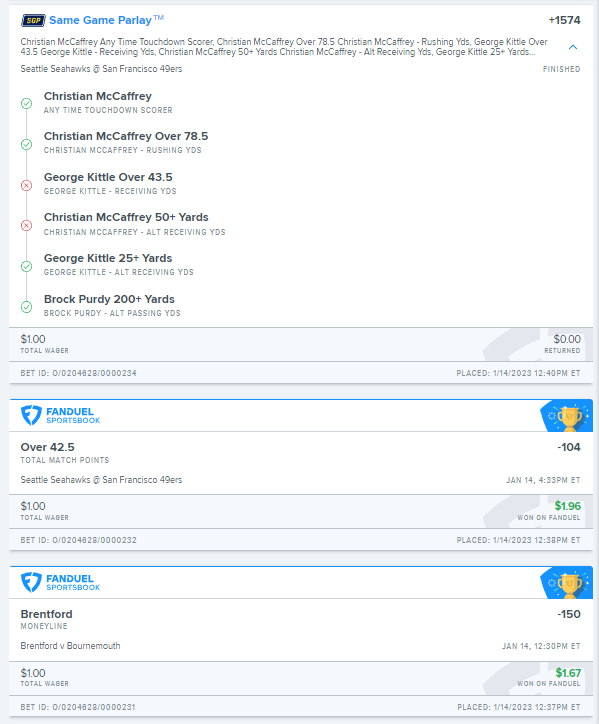 ---
As you can see, my first bet this past weekend was on soccer of all things. It was a recommendation that I picked up from Pickswise. The cool thing is they rate the picks by stars so you can know if it is close to being a sure thing or if it is a bit more risky.
At first I wasn't thinking about the fact that I could parlay these picks together, so the rewards were pretty low. $1.67 on a $1 bet and then $1.96 on another $1 for the Seattle/San Francisco game.
If you look a little higher, you will see that I also placed a same game parlay bet on that football game. It wasn't recommended by Pickswise and sure enough it didn't hit for me either. I'm not saying I am going to be using Pickswise exclusively, but it is definitely going to guide a lot of my betting from here on out.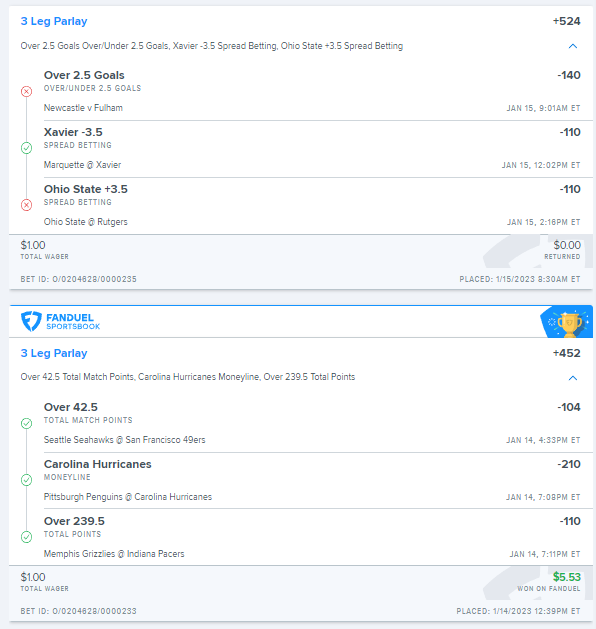 ---
Besides all the wild card football games, there were quite a few basketball games this past Saturday too. Around 18 of them if I remember correctly. As you can see, from the top of the screenshot, Pickswise isn't infallible. I created my own parlay with some suggestions on a soccer match along with a couple of basketball games. Xavier did their part, but the soccer teams and Ohio State did not. Oh well, the good thing is, my next bet did hit.
As you can see, I bet on the Seattle/San Fran game going over 42.5 points as well as the Carolina Hurricanes winning their hockey match against Carolina. Finally, Pickswise suggested picking over 239.5 points for the Grizzlies/Pacers NBA game. They all hit and that $1 bet turned into $5.53 for me!
Let's keep rolling!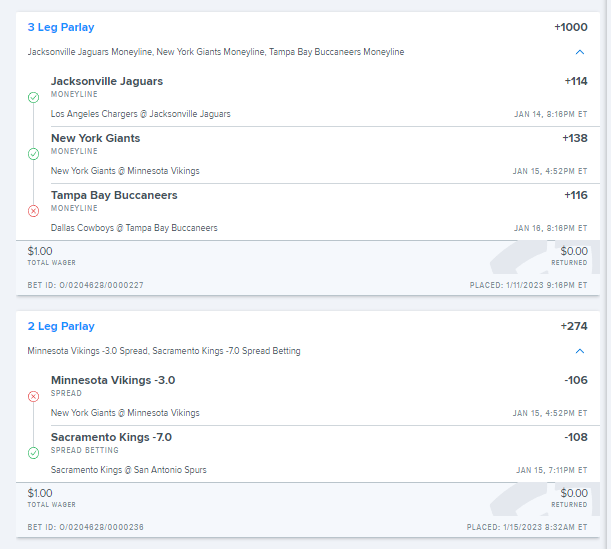 ---
Unfortunately, the rest of the weekend didn't turn out so well for me. Actually the first bet was placed before I left Michigan and learned about Pickswise, so I can't really fault the site for that misstep. It was all me!
I am came so close on the first one. If Tampa Bay could have just beat the Cowboys I would have won $10. I guess I should have known not to trust Brady for anything. He is just so worthless. He can't win my fantasy league, he can't win a game, and he can't win a bet for me when I need him to. I really hope he does the world a favor and retires again. He just needs to be done.
The second bet on the other hand was placed using Pickswise. There was actually a three way parlay I was going to pick, but I wasn't really confident in the suggestion on the third game. Instead, I decided to just go with a two leg parlay. As you can see, the Vikings were the ones who let me down.
I guess not just me, but all their fans too. That loss to the Giants has to sting quite a bit given how good of a season they had. It's starting to look like NFL betting is my weak suit doesn't it? I guess the good news is, we only have a little bit of that left before we take a break until next season. It's going to be all basketball, hockey, and soccer from here on out!
---
---

---
All pictures/screenshots taken by myself or @mrsbozz unless otherwise sourced
---
---